Vanish mode Instagram. Have you ever heard of that feature before? Some people say it's similar to Snapchat's disappearing feature. But is it? So, what is vanish mode on Instagram exactly?
Vanish mode is a feature that lets you chat on Instagram without leaving anything behind. Your messages will disappear as soon as they are seen. Yes, it's like having a private conversation.
But why would you want to use vanish mode on Instagram as a content creator? And how do you use it?
We're here to answer your questions and more. Let us guide you through the vanish mode feature, explaining how it works and why you should use it. Read on.
What is Vanish Mode on Instagram?
Vanish mode on Instagram is a privacy feature designed for sending disappearing messages and photos within Instagram Direct Messages. It was launched in 2020, along with other messaging updates.
With Vanish Mode Instagram, you will have more control and flexibility over your Instagram conversations. You can choose to use the feature when you want to share something private, or when you want to be spontaneous.
That's right. You can share a funny meme, a secret crush, or a silly selfie with your friends. It's all about having a great time and expressing your true self without worrying about leaving a trace.
Vanish mode on Instagram is different from regular chat mode. Messages disappear when both participants leave the chat. No screenshots can be taken in vanish mode. And you will be notified if someone tries to do that.
But bear in mind that vanish mode on Instagram is not enabled by default. You have to activate it manually for each chat.
Read More:
How Does Vanish Mode Instagram Work?
To understand it better, let's find out how vanish mode on Instagram works:
Enabling Vanish Mode — When vanish mode enabled, a dark style appears. You can then send disappearing messages to friends or followers, but only in personal chats, not group chats.
Encryption and Persistence — Vanish mode encrypts messages on the sender's device and decrypts them on the recipient's device. They are not permanently stored on any device.
Deletion Mechanism — When someone leaves the chat or turns off vanish mode, their device instantly deletes the cached message. Also, when the device deletes the cached message, a request is sent to the Instagram server to remove access.
Limitations and Security — Vanish mode Istagram removes messages from the chat, but it cannot prevent screenshots. However, you will be notified if someone takes a screenshot of your vanish mode chat.
Read More: Does Instagram Notify When You Screenshot A Story?
Why Should You Use Instagram Vanish Mode?
Here are some of the reasons why you might want to use Vanish Mode:
Your Privacy Matters — 69% of teens feel they lack control over their personal information on social media. Vanish Mode on Instagram gives them the choice to not store messages permanently on devices. This is vital when sharing sensitive or confidential information.
Stay Safe And Secure — Instagram Vanish Mode protects your security by preventing screenshots and copying of messages. It's helpful against eavesdroppers. With 22% of breaches in 2022 originating from social media, it's a serious matter to be cautious about. But it doesn't stop others from forwarding or saving your messages before they disappear.
Have Fun and Be Spontaneous — Social media should be fun, right? Vanish Mode promotes spontaneous and casual conversations without permanent message storage. It's just great for more relaxed and informal chats.
Share the Moment — Let your message focus on the information or sharing the moment. Not everything needs to be remembered forever. Vanish Mode is useful for sharing temporary content, like photos or videos you don't want to keep.
Keep Your DM Clean — The feature keeps chat history clean by automatically deleting messages. Useful for managing large or unwieldy chat histories. But, it's not suitable for all types of conversations, so choose wisely.
How to Use Vanish Mode on Instagram?
Here are some instructions and suggestions to help you use vanish mode on Instagram:
To start a vanish mode Instagram chat, choose someone from your Direct Messages (DM) list on Instagram. Then, swipe up on the chat screen.
You'll go into the dark mode and there's a message saying, "Vanish mode. Seen messages will disappear when you close the chat." Bear in mind that when you turn into Vanish Mode on Instagram, you won't be able to see old messages until you turn it off again.
To send a message, you can type text or tap the camera icon to send photos, videos, or boomerangs. If you want to add fun things, use the sticker icon for GIFs, stickers, or voice messages. And tap Send.
You can continue the conversation and reply messages as usual. You can still unsend your Instagram messages if you need to.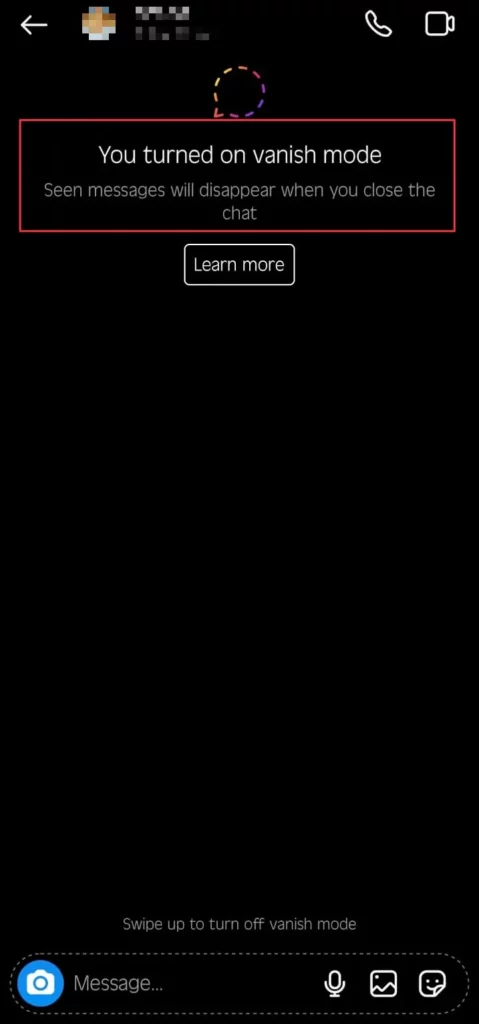 How to Turn Off Vanish Mode on Instagram?
Now, how to turn off Vanish Mode on Instagram? Here are the steps:
To turn off vanish mode on Instagram, you can simply swipe up from the bottom of the chat screen again.
You'll see the chat background back to normal to light mode if you use it before.
If the person you're chatting with has read all your messages, those messages will disappear on their own. But if they haven't read them yet, you'll see a notification that says "See xx disappearing messages." The messages will stay there, even if you go back to vanish mode, unless they are being read.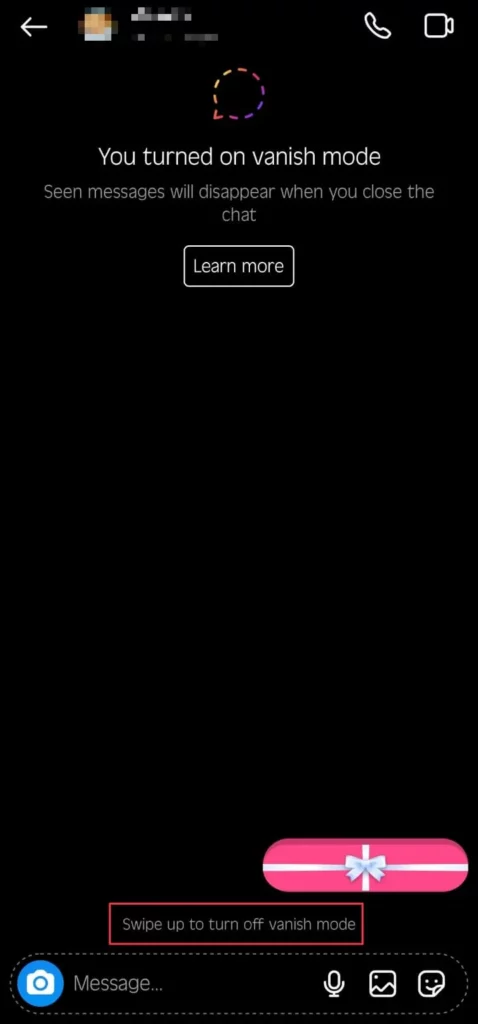 Final Thoughts on What is Vanish Mode
Vanish mode Instagram is a handy feature and not just a trick. This feature is great for chats that need to stay in the moment. Whether you want to share a laugh, a spontaneous unique idea, or something personal.
Vanish Mode on Instagram lets you express yourself without leaving any evidence behind. With Instagram Vanish Mode, you can communicate freely, knowing that your messages will disappear in a short period of time.
Think of IG Vanish Mode as the way to share those 'just between us' moments on Instagram. But it's important to remember that it should never involve sending any inappropriate messages, pictures, or videos.
We hope this information helps. And make sure not to miss any more great blog posts for tips, tricks, and the latest news from Gank.
FAQ about Vanish Mode on Instagram
Why would someone turn on vanish mode on Instagram?
People use vanish mode for different reasons. They are for sharing secrets or private information that they don't want to stay forever, having private conversations, keeping their chat history clean, and being more spontaneous and playful when they talk to others.
Can someone see if you put vanish mode on Instagram?
Yes, if you turn on vanish mode in a chat, the other person will know. The chat background will also get darker to show that vanish mode is on.
Can vanish mode messages be recovered?
Vanish mode messages cannot be recovered since they are not saved on the app or device. Once someone sees the message or closes the chat, it disappears forever.
Does disappearing messages delete for both sides?
Yes, disappearing messages delete for both sides. Once a message is deleted in vanish mode, it will no longer be visible to either the sender or the recipient.
How long does vanish mode last?
Vanish mode stays on until you or the other person leaves or turns it off. When that happens, the messages will disappear.