Why would you need an Instagram follower tracker? Well, there are several reasons for that. And one of them is to monitor your follower growth.
Don't wait until you're a top content creator to use an app for tracking Instagram followers. You can start using it even when your following is still small to know your audience better.
Keep in mind that your popularity can skyrocket unexpectedly at any time. Look what happened to Khaby Lame in 2021 when he reached 1 million followers. And now he has 80 million followers!
What's more interesting, many of these trackers are free. So, you can easily install and use them to better understand your audience. If you're wondering which app to try, check out our list below!
Why Use An Instagram Follower Tracker?
There are reasons to use Instagram trackers, such as:
1. It Helps You See Followers' Growth
An Instagram follower tracker lets you monitor your follower growth. This way, you'll know if your content strategy is working.
Using the app to track Instagram followers, you can keep an eye on your follower count and spot any sudden changes. It happens quite often. So, the tracker can act as your growth barometer, providing insights into patterns.
2. It Helps You Better Understand Your Audience
What if you could understand your audience inside out? The good news is an Instagram followers tracker can help you know where they come from and what they love to see.
It might sound too good to be true, but there are real tools for that. And guess what? Some of them are free Instagram trackers. So, you can plan and share the most impactful content on your feed to reach a wider audience and engage them better.
3. It Provides Engagement Analysis Insights
Social media, like Instagram, is not a platform for one-way communication. In other words, engagement from your audience is important to make your account big. Every like, share, and comment means everything for your growth.
But how can you tell if they like or share your posts? An Instagram follower tracker can handle that for you. This tool will help you get engagement metrics to ensure your content is effective. That way, if you see low engagement, you can quickly adjust your approach.
4. It Can Optimize Your Posting Times
Will your followers like or share your post when they don't open the app because they are busy? Of course not. That's why you must post on your Instagram whenever your audience will mostly engage with the platform.
You don't have to guess, though. You can use two approaches. First, check out research on the best posting times for Instagram. Second, use Instagram followers trackers to collect data on when most interactions happen with your account. This will give clues on the "active window" to share your awesome content.
5. You Can Learn From Competitors
Don't get it wrong, an Instagram tracker does more than analyze your own account. It also helps you to spy on your competitors in the same niche. Most IG follower trackers provide data to help you learn about your competitors' growth, engagement rates, and content strategies.
With data on their growth, engagement rates, and content strategies, you can come up with tactics that could work for your audience too. Plus, you can find a unique positioning for your content when you understand their weaknesses.
Top 14 Instagram Followers Trackers
Here are the best Instagram follower tracker apps in 2023:
1. Instagram Insights
Available on: iOS, Android
Price: Free
If you want a free Instagram tracker, then go for Instagram Insights. It's not a standalone app for tracking followers. Instead, it's a built-in tool for Instagram Professionals' accounts.
With its easy-to-use dashboard, you can analyze post and story metrics like likes, shares, saves, and more. It also gives a detailed breakdown of your followers' age, gender, location, and active times.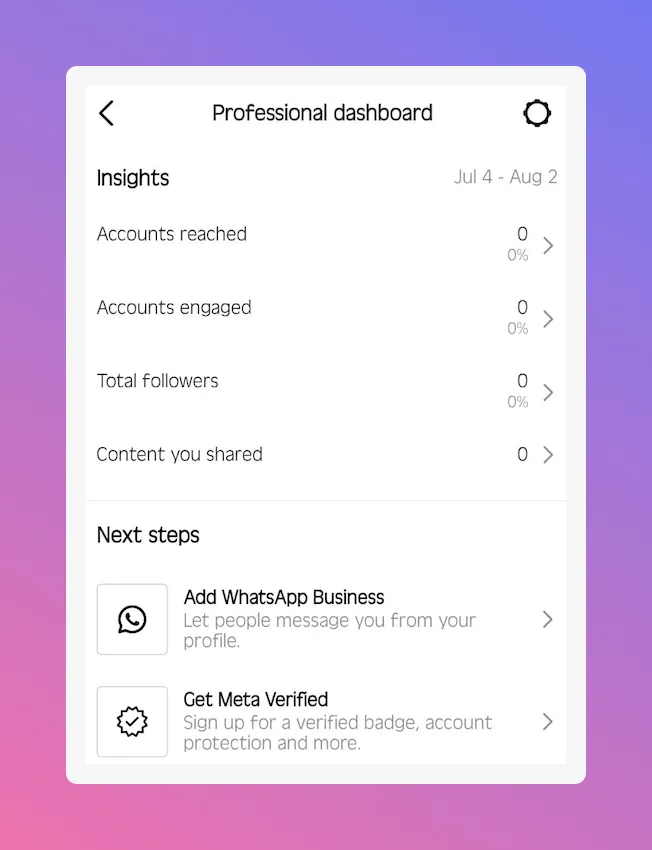 Key features:
Accounts reached — Unique accounts that have seen your content
Accounts engaged —Unique accounts that interacted with your content
Total followers — Trends among your followers with growth stats and top locations
Content you shared — Your posted and boosted content across feed, stories, and videos
Content interactions — Likes, comments, saves, shares, and replies
Plays —The number of video plays, counting both autoplay and user-initiated
Verdict:
Instagram Insights is a great free tool for tracking your Instagram followers, but it's only available on mobile apps as the desktop version is not yet ready.
2. TrendHero
Available on: web-based
Price: Free, Lite $99.9/month
You can think of TrendHero as a go-to platform for social influencers. It's a versatile tool that helps brands find and collaborate with influencers. But that's not all, it's also great for you as a content creator.
Why can TrendHero be your Instagram tracker? With TrendHero, you can track your follower growth and ensure that your audience is genuine, made up of real people.
This is important for building your authority and credibility. It opens doors to opportunities like collaborating with other content creators and getting deals for brand partnerships.
Key features:
Tracking — Get insights on your daily follower growth
Best Time for Posting — Receive information about the optimal time to share your content
Audience Check — Ensure your audience consists of real people
Verdict:
TrendHero is one of the recommended Instagram follower trackers. If you only want to track your Instagram followers' growth and engagement rate, it's free to use.
3. AiGrow
Available on: Web-based
Price: $45/month
From its name, you'll understand that AiGrow is an Instagram growth tool. It's a reliable Instagram tracker trusted by big names like Forbes and Entrepreneur, two magazines with many readers.
AiGrow stands out because it's more than just an Instagram unfollow tracker. It helps you manage your followers, ensuring only genuine accounts remain while removing fake ones.
Adding to that, AiGrow offers both manual and automatic growth services. Don't worry, they never employ bots or fake followers. You'll have a dedicated growth team committed to supporting your account's growth.
Key features:
Analytical Report — easily track followers, likes, comments, and engagement
Unfollow Automation — automatically unfollow people who don't follow you back
Post Scheduling — schedule posts in advance to save time and publish at the right time
Profile Protection — safeguard your account from spam and block suspicious users
Verdict:
One of the best Instagram unfollow trackers. But it's only available as a paid service with many options, which may confuse you about which one to choose.
4. DataJam
Available on: web-based
Price: Free, $30/month
Another free Instagram tracker on our list is DataJam. What makes DataJam special is its unique feature, anonymity. It lets you view stories, posts, comments, and likes without leaving any trace. Well, this is their big selling point as an Instagram tracker tool.
DataJam is more than just an Instagram follower tracker. It's a valuable tool for monitoring your followers' growth and spotting ghost followers. As you might guess, there can be people who follow you but don't interact with your content.
With this free Instagram tracker, you can also analyze the performance of different types of content. Don't worry if it comes from secret admirers, you'll know what happens with each post.
Key features:
Anonymous view — I let you see stories, comments, and likes in incognito.
Versatile tracking tools — you can easily track your follower growth
Detailed statistics — you will have all the information, from following to commenting in details
Verdict:
DataJam can be an excellent Instagram follower tracker if you're willing to invest $30 per month. Its unique feature is something you can't get from any other tools.
Read More: 175 Instagram Bio Ideas: How to Make the Best Bio for Instagram
5. FollowMeter
Available on: iOS, Android
Price: Free
It's hard to create a list of the best Instagram follower trackers without including FollowMeter. We're not exaggerating, though. This Instagram tracker is one of the most popular tools for Android and iOS users.
What makes FollowMeter stand out is that it does more than just track your followers and unfollowers. It's an all-in-one tool. FollowMeter can enhance your Instagram experience by giving detailed insights into your account activity and engagement metrics.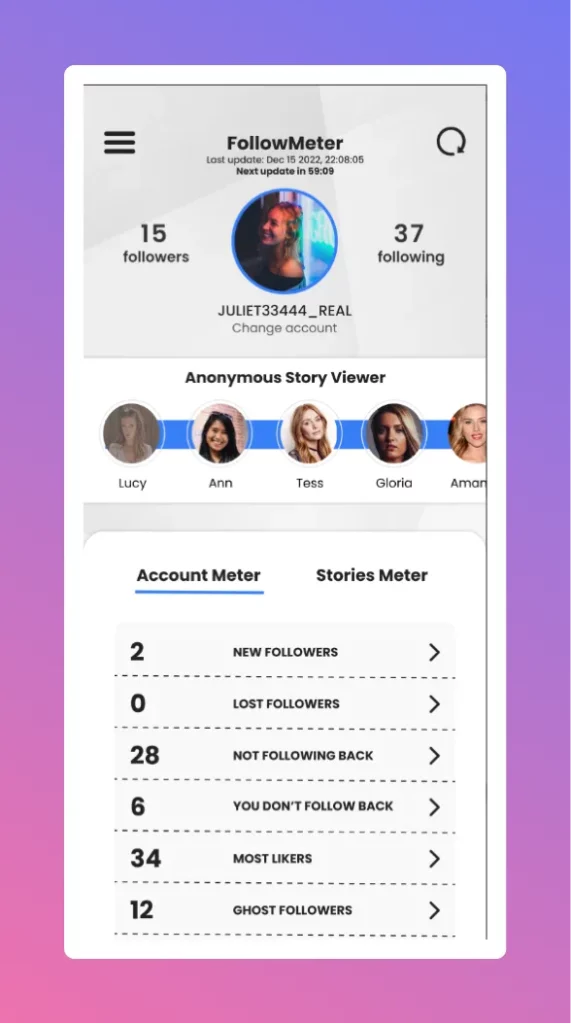 Key features:
Activity Meter — find out how many people follow and unfollow you, including the ghost followers.
Activity Feed — see comments and likes on your Instagram to know which one gets the most engagement.
Anonymous Story Viewers — easily see stories anonymously.
Verdict:
If you're looking for a good Instagram tracker with features like anonymous story viewers without paying a dime, FollowMeter can be a great alternative.
6. Reports+ Followers Unfollowers
Available on: iOS
Price: Free
Do you want to analyze your profile interactions to fine-tune your Instagram strategy? Or do you want to find out which of your Instagram posts perform the best when it comes to engagement?
This tool stands out as one of the best Instagram follower tracker apps available. What's even more exciting is that you can use this app to track Instagram followers for free, with the option for in-app purchases.
What about the features? You'll have access to over 50 Instagram profile metrics. Thanks to its awesome dashboard, you can gain great insights and analytics for your Instagram profile. You can track your followers and unfollowers, including finding out ghost followers.
Key features:
Profile Insights — Use the dashboard to make informed decisions and grow your followers
Story Insights — Easily monitor viewership and engagement of your Instagram stories
Top Followers — No more guessing! Find out who your most active followers are
Post Performance — Identify your best-performing posts with optimal engagement
Mutual Followers — Stay updated on accounts you follow and who follow you back.
Verdict:
One of the Instagram follower trackers with an awesome profile tracker you can use for free. Unfortunately, this one is for iOS users only
7. Hootsuite
Available on: iOS, Android, web-based
Price: starts from $99/month, Free 30-Day Trial
It's an understatement to say that Hootsuite is just an Instagram follower tracker. In fact, it's a complete social media management platform with many excellent features. The ability to track your Instagram followers is one of them.
All you have to do is link your Instagram account to Hootsuite. Once you've done that, you can easily check your follower data on the dashboard. The best part is you can also download the data in a CSV file for a more in-depth analysis.
Hootsuite might be a bit overkill if you just want a basic Instagram tracker. Also, they no longer have a free plan this year, so you can only use the paid version.
Key features:
Multi-Channel — you can manage all your social media accounts from a single platform
Follower Analysis — track follower growth and understand user behavior
Post Scheduling — schedule your posts for an optimal engagement at the best time to publish
Thorough Reporting — get detailed reports of your posts' performance in XLSX or CSV
Verdict:
If you're willing to make an investment of $99/month, Hootsuite is a great versatile tool for social media content creators.
8. InsTrack
Available on: iOS, Android
Price: Free, $5/month Premium
Are you looking for a free Instagram tracker? Do you feel like you've just started out and needed simple insights for two accounts—yours and your competitor's? Instrack can be your pick.
With Instrack, keeping an eye on your Instagram followers is a breeze. You'll get a user-friendly dashboard that lets you check out all your important stats at a glance. It's the perfect tool to know how well your profile is doing.
Do you want to know how you've been doing for the last 30 days or a specific time range? Instrack makes it simple. Plus, you can compare your performance with similar accounts using the benchmarking feature.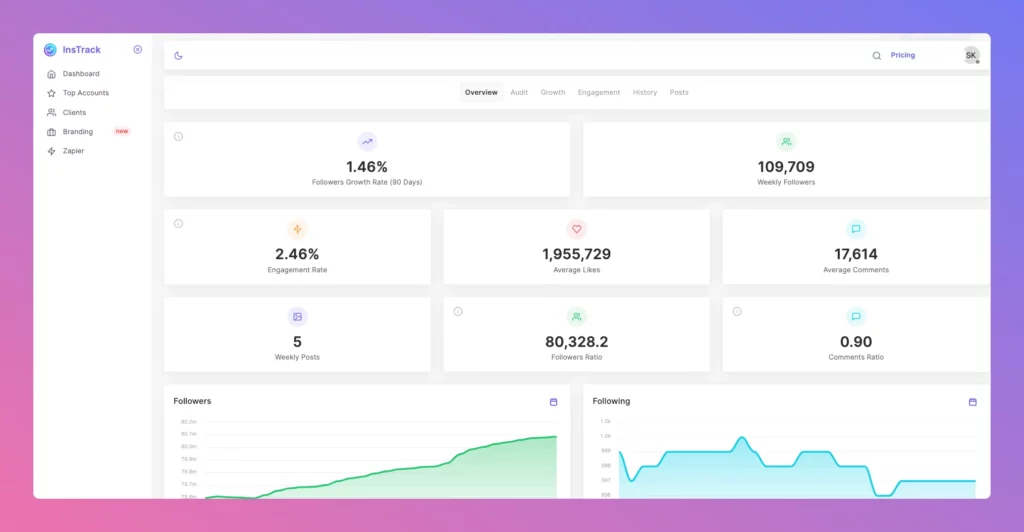 Key features:
Instant Performance Insights —check your latest follower count, engagement rate, and more by entering your username.
Powerful Tracking Dashboard — monitor your top posts and engaged followers or compare them with other accounts.
Benchmark Performance — review your account's growth rate and engagement.
Reporting and Data Exports — stay on top of your data by setting up automatic exports.
Verdict:
One of the best Instagram tracker apps you can use for free, with basic features of up to two tracked accounts.
Read more: How to Boost Instagram Followers
9. InstaHero
Available on: Web-based
Price: Contact for pricing
What if you can analyze your Instagram account for free and use the insights to get more followers? Sounds incredible, right?
With the help of InstaHero, a free Instagram follower tracker, you can make that happen. What's even great is analyzing your profile is easy, with four simple steps. First, sign up using Google or Facebook, then add your Instagram account. Then, run the profile analysis and remove any spam manually or automatically.
Key features:
Detailed Analytics — Get detailed analytics on your audience's age, location, and preferences
Profile Rating — Get insights about your profile using nine key parameters and receive recommendations
Bots Removal— Remove bot accounts that are affecting your reach and engagement
Monitoring — Keep track of your account's performance and make necessary adjustments
Verdict:
InstaHero is a free Instagram tracker. It has a remarkable profile analysis that gives you an overview of your account's strengths and weaknesses to boost followers.
10. InstaFollow
Available on: iOS, Android
Price: Free
InstaFollow is an Instagram follower tracker made by Scorpion Apps. The tool helps you keep tabs on your followers, unfollowers, and gain other valuable insights about your account. It offers features typically found in popular IG follower trackers available on the market.
You can even access stalker reports, story viewers and discover secret admirers, just like the ones DataJam has.
While this tool may not have some unique features, it serves as a great alternative to other Instagram trackers. The best part? It's free, so you don't have to worry about spending money.
Key features:
Story watching — see who watched your stories and how many times
Likes & comments analysis — get data on who liked and commented on your posts
Detailed reports of followers — get in-depth reports on your followers, including their locations, to help you adjust your content accordingly.
Verdict:
If you're looking for a basic Instagram followers tracker for Android and iOS, this app is worth trying. However, it may not have active development.
11. Ghosthunter
Available on: Web-based
Price: $54.99/month
Ghosthunter by Winberry stands out as a one-of-a-kind tool for Instagram tracking. What makes it special? Unlike other tools that only provide insights on your daily followers, The tool's main goal is to help you manage your follower base, ensuring a healthy and engaged list of followers.
How does it work? Ghosthunter identifies and categorizes your followers. It then helps you automatically remove fake and inactive followers. You can use it for up to three analysis and cleaning sessions per month, based on your chosen removal option.
Key features:
Ghost Follower Detection — identifies inactive or non-engaging followers
Follower Categorization — sorts followers into different categories for easy management
Engagement Boost — your engagement rate can improve with the least ghost followers
Verdict:
One of the paid apps to track Instagram followers with a unique feature to remove unwanted followers.
12. Iconosquare
Available on: iOS, Android
Price: Starts at $49/month
Iconosquare is an excellent Instagram follower tracker worth giving a try. It's not just for Instagram, though. It's a versatile tool for managing Facebook and Twitter, too.
Do you still hesitate to use it? Many big companies, such as Mercedes, Netflix, and IKEA, already use it because of its fantastic features. It's well-known for its detailed analytics, post scheduling, and competitor tracking capabilities.
With 100+ stats available, you can have detailed information about your social media performance. This empowers you to make decisions based on data.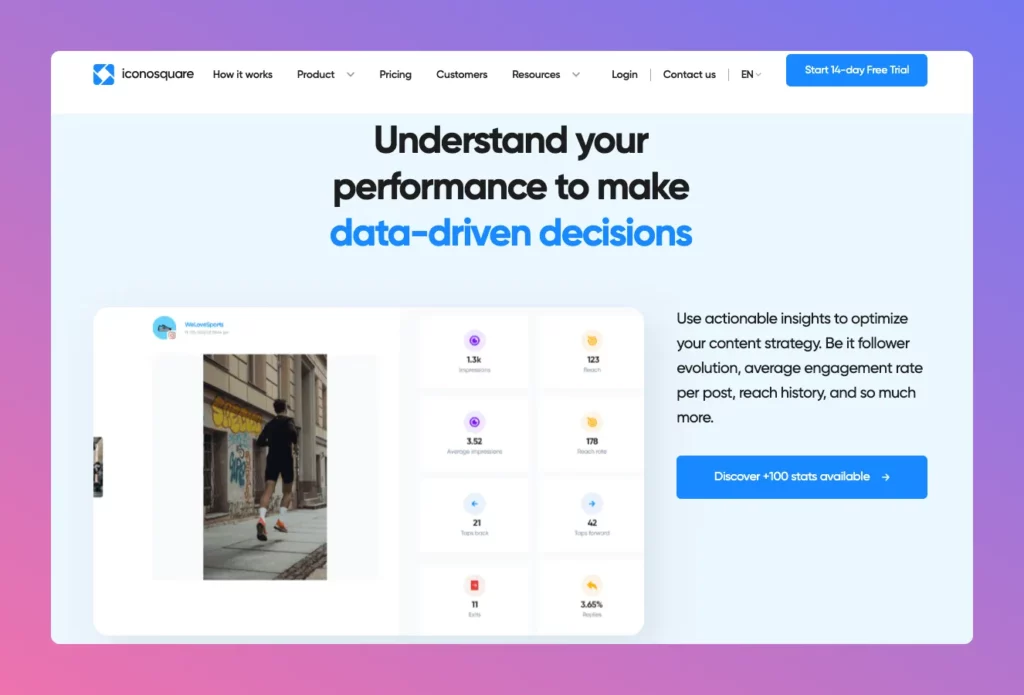 Key features:
Account analytics reports — automatic reports on your follower growth, engagement, and post performance
Post scheduling — plan and schedule your posts for optimal engagement
Competitor tracking — keep an eye on your competitors' social media strategies
Team approval —collaborate with team members to ensure that all content is approved before it is published
Hashtag reports —track the performance of your hashtags, including the number of impressions, clicks, and saves
Verdict:
A robust tool for managing your Instagram and tracking your account growth. It provides up to 100 different stats, making it a bit on the expensive side.
Read More: Top 100 Trending Hashtags for Instagram Reels
13. Followers & Unfollowers
Available on: Android
Price: Free
Are you an Android user searching for a free Instagram tracker? Followers & Unfollowers by One Tap Labs can be your go-to app. It has everything you need to keep track of your Instagram followers.
The app boasts a simple and user-friendly interface, making it stand out. Instantly see who is following you and identify your new followers. If you discover that you're following people who don't follow you back, you can easily unfollow them.
This app is a great Instagram tracker if you only look for basic features. However, it only has a 2.2 rating on PlayStore, which means it's not very impressive. Before using it for your professional Instagram account, make sure to test it first.
Key features:
Mutual – You'll know people you follow, and they follow you back
Recent Unfollowers – Give you insights into how many people unfollow you
Mass unfollow – You can unfollow up to 50 people instantly
Verdict:
A good Instagram tracker you can try. It's regularly updated but only has a 2.2 rating on PlayStore. Please consider before using it.
14. Crowdfire
Available on: iOS, Android
Price: Free, $9.99 (Plus)
Another social media management tool you can use as an Instagram follower tracker is Crowdfire. This app to track Instagram followers is available for both iOS and Android. And the best part is it's free to use.
Like Hootsuite, using Crowdfire as an Instagram unfollow tracker might be overkill. The tool is a comprehensive social media management platform that supports Instagram, Facebook, LinkedIn, and more.
What makes Crowdfire worth trying is its user-friendly interface, multi-platform support, and wide range of features.
Key features:
Unfollow — find and remove inactive followers to increase your engagement rates
Hashtag suggestions — benefit from hashtag suggestions to reach a wider audience
Scheduled reports – free yourself from the hassle of downloading reports manually every week
Competitor analysis — Get to know their post performance and the growth of followers.
Verdict:
With over 19 million users, Crowdfire is a trusted Instagram tracker that can help you plan the growth of your Instagram followers.
Read more: How to Download Instagram Reels
Final Thoughts on Top Instagram Trackers
As a content creator, every follower matters. So, it's important to monitor your follower growth. Luckily, you don't have to do it manually. You can simply use an Instagram follower tracker to get the job done.
You don't need to do research yourself. We have provided a complete list of Instagram followers trackers, both for Android and iOS. You can just pick the one that suits your needs and goals. That way, it will be easier for you to strategize your account like a pro content creator.
Once you've reached that point, you can start thinking about earning more money from your Instagram account. That can come from sponsored posts, brand partnerships, or receiving donations through creator platforms like Gank.
We hope this information helps you, and we'll see you in our next articles.