Despite Twitch's dominance in the live streaming industry, a new platform named Kick is getting a lot of attention since the beginning of 2023. So, you may wonder, "what is Kick streaming and is it better than the existing broadcasting platforms?"
This article will explain some important information regarding this newcomer, including:
Differences between Kick and Twitch
Kick's background
Popular Twitch streamers who moved to Kick
How to stream on Kick
That being said, if you are weighing on Kick streaming platform, make sure that you read until the end.
What Is Kick Streaming?
Kick is a live streaming service that launched in January 2023. The platform is under beta status as of this writing, thus it is still under development.
The service works similarly to its renowned competitors, namely Twitch and YouTube Live. For example, viewers can engage with streamers during their live shows using Kick's chat function. Not only that, viewers may give tips to show support.
Apart from offering a place for broadcasts, Kick streaming platform also lets its creators save live clips and upload them for on-demand viewing. All in all, if you are familiar with popular streaming websites, you will feel at home with Kick.
Kick vs Twitch: What Are The Differences?
Now that you know what is Kick streaming, let's go deeper into its differences with Twitch:
Content Regulation
Those who spend a lot of time on Twitch will notice that Kick streaming service's content categories are pretty much the same. They include gaming, lifestyle, and art among other genres.
However, Twitch has a strong regulation against content that are not work or family-friendly. Particularly, ones that involve nudity and gambling.
These adult matters are not necessarily bad depending on how one views them. Though, it must be noted that according to Statista, Twitch's 2nd biggest user demography as of May 2022 are those between 16 and 24 years old.
Twitch itself has already prohibited streamers from broadcasting certain gambling activities since October 2022. The platform claims that it takes this action to protect its community from potential harm.
Twitch has also imposed a strict policy that prevents streamers from depicting partial or full nudity since 2020. While it was made for a positive cause, the policy has backfired several times as creators have been incorrectly flagged. These individuals have been either banned temporarily or permanently.
Now, what is Kick streaming's stance on controversial matters that Twitch prohibits? In contrast to its competitor, Kick allows broadcasts of gambling. What's more, you can find "slots & casino" on its stream category page.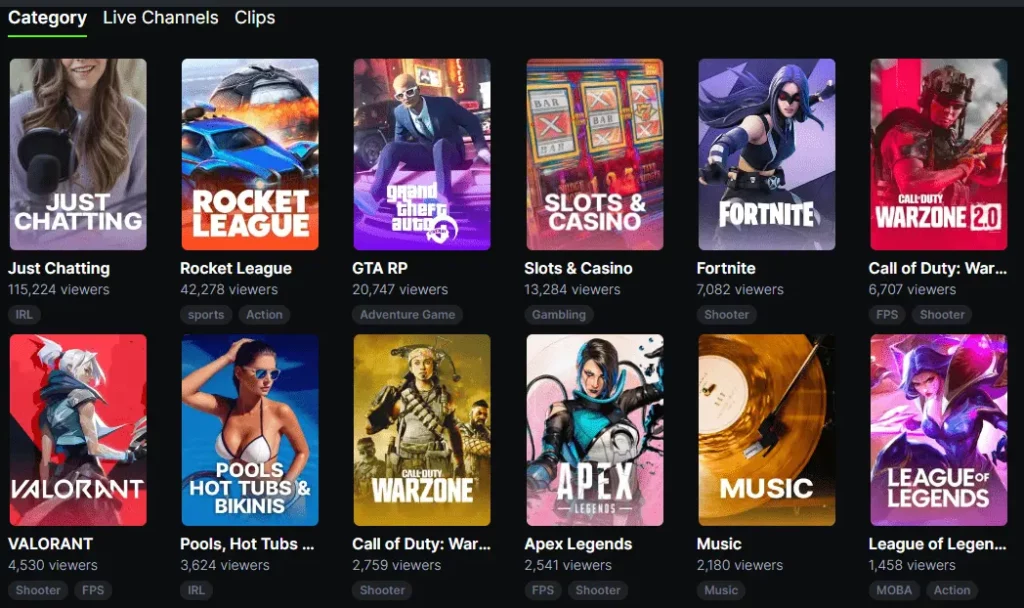 Kick is also less forbidding when it comes to nudity. Its community guidelines rules out sexual-themed content, but live clips that show partial nudity like pool and hot tub parties are allowed.
Streamer Revenue
Both Twitch and Kick support monetization. One of the main methods on how to make money streaming on both platforms is through viewer subscription.
To start charging the audience with a subscription fee, you need to be an affiliate. So, what is Kick streaming and Twitch's requirement to become an affiliate?
Twitch demands that you fulfill the following conditions:
Have streamed for 8 hours
Have streamed in seven different days
Have an average of three viewers
Gain 50 followers
Meanwhile, Kick's affiliate status comes with the prerequisites below:
Have streamed for five hours
Gain 75 followers

With that in mind, you could say that becoming a Kick affiliate is a little easier. However, what really sets the two platforms apart is the revenue split.
Twitch takes 50% of streamers' subscription revenue, while Kick only asks for 5%. So, if you ask, "what is Kick streaming's biggest advantage over other platforms?", the answer is the amount of income users can get from viewer subscription.
Support for Multistream
Another subject that makes Kick streaming service different from Twitch is users' ability to stream on multiple platforms.
Twitch used to allow multistreaming. In June 2023, however, it stopped doing so. On top of that, the streaming service will take a termination fee of $25 for monetized users who wish to switch platforms.
What is Kick streaming's policy on multistreaming? Fortunately, Kick does not restrict its creators to broadcast on other streaming services. In fact, it takes the opportunity to take disappointed Twitch streamers in by offering to cover the termination fee.
Who Owns Kick Streaming?
Right now it is not clear which company Kick streaming platform runs under. But it is co-founded by Tyler Nikman, a streamer who is known under the username "Trainwreckstv". He left Twitch in 2022 due to the crackdown on gambling.
Kick is also financially backed by Bijan Tehrani and Ed Craven, the co-founders of popular betting website Stake.com. This fact is not a surprise considering the answer to "what is Kick streaming's stance about gambling?"
Who Streams on Kick?
Due to the benefits that Twitch does not offer, Kick has gained 12 million users until July 2023. Some of them are Twitch streamers who you may already know, including:
Ninja
xQc
Amouranth
GMHikaru
Adin Ross
CorinnaKopf
While other prominent content creators switched to Kick for their reasons, there is more to the story for xQc. The streamer, whose real name is Felix Lengyel, was offered $100 million to join the new broadcasting service.
How to Stream on Kick?
Now that you know "what is Kick streaming?", you might be interested in doing live shows on the platform. Interestingly, broadcasting on Kick is similar to how to stream on Twitch. Here are the steps:
Visit Kick.com and create an account by clicking on Sign In on the top-right corner.
Once you are signed in, click your profile on the top-right corner and click Creator Dashboard.
In the Creator Dashboard, click the Settings tab, look for Stream URL and Stream Key, and copy both.
Open your live streaming encoder and enter the stream URL and key. To stream on Kick, you need an encoder that supports RTMP protocol, such as URay Coder and OBS Studio.
Make sure that your output settings are up to your preferences. You may also refer to Kick's settings for an optimized result.
Go back to your Creator Dashboard and click Edit stream info. Set the broadcast title, category, and language. You can choose to restrict your live show for mature audiences too. If you are done, click Save.
Hit the live button on your streaming encoder.
What Is Kick Streaming: Wrap Up
You have learned what is Kick.com in this article. Kick is a new streaming platform that is obviously marketed as an alternative to Twitch.
Even though it has garnered popularity in just six months, Kick is still under development. So, we cannot say whether it has a promising future just yet.
Nevertheless, Kick might be an option for you who:
Want to be able to earn more from viewer subscriptions. Especially, if you disagree with Twitch's 50% revenue split.
Want to stream on more than one platform to reach more audiences.
Want to be more free with what you wear in front of the camera.
Since the question "what is Kick streaming?" is answered, what do you think about this new platform? Are you interested in joining?
Stay tuned to our Blog for more news and insights about the world of streaming and content creation!