Instagram Reels is a great tool for making short videos. It has awesome and easy-to-use features to help you stand out as a content creator. Now, why would you even need another Reels app?
Some third-party apps offer extra features that the main app doesn't have. For example, if you want more effects or an intuitive editor, using other Reel editor apps might give you a better experience.
Not only that, 55% of creators on Instagram use third-party apps to enhance their Reels. If you don't give it a try, your videos might not be as impressive as the ones created with those apps.
Now, if you're looking to use the best apps for creating Reels, where should you start? This article gives you a list of the top 20 apps for making your Instagram stand out. So, let's dive right into the list.
14 Best Reels Apps for Editing and Creating Instagram Reels
Here are the best apps to make Reels that you should try in 2023:
1. Instagram
Available on: iOS, Android, Web-Based
Pricing: Free
Instagram Reels is Instagram's answer to short video platforms like TikTok. When making such a move, it turns out that short videos on Instagram get 22% more engagement than regular videos.
So if you're looking for the best app for making Reels, Instagram is the go-to choice for most people. It's user-friendly and has a range of tools for all kinds of creators.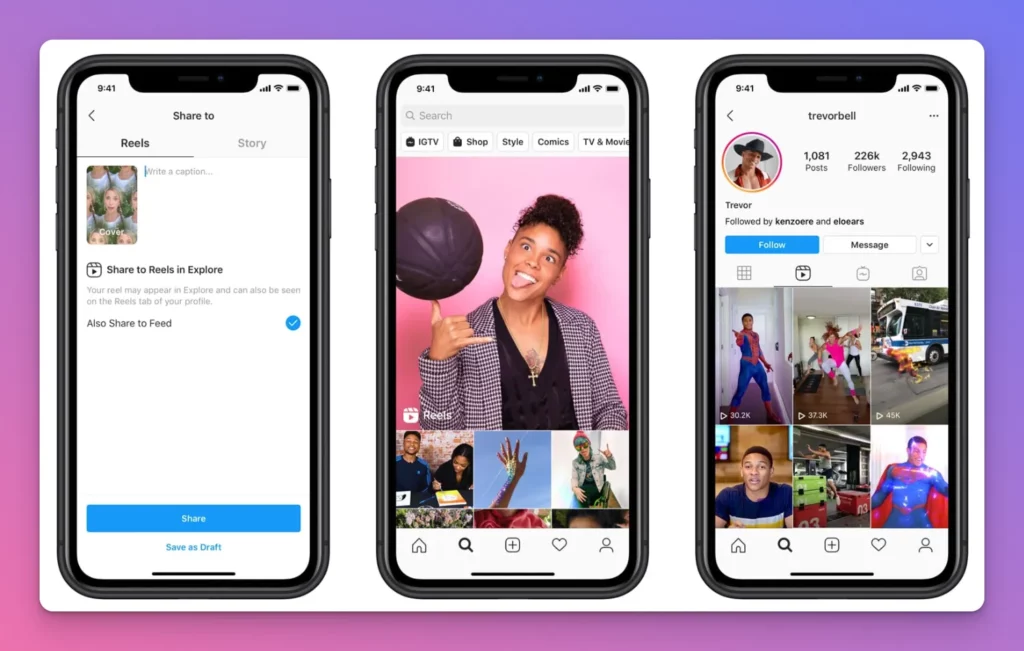 It's no surprise that Instagram is trying hard to keep up with TikTok's competition. That's why Instagram Reels includes in-built filters, music, speed controls, and more. Do you want your videos to look professional and connect better with your audience? Sure, you can do that.
In fact, it's not just an app for Reels. It's the main place for Reels as a new feature, and that's why so many people prefer it.
Key Features:
Filters — gives you an extensive range to suit your style
Speed Control — enables control over the pace of the videos
Explore —to find new Reels from people you follow as inspiration
Inbox — to watch, like, and comment on Reels that have been sent to you
Badge — to help you identify creators who are active on Reels
What makes Instagram the best app to make Reels?
Instagram's built-in Reels support guarantees a smooth experience for creating and sharing content.
Read More: What is the Best Time to Post on Instagram
2. InShot
Available on: iOS, Android
Pricing: Free, $2.99 (Remove Watermark), $3.99/month (Pro)
When it comes to popular mobile video editing apps, InShot should be on your list. The reason is Inshot is one of the best apps for Reels.
InShot is designed for those who seek professional quality without dealing with complex apps. It allows you to create stylish Reels easily. It offers a rich library of effects, transitions, and music.
If you want to trim, merge, or add a unique touch to your videos, InShot has everything you need. You can customize it to match your style well. It's also great for adding intro and outro to your videos.
What's more, the app lets you use emojis, animated characters, and stickers to add a fun touch. This Reel app is easy to use and comes with lots of features, making it essential for creating Reels.
Key Features:
Video Effects — enhance videos with various effects like gentle blurs to give depth.
Stickers & Text — personalize Reels with stickers and expressive text.
Music Library — make your videos more captivating with awesome music.
Speed Adjustments — customize your video speed to add a more dramatic nuance.
High-Quality Output — get your sharp visuals and clear details of 4K videos.
What makes InShot a great Reels app?
InShot is a Reels app that keeps things simple while providing impressive features. It lets you add a professional touch easily, even if you're new to it.
Read more: 23 Instagram Post Ideas to Get More Likes
3. Clips
Available on: iOS
Pricing: Free
"Making magic and spreading joy". That's what Clips is all about. Made by Apple, it's a Reels app focused on adding attention-grabbing videos for iPhone and iPad users. Guess what? You can use this Reels app for free.
Clips is one of the best apps to make Reels with many user-friendly features. You can create 15-second videos that will attract your followers. Do you want to import photos and videos from your library or record with AR Spaces? You can do that.
This one of the best Reel apps lets you transform your environment with fun, immersive visual effects. Even when viewers mute the sound, they'll understand your content. Thanks to the captions, emojis, animated characters, and fun stickers, you can add easily.
Key Features:
AR Spaces — turn up the fun in your videos with visual effects and interactive experiences.
Animated text — make your titles bounce, rotate, and fade.
Emoji and stickers — add a personal touch with a bunch of emojis and stickers.
Immersive camera effects — add camera effects to make your videos even more appealing
What makes Clips an Instagram Reels app worth trying?
It's a Reel editor app with standout features like AR Spaces and animated text for your short videos. iPhone and iPad users should give Clips a shot.
Read More: Top Instagram Follower Trackers
4. Canva
Available on: iOS, Android, macOS, Windows, web-based
Pricing: Free, $9.99/month (Pro)
Using Canva only as a Reels app is a bit overkill. The reason is this app is not just for graphics. You can create presentations, brochures, social media posts, and, of course, Reels.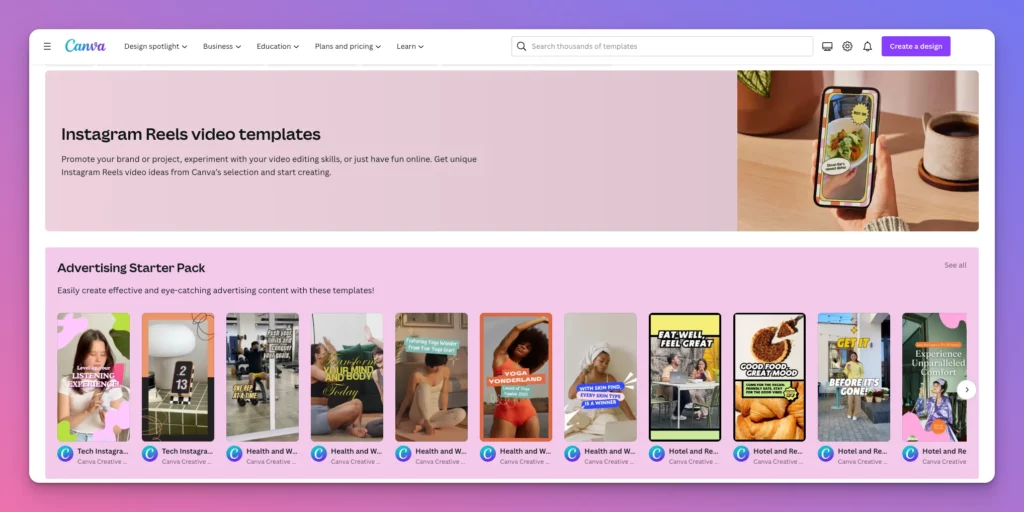 Canva provides you with many templates, fonts, and images for Reels that suit your style. You can also add some music for extra liveliness. Plus, the drag-and-drop interface is very simple for making catchy 15-second videos. Basically, it's a versatile tool for all things graphics.
If you have certain fonts and colors you're fond of, the Brand Kit feature is something you'll love. It speeds up your content creation.
The free version's collection is a bit too restricted? Don't worry, you can upgrade to the Pro version for tons more assets and templates.
Key Features:
Tons of templates — access a library of customizable templates for free
Intuitive video editor — enjoy the intuitive dashboard of a Reel editor app to add music, text, effects, and transitions
Collaboration features — collaborate with others to make the best Reels.
Export options — export your short videos to MP4, GIF, and more.
What makes Canva a versatile app for making Reels?
Canva is one of the best apps for making Reels, suitable for both beginners and professionals. It offers numerous design assets and a user-friendly interface.
5. FilmoraGo
Available on: iOS, Android, macOS, Windows, web-based
Pricing: Free, with in-app purchases
FilmoraGo, also called Filmora mobile, is one of the best apps to make Reels. Just like Canva, this app works on different devices like phones, computers, and the web. This app for Reels is created by Wondershare, a big name in the video editing industry.
Filmora Mobile is a versatile video editor to make creating short Instagram videos faster and easier. This lets content creators dedicate more time to coming up with unique and standout ideas for their content.
FilmoraGo has many awesome features. One of them is the ready-to-use Speed Effects that you can easily apply to your videos. These include Montage, Hero Moment, Bullet Time, Jumper, and Flash In.
Key Features:
Speed ramping effects — easily change your pace to make your video dramatic.
Audio Pitch Control — make sure your audio has the perfect pitch
Instant Mode — up to 115 video templates to produce a video in a few minutes.
Auto Reframe — turn your videos aspect ratio in minutes without losing quality
What makes FilmoraGo a great app to make Reels?
A recommended Reel editor app with lots of professional tools and a user-friendly interface to make Reels efficiently
Read More: The Best Instagram Post Size and Reels
6. Splice
Available on: iOS, Android
Pricing: Free
Unlike Canva and Filmora, Splice is made just for mobile devices. You can use it on both iOS and Android. With all its great features, Splice is definitely one of the top mobile apps for making Reels.
If you're excited about FilmoraGo's speed ramping feature, you'll love Splice too. It helps you make exciting videos by slowing down the most thrilling moments. This adds up to the intensity of your videos, right?
Simply put, creating eye-catching 15-second videos right on your iPhone or Samsung Galaxy phone is a breeze. Do you need to instantly change your video's background? The Chroma Key feature can help make your video look more professional.
Key Features:
Speed ramp —Adjust your video's speed for slow-motion or fast-forward effects.
Multiple projects — Work on different videos by managing multiple projects.
Chroma key — Replace backgrounds by removing and adding new ones.
Auto subtitle — Generate video subtitles automatically in upcoming updates.
What makes Splice a top app to make Reels?
Splice is a great alternative Reels app with rich editing tools to create unique Reels from your mobile phones.
7. CapCut
Available on: iOS, Android, macOS, Windows, Web-based
Pricing: Free
If you're looking for a Reels editing app with great features like LumaFusion, but without the price tag, CapCut can be your choice.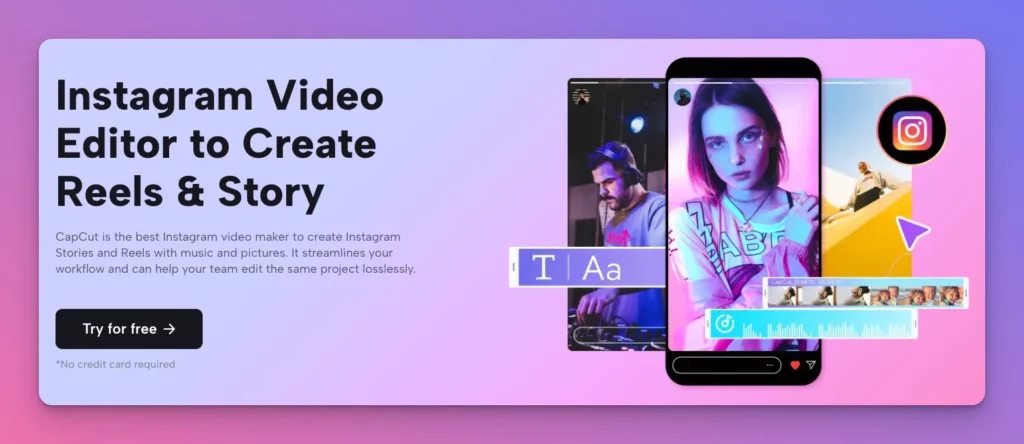 CapCut is a versatile app for creating and editing videos. You can use it on mobile, desktop, and the web. This Reel app is designed to be intuitive, allowing you to quickly edit your short videos and get fantastic results.
Do you want to trim, flip, speed up, or add tunes to your Reels? CapCut makes it a breeze. It packs in awesome filters and top-quality effects that boost your creations. What's cool about this app for editing reels is its easy use. You can make great Reels, whether you're new or a pro.
Key Features:
Aspect Ratio — change your videos' aspect ratio to fit Instagram Reels perfectly.
Fonts Collections — over 200 font options to add to your videos or use your own font.
Background remover — take out your video's background to make it visually appealing.
Voice Changer — tweak your voice's pitch and tone to add some fun and explore creativity.
Noise Reduction — minimize background noise in your videos for a more professional sound.
What makes CapCut the best app for Reels?
One of the best apps for editing and editing Reels which is available for free. It can be used on various social media platforms like Facebook and Twitter.
8. LumaFusion
Available on: iOS, Android, macOS
Pricing: $29.99 one-time
What do you think: a mobile app has become the Editor's Choice and the App of the Year? It must be a high-quality app that has been well-received by users, right? Yes, and we're talking about LumaFusion.
We believe you don't want to miss this app for creating reels on iOS from our list. And guess what? This excellent Reels app is also on Android. What great news! It means more content creators like you can really make the most of it.
LumaFusion isn't only for creating Reels, though. It's an app for editing with an innovative timeline to give you more control. You can lock, mix, and mute tracks, all easily from your device. Moreover, you can add or change tracks to create your perfect short video story.
Key Features:
Multi-Track Editing — edit multiple tracks of video, audio, and graphics simultaneously.
Export Options — gives you a variety of export options, including 4K and 1080p.
Titler — easily create and customize video titles with various fonts and colors.
What makes LumaFusion an excellent app to make Reels?
LumaFusion gives you some great features to create fantastic Reels. But it's one of those Instagram Reels apps you'll need to pay for.
Read More: Trending Hashtags for Instagram Reels
9. KineMaster
Available on: iOS, Android
Pricing: Free, $3.99/month
You've probably seen online videos with the KineMaster watermark, right? KineMaster is one of the best apps to make Reels on mobile devices you can use it for free. As of now, it's been downloaded over 600 million times on both the Apple Store and Play Store.
If you don't want that watermark on your video, you can upgrade to their Pro Plan for $3.99 per month. But you don't have to do that to enjoy most of their awesome features. What features does Kinemaster have?
KineMaster has lots of templates. What's even more interesting is you can share them with your friends. That way, they can make awesome videos like yours. And there's more, KineMaster is a Reels app that's designed for mobile users. It's one of the Reels apps with a full-screen timeline to simplify video editing.
Key Features:
Magic Remover — you can use the AI-powered tool to remove backgrounds from your videos.
Enhance Image Quality — lets you improve video brightness, contrast, saturation, and sharpness.
4K Exporting — get and share videos in high-resolution 4K for fantastic Reels.
Copyright-Free Music — access more than 100 music tracks without copyright concerns.
Video Speed & Reverse — adjust video speed, slow down, or reverse to emphasize special parts.
What makes KineMaster a top app to make Reels?
KineMaster is one of the best apps for making Reels you can download for free. It offers a pro editing setup to make Reels stand out. 
Read more: Social Media Scheduling Tools To Save Time 
10. Funimate
Available on: iOS, Android
Pricing: Free, $2.99/week (Pro)
When you go to funimate.com, the official site for the Funimate app, you'll see a simple one-page page explaining how to get this Reels app. It'll guide you to the Apple Store, Play Store, and Huawei App Gallery. And that's all about it; no further information.
But don't let that stop you from trying the app. Funimate is one of the best apps for making Reels on Instagram. It's actually one of PixeryLabs' products, and it has become Editors' Choice on Google Play Store and Featured Apps on Apple Store.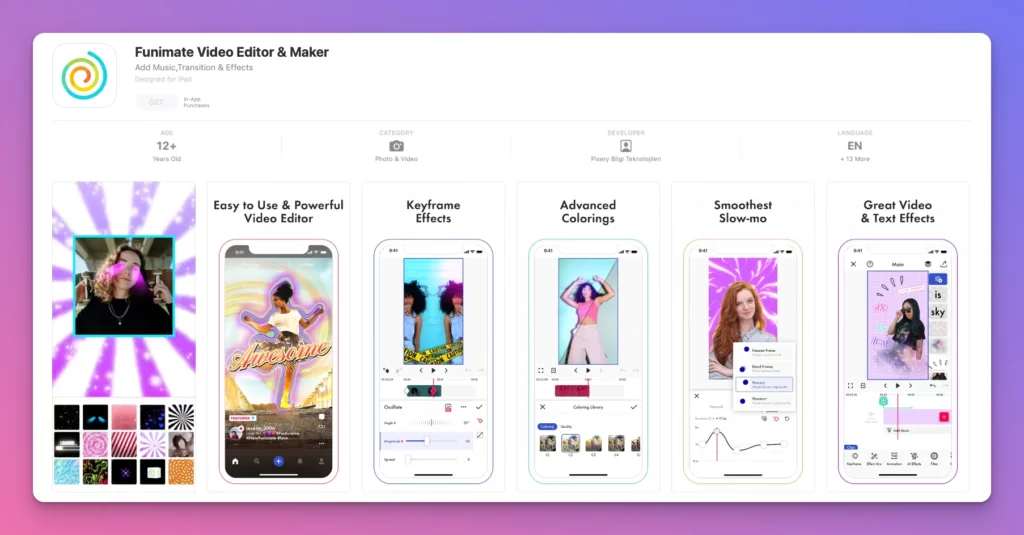 Funimate comes with over 100 advanced video effects. It will help you to turn ordinary videos into extraordinary Reels. You can add text effects to make them more captivating. Plus, you can also try the advanced coloring feature to change how your short videos look. And don't miss out on the FlowMix slow-motion effect.
Key Features:
3D Space — use the 3D scenes effect to make your Reels videos more visually attractive
Overlays and Backgrounds — Thousands of overlays and backgrounds you can use for free to showcase your creativity
Video and Text Effect — add more personality to your videos and make them enjoyable to watch.
Keyframe Effect — create more complex and dynamic videos with the movement of objects and effects in your video
Slow Motion — easily make slow-motion videos on any phone you have.
What makes Funimate a fun app to make Reels?
Just like KineMaster, Funimate is a Reels app for creating engaging short videos for free, but it comes with a watermark. You can opt for the Pro version to eliminate the watermark and access additional features.
11. Promeo
Available on: iOS, Android, Windows, macOS
Pricing: Free, Pro $6.99/month
Promeo is an excellent Reels app, designed to turn your ideas into awesome short videos on Instagram. And if Promeo isn't quite familiar to you, you might know about CyberLink better. CyberLink makes fantastic video editing software like PowerDirector and YouCam.
If that makes you excited about Promeo, you'll likely have high expectations, right? Don't worry, Promeo is a free Reels app with more than 28,865 templates available. With that, you can create fantastic Instagram Reels without starting from scratch.
If you want to make short videos on Instagram Reels with more exclusive graphic assets, you can go for their Pro plan. You'll get access to over 9 million stock videos and 11 thousand background music tracks from the Meta Sound Collection.
Key Features:
AI AutoCut — detects and removes unwanted objects from your videos to save you time.
Color LUTs — these pre-made color grading presets can improve your videos' look instantly.
Motion Graphics Title — create animated titles for your videos to make them look like a pro.
Animated Stickers — make your videos more attractive by including animated stickers.
Huge Template Library — never run out of graphics assets to make awesome short videos
What makes Promeo a great Reels editor app?
It comes with awesome features you can use for free. Promeo is a Reels app worth trying to make your short videos on Instagram stand out.
Read More: How to Download Instagram Reels
12. Adobe Rush
Available on: iOS, Android, macOS, Windows.
Pricing: Free
Adobe is known as a company that makes excellent products for photo and video editing. One of their great products is Adobe Rush. Some say Rush is the mobile and simplified version of Adobe Premiere.
Adobe Rush has a simple interface for creating and editing short videos easily. Export your videos whenever you want; no restrictions for that. You can also customize titles effortlessly to make your videos more appealing. Also, add music from the Adobe Music Library to your short videos.
You might think that you need to pay for Adobe products, right? Well, that's not the case with Adobe Rush. If you have an Adobe Creative Free account, you can freely download and use this Reels app. It's accessible on both desktop and mobile platforms.
If you want more features, you can upgrade to their paid plans for $9.99 per month. This gives you up to 100GB of cloud storage and sync features across devices.
Key Features:
Intuitive interface — no steep learning curve; enjoy a user-friendly Reels app made by Adobe.
Cross-platform — you can make the best content on both mobile and desktop devices.
Synced projects — you can work seamlessly across all devices without starting from the beginning.
Premade templates — you can use all the premade templates for your short videos.
Audio editing tools — not only can you enjoy the music library, but you can also use audio editing tools to improve your videos' sound quality.
Export options — enjoy unlimited export and share your content on various social channels with the right aspect ratio, including Instagram Reels.
What makes Adobe Rush a powerful Instagram Reels app?
Adobe Rush is an excellent Reels app that brings together Adobe's powerful tools and beginner-friendly features, making it easy for anyone to create content on social media.
Read more : Best Video Editing Software in 2023
13. WeVideo
Available on: iOS, Android, Windows, macOS, Chromebook
Pricing: $9.99/month
Are you a content creator looking for a Reels app to support education-focused content? If so, you might want to try WeVideo.
This Reels app is not limited to education, though. But in fact, two-thirds of the top schools in the US use this app to create educational content on social media.
WeVideo is a cloud-based video editing app that lets you easily collaborate on making Reels. They're proud of their real-time collaboration features. With this feature, you can share projects and branded templates to work on content together.
Don't have your own images and sounds? No problem. WeVideo offers a music library and up to 1 million graphics assets to make Reels quickly.
Do you want a consistent design for your Reels? The Brand Kit feature helps each video automatically adopt your logo, colors, and fonts.
Key Features:
Easy clip editing — trim, cut, and rearrange clips to make your perfect Reel.
Royalty-free music library — add any music or record your own voice-over for your Reels.
Ready video assets — choose from over 1 million stock assets for your Reels.
Cloud-based — edit your Reels from any device, even on the move.
Various video formats — no need to stick to specific formats for your Reels.
Aspect ratios adjustment — change your Reels' aspect ratio with a single click for a great Instagram look.
What makes WeVideo an engaging app to make Reels?
WeVideo is one of the paid Reels apps to create engaging Reels online, whether you're working alone or with a team.
14. Videoleap
Available on: iOS, Android
Pricing: Free
If you're interested in getting into artificial intelligence, you should try Video Leap. It's a Reels app created by Lightricks Ltd, and boasts itself as an AI video editor for social media users.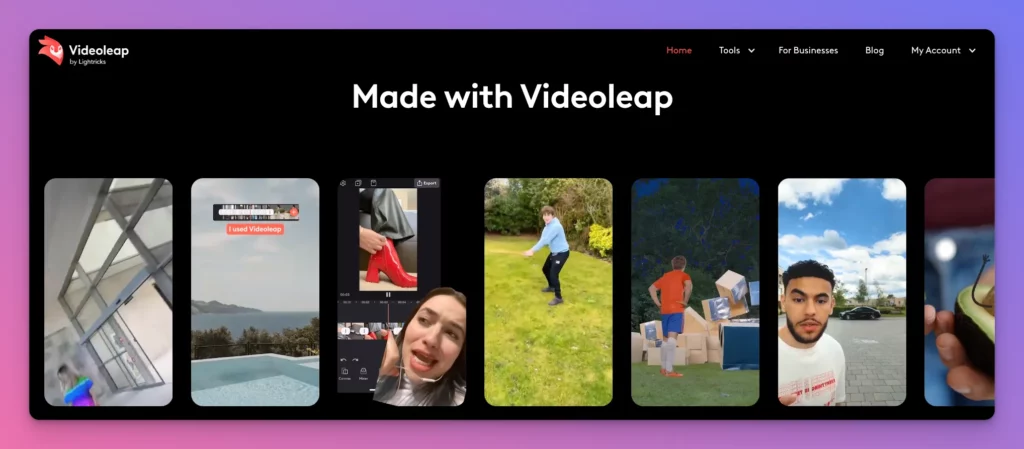 VideoLeap is a Reels editor app for both iOS and Android. You can get the app for free, but you must pay $8 per month to access all the advanced features.
When using this app, you'll be amazed by its AI effects. Do you want to transform yourself into a Barbie doll? Or do you want to captivate your audience with a video that looks like a moving painting? You can have it all with VideoLeap.
Simply put, if you want to make short videos for Instagram without starting from scratch. Or, if you want to use ready-made templates that can instantly attract an audience, Video Leap can be a great app.
Key Features:
AI Video Effects — enjoy the amazing AI video effects to make great Reels with a few taps.
Ready-Made Templates — use ready-made templates to make content creation easier.
Easy to Use Platform — a simple interface with powerful features is perfect for beginners.
Lots of Library Assets — a big collection of assets like sound effects, filters, and stickers to match your style.
What makes Video Leap an innovative app to make Reels?
One of the best apps to create Reels using AI technology available on the market is something you should try.
Read more: What is Social Media Management
Which is Your Best App to Make Reels?
Short videos became popular when TikTok gained popularity as a social media platform. Instagram responded by introducing a feature called Instagram Reels. You can create 50-second videos and share them with your followers.
There are many Reels apps you can use to make short videos for Instagram. We've listed 14 apps here to inspire your Reel-making. Feel free to explore more if you're interested, but those apps should cover your needs. Let's review them:
Instagram — the original app, has the best built-in Reels support
InShot — keeps things simple and offers impressive features for Reels.
Clips — provides AR Spaces and animated text for short videos.
Canva — suitable for everyone, featuring design assets and a user-friendly interface.
FilmoraGo — offers professional tools and a user-friendly interface for Reels.
Splice — provides rich editing tools for creating unique Reels on mobile.
CapCut — free and versatile for editing Reels on various platforms.
LumaFusion — offers great features for Reels, though it requires payment.
KineMaster — provides a free pro editing setup to make Reels stand out.
Funimate — available for free with a watermark; the Pro version offers more features.
Promeo — features free options to enhance your Instagram videos.
Adobe Rush — comes with Adobe's powerful tools and beginner-friendly features.
WeVideo — a paid app that helps you create engaging Reels online.
Video Leap — offers innovative tools and designs for visually stunning Reels.
Which Reels editor app do you use to make awesome Instagram content? It's up to you to decide. Just make sure your choice matches your niche and boosts your content creation.
If you want to monetize your content, platforms like Gank allow you to receive donations from your fans. You can manage your memberships at Gank with a 0% platform fee.