If you think social media is all about posting content and that's it, you'd better think again. Honestly, it's more like a puzzle. So you need a good strategy if you want to stand out. Skipping the planning and ignoring your content's performance can lead to trouble. And, this is why social media management matters.
What is social media management? It's everything you do to plan, make, and share your content on different platforms. It's also about keeping an eye on how it performs to align with your goals.
So, if you want to get ahead of the competition, managing your social media is a must. But, it's going to take some real work. And, that's where this article comes to help.
This article can be your friendly guide to understanding how to plan content and manage social media accounts like a pro. Ready to learn more? Keep reading!
What is Social Media Management?
Social media management is a way to use social media to achieve your goals, whether you're a content creator or running a business. It helps you plan and share your awesome posts, interact with your followers, and see how things are going.
In other words, managing social media goes beyond making content and sharing it. It's a whole process, from coming up with ideas to monitoring the content performance.
Social media management is good for all platforms available, from Facebook and Twitter (now X), to Instagram and Snapchat. So, it doesn't matter which platform you're on or what your niche is, this process is highly recommended.
Also, don't misunderstand that this is only a trend. This strategy has been used by many with awesome results. Even top social media creators like Pewdiepie and Kylie Jenner can reach their success due to effective social media management.
And guess what? Big brands like Nike or GoPro have been using social media marketing management for a while. They use it to help more people know about them and buy their products.
On top of that, 93% of businesses use social media to promote their products and 50% of them use social media marketing management. This means, managing social media accounts matters.
Read More: What is Social Media Influencer
Do You Need a Social Media Manager?
A social media manager is a professional who takes care of a brand or person on social media. They do things like posting, and checking content on certain social media platforms.
Do content creators or businesses need social media management experts to help them?
It depends on factors like your audience size and how much time you can spend on social media. Bear in mind that you might not have all the expertise to handle everything yourself, right?
But, if you're just starting out, it's a good idea to manage your social media on your own. This helps you connect with your audience the way you want. Most importantly, social media management can help you to earn money as a professional content creator.
In short, you need to do these as a part of your social media management:
Set your goals, find your audience, and make a plan to achieve them.
Make content that matches your brand and goals and share it at the right times for the best impact.
Talk to your followers, answer their comments and questions, and solve any problems that come up.
Track how well your campaigns are doing and find ways to make them better.
Make and monitor ads on social media to reach more people and meet specific goals.
Work well with other people in a collab post, or when managing social media for business.
Make guidelines for how you would use social media as a professional.
Watch new platforms and features, and stay up-to-date.
That seems like a lot of work, right? But why do you even have to do that?
Why Social Media Management is Important?
Here's why it's important to handle your social media well as a content creator or a business:
Improve Your Connection with Your Audience — Social media management lets you connect with your followers on a personal level. It can make a friendly community and build loyal fans that's vital for getting noticed.
Keep Your Brand Consistent — Social media marketing management keeps your style, tone, and values consistent across the board. This makes your brand recognizable. Plus, it shows that you're professional, helping you stand out.
Make Content Scheduling Possible — When you plan and schedule ahead, you make sure to post regularly. This keeps your audience interested and your feeds looking nice and balanced.
Track Your Performance with Real Data — Social media management tools can help you understand how well you're doing using data. This way, you can create better content that outshines others.
Learn from Competitors for Better Content — Keeping an eye on competitors helps you find new, unique ways to be different and stay fresh. This is also the key to getting noticed.
Reach the Right People in Every Post — The last thing you want is to connect with the wrong audiences. So, social media management and marketing can help you find your perfect audience. This will result in getting more people involved and interested in your content.
Collab with Fellow Creators Easily — When you collaborate with fellow creators, you're building a friendly community. This plays a vital role in gaining attention and recognition.
Save More Time — With social media management tools, you can save time. They let you do the automation for certain tasks and allow you to concentrate on ideation and execution faster.
Boost Your SEO for Better Recognition — Managing your social media well can make search engines notice you. This makes it easier for people to find you on many platforms and even helps more people find you.
Managing Social Media: How to Do That Properly?
If you're into managing social media accounts, what things do you need to take care of?
1. Know Your Audience
If you don't know your audience, making engaging content can be tough. And if that happens, getting successful on social media becomes even harder.
So, put this in your social media management plan right from the start.
The simplest way is to check out your current followers and figure out who they are. Or, you can check your competitors and see who follows them. This can give you a hint about your audience.
Alternatively, you can make your own audience persona based on your specific niche, especially if it's quite narrow. Your audience persona could be anyone you think would enjoy your content. If you want to be more data-driven, you can use tools like Audiense.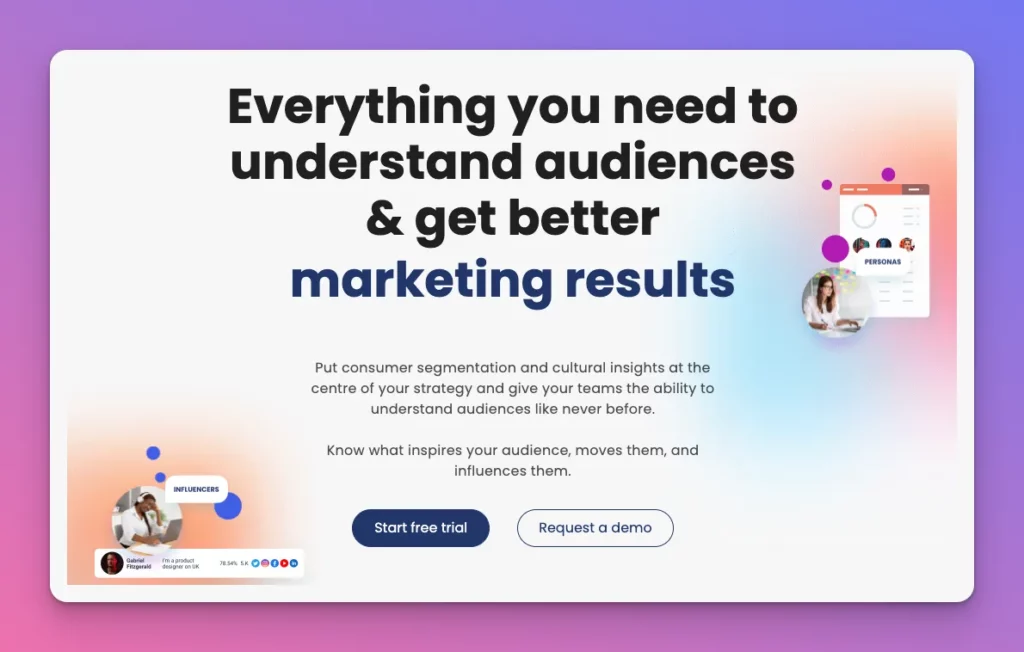 What you would normally do is set your profile attributes, define your audience based on age, gender, or other accounts on social media, and let the tool do the rest for you.
2. Set the Goals Clearly
How can you tell if you did well without a goal? That's why you must decide what you want to do with your social media.
If you're a content creator, your goal might be straightforward. It can be getting more views, followers, or engagement. But, if you're a business, your goals can be diverse. It can range from focusing on brand awareness and driving traffic to your website to boosting product sales.
Bear in mind that different goals need distinct approaches in social media management. It can become challenging without clear goal setting.
So, you can't just say, "I want to be famous with many followers." That's too vague. Instead, set a clear goal like "I want 20% more Instagram followers in 6 months to show I'm a top beauty influencer in my area."
People often refer to this as SMART goals, which stands for Specific, Measurable, Achievable, Relevant, and Timely. And don't worry, you don't have to do the math yourself. You can use tools like Later, Buffer, and more.
3. Pick the Best Platforms
Before, it was easy to pick a social media platform. For text, you can use X. For great photos, you can choose Instagram. If you want to post short videos, TikTok can be your pick.
Now, they're all similar. Many platforms seem to provide the same features. So, which ones to go for? Don't get confused. You can look back and understand who your audiences are.
If you're focusing on Gen-Z in the US, then go for Snapchat, Instagram, and TikTok. And if your audience is mostly female, choose TikTok — 59% of TikTok users are female.
And yet, the best thing to do is always check your own analytics. This will show you who likes your stuff and where they're from. Luckily, top platforms like Facebook or X provide built-in tools for that like Facebook Insights and Twitter Analytics,
If you decide to use all the platforms, that's fine, too. Data shows that social media users don't stick to just one platform.
4. Choose the Best Content Formats
Again, many social media platforms have similar features. And this is great to let you make different types of content. But there's a challenge: you must decide what content format to use.
Imagine you're a fitness coach. You can use Instagram posts for workout plans, stories for fast health tips, reels for brief exercise demos, and live streams for real-time Q&A sessions. So, pick the best approach for better views and engagements.
Also, not only can you experiment with different formats on certain platforms but you can also repurpose your content from one platform to another. Now, it's even easier to do that with the help of tools, like Canva.
5. Use a Content Calendar
A content calendar is a tool in social media management to help you plan, organize, and schedule your social media posts. It helps you post a balanced amount and keeps your goals and strategy going well.
Think about this. Black Friday is around the corner, and people are eager to buy things. You're not prepared with awesome content for the event. Then you rush to share a not-so-great post at the last moment, which only gets a few likes and comments.
That's bad. And if you keep doing that, you may lose many more opportunities to attract an audience at the right time for an event.
If you need a simple task management tool and share the posts yourself, you can try a tool like Trello. But, for a more integrated platform, Zoho Social and Hootsuite can be great options.
But, don't just make a schedule randomly. Figure out the best time for posting on social media. You can either check your audience or use researchers' findings for general information.
Read More:
6. Create Engaging Posts
Once you have a good plan, the next step in handling social media is making great content. What makes a good social media post? Here are some things it should do:
Match what your audience likes. If you're a gamer on Facebook, share tips about popular games your followers enjoy or at least any games within the same category.
Look nice and grab attention. Who wants to see visually awful content? So, if you're a cosplayer on Instagram, then share only clear pictures of your costumes and makeup ideas. That makes people want to see more.
Be fun and keep people interested. People go to social media to get entertained, right? So, make it happen. If you're a streamer, posting funny behind-the-scenes pictures or game moments on Snapchat can be awesome.
Inspire people to reach their goals. Remember MrBeast? He admired PewDiePie and now wants to be the most followed account on Instagram and beat T-Series. Yes, great content from PewDiePie inspired him to be a better content creator.
Encourage people to take action. People tend to follow their idols' actions. That's why content creators can become social influencers, too. In your post, you can share a link to a new game and ask people to download and play it to feel the same experience as you.
Be relevant for now. Timely posts match the current moment and usually get more engagement. You can make content on anything recent happenings like commenting on a new game release.
Benefit both you and the audience. Great content pays off, from getting more subscribers to becoming an authority in your niche. You might even earn money from brand partnerships, too.
You need to keep these things in mind, not just when you're making content, but also when you're trying to make it better. That's why social media management is important, especially for tracking the results with real data. We'll talk about this later. 
Read more: What to Post on Instagram? Read This!
7. Engage with Audience
How can you tell if your audience enjoys your content? You can just check the likes, shares, and comments. But it may change and keeping the audience engaged has to be your priority.
As simple as not responding to comments can make your followers lose interest in you. Even if your content is still great. And this is what social media management tries to handle.
You don't need to reply to every comment, though. You can just respond to the most important ones. For example, reply to questions and feedback about the products you're promoting. The tools like NapolenCat can help you automate the process.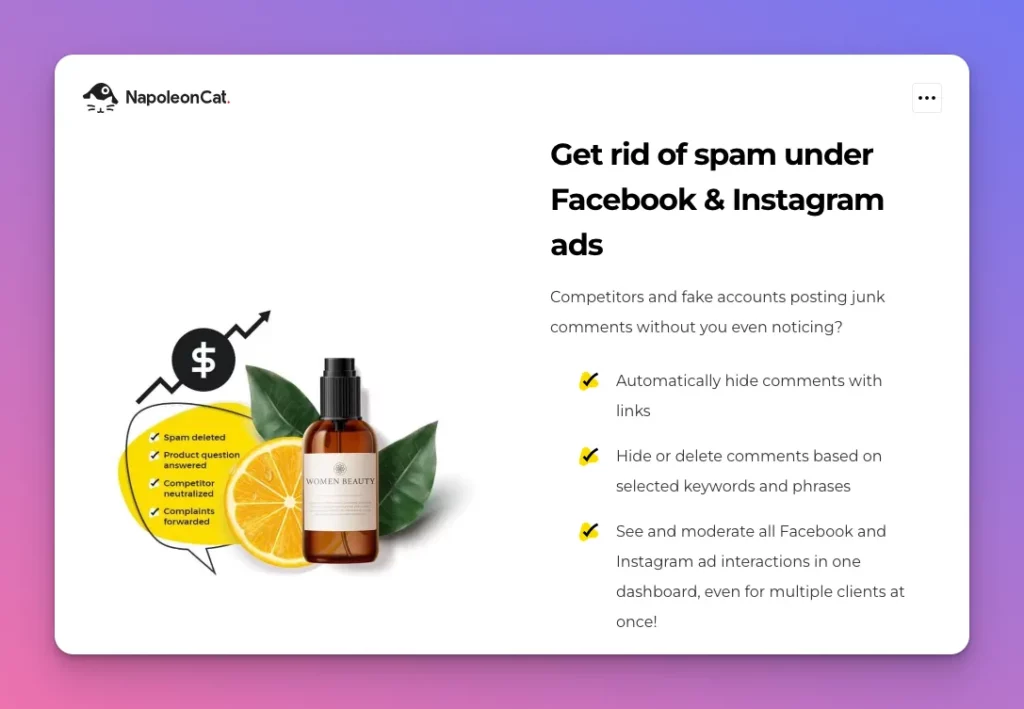 You can just click Inbox > Automoderation > Add new rule > Select the platform > Select the trigger like keywords or phrases > Choose actions like Delete or Reply.
8. Do Social Media Listening
How can you tell if your social media accounts are doing well? When people leave good comments and say positive things about you on different social media platforms.
But how can you do that? In social media management, there are tools called social listening tools. These tools help you watch all the talks on your social media in one place.
There are lots of tools for managing social media listening, such as KeyHole, HubSpot, and Brand24. Many of them include features like:
brand monitoring
sentiment analysis
automatic reporting.
Just like handling comments, you can just make a project, put in filters like keywords or sentiments, and choose how you'll get the report to check the results.
Listening on social media is a big deal for social media management and marketing. A survey found that over 61% of groups implement that to track certain mentions of their brand.
9. Dealing with Ads
Normally, you don't have to spend money on ads when using social media. Good content and strong engagement can bring followers by themselves. But when it gets really competitive in a certain niche, you might consider it.
When you decide to deal with ads, good social media management is vital to ensure your ad spending is worthwhile. You basically have three choices: do everything on your own, use a platform, or hire a social media manager. All of these have their own pros and cons.
In general, you need to do a few things when dealing with ads:
choose the platform
start a campaign
plan a budget
choose who will see your ads
pick the types of ads you want
make the ads
check how well the ads work
If you're doing everything alone, use the tools that come with the platform, such as Facebook Ads Manager. But if you have a favorite platform in mind, explore choices like FlowBox, AdEspresso, ConstantContact, and more.
No matter what tools you use, just make sure to choose the right platform for spending your money. Different platforms bring in different outcome, like Hubspot's latest report points out.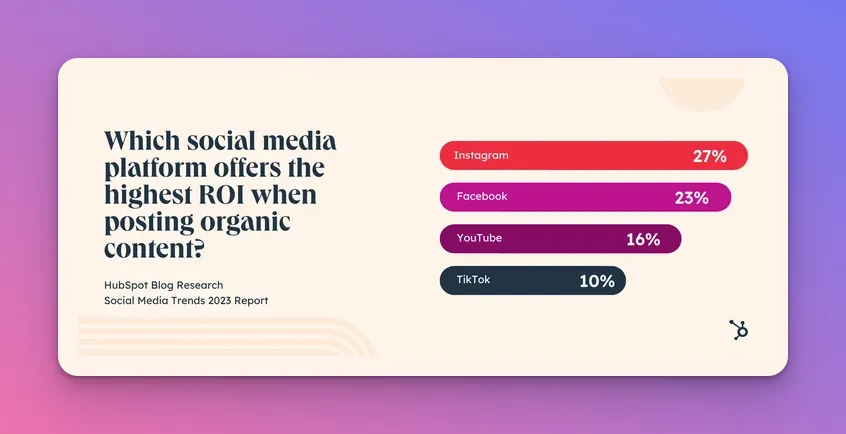 Read more: Top 100 Trending Hashtags for Instagram Reels
10. Monitoring Your Social Media Performance
The bigger picture of social media management is you keep doing something good and put a stop to something bad. This way, you can make your social media account stand out with awesome content.
The problem is the day-to-day process will not be that simple. You have to watch many things, like:
Engagement Rate. How many people liked, commented, or shared your content?
Reach. How many people looked at your content, even if they didn't interact with it?
Impressions. How many times did people see your stuff, even if they saw it more than once?
Click-Through Rate (CTR). How many people are clicking on links in your content?
Conversion Rate. How many people do what you want after seeing your content, like signing up or buying something?
Share of Voice. What's the percentage of social media conversation about you?
Sentiment Analysis. What's the mood of conversations about your brand on social media? Is it positive or negative?
Response Time. How quickly do you reply to comments and questions on social media to know how good the engagement is?
Content Performance. How well do your individual pieces of content do in terms of views, likes, and shares?
So, how can you manage all of this properly on social media? Here's what you should do:
1. Track It Regularly
Consistency is key when it comes to watching how your social media is doing. It's not recommended to check how things are going once a month or even longer than that.
Also, it's not just about looking at numbers. It's also about understanding what those numbers mean and how they match your goals.
For example, if your goal is boosting brand awareness, but you see that not many people are seeing your posts, your strategy might need a fix. Tools like Hootsuite or HubSpot can show you data right away. That way, you can see how each post is doing.
By paying close attention to these things, you can make sure everything you do helps you reach your main goals.
2. Audit Your Content
Social media management can help you make changes based on certain findings of your social media activities.
Let's say you see a trend of low click-through rates on your posts. This could possibly mean that your captions aren't interesting enough to attract people to do what you ask them to do.
If the captions are really the problem, that's the time to create better captions. When you make these changes, you're not guessing. You're doing it using data to understand what your audience likes and needs.
And if you are a content creator who works with a certain brand and they use the CTR as an indicator, having a low CTR might look like you're not doing well. So, keep monitoring and auditing your content when needed.
3. Adjust The Settings
Don't set everything in stone when it comes to social media management. Don't misunderstand that it's about setting things up and leaving them.
With a social media management tool, you can do many things automatically. You can schedule posts, set up regular content moderation, and create a project for social media listening. But, you need to be ready to adjust when things change.
Let's talk about social media listening. At first, you set up a tool to watch for certain words about your brand. But then new words pop up. If you don't change the tool's settings, you might miss good ideas. It's the same with comment moderation when you block certain words.
If you use a content calendar to post automatically, change things if fewer people like or comment. Check the numbers and choose better times to get more likes and comments.
4. ReconsiderThe Budget
When you choose to spend money on ads, it's like making guesses about your success. You look at past performance, current trends, and how people respond to your posts. Tools like Facebook's Ad Manager can assist, but it's still just an estimate.
Luckily, managing social media isn't rigid. You can change your budget later if things change. If it works, add more money. If it doesn't get many clicks, spend less. And if it's not going well, you can even stop it.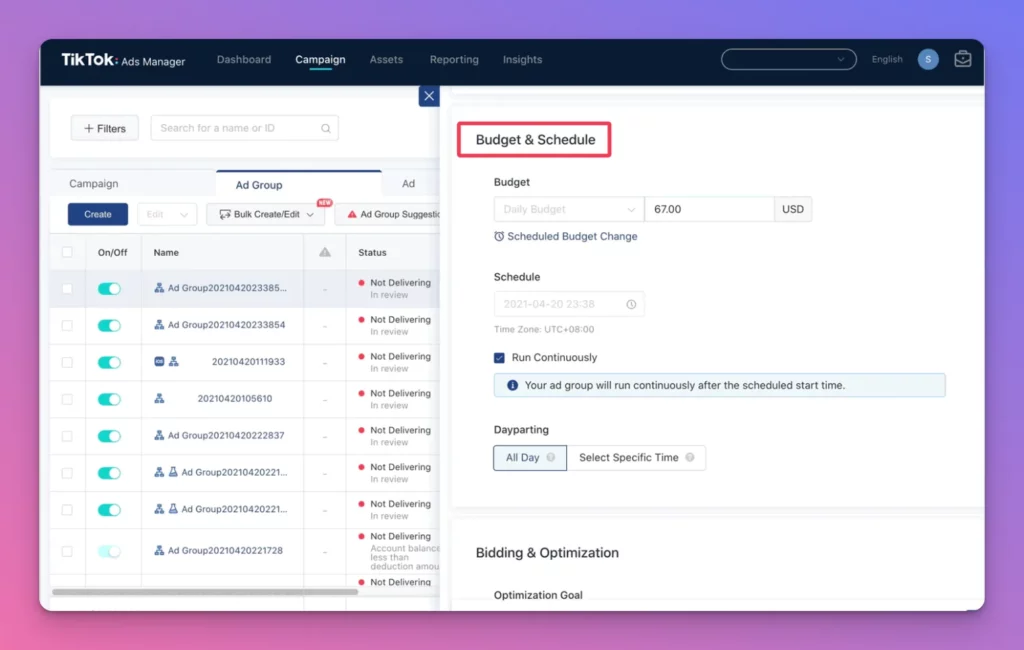 Platforms like Facebook and TikTok have user-friendly settings so you can make changes easily. To adjust the budget, you can go to your campaign, pick 'edit,' and in the budget section, enter the new amount you want.
Final Thoughts on Managing Social Media
Social media management is not just a trend. Instead, it's your versatile method for planning, creating, scheduling, and monitoring your content across platforms, just like the pros.
When you put this into action, no more feeling lost or struggling to keep up. You'll see the bigger picture and have total control to manage social media accounts and execute your strategies, just like how big brands and top creators do.
Now is your chance to shine. So, why not jump right in and make an impact through your social media accounts?