How to get Instagram followers? That's a common question among people who create content on the platform, especially those who are just starting out.
For content creators on social media, having more followers equals success. The more people follow you, the greater your chances of becoming popular and earning more money. But how to get more followers on Instagram?
There are several ways to do this, and you don't need to come up with ideas by yourself. In this article, we'll show you how to boost your Instagram followers. The good news is that most of these methods won't ask you to spend any money.
How to Get Followers on Instagram in 2023?
Here are a few tips on how to get Instagram followers in 2023:
1. Understand the Algorithm
If you're wondering how to get more Instagram followers, the first thing to do is understand the algorithm.
Did you know that Instagram doesn't rely on just one algorithm to decide what to show you or whose posts to put first? You read it right. They use different sets of rules to make your experience unique.
Bear in mind that this step won't magically skyrocket your count overnight.
But, when you learn that most people look for their best friends' posts in Stories and use Explore to find new people to follow, you'll get the idea how to get more followers on Instagram.
2. Avoid ShadowBanning
If you're shadowbanned on Instagram, put aside the question: how to get followers on Instagram.
A shadow ban means that other users can't see your posts well. This happens because you didn't follow the community guidelines. Now think about it, how can you grow your followers when you're shadowbanned on Instagram?
To get more followers on Instagram, make awesome content that follows the rules to avoid this situation. And remember, shadowban is a real thing that can happen to anyone.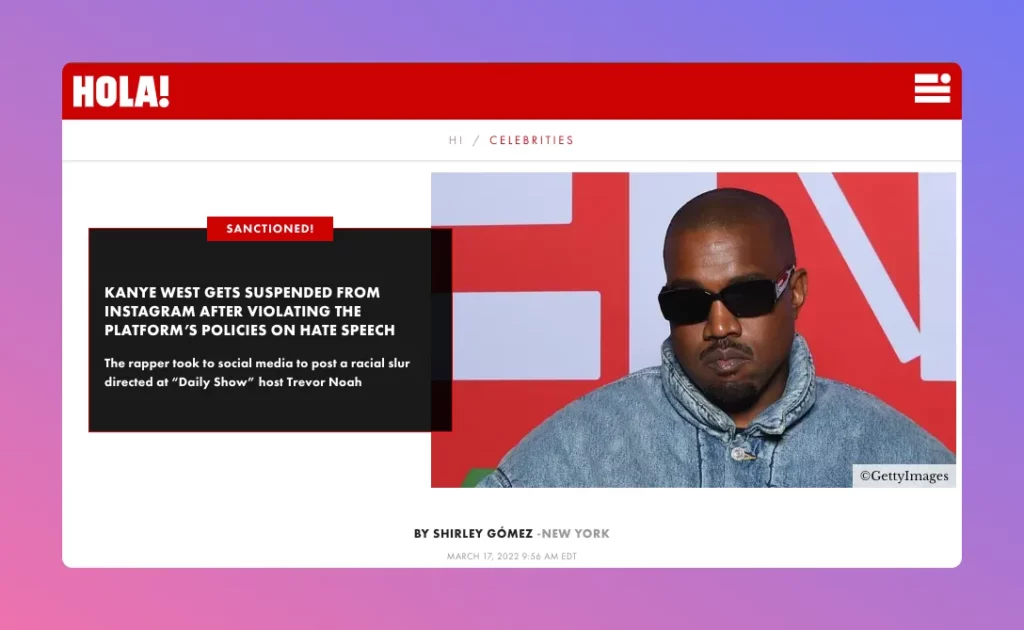 3. Get Verified on Instagram
A blue checkmark next to your username means everything when you want to know how to get followers on Instagram fast. It shows that the platform knows you're a real person, making your account more authentic.
If someone wants to follow you, they'll see you're a great content creator, no matter your niche. Also, verified Instagram accounts are usually owned by celebrities, athletes, and musicians.
As you might guess, verified accounts tend to have more followers than unverified ones. Getting verified can be helpful, but it's not a must for all creators.
What's more, you don't have to pay to get verified on Instagram, unlike X (formerly Twitter). While they offer a Meta Verified program for $14.99/month, it's still new and limited to the United States, Australia, and New Zealand.
4. Switch to a Creator Account
Switching to a Creator Account is a smart move to get more followers on Instagram. If you haven't done it yet, you should do it now. While a personal account is nice and simple, it's not enough if you're serious about creating content on Instagram.
If you switch your account to creator account, you'll have benefits such as:
Professional Dashboard — keep an eye on your performance
Growth Insights — learn what posts help you gain followers
There are more advantages, but these two are great for getting more Instagram followers for free.
5. Create an Authentic Instagram Bio
When someone visits your profile on Instagram, the first thing they see is your bio. This means your bio has a big role in creating a positive first impression.
Now, how to grow Instagram followers? If you write a carefully crafted bio, not only can you attract more followers but also strengthen your brand. This applies to all types of content creators, from gamers and streamers to musicians.
We understand that coming up with a good Instagram bio can be a bit tricky. Luckily, we have shared some bio ideas to get you inspired. Those ideas can help you get more Instagram followers.
6. Offer a Unique Value Proposition
Did you know that by 2025 Instagram might have 1.44 billion users? With so many people using it, how can you grab attention if you don't have something special to offer?
That's where your Unique Value Proposition (UVP) comes into play.
Your UVP is what makes your Instagram stand out. It's what makes people want to follow you because they can't get it anywhere else. And that is how to get more followers on Instagram.
If you're into video games, you don't just have to share your gameplay videos. Look at how famous YouTuber like The Game Theorists come up with their UVP.
7. Create High-Quality Instagram Posts
For content creators who are serious about gaining followers on Instagram, creating high-quality Instagram posts is a must. Bear in mind that Instagram is all about visuals.
When people come to your profile, they will instantly decide whether to follow you or not based on what they see. And not just that, they're likely to interact more with content they enjoy because of its good quality.
But don't get it wrong, depending only on a single post isn't a strong strategy. Yes, the world_record_egg got an amazing 60 million likes from just one post. But that's a rare case. So, you need to put efforts into making creative posts to make your Instagram feed awesome.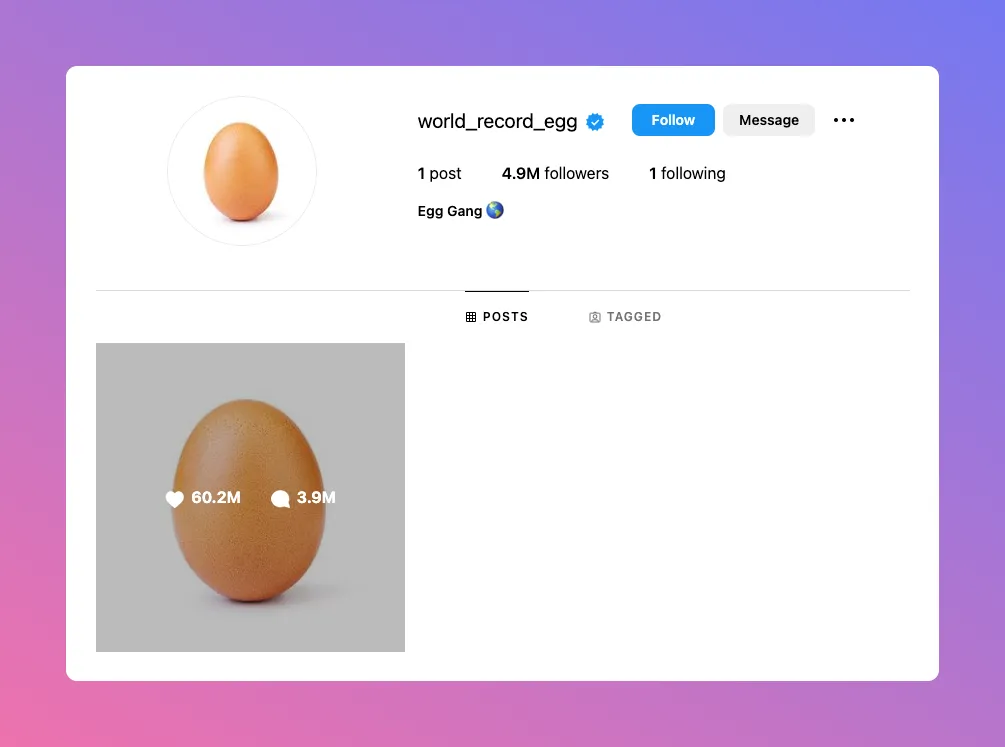 8. Produce Engaging Instagram Reels
Instagram is famous for sharing photos. But, it has a feature called Instagram Reels. With Reels, you can post short videos that are about 15 seconds long. These videos can help you capture the interest of a larger audience.
And guess what? Instagram Reels can be the answer for how to get followers on Instagram. Why so?
The stats show that Instagram Reels get 22% more people engaging than regular videos on Instagram. Plus, the most popular Instagram Reels can get almost 300 million views.
9. Go Live on Instagram
Instagram has a feature called Instagram Live. By using this, you can go live in front of your followers to build instant connections. What's even more amazing is that live streaming on Instagram suits any niche, from fashion to gaming.
We recommend using this feature. The reason is real-time interaction is how to gain followers on Instagram fast.
Unlike regular posts, going live on Instagram shows the true you as a content creator. Also it creates a sense of FOMO (Fear of Missing Out), meaning people need to catch your stream on time.
Read More:
Mobile Streaming Setup
Best Live Streaming Platforms
10. Post Interesting Instagram Stories
How to get more followers on Instagram? You must share interesting stories that can quickly catch the eye of both your current followers and those who haven't followed you yet.
You probably know that stories on Instagram show photos and videos that disappear after 24 hours. Like live streaming, this feature is also great for creating urgency to consume your content.
And guess what? Your stories are right at the top of the app. This means they're instantly visible, boosting their potential to attract audiences.
Read More: The Best Instagram Post Size, Story, & Reels for Better Engagement
11. Make Awesome Captions
You know the saying, "A picture is worth a thousand words", That might be true. But if you just post a photo on Instagram without a good caption, it won't grab as much attention.
Not only that, adding a thoughtful caption can give meaning to your photos. This matters, especially if you have a certain message to say. For example, if you support a cause, promote a product, or share your thoughts on an issue.
With that in mind, using an interesting caption is a smart way to get more Instagram followers for free. People who agree with you on certain topics or are curious about the products you talk about are likely to follow you.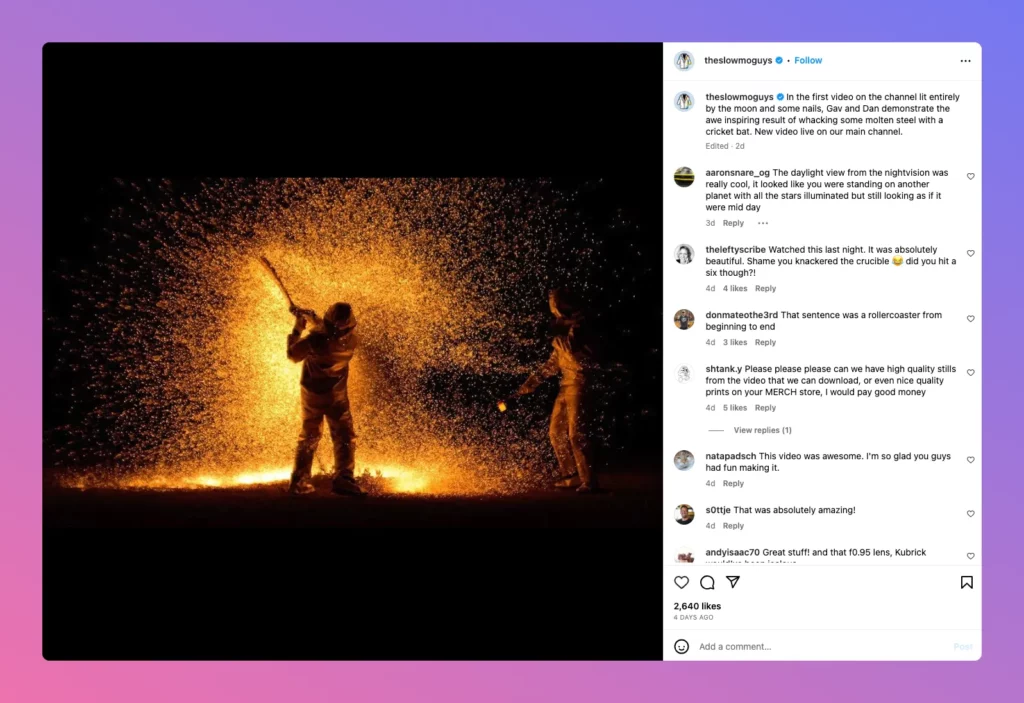 12. Include Relevant Hashtags
If you haven't added hashtags to all your Instagram posts, it's a good idea to start now. Hashtags are one of the best ways to boost views and interactions on your content.
Take a look at many social media influencers on the platform. Yes, they always try to reach more audiences by using the right hashtags. It can be anything based on your niche, from #gaming and #letsplay to #cosplayer and #foodphotography.
If you're unsure about what to use, you can easily learn the trending hashtags that best suit your message.
13. Don't Ignore Instagram SEO
You might ask, "Why do I need to learn about Instagram SEO to get more followers? Can't I just stick to using hashtags as usual?"
Hootsuite says hashtags still matter. But the impact of SEO in boosting your visibility on Instagram is significant. From their research, any posts optimized for SEO can get a 30% bigger reach.
Imagine, just by including alt text or your location, you can help people discover you. What a good way to get followers on Instagram for free, right?
14. Post at the Right Time
When you post content regularly, it shows that you are consistent as a content creator. But when you post it at the right time, this can grow your Instagram followers fast.
The reason is posting at the right time increases the chance of more people seeing your post. This, in turn, boosts the probability of them engaging with it, such as sharing it with their friends.
So, how to get followers on Instagram when it comes to the best time to post on Instagram? Research suggests posting on Tuesday from 4 AM to 10 AM and also on Wednesday from 7 AM to 11 AM.
15. Develop a Strong Personal Brand
To make sure people always turn to you for information on a specific topic, make your personal brand strong. This is how to get a lot of followers on Instagram that stick around for a long time.
That's why it's important to figure out your special style, voice, and message. These should all stay the same whenever you make a post on Instagram. When things are consistent, people trust you more and remember your personal brand easily.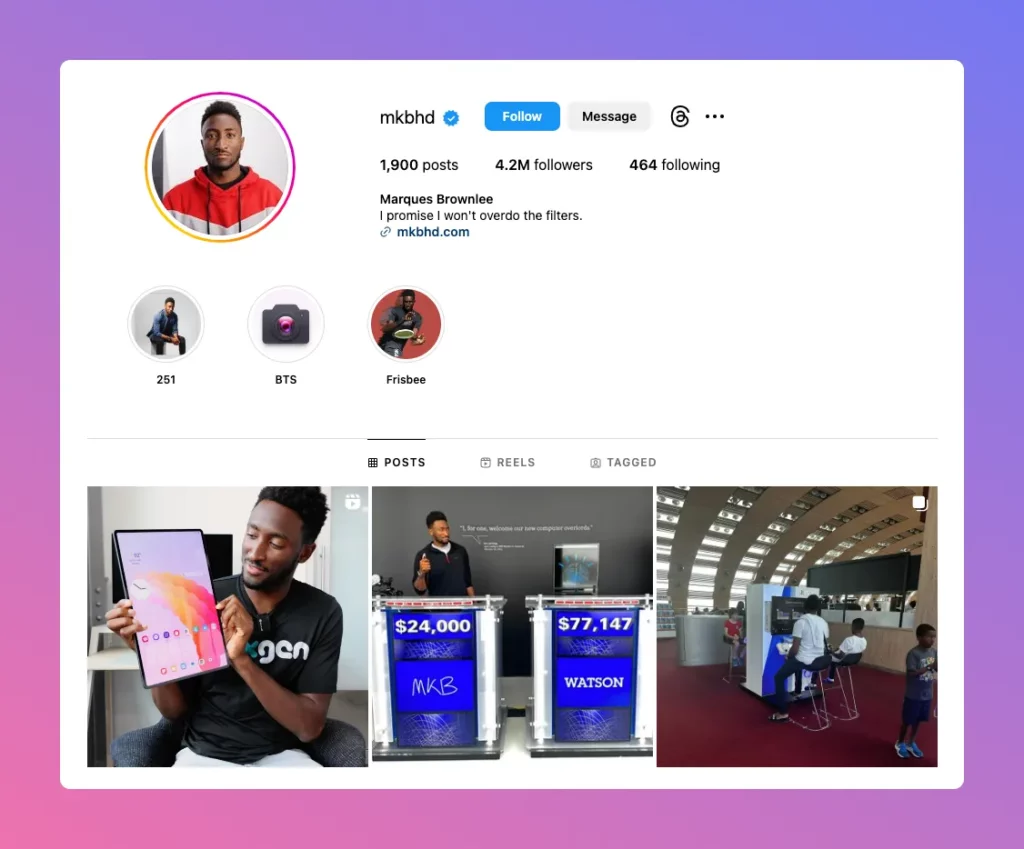 Marques Brownlee, a popular tech influencer on Instagram, mentions in his bio: "I promise I won't overdo the filters". That's the way he tried to communicate with his audience that his videos are real and they are full of authentic reviews.
16. Engage with Your Audience
Many people believe that all social media, including Instagram, is designed for interaction. So, the nature of an Instagram post is to attract people to comment, like, and share.
With that in mind, the more people engage with it, the more others will become aware of the person who created the content. In short, if you come up with a question: "How to get more followers on Instagram", think about the core of Instagram — engagement.
To do that, you can respond to comments and questions whenever you have the time. Also, you can ask questions to let your followers have something to say.
17. Encourage User-Generated Content
User-generated content is all about the content your followers create. It's a nice way to grab more followers on Instagram. But usually, it's more about the brand than individuals.
For example, when you see posts from Red Bull or GoPro on Instagram, many of them come from people who use the product, not the company itself. Still, these posts click with the brand's followers. They're interesting and show authenticity.
You can also motivate your followers to create their own content. Let's say you're a beauty influencer. You can post a specific makeup look and challenge your followers to try it, too. Those who do well will have their work shared by you.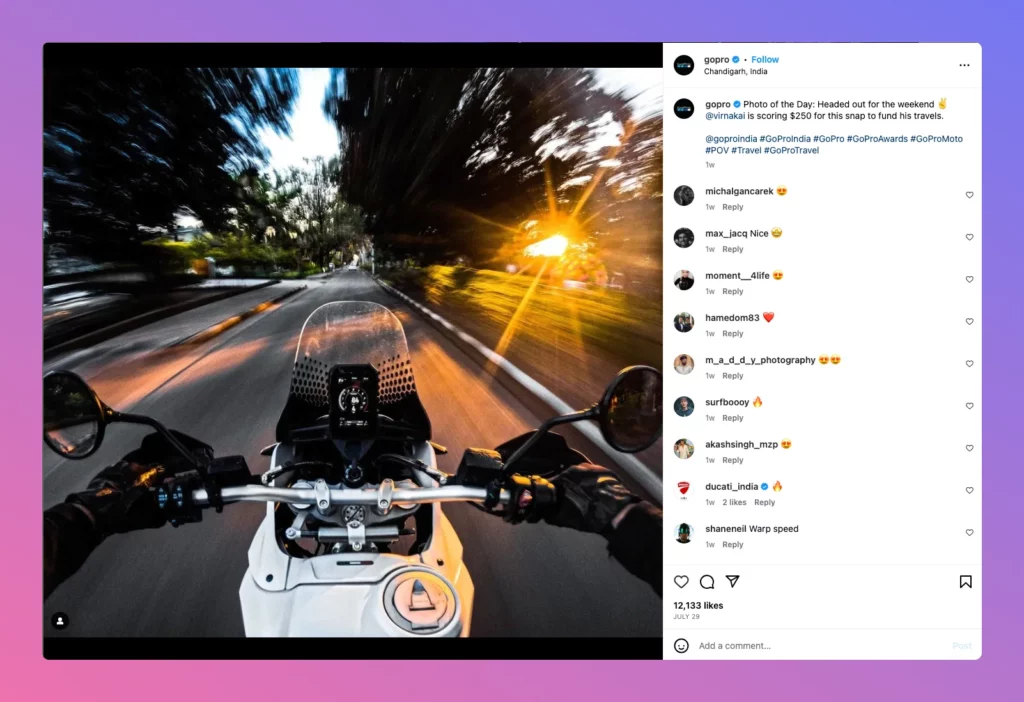 18. Collaborate with Others
David Beckham, Matt Damon, Snoop Dogg; you name it. All of them are featured on Khaby Lake's Instagram. This contributes to his success, with a current follower count of 80.2 million.
Sure, you can't just count on working together with others without making great content. But it's true that collaborating can help grow your audience. It lets you connect with people who might not usually see your photos or videos.
But don't get it wrong, collaborating on Instagram is not only about creating content like what Khaby did. It can be about tagging someone or a specific brand as a part of your post, too.
When you collaborate with others and receive many likes, it's clear that your audience respects both of you. This boosts trust and can create more interaction that will eventually attract more followers.
19. Run Giveaways
A giveaway is when you give prizes to your followers, usually with some rules. It's a smart way to get more followers on Instagram because it can quickly increase the number of people following you and boost how much they interact with your posts.
Actually, it's businesses that often do giveaways to help more people know their brand and attract customers. It turns out that content creators can also do this to get more social media followers.
A giveaway works for any niche. The prize doesn't need to be expensive, though. It's often about showing respect to your followers for hitting a specific goal. For example, when you get 1 million followers or have the most viewed content, you can do a giveaway like what Ali Abdaal did.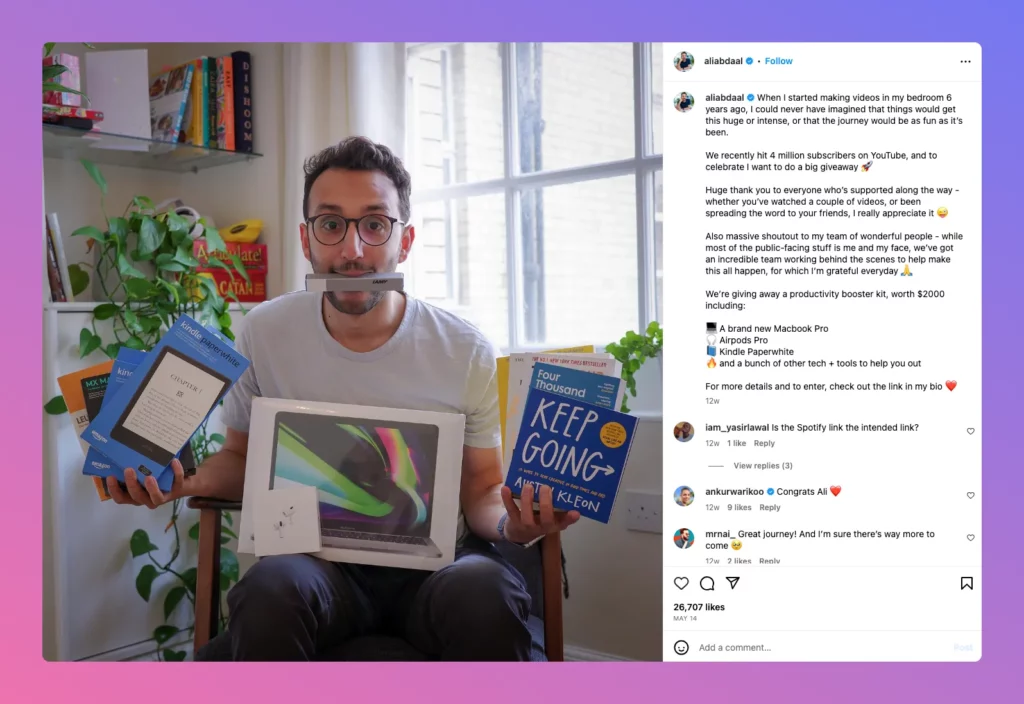 20. Cross- Promote to Other Social Channels
You can connect with your audience on different social media platforms. If you're after more followers on Instagram, doing cross-promotion is a great way to boost your visibility.
Let's say you're a cosplayer. You've made a YouTube tutorial about doing makeup. You share pictures of your makeup results on Instagram. Then, you create a Twitter thread explaining each step in detail and include a link back to your Instagram.
This way, you can make a single piece of content and promote two other social channels at once. It doesn't take much effort, but you can attract more followers on Instagram.
21. Run Targeted Instagram Ads
When it comes to how to get followers on instagram, you can always start with the free strategies. But, if you can afford it later on, paid strategies can also be effective.
Instagram ads help you reach and engage more people by targeting them precisely. You can also track ROI (return on investment) to make sure your efforts are effective. This is how you can attract Instagram followers using data-driven actions.
If you see a post marked as 'sponsored,' it's an ad. You can find out how to make awesome content similar to those ads.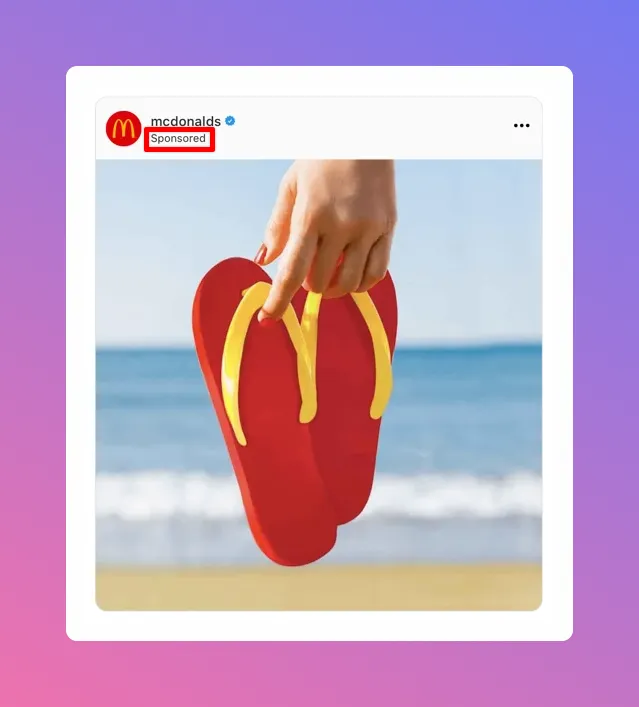 22. Analyze High-Performing Content
Just like when you run ads, any approach on how to get more followers on Instagram should be based on data. This allows you to learn from what works and use it in your next posts. You can also learn from mistakes to make your content better.
Thankfully, there are many ways to analyze your content and keep track of your follower count. Tools called Instagram follower trackers can assist you in improving your strategies.
Remember, analyzing content isn't only for pros. Beginners also need to know how to spot content that attracts more followers and what doesn't.
Final Thoughts on How to Gain Followers on Instagram
Many content creators want to know how to get more followers on Instagram. This makes sense because the more followers you have, the more popular you will be in your niche.
You have learned 22 ways how to get insta followers even if you are beginners. Some of them are:
Understanding how the algorithm works
Making a unique profile or Instagram bio
Writing engaging captions
Using hashtags to make your post easy to find
and more
It takes time to see results, but if you use the right strategy, your followers will grow.
When that time comes, you can use it to build your personal brand better or even earn more money. Not just from Instagram, but also from content creator platforms like Gank where you can make money from donations, selling merchs, and more, without any platform fees.