With over 1.3 billion people using Instagram, it's hard to stand out unless your posts are special. But coming up with fresh ideas all the time can be tough. What if you run out of Instagram post ideas? That situation can leave you staring at your phone, wondering what to do.
"What to post on Instagram?" That's a question that many content creators think about. It means you're not alone.
So, you need to be a bit creative and plan things well. This way, you can come up with Instagram ideas that not only connect with your followers but also boost your brand as a content creator.
Now, are you looking for inspiration? We've got 20 unique and actionable ideas to make content for Instagram that makes your feed fresh, and your followers engaged. Ready to dive in and beat content fatigue?
23 Instagram Post Ideas to Boost Engagements
These are 23 content ideas for Instagram to get more likes and followers in 2023:
1. Turn Your Fans into Stars with User-Generated Content
Want your followers to feel special? Share the content your followers post when they talk about your content, or use your products and tag them.
This is called user-generated content, and this content idea for Instagram isn't new. @gopro does this really well using #GoProHero or #GoPro for quite a long time.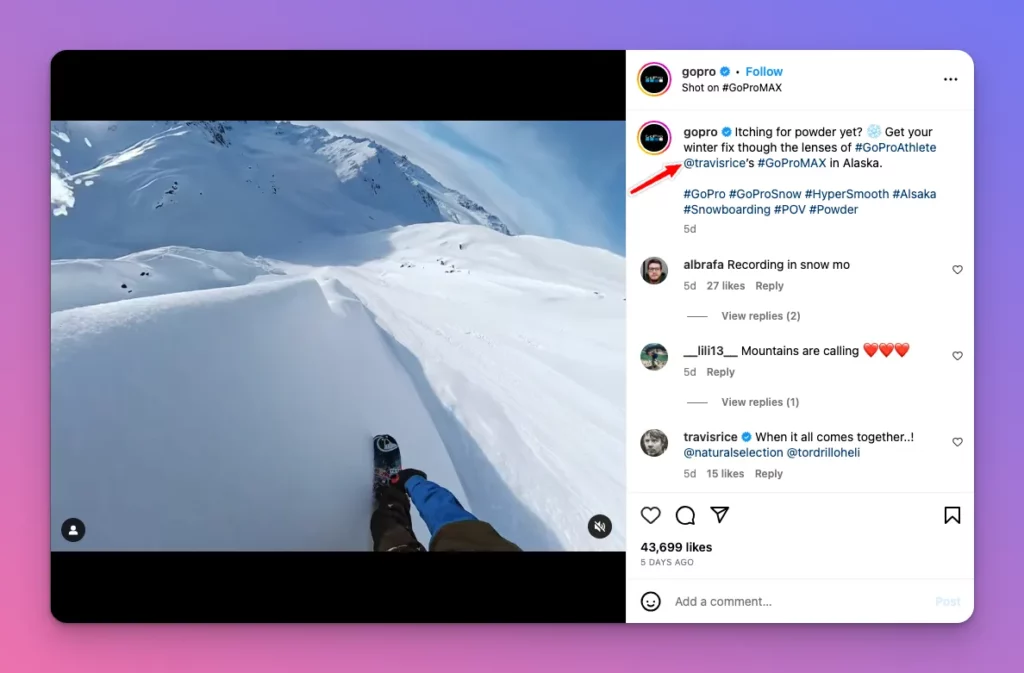 Now, imagine being featured on GoPro's official Instagram with 20 million followers. That would be great, right?
2. Share Positive Quote Posts
To build a strong personal brand as a content creator, share positive things on your social media. And guess what? Good quotes are great for sharing.
Look at @thegoodquote with over 25 million followers sharing quotes. This shows people love quotes, making them a great Instagram idea for your feed.
But not just any quote. Use quotes that match your brand's values and connect with your audience. To make your quote posts unique, use attractive backgrounds and fonts aligned with your brand voice.
Hacks : Get More Followers on Instagram
3. Teach in a Swipe with the Educational Carousel
Are you an educational content creator wondering what to post on Instagram? Well, guess what? Education doesn't have to be boring, especially on Instagram.
Take a look at @natgeo, for example. They use carousel posts to teach their audience about important topics like climate change. Another example is @logodeigner01. They show how a design is created and its final version.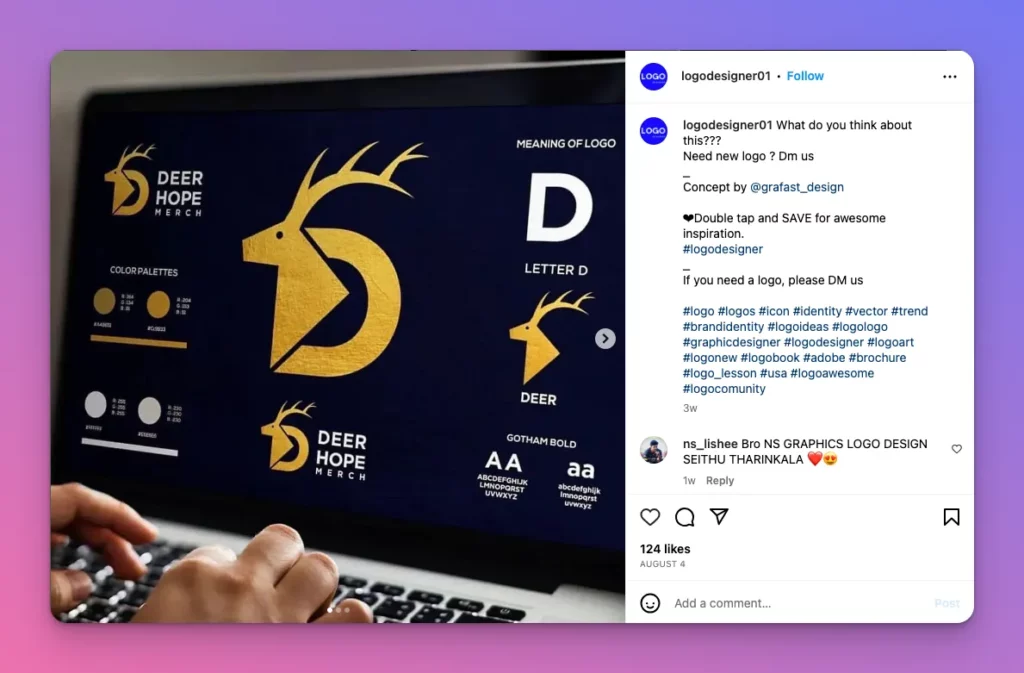 You can do the same. Choose a topic that matches your brand and break it into small pieces. Each slide in the carousel can explain one point. The goal is to give value to make your followers learn something new from your posts.
4. Show the Real You with Behind-the-Scenes Content
Behind-the-scenes content is a powerful way to build a strong connection with your audience. Why? It helps them see the real you and feel close to you.
And don't get it wrong. This works for businesses, too. Being open about what happens behind the scenes can be really helpful.
Think about @adobe. They show artists using their software to make cool pictures. And you know @zachking, right? He does magic tricks and shows how to do them, too.
5. Showcase Your Product Highlights
If you are a business, bear in mind that your products are all about your customers. So, tell them why your products are great. These are things they maybe don't know. Give your product the attention it deserves.
Take @apple as an example. They focus on one product at a time and talk about its main benefits. Sometimes, they share about Shots on iPhone, other times, it's about the new Apple New Music Daily.
How to make a product highlight a lovely Instagram post idea? Use good pictures and clear descriptions, and make your followers feel they need this product. 
Read : Best Instagram Post Size, Story, & Reels
6. Engage in Conversation with Polls and Questions
Instagram is one of the best platforms for engagement. And @spotify knows this well. That's why they often use polls and questions to interact with their audience.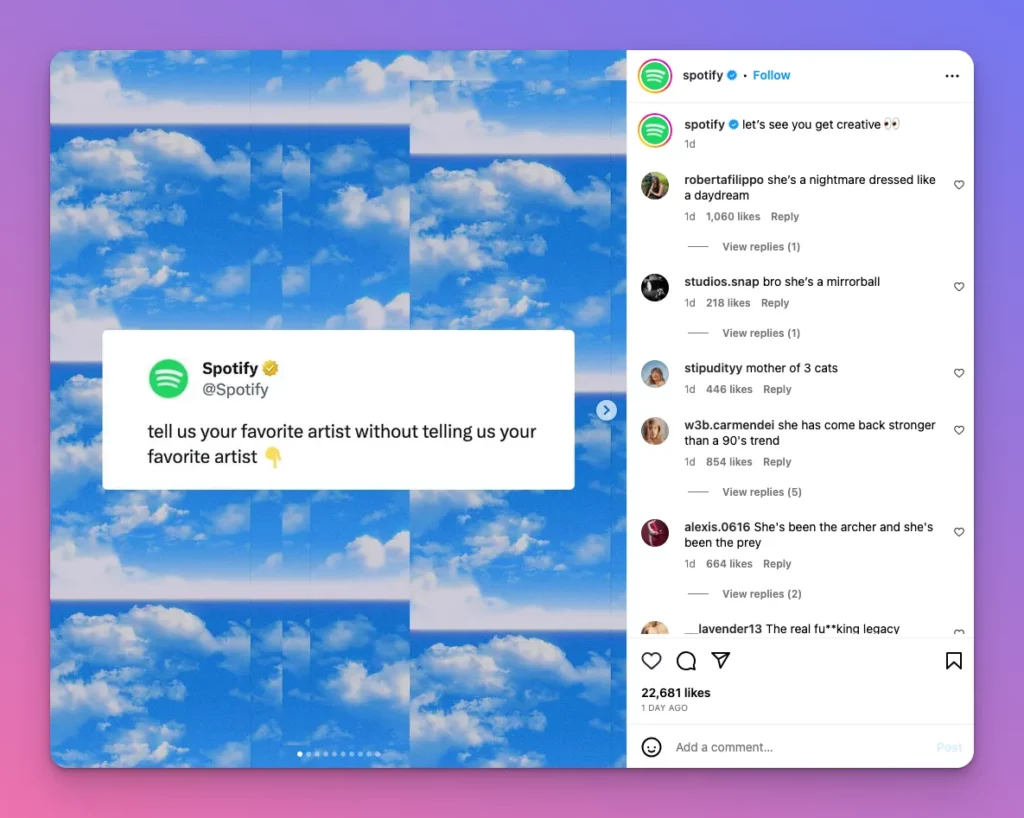 You can start by asking questions related to your brand or industry. Make them fun and engaging. Or, you can use Instagram's poll feature to make it interactive.
Let's say you're a cosplayer. You can show off costumes you made, and ask your followers to vote on which to wear at the next cosplay event. Easy way to keep talking with your audiences, right?
7. Share DIY Like a Pro with How-To Posts
People enjoy learning new things, especially if it fixes their problems. The things they want can be great Instagram post ideas on your Feed.
For example, if you're a photographer, you can show how to create cool photos using angles and lighting tricks. To make your own interesting tutorials, try using videos for harder parts. Split the process into simple steps. The key is to make it easy for everyone to do.
You can learn from @jordi.koalitic, a photographer who shares behind-the-scenes content approaches to make easy-to-follow tutorials. He proves that you can take great photos without expensive gear. Even a mobile phone will work fine.
8. Share Joy with Timely Season's Greetings
Not sure what to post on Instagram for Christmas, New Year, or Valentine's Day? Just share a joyful greeting to wish your followers a happy holiday.
You'll love this Instagram idea because you can either post whenever you want or get all your holiday posts ready ahead of time. Bear in mind that timely posts can really boost interactions.
You probably noticed how @starbucks promotes Pumpkin Spice Latte in the fall on their Instagram account. Those are great Instagram post ideas for business. As a content creator, you can learn from how this idea is put into action.
9. Celebrate Milestones and Achievements
Want a great idea for your Instagram posts? Share your milestones and let your followers know they're a big part of them. It's one of the best Instagram ideas to give a try!
It doesn't need to be something huge. For example, if you're just starting out, hitting 100K followers is a big achievement you can share.
On the other hand, if you're a big name like @therock, you can post an excellent picture related to your achievements to show your followers some love.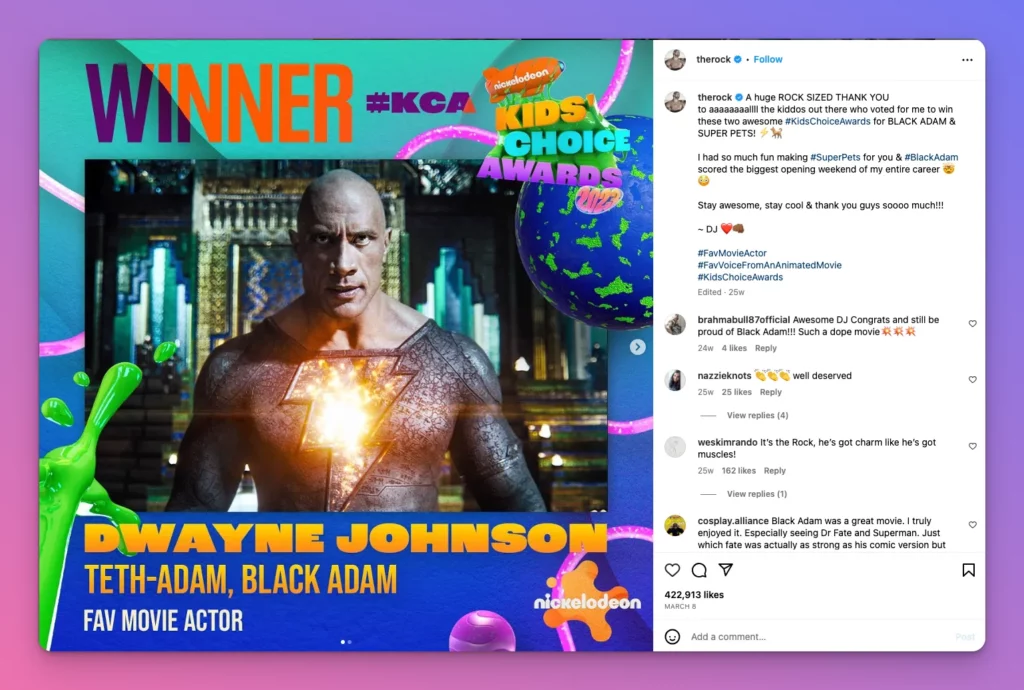 To make these posts impactful, think about the community vibe. Celebrate the achievement as a win for everyone, and thank your followers for their support.
10. Engage Your Audience with Challenges
What's the kind of content that combines creativity, participation, and curiosity? Yes, it's challenges and contests. One big reason why famous creators like @mrbeast are so popular is because he makes contests in most of his content.
With that in mind, they can neat Instagram post ideas for you, too. Challenges and contests can really boost how much people engage with your posts.
If you want to run your own challenge or contest, just make sure you explain the rules and the prizes clearly. Make it simple for people to join and share what they do.
11. Share Real Testimonials and Reviews
If you run a business selling items, how can you make your customers buy your product? You can build their trust by sharing testimonials from those who have already used the products. And it's true, 92% of customers check online reviews before buying something.
If you're a content creator, try this Instagram idea: review things you use. Share your real thoughts as you use them, especially if they're linked to your niche or your expertise. @aureliustjin does this on Instagram.
Plus, if you can make this Instagram content idea work, you could become a fantastic social media influencer.
Read : How to Hide Likes on Instagram
12. Alert Your Audience about Flash Sales
Who doesn't love a great deal? We all do. So, limited-time offers can attract many people to buy quickly.
@walmart is among the big brands that often post special discounts or flash sales to promote their business. The strategy is simple: make it urgent and offer something valuable. When people feel like they need to grab it fast, they're more likely to do it.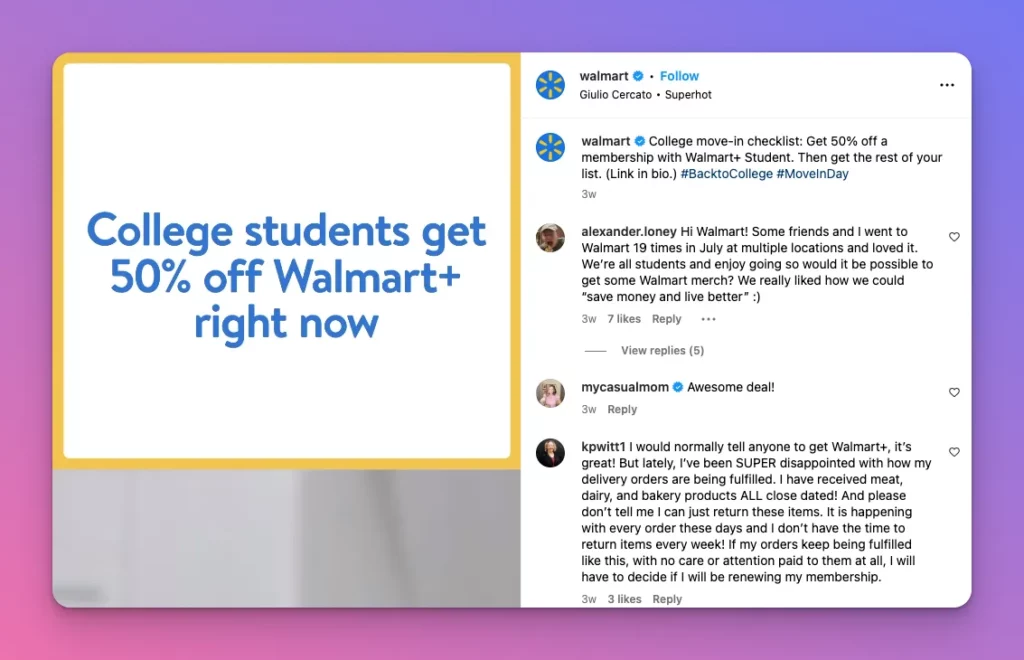 In other words, this can be an awesome Instagram post idea for business. It can boost views and increase sales.
If you are a creator, you can also post about flash sales and discounts from some brands. This helps your followers get good deals. By doing this, more people will stay tuned to your content because they want to know about the best deals you recommend.
13. Offer Sneak Peeks of New Releases
Making people excited about what's coming next is a smart way to spread the word about your product. It's like movie makers or @netflix, who often do this to build excitement ahead of time.
And it's not just for businesses. Any content creator, like gaming streamers, vloggers, or musicians, can use these cool Instagram ideas for their upcoming posts.
For instance, musicians can use them when releasing a new song. Even vloggers can use them to share their recent journey to new places, making their followers curious.
How to do it? You can try using countdown stickers in your Stories to add fun and engage your audience until the big reveal.
14. Win Smiles with Humorous Posts
If a funny Instagram bio can make people want to follow you, funny posts can make more people see your content. It can be memes or hilarious Reels.
Now, if you're unsure what to post on Instagram, try this idea. Using humor can be a great way to connect with your audience. Brands like @wendys use humor not just to entertain, but also to stand out in a busy market.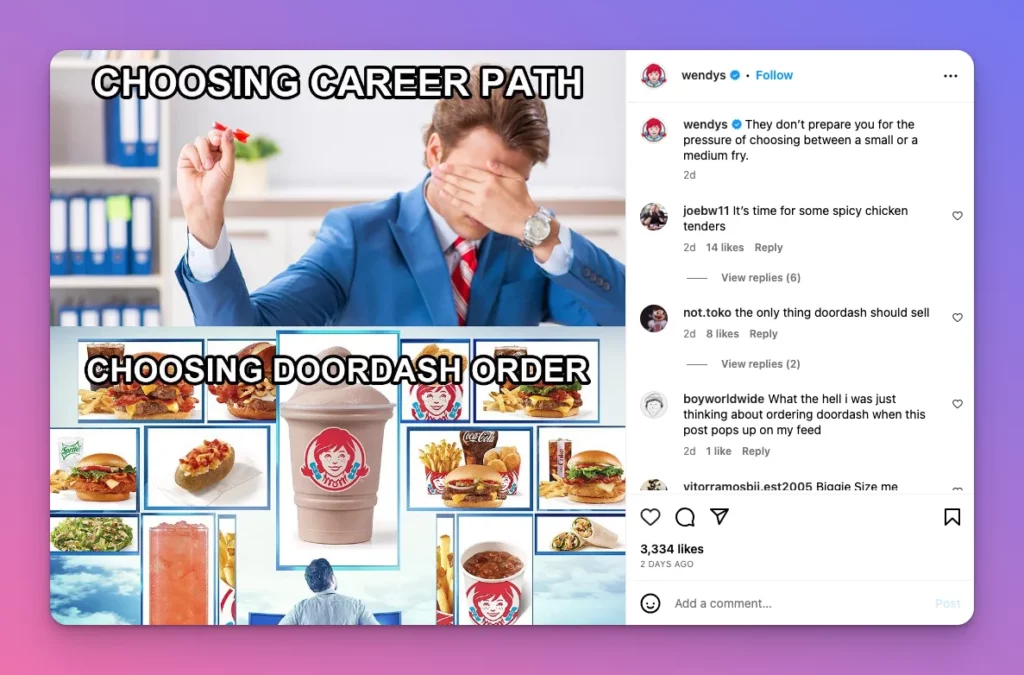 Don't get it wrong, you don't have to be a comedian for this. Simple puns or amusing observations related to your industry can work well. The key is to stay true to your brand's style.
15. Highlight Your Brand Values with Cause Marketing
Did you know that Cause Marketing can strongly display your brand's values and make a positive impact? For example, @toms gives a pair for each sold, or @boxlunchgifts provides a meal for every $10 spent in their store.
As a content creator, you should know about this Instagram post idea that can improve your personal brand on Instagram.
To do it right, make something you are committed to. Share regular updates about the cause, your involvement, and the impact you're making. So, this is not just Instagram post ideas for business.
16. Inspire with Lifestyle Posts
Just like people find behind-the-scenes content interesting, real daily life posts are also attractive. These kinds of posts show that the ideas or products you talk about are really useful.
For your Instagram post, you don't need to do a lot in a studio. If your content fits outside or in specific places, you can go for it. Just make sure the sound and lighting are good for high-quality content.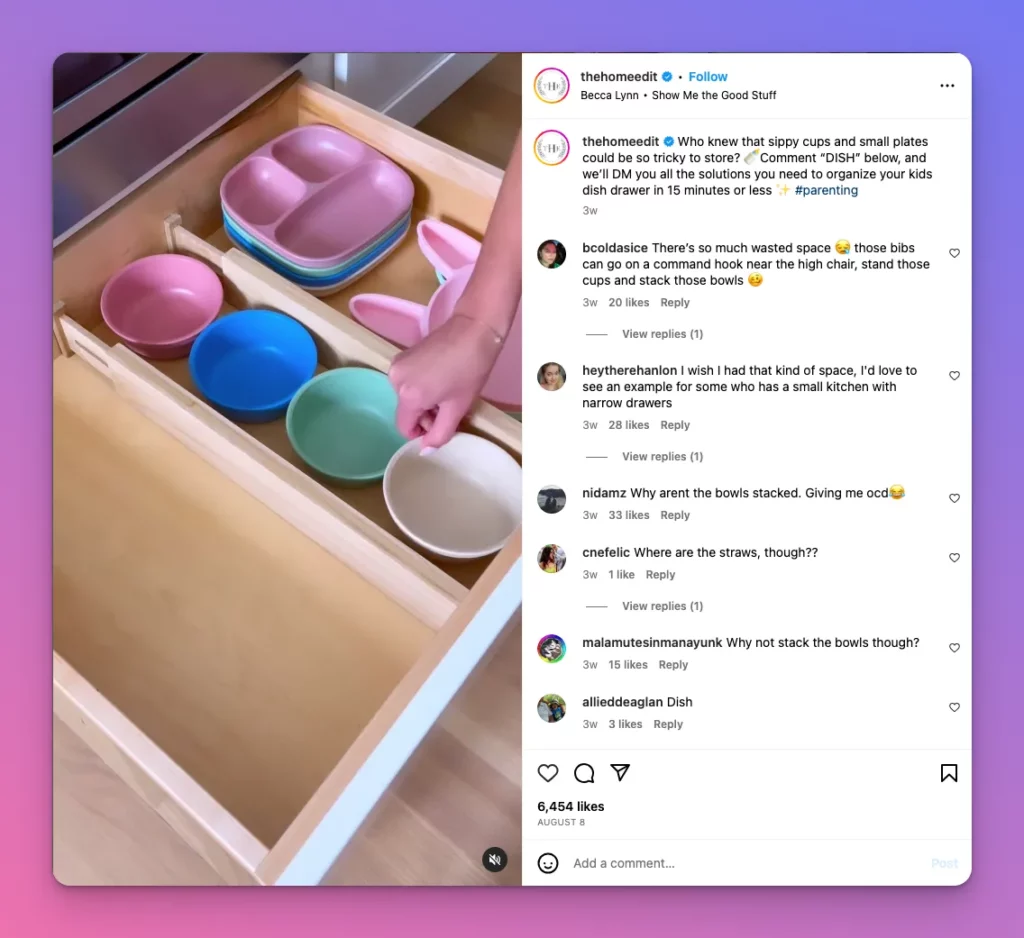 Brands like IKEA use this approach in their stores and on Instagram. Or you can look at @thehomeedit for inspiration and tweak the idea based on your niche and audience.
17. Collaborate for Impact with Influencers
What sets apart GoPro and @sephora in their Instagram strategies? GoPro uses user-generated content, while Sephora relies on content from influencers. The first way feels more genuine, and the second way can reach more audiences.
So, if you are looking for Instagram post ideas for business, teaming up with influencers can bring a new vibe to your posts. You can do like what Sephora does. You have influencers take over your Instagram for a day.
Not all niches can use this content idea for Instagram. But if you're a social media influencer, you can suggest this idea to your brand. It's a new way to post content and promote products.
18. Share Inspirational Stories
Inspirational stories can lift up your audience and help them feel connected to you. It's like you're helping people grow by sharing your recommendations and achieving together.
You don't have to be like TED Talks, that often share snippets of their speakers' inspirational stories on Instagram. Instead, you can follow the example of @aliabdaal, who shares productivity tips that uncover his path to becoming a successful content creator.
When you share these stories, you're not just motivating your audience but also making your brand values stronger, creating loyal followers.
19. Spotlight Your Team
People love to know who's behind your brand. So, if you need ideas for an Instagram page, you can showcase your team and introduce them to your audience.
This is what companies like Google often do. They feature their employees, sharing their stories and roles within the company. This not only makes your brand more relatable but also boosts employee morale.
MrBeast is one of the content creators that highlights his team. This approach can make them enjoy their work. This will eventually help him make even greater content on any platform they use.
20. Boost Engagement with Giveaways
Giveaways are a proven method to get more people interested and gain new followers. Brands like @razer and top creators like MrBeast often run giveaways. They offer free items to lucky followers who engage with their posts.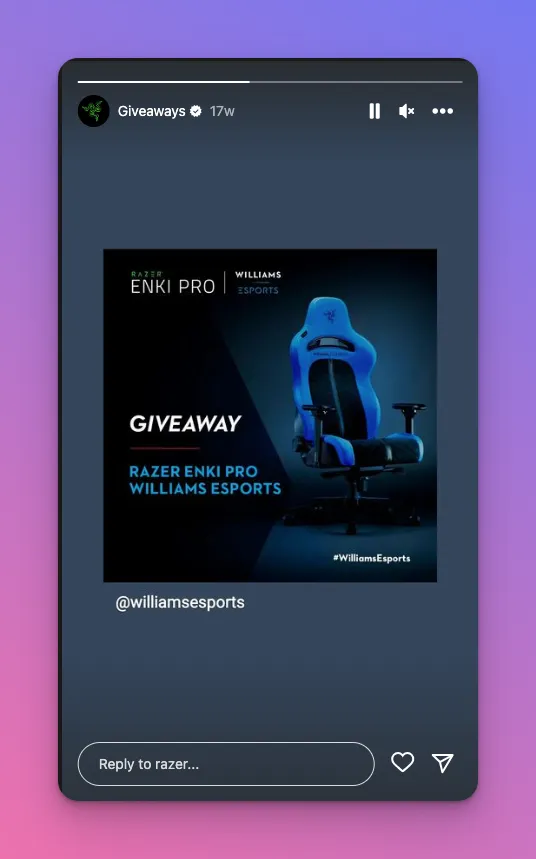 If you plan to use this for your next Instagram content, ensure the prize is something your audience likes and is relevant to your niche. Then, explain clear rules for participation, such as liking the post, following your account, or tagging friends.
Spread the word about the giveaway on all your social media platforms, even beyond Instagram, if needed. Once it's finished, announce the winner and share their happy reaction in a follow-up post.
21. Get Attention with Limited Edition Releases
Getting a unique gaming item can have a big impact on content creators. Brands like @elgato often release limited edition stream decks or capture cards.
If you're collaborating with such a brand or have the confidence of getting the limited edition item, begin by showing your audience quick looks at it. You can use Instagram Stories to do countdowns or reveal the item being unboxed live. This gets everyone excited.
After demonstrating how the item works, maintain the excitement by sharing content that uses its unique features in real-time.
22. Engage in Real-Time with Live Broadcasts
Live updates can make your audience feel like they're right there. This can be one of the cool Instagram ideas that your competition might not have thought of.
Let's say you're a gamer and want to share a live Fortnite gaming contest. You can use Reels or stories to do this. Either way, it's a great way to get noticed by your gaming audience. It's even better if you can let your audience see all the action up close, like they're in the front row.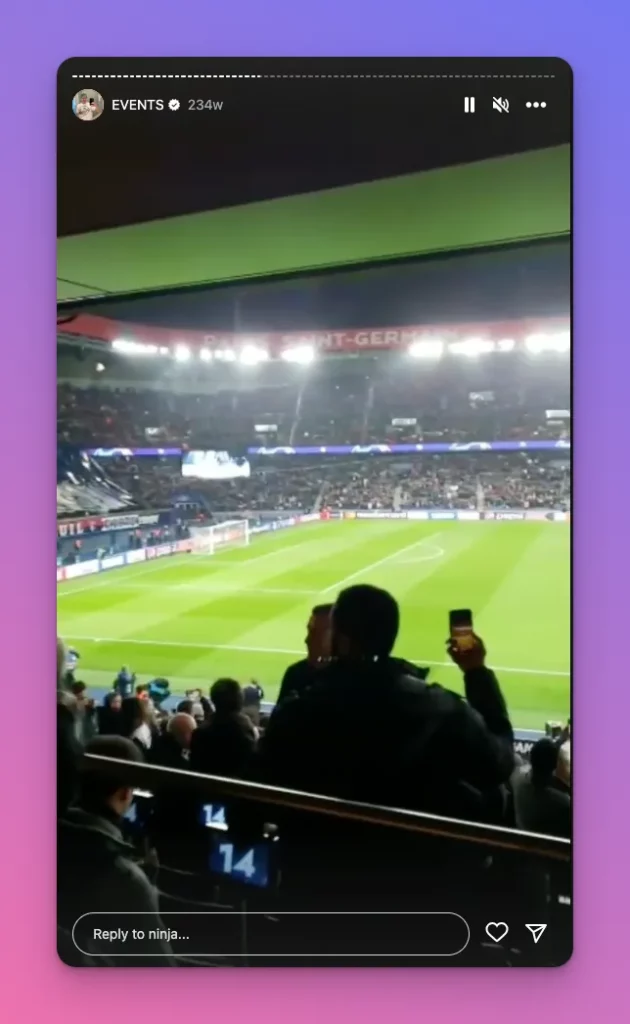 You can also attend an event that's not directly about your interests, like @ninja did when watching Paris Saint-Germain play.
Read : Top 8 Private Live Stream Platforms in 2023
23. Expand Your Audience Through Cross-Promotion
Working with other creators to promote each other can make more people see your posts. This can be one of the strategic Instagram post ideas to introduce yourself to new audiences.
Can this also be Instagram post ideas for business? Yes. Brands like GoPro and RedBull have succeeded with this. They used each other's audiences to benefit both sides.
To do this well, select creators that fit with your style but aren't identical so you will have distinct audiences. Then, clearly explain the collaboration terms. Then, think about the content to share. It can be a joint giveaway, make content together, and more.
What Should I Post on Instagram?
Wow, you've made it through. And now you've got 23 awesome Instagram post ideas to keep your feed lively and entertaining.
But bear in mind, these are just starting points. The real magic happens when you can tweak those Instagram ideas to match your brand voice and audience. Feel free to try things out and see what your followers like.
After all, the best Instagram strategy is the one that's uniquely yours. So go ahead, take these ideas and make them your own. Check out how they work, fine-tune your plan, and keep your audience interested.
No need to wait. Start using these ideas and see how they help you boost your engagement. When that time comes, you can start making money by accepting donations and managing membership on platforms like Gank. Good luck!