Instagram has over 1.35 billion users. You know that making a strong first impression that captures people's attention can be tough. Luckily, the best Instagram bio can make all the difference.
The problem is, many content creators find it challenging to come up with bio ideas that will result in good Instagram bios. Are you feeling the same?
Now, if you're unsure about where to begin when creating Instagram bio ideas that reflect you well, this article is for you. We'll show you what makes Instagram bios great and how to make ones that make your account stand out.
Ready? Let's get started!
What is Instagram Bio?
An Instagram bio is a brief description about yourself that people see on your profile page. A good Instagram bio should represent you perfectly in just 150 characters. You can use plain text or add emojis and hashtags to make it more engaging and informative.

Those 150 characters mean the whole world to Instagram users who want to capture people's attention in a snap.
Bear in mind that social media users, like in Instagram, tend to have short attention spans. So, having the best Instagram bios can really make a difference. You need to impress them right away, or they'll move on without giving you a chance to shine.
But don't get it wrong, Instagram bios go beyond just introducing yourself. It can also be about what you're doing – a professional content creator, a business, and more. And, most importantly it can be effective to drive people to check out your website or join a special movement or hashtag.
In other words, the sky's the limit when it comes to achieving your goals and connecting with your audience using the best bio for Instagram.
Read More: When Is The Best Time to Post on Instagram in 2023?
What Makes Your Instagram Bios Awesome?
The Instagram bios you create should make an impact. But how can you tell if your Instagram bio ideas are impressive? We've put together some tips to help you make it awesome:
1. Unique Value Proposition
Being unique is the way to stand out. So, you have to find what makes you special as a content creator, business, or anyone. You must show people why they should follow you and get value from it.
Let's imagine you're a musician with awesome compositions. They blend various music styles no one has ever shown before. Then, highlight that in your cool Instagram bio and let it capture your unique approach and style.
2. Relevant Keywords
This might sound a bit technical, but it's the way to stay relevant with your target audience. Imagine a new user finding your profile. What happens next is they will follow you if there are relevant keywords in play.
With that in mind, include the keywords your niche audience uses. The key here is to be creative in mixing the common keywords your audiences use with your unique value proposition.
Adding to that, choosing the right keywords will improve discoverability for your Instagram account through effective Instagram bios.
3. Being Concise
Your Instagram bios have a character limit, so make every word count. It's all about being strategic in brevity. In other words, you get to the point quickly and leave something for your audience's imagination.
Well, that can be hard, especially for beginners. It needs careful word selection to express your core message efficiently. That's why, when it comes to Instagram bio ideas, you have to be very creative to find what works in that limitation. One thing for sure is you have to avoid unnecessary fillers.
4. Emojis
It's a bit of a cliché, but indeed, a picture is worth a thousand words. So, if you're thinking about making your message clear and concise, that's where emojis come in.
It's a blessing that Instagram allows you to use emojis in your Instagram bios. Emojis make digital communication even simpler, adding tone, emotion, and personality to your words.
That said, you must consider using emojis strategically to enrich your bio. Bear in mind to choose emojis that strengthen your brand voice only.
5. Hashtags
Social media platforms like Instagram have a powerful feature called hashtags (#) to help people discover your content. So, don't forget to add them to your cool bio for Instagram.
Hashtags are great for organizing your posts and describing what you share. For example, if you are a gamer, you can use hashtags like #gaming #gamer #videogames #Xbox #PlayStation #Fortnite, and more.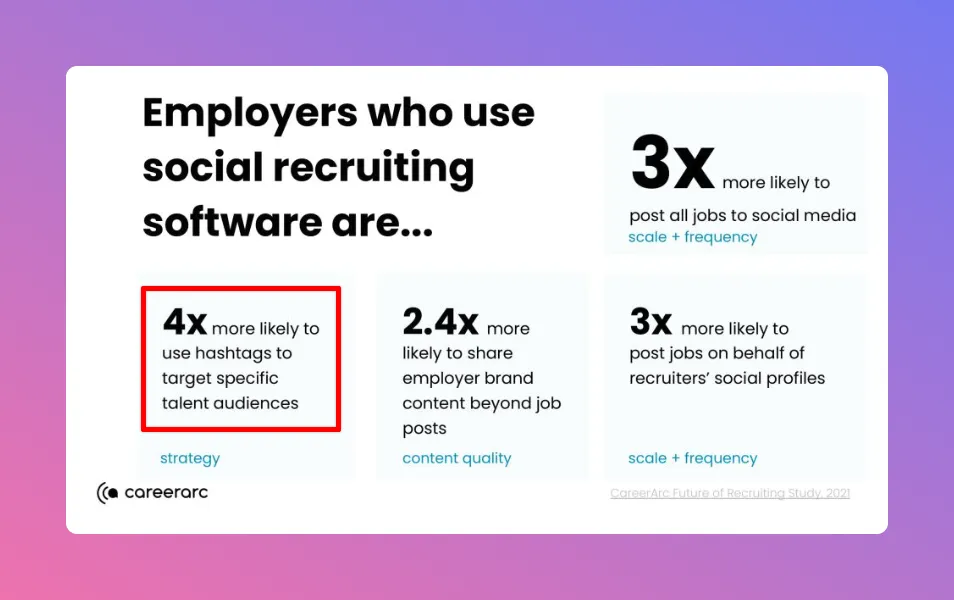 Not only that, using hashtags not only promotes your content but also gets others involved. This can build a sense of community.
Read More: Top 100 Trending Hashtags for Instagram Reels
6. Call-to-Action (CTA)
It's great if you use emojis to shorten your Instagram bios. It lets you add a call to action even with the character limitation.
Keep in mind that a CTA can be a powerful tool to make you reach your goal with that Instagram account. It can get your followers to check out your latest video, subscribe to your newsletter, explore your awesome gaming streams, and many more.
A strong CTA can encourage immediate action and entices your viewers to explore your content and offerings.
7. A Link
Let's be honest, Instagram isn't a one-stop platform. Sometimes, you'll need to direct audiences to your website or other platforms for more information. Or, if you need to share longer videos like courses, Instagram might not be enough.
That's when you need to link your Instagram account to other services.
Great news; you can add a link to your Instagram bio. And that's not all. By using a platform like Linktree, you can share all your platforms using a single link so your audience can easily visit your YouTube channel, blog, and more.
How to Create Instagram Bios: Step by Step
You already know what to add in your Instagram bios. But how do you do it?
Go to Your Profile — Find your profile icon at the bottom right corner of your mobile screen.
Edit Your Profile — Look for the "Edit Profile" button below your profile photo. Click on it.
Edit Your Bio —Find the Bio field under Name, Username, and Website. Tap on it to make any changes you want.
Save Your Changes — After you've made your edits, be sure to save them. Then, review to make sure everything looks how you wanted.
Read More: The Best Instagram Post Size, Story, & Reels for Better Engagement
Awesome 175 Instagram Bio Ideas You Can Just Use
Don't bother starting to generate Instagram bio ideas from scratch. We have 175 of the best bio ideas for you to copy and use on your profile:
Good Instagram Bios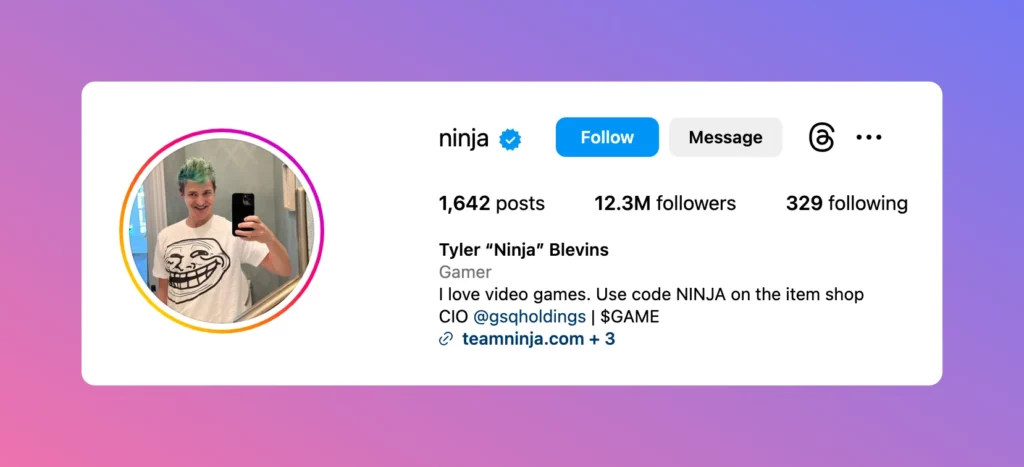 When we look at Ninja's Instagram bio, we believe it's among good Instagram bios to inspire you. "I love video games" is a very straightforward statement that immediately bring Ninja's passion for gaming, making his profile relatable to fellow gamers.
Then, the inclusion of a call-to-action (CTA) like "use code NINJA on the item shop" provides fans with a direct way to support him by purchasing his merchandise.
Other good instagram bios for your inspirations are:
Capturing moments, crafting stories. Dive into my content creation universe @CaptureCraft.
"Where pixels meet passion. Ambassador for @gaminggear | Check out my latest reviews! #ShroudSpeaks"
Turning everyday experiences into digital tales. Follow my creator journey #DigitalDreamer.
Here to inspire. Here to connect. Let's shape the content universe together.
Gaming is life. Catch me on Twitch for epic plays. Partnered with @esportsteam | #xQCAdventures
From ordinary to extraordinary, watch my content glow up ✨.
Eat. Sleep. Stream. Repeat. Collaborating with @techbrand | Pokimane's Game Picks 
Read more: How to Gain Followers on Instagram
Cool Bio for Instagram
Want to make your Instagram profile cool? These are cool bio for Instagram to stand out:
Let the music be your escape! 🎵
Not your average content creator. Pushing boundaries daily. 🚀
From game nights to spotlight. Welcome to my virtual playground.
Game mode: Always on. Achievements: Loading…
Turning gameplays into replays. Stay tuned!
Game. Stream. Repeat. 🔄
Lights, camera, action! Welcome to my creative world!
Cute Instagram Bios
Some cute Instagram bios can add an adorable touch to your Instagram profile as follows:
Spreading smiles, one post at a time 😊 | Join my universe @SmileySights.
Chasing rainbows & collecting memories 🌈✨
Where cuteness overflows. Explore more with @CutieCreations
Living for cozy sweaters and warm hugs 🤗
Dancing through life's ups and downs 🌧️ ☀️
Exploring life's sweetest corners with a sprinkle of fun 🍩 #DeeDonuts
Crafting content that'll make you go "Aww!" | Check: youtube.com/craftcreative
Clever Instagram Bios
Be as creative as Gordon Ramsay and express your identity without saying 'I am …' Like him, use a clever line in your Instagram bio to showcase your culinary skill.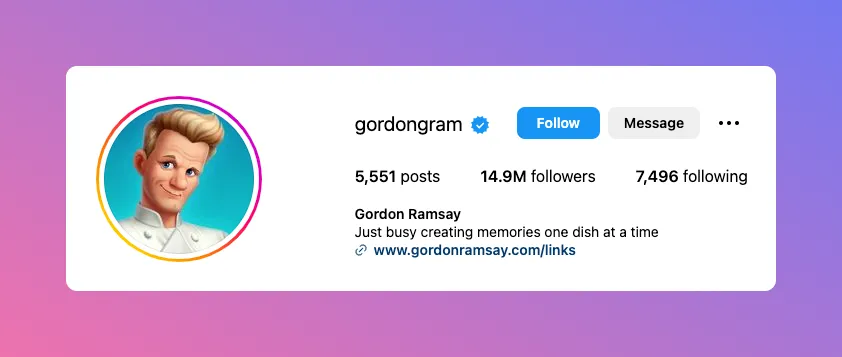 You're looking for some smart Instagram bio ideas, right? Check out these clever Instagram bios:
Master of pixels, king of content.
Melodies | Singer-Songwriter | New tracks every month
Documenting dreams, digitally | Vlogger & filmmaker
Think. Craft. Post. Repeat. Join me in my cleverly content world ✨.
Bringing fantasy to reality. #CharacterCrafting
🔴 Live in 3, 2, 1… | Gamer & streamer | Join the fun on twitch.tv/coolgamer
Filming life, one frame at a time
Funny Instagram Bios
If you think that your Instagram bio always needs to be serious, think again. Here are some funny Instagram bio ideas to bring life to your profile:
Professional overthinker and midnight snack thief.
I've got jokes, pranks, and content that spanks | LOL with #ComicContent.
If life gives you lemons, I'm here making comedic lemonade 😜.
Recovering perfectionist. 😅 Procrastinating my way to success.
Fluent in emoji and sarcasm.
On the hunt for who I've not yet become. Also, pizza. 🍕
Here for the giggles and the occasional meme-worthy moment. Join the laugh riot!
Read more: How to Download IG Reels
Unique Bios Ideas
Sometimes, all you want is to come up with unique bio ideas. xQC's Instagram bio is a great example.
It showcases a personal touch by sharing his age. In 'I don't know much about anything,' he boasts his expertise in gaming. It also leads to curiosity by mentioning 'but I do stuff live', and a clear call-to-action to check out his Twitch Channel.
Another instagram bio ideas due to their uniqueness are:
Navigating life one game at a time. Come aboard: www.caffeine.com/gameon 🚀
Outside the box, beyond the ordinary | Join my gaming journey on Twitch and Kick
Offbeat, outlandish, but oh-so-original. Explore every eccentric exhibit
Young at heart with random adventures. Want to join? www.fb.com/gaminglive 🎮
From common clichés to quirky queries | Dive deep into my domain
Learning, gaming, streaming. Check it: www.streaming.tv/Matt 🎧
Decades in, and the adventure's just begun! Laugh with me at www.dlive.tv/funstreamer
Best Instagram Bios with Emojis
Here are the best bios for Instagram when you want to use emojis:
Here to make your day brighter ☀ | Dive into my world of standup comedy
📸 Capturing moments | 🎨 Crafting masterpieces | Join my photography extravaganza @PhotoEmpire.
🎮 Leveling up in the game of life | Streaming daily, dreaming in pixels | Join the adventure 🕹️ #GamerLife
Creating, playing, & inspiring. Dive into my world of games & streams. 🚀 Let's conquer digital realms together!
Lights, camera, stream! Your daily content of games, fun, and creativity! 🎮
From heartfelt 💓 to downright dazzling ✨ | Experience it all with me.
Love 💖 | Laugh 😂 | Craft 🎨 | A rollercoaster of emotions & creativity awaits.
Instagram Bio Quotes
If you're struggling to come up with an original idea, you can simply use quotes that resonate with your thoughts such as:
"Be yourself; everyone else is taken." – Wilde — #OriginalContent
"Write hard and clear about what hurts." – Hemingway ✍️ | Writing my life
"Creativity is intelligence having fun." – Einstein. #PlayTogether
"Every artist was first an amateur." – Emerson 🎧 | Learn. Create. Inspire.
"The mind is everything. What you think, you become." – Buddha | #DailyMotivation
"Art is the only way to run away without leaving home." – Twain — #SandArtist
"The world is but a canvas to our imagination." – Thoreau | Join #StreetPainter
Business Instagram Bios

Instagram business ideas often focus on offering clear and informative content like the Instagram bios from PlayStation above.
"PlayStation's official Instagram!" confirms that this is the genuine PlayStation brand on Instagram. "New photos, events, behind the scenes and more." gives you a preview of the content you can expect and encourages you to interact with our posts. "Playstation.com" is the CTA.
Another best Instagram bios for business are:
Building brands, crafting legacies | Your business growth ally @BizBoostBuddy.
Black Friday is coming! Get ready for the biggest sale of the year. Save up to 50% on everything in our store. @KimShoes
Elevate your enterprise with expert insights | Join the journey #BizGrowthGuru.
Business in the front, content powerhouse in the back | Let's elevate
From startups to top companies, guiding businesses towards the peak | Join @SummitStrategist.
We're giving away a $100 gift card to one lucky follower on Sale. Follow us and stay tuned for more details.
Official Xbox account. Dive into our world of gaming. Games for all: E-M/ PEGI 3-18 | Go to: xbox.com
Instagram Bio Ideas for Girls
Here are some of Instagram bio ideas for girls to get you inspired:
CEO by day, fashionista by night #WomanOnAMission
Life, love, and the pursuit of the perfect outfit
Love, laughter, and a touch of lipstick | Career consultant & beauty enthusiast
Glitter, glamor, & gamer goals. Dive into my universe of girl power.
"Girl with ambition; watch me rise!" | Join my journey #SheShines.
From streamer to star, watch a girl conquer | Ascend with #StarletStreams.
Empowered woman in a corporate world
Instagram Bio Ideas for Boys
Looking for Instagram bio ideas for boys? Check out these suggestions:
Bold & boundless, crafting digital expertise. #techblogger
Ocean lover | Making waves & catching rays.
Sports stats enthusiast. Weekend warrior. Living the journey.
I take my coffee seriously, and my workouts occasionally.
Trials and errors, but make it a vibe
Dreaming big, but starting small. From initials to autographs.
Sunset chaser. Adventure seeker. Life's best moments capturer.
Inspiring Bio Ideas
Here are some inspiring Instagram Bio ideas worth checking out:
Streaming strength, spotlighting success
Stories that stir the soul, success that sparks a smile
Every setback has a major comeback. Stay the course.
From moments of doubt to tales of triumph.
Every challenge is a lesson, every moment an opportunity. #AllWorkAllPlay
"Empowering every post with purpose" | Join my journey @InspireIris.
Passion, purpose, and plenty of perseverance.
Simple Bios for Instagram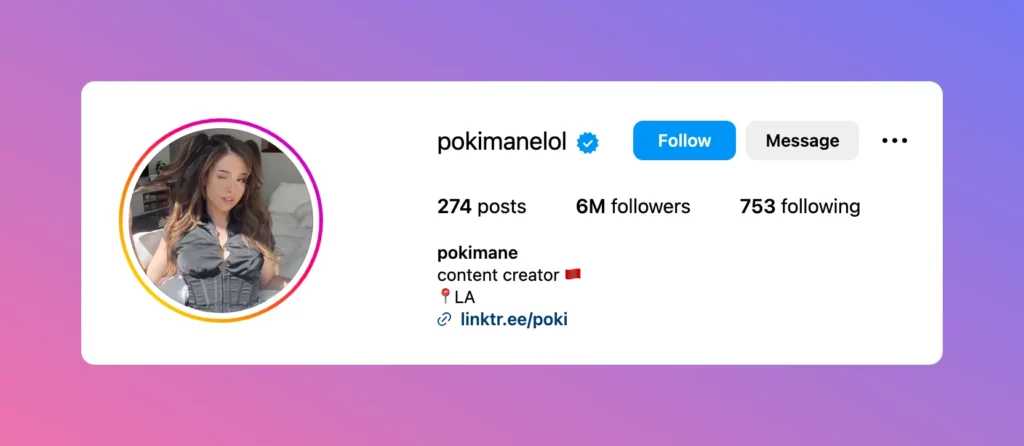 You must be surprised when you see the Instagram bio of Pokemane, a gamer and Twitch streamer. It is so simple, yet it says a lot of things. "Content Creator" is straightforward, indicating that Pokimane is involved in various content creation activities, not just limited to one platform or medium.
Need more inspiration to make simple bios for Instagram?
Gaming & Streaming from LA 🎮 | #DanAdventures
Creating content, minus the complexity.
Streamer | Gamer | vTuber | Based in SG
Just me, my content, and a world of photography.
Gaming Queen from Japan | Streaming & vTubing
vTubing & Gaming from Singapore ☀️ | Join the fun!
Streamlined stories, straightforward success through books
Eccentric Instagram Bios
Being creative sets you apart. Check out these eccentric Instagram bios for your inspiration:
Offbeat, on-brand, and oh-so-odd. @OddballOrbit.
"Dare to be different" | Dive into my eccentric universe #QuirkyQuest.
Celebrating the unconventional in a conventional world.
Mix of 404 errors and "Ah-ha!" moments.
Streamer of the strange, curator of the curious | Join #Let'sPlay
Marching to the beat of my own modem. Explore, enjoy, and be entertained.
Somewhere between Area 51 and Wonderland.
Gamer Instagram Bios
If you are a gamer and you need an inspiration for good Instagram bios, check this out:
Leveling up, one stream at a time. Join @PixelPlayer #CounterStrike
Headshots, high-scores, and heartbeats.
On a quest for the ultimate game-over | Will you be my next co-op?
Streaming strategies and epic sagas | Unlock achievements with me.
Climbing the Valorant ranks 🎖️
Living the Minecraft life, inspired by @SkyDoesMinecraft
Surviving Tarkov raids with my crew
Streamer Instagram Bios
Here are some of good Instagram bio ideas for streamers:
Live, Laugh, Stream | Dive into my digital dispatch @StreamSupreme.
From sunrise streams to setting scenes, always live.
Capture, cast, connect | Experience live life with me.
Following @pokimane's footsteps on Twitch 🎮 | Join my streaming journey
From Twitch clips to IG highlights
Discovering worlds on Twitch, sharing moments on IG
Game tutorials on YouTube, live-action on Twitch
Cosplayer Instagram Bios
If you're into Cosplaying, these awesome Instagram bios can jazz up your Instagram profile:
Crafting characters, pixel-perfect poses. Dive into my costume cosmos @CosplayCraft.
"Be it armor or attire, I bring it to life" | Join my cosplay chronicles.
Channeling chakra with Naruto 🍥
From sketches to spectacles, watch characters come alive. #Cosplay
Stitch, stream, stun. Join the journey!
From Sailor Moon to Cyberpunk | @KamuiCosplay sets the bar high.
Channeling Wonder Woman vibes. @YayaHan's craftsmanship
Podcaster Instagram Bios
If you're a well-known podcaster, no need to mention it in your cool Instagram bio. Instead, showcase your expertise by sharing the topics you excel at. Take a look at Joe Rogan's Instagram bio for ideas. He emphasizes the subjects he covers and includes a Call-to-Action to his podcast channel.
Another Instagram bio ideas for podcasters are:
Voices, views, and a torrent of topics | Dive into my audio arena @PodcastPulse.
Decoding dialogue, details, and drama. Dive into my digital discourse.
Podcasting passion, producing perfection | Explore episodes with me.
Unscripted chats, unfiltered opinions. Immerse yourself in our audio world.
Conversations that matter, voices that inspire. Join our audio journey! 🎧
Unlocking the stories behind every 'Game Over'. Join the revival!
Curious minds, global voices. Tune in for weekly wisdom
Read More: 44 Podcast Topics Ideas for Any Niche in 2023
Professional Instagram Bios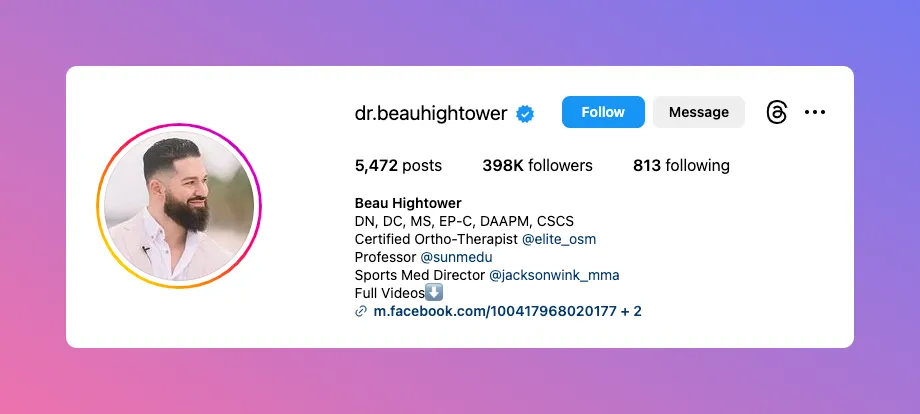 If your job needs specific certification, you can add it to your Instagram bio. This boosts your credibility. Dr. Beau, one of the world's top chiropractors, ensures all his followers are aware of his expertise.
These are impressive Instagram bio that can highlight your expertise and credentials:
"Crafting content with a corporate touch" | Network with me @ProPulse.
SEO specialist 🚀 | Elevating your online visibility
Expertise, excellence, and engaging content | Collaborate and Ranked High
Certified Marketing Pro 📈 | Helping brands soar | #ProStrategies
CPA-certified & finance-focused | Trusted advisor since 1990
Certified Personal Trainer.| Tailored workouts, real results 💪
Content strategist — Aligning your message with your mission
Photographer Bios
If you're a photography pro, you can use photography terms to show off your skills and spark curiosity about your work.
Weddings | Crafting pixelated fairy tales of love. #weddingphotography
Clarity, creativity, and cinematic charm — Explore every exquisite exposure #DSLR
Frame by frame, making memories last. Go to: photocorner.com
Street photographer. Finding art in everyday life
Drones above, world below | Sky-high photography.
Lights. Camera. Magic! ✨
Every sunrise, a new story | #GoldenHourGuru
Influencer Bios Ideas
Do you want to communicate your goals as a social influencer? Check these good Instagram bio ideas:
Empowering women daily 💪 | Speaker | Best-selling author
World traveler 🌍 — 38 countries & counting
Join my NFT journey. Click the link below to get started
Vegan life. Easy recipes & cruelty-free products. 🥑
I hit stuff 🥁
Actor. Producer. Running in movies since 1981.
All smiles here.
Read more: Best Instagram Follower Trackers
Author & Writer Instagram Bios
To showcase your writing expertise in your Instagram bio, you can come up with these bio ideas:
Wordsmith | Dreamer | Author of "The Great Book"
Turning caffeine into bestselling novels ☕ | "Title" out now!
Crafting tales that resonate | "Title" now available!
Where every word is an adventure waiting to be read | Author & explorer
Plots, prose, and publishing dreams | Explore every enchanting excerpt.
From faint ideas to flourishing fables. Dive deep into my world of words @KrisWrites
Bringing characters to life, one chapter at a time | Get my latest book "The Best Book of All-Time" 📖
Fitness Influencers Bios for Instagram
If you're looking for ideas for the best Instagram bios for fitness influencers, here are some of them:
Streaming sweat, spotlighting strength. Dive and discover my wellness world.
Well-being, workouts, and wow moments
From couch potato to fitness pro. Lost 100lbs naturally. Let's transform together!
👇🏻Train with me!👇🏻Entrena conmigo💪🏻🥰 @Michelle_Lewin
Training for life's challenges | Join my fitness tribe!
Empowering women to embrace strength 💪
Fitness model & entrepreneur. Co-founder of DiaryofHealth. Making gains in life & gym
Digital Artist Bio Ideas
These are examples of creative Instagram bio ideas for digital artists:
Production Designer: Into The Spider-Verse & Cloudy With A Chance of Meatballs & maker of doodles
Crafting cartoons, captivating crowds.
Artistry in every atom, passion in every pixel | Dive into my detailed designs.
Crafting digital dreams, pixel by pixel 🎨 #DigitalDoodles
Converting imagination into pixels | Est. 2010
Pixels, palettes, and passion. 🎨✨
Stop-motion Animation. @aardmananimations☀️
Sometimes, all you need to do is let everyone know who you are and where to find your artworks. That's exactly what Lee Ann Dufour does in her Instagram bio. She simply mentions her location and her role as a professional digital artist.
Tech Reviewer Bios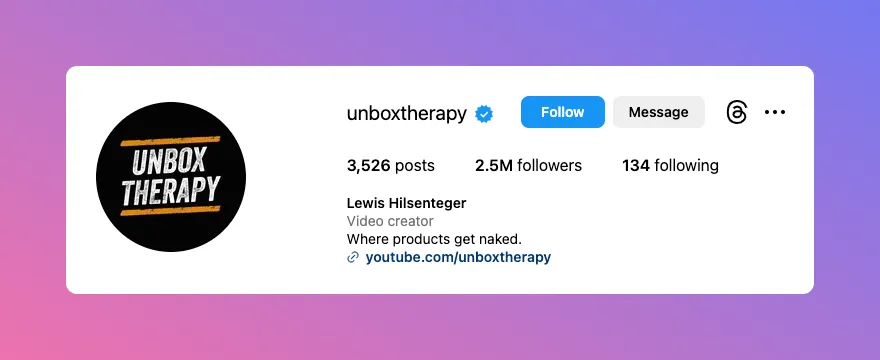 Sometimes, the key is to make your Instagram bios stick with the audience.
Unbox Therapy has succeeded in doing this. Their Instagram bio stands out because it's unexpected and intriguing. It quickly grabs attention and is easy to remember. The use of the term "naked" shows how the products are broken down, analyzed, and presented truthfully.
These are some Instagram bio ideas that your curious tech audience will love:
Tech stripped down to its core. Join us!
Making tech talk. Clear, concise, captivating reviews.
Connectivity, coding, and cutting-edge critiques. Dive deep with @TechCurious
From fleeting features to full-blown breakdowns | #GadgetsonWeekends
Bridging you and the tech world, one review at a time.
Tech unveiled. No secrets here. 🔍
I promise I won't overdo the filters. Go to: mkbhd.com
Read more: 250+ Short Captions for Instagram
Best Instagram Bios Ideas: Which Ones Are Your Favorites?
We've put together 175 Instagram bio ideas to get you inspired. If you need a great way to introduce yourself on Instagram, feel free to use any of the examples above.
However, we acknowledge that there might be some more ideas we missed. If you come across additional IG bio ideas that we should include in this article, please share them in the comments.
We understand that we might have missed some ideas. If you find any other cool IG bio ideas that we should add to this article, you can share them in the comments.
Bear in mind to keep your Instagram bio strong within the 150-character limit. Be unique, and include a clear Call to Action (CTA). For example, if your goal is to make money through donations from platforms like Gank, make sure to add the link to your bio.
We hope this article helps! Don't hesitate to make your Instagram profile stand out by using those Instagram bio ideas.