Pewdiepie was one of the famous YouTubers who changed how people enjoyed online media. He still does. But then, we also saw the rise of other popular YouTubers like Ryan Kaji. Now, you might be wondering: Who is the most popular YouTuber this year?
We'll find out in this article. YouTube remains the center of digital influence, with countless content creators from all over the world. There are many gamers and even independent musicians jumping into the platform.
Now, if you want to find out who stands out this year and what content they create, let's explore our list for some inspiration!
The Most Famous YouTubers in 2023
Here are the famous YouTubers in 2023 you should know:
1. MrBeast
Subscribers: 170M
Total Views: 29,035,848,219
Most Watched Video: $456,000 Squid Game In Real Life! (466M views)
Niche: Challenges, stunts, and philanthropy
If a channel has 170 million subscribers, you would agree that he must be a top YouTuber, right? Of course. So, who is the most famous YouTuber we're talking about?
It's Jimmy Donaldson, famously known as MrBeast. He has gathered 19 billion views from 741 videos as of now. Jimmy started with Minecraft gaming content, then created content that analyzed the growth of other YouTubers such as CaptainSparklez, and FazeRain.
Read More: How Much Do YouTubers Make?
MrBeast thought it was a great idea to make such content, but it didn't immediately make him a popular YouTuber. Not until he posted a video where he counted from 1 to 10,000 in one go. It may seem simple, but it attracted an impressive 62 million views.
2. Kids Diana Show
Subscribers: 113M
Total Views: 93,566,885,583
Most Watched Video: Diana – LIKE IT – Kids Song (Official Video) (2.2B views)
Niche: Kids' entertainment
Can you believe a video from a kids' channel got 2.2 billion views? Yes, it's true! Eva Diana Kidisyuk, a Ukrainian-American kid, became one of the best YouTubers with her music video: "Like It". That's all when she was just five years old.
Kids Diana Show is all about roleplay content, but it was her song video that led her to success. The total views are incredible, even beating MrBeast. It's no surprise she's one of the top YouTubers in 2023.
This can inspire any YouTubers out there. To be successful, they just need to dive in and improve the content later. Who would have thought that starting with a simple vlog of a baby walking in the park would lead to 113 million subscribers for the channel?
Recommended:
3. PewDiePie
Subscribers: 111M
Total Views: 29,068,976,014
Most Watched Video: bitch lasagna – 315M views
Niche: Gaming, comedy, and commentary
Felix Arvid Ulf Kjellberg, also known as PewDiePie, started his channel in 2006. He mainly posts "Let's Play" gaming videos and reached 1 million subscribers in 2012. His fame grew with the emotional and funny "Amnesia: The Dark Descent" series, attracting an ever-expanding audience.
PewDiePie gained fame on YouTube because of his unique style and diverse content. Besides gaming, he's known for reaction videos, challenges, and commentary. However, this also led to some controversy, like the situation with T-Series, one of India's top YouTubers in the niche music category.
PewDiePie was one of the earliest YouTubers to achieve huge success. He paved the way for other popular YouTubers like MrBeast, who openly looks up to PewDiePie as his inspiration and role model.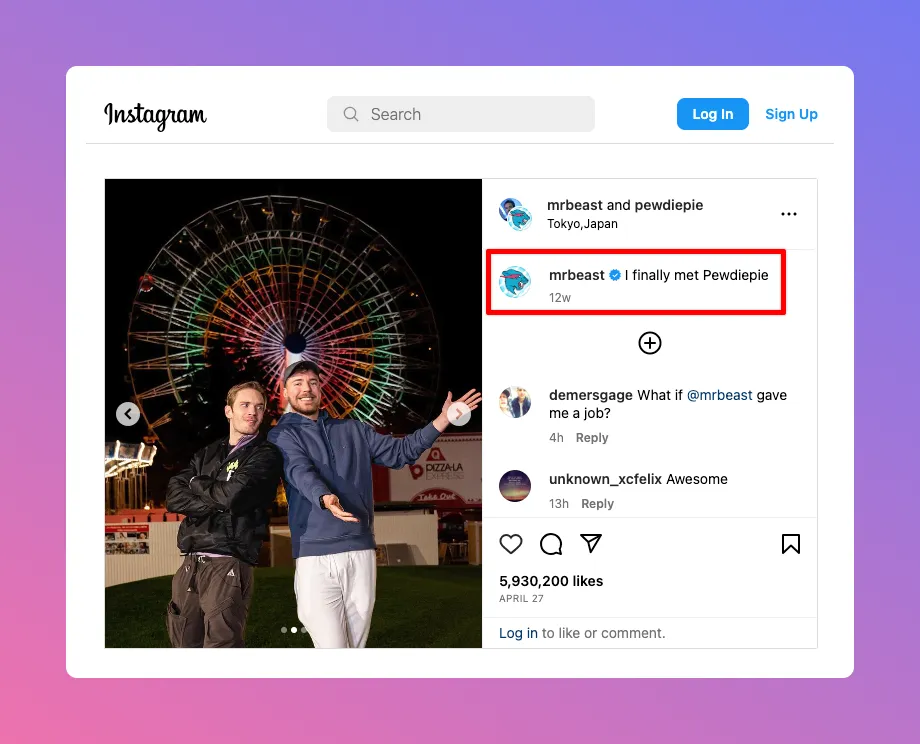 4. Like Nastya
Subscribers: 106M
Total Views: 90,685,679,610
Most Watched Video: Nastya and Papa sleeping at farm sheep Family fun trip (935M views)
Niche: Kids' entertainment
Who is the most popular YouTuber in the kids' entertainment niche after the Kids Diana Show? It's Anastasia Radzinskaya from Like Nastya. With over 106 million subscribers, this 9-year-old girl has captivated millions of kids worldwide with her fun and educational content.
Not many people know that Nastya, born in Russia in 2010, has cerebral palsy. Her YouTube channel was initially meant to document her progress as she grew up. But, surprisingly, it quickly gained popularity.
One of the reasons why Nastya became one of the top YouTubers is because her channel is known for its family-friendly content. This makes it an excellent destination for parents searching for fun videos on YouTube for their children.
5. Vlad and Niki
Subscribers: 99.2M
Total Views: 77,422,680,001
Most Watched Video: Vlad and Niki – new Funny stories about Toys for children (1.1B views)
Niche: Kids' entertainment
Other YouTube stars who became popular as kids are Vlad and Niki. Their real names are Vladislav Vashketov and Nikita Vashketov. They are originally from Russia but later moved to Florida.
Like many other kids' entertainment channels, it's all about a clear picture of childhood fun. But what sets their channel apart is they tell stories of brotherhood. Just look how they have fun together in Hot Wheels races to see whose cars win.
Vlad and Niki are really popular YouTubers with more than 99 million subscribers. What's more, their top videos have been watched 1.1 billion times. It's mind-blowing and can inspire any YouTubers, vTubers, or streamers just to get started without overthinking when to begin. What matters most is how you create awesome content and connect with your audience.
6. 5-Minute Crafts
Subscribers: 80.1M
Total Views: 26,274,726,660
Most Watched Video: 42 HOLY GRAIL HACKS THAT WILL SAVE YOU A FORTUNE (285M) views
Niche: DIY crafts, life hacks
Everyone knows about 5-Minute Crafts, right? A YouTube channel that is famous for its creative and practical videos. They take ordinary, everyday items and turn them into something new and useful.
For example, they might show you how to open a popcorn bag and have it while watching TV or how to make a cake in a cup. That impressed a vast audience, and with over 80 million subscribers worldwide, they have become one of the most popular YouTubers.
Different from our first list, 5-Minute Crafts is not an individual YouTuber. That's true. The channel was created by The Soul Publishing, a media company based in Cyprus. In their videos, you will see many actors and talents, the most well-known ones being Artur and Irina.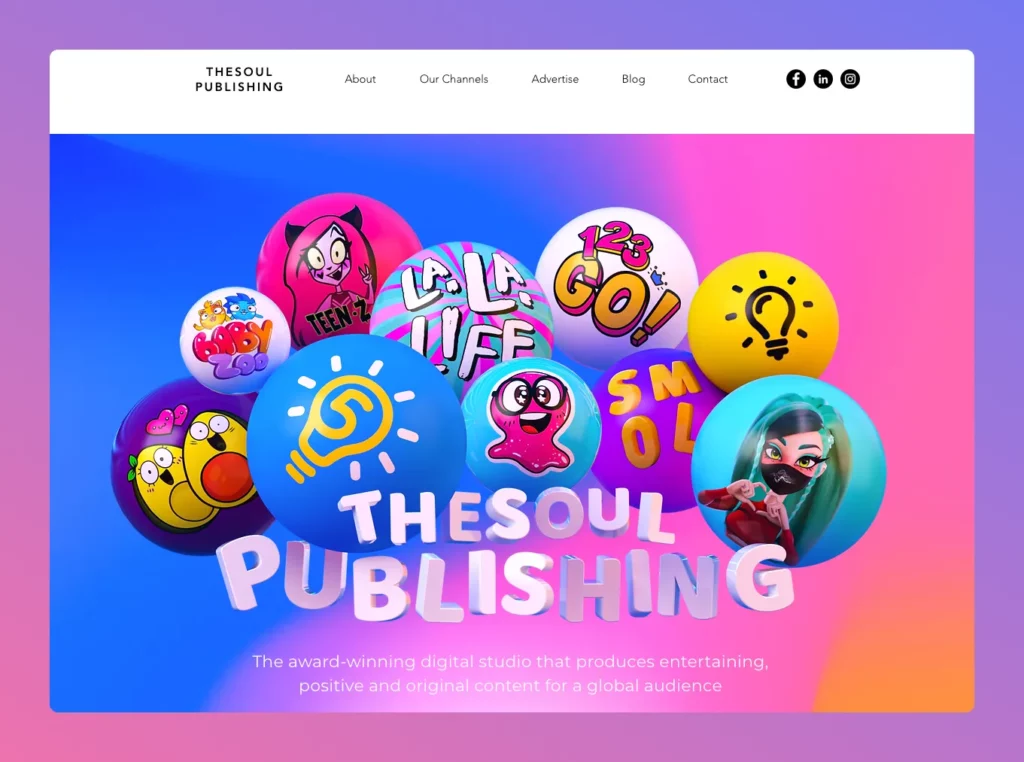 7. Dude Perfect
Subscribers: 59.5M
Total Views: 16,302,459,309
Most Watched Video: Water Bottle Flip 2 | Dude Perfect (434M views)
Niche: Sports, stunts
Do you enjoy sports or challenging activities? If so, you must be familiar with the Dude Perfect YouTube channel. This group of five friends has transformed their love for sports and stunts into a sensation, making them popular YouTubers.
Who are the ones behind Dude Perfect? They are Tyler Toney, Garrett Hilbert, Cody Jones, Cory Cotton, Coby Cotton, and Sean Townsend. It's fair to say that they have redefined sports entertainment, turning every trick shot into a blend of precision and chaos.
You read that right. In fact, the channel is entertaining because these top YouTubers' videos are not just about nailing the perfect shot. It's all about the journey, the failures, the persistence, and celebrating every success.
8. JuegaGerman
Subscribers: 48.9M
Total Views: 14,666,935,309
Most Watched Video: Singing Comments (50M)
Niche: Gaming, comedy, challenges
You have probably heard of JuegaGerman, one of the famous YouTubers in the gaming niche. His real name is German Garmendia. Now he has over 48 million subscribers, and his videos have been viewed over 14 billion times. We featured him in our Top 15 Famous Gamers in 2023.
While German is known for his gaming videos, his comedy sketches, vlogs, and music videos have also become a real attraction for viewers. And guess what? In 2019, he was named one of the Top 100 Most Influential People on the Internet. That's more evidence of his popularity, especially among the Spanish-speaking audience.
9. A4
Subscribers: 46.5M
Total Views: 23,145,838,982
Most Watched Video: 5 MINUTES BACK – by A4 – SCHOOL EDITION (114M views)
Niche: Gaming, comedy sketches, challenges
Here's the question: "Who is the most famous YouTuber for Russian-speaking audiences?" The answer is Vladislav Andreyevich Bumaga, better known as A4. As of now, he has uploaded 770 videos and gained over 23 billion views.
Most of A4's videos are in Russian, but we believe his audience comes from various countries worldwide. We consider him one of the most popular YouTubers in the gaming niche, but he's also known for challenge videos.
One of his challenges is about digging the deepest hole. However, his most-watched videos, with 104 million views, are school-related songs. A4 always pushes the boundaries of entertainment to make the content more engaging for his viewers.
10. Fernanfloo
Subscribers: 46.2M
Total Views: 10,336,847,374
Most Watched Video: EL RAP DE FERNANFLOO !! (141M views)
Niche: Gaming, comedy
One of the famous YouTubers for Spanish-speaking audiences is Fernanfloo. His real name is Luis Fernando Flores. He's a Salvadoran YouTuber who made YouTube content more engaging with an awesome mix of gaming and comedy.
Fernanfloo is a true inspiration for aspiring content creators. He makes anything that comes to his mind as engaging content. Just take a look at his hilarious reactions and ability to find humor in every situation really create a unique viewing experience for any viewers.
And there's more. He fearlessly participates in any event that can provide great entertainment. A boxing match against Luzu which is hosted by Ibai, a top Twitch streamer, is one of the examples. This further solidifies his position as a top YouTuber and true entertainer.
11. Felipe Neto
Subscribers: 45.3M
Total Views: 16,658,485,106
Most Watched Video: REBULIÇO – Paródia DESPACITO [+10] (77M views)
Niche: Comedy, commentary
After featuring popular YouTubers in the kids' entertainment niche, we're now showcasing non-English-speaking content creators. And one of them is Felipe Neto. With an impressive 45 million subscribers, he deserves a spot on this list.
Felipe is a Brazilian content creator known for his talent in comedy and entertainment. His content varies from parodies and vlogs to critiques of popular culture, all infused with his unique humor. Those have made him one of Brazil's biggest YouTube stars.
Sadly, that also led to controversies as some people disliked him. In response, he created a music video parody of "Despacito" that showcases his vision for a more positive and fun channel. Surprisingly, the video became his most viewed, reaching a jaw-dropping 77 million views.
12. El Rubius
Subscribers: 40.6M
Total Views: 7,412,853,917
Most Watched Video: Minecraft – "Miner" ft StarkinDJ ("Torero – Chayanne" Parody) (106M) views
Niche: Gaming, Comedy, Commentary
Moving on to non-English content creators, our next top YouTuber is Rubén Doblas Gundersen, widely recognized as El Rubius. Yes, you probably know him as a famous YouTuber in the gaming niche.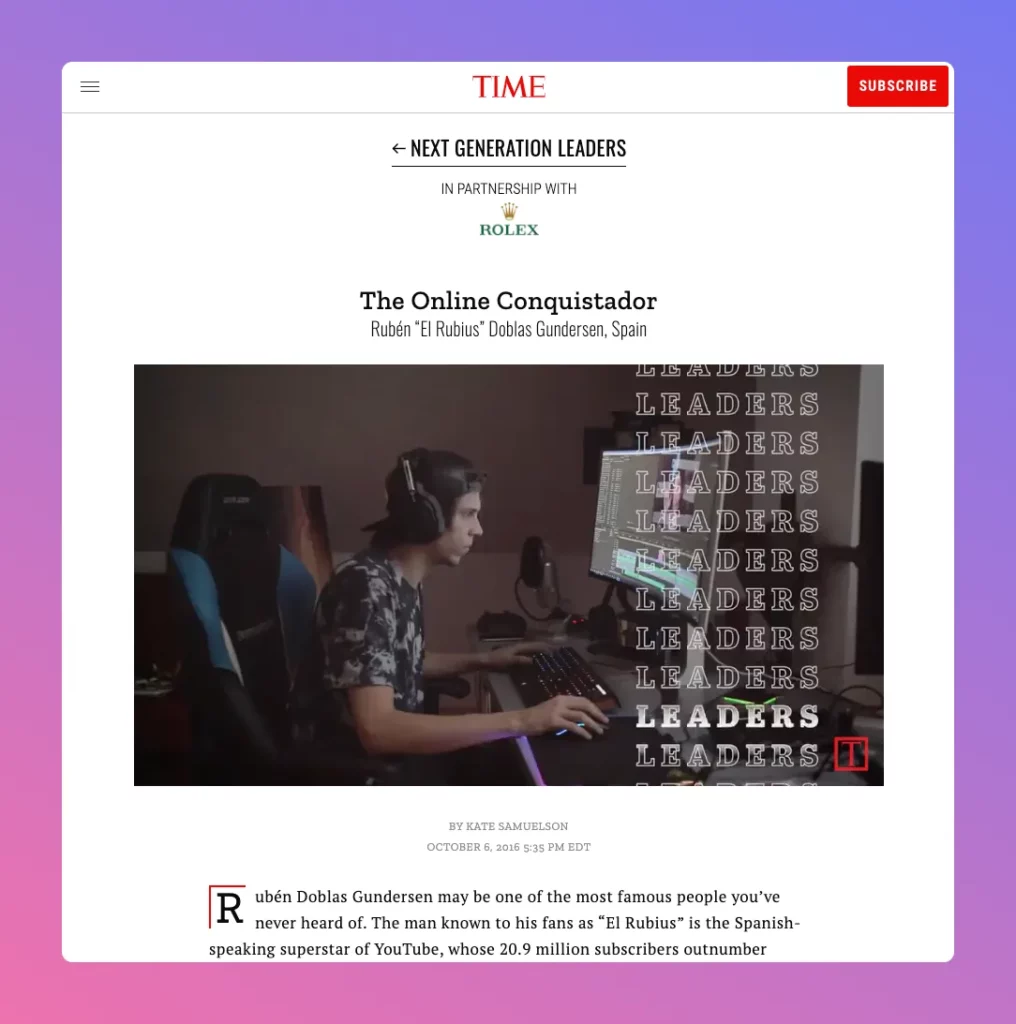 Time magazine once stated that he is among the "most famous people you've never heard of". While in fact, his subscribers at that time exceeded Beyoncé and Lady Gaga's channels combined. That's even more mind-blowing when we know that he now has 40.6 million subscribers.
As you might have guessed, Rubén started with gameplay videos but later added humor to his content. His charismatic personality led him to become one of the most successful YouTubers in Spain.
On top of that, he has earned numerous awards, like the Streamy Award for Best Spanish Creator, making him even more well-known.
13. MikeCrack
Subscribers: 39.6M
Total Views: 16,230,796,551
Most Watched Video: SMILE MORE: MIKECRACK (143M views)
Niche: Gaming, comedy
If you're curious about the top YouTubers in the Minecraft gaming world, MikeCrack is surely a name that stands out. He can be considered a master of world-building, creating those amazing worlds that captivate his audience.
His real name is Miguel Bernal Montes, and he brings the Minecraft world to life with innovative gaming-related content. You heard it right. He's a top name in the Minecraft community, especially for Spanish-speaking audiences.
But that's not all. He is not just one of the famous YouTubers but also a singer. You heard it right. Just like Felipe Neto and even Diana, MikeCrack's parody song called "Smile More" has become his most-viewed video with over 143 million views.
14. Ryan's World
Subscribers: 35.2M
Total Views: 55,364,129,628
Most Watched Video: HUGE EGGS Surprise Toys Challenge with Inflatable water slide (2B views)
Niche: Kid's Entertainment
If you've been on YouTube in 2018 or 2019, it's almost impossible that you did not know about Ryan Kaji. He's the star of the YouTube channel called Ryan's World.
And you know what? He's not just any young boy unboxing and reviewing toys, though. Ryan is one of the top YouTubers out there, who earns up to $29.5 million a year from his channel.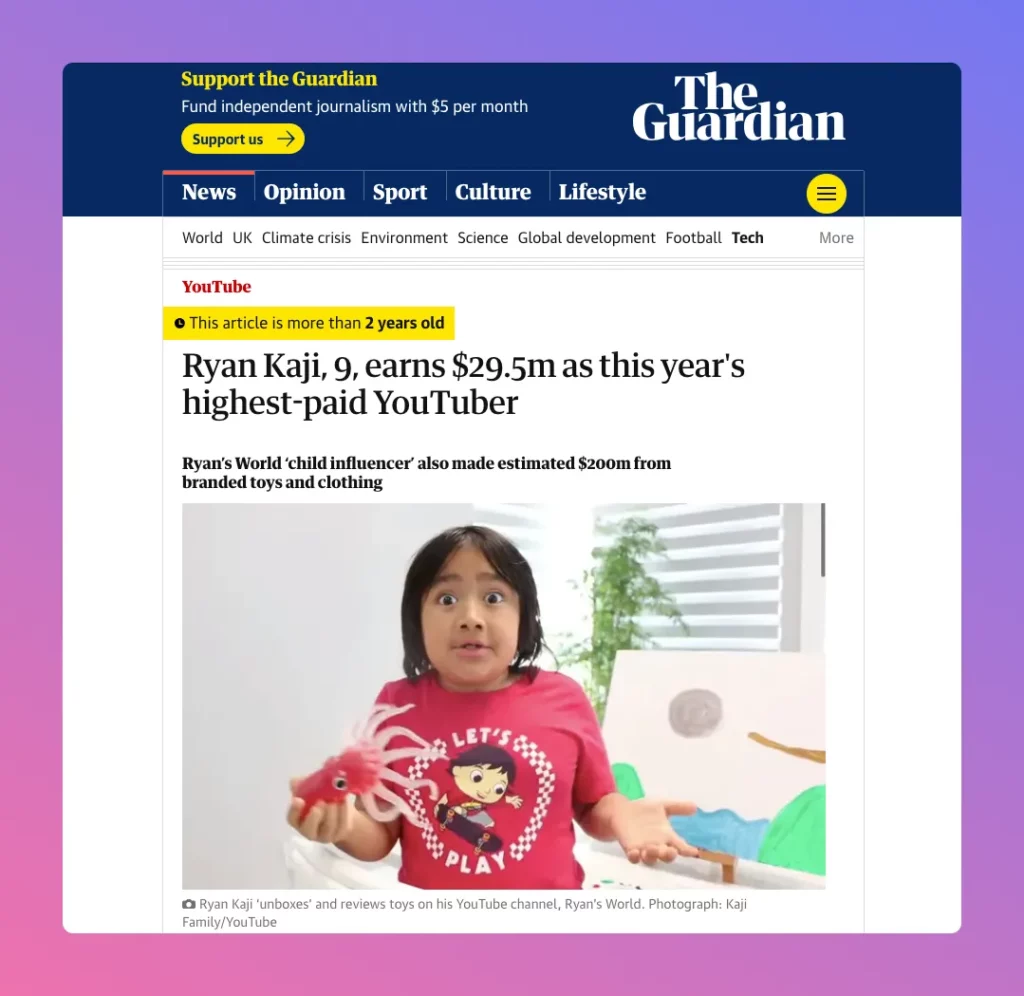 Seven years ago, his video titled "HUGE EGGS Surprise Toys Challenge" attracted a massive audience. And it has now become his most-viewed video ever with an incredible 2 billion views. What an extraordinary achievement!
The channel began in 2015 when little Ryan was busy playing with the Lego Duplo Number Train. It started as a simple documentary-style video. But as we know, any idea can become a great idea on YouTube. Over time, it grew to become one of the most favorite channels for kids worldwide.
15. SSSniperWolf
Subscribers: 33.8M
Total Views: 23,586,604,555
Most Watched Video: Touch My Body Challenge! (101M views)
Niche: Gaming, challenges, reactions, vlogs
When it comes to female gamers, you can't help but think of Lia Shelesh. She is one of the best YouTubers in this gaming niche. Known as SSSniperWolf, Lia has top-notch skills in most games, including Fortnite, Call of Duty, and Minecraft. She has played them all like a pro.
Just like other female gamers like Pokimane, Lia's personality is just magnetic. It keeps so many viewers returning for more of her latest videos. So, it's unsurprising that she has become one of the most famous YouTube stars.
Later on, she is known not only for her gaming content but also for her fun challenges and reactions. The surprising part is her most-watched video is not even about gaming. It is a challenge video that attracted over 100 million views.
16. Jacksepticeye
Subscribers: 30.1M
Total Views: 16,264,942,474
Most Watched Video: ALL THE WAY – Jacksepticeye Songify Remix by Schmoyoho (107M views)
Niche: Gaming, reactions
It's hard to talk about top YouTubers without mentioning the name of Seán William McLoughlin. Jacksepticeye, Jackspedicey, or Jackaboy. Whatever you may call him, it's the same person who became a social influencer on YouTube by playing games, creating comedy sketches, and doing challenge videos.
His iconic intro for all his YouTube content is "Top of the morning to ya, laddies". This phrase highlights his Irish background, meaning "the best of the morning to you".
But it's not just the intro that made him famous. Jack is incredibly creative with diverse content. On his channels, you can find everything from gameplay videos of Minecraft, God of War, and Resident Evil. Not only that, he also has video series of "Try Not to Laugh" challenges and "Talking to Myself."
17. Smosh
Subscribers: 26.1M
Total Views: 10,445,567,343 views
Most Watched Video: Beef 'n Go (107M views)
Niche: Sketch comedy, challenges, music videos
These famous YouTubers introduce themselves simply as "two boys making videos" on a YouTube channel named Smosh. The top YouTubers are Ian Hecox and Anthony Padilla. The channel is all about comedic sketches and parodies, ranging from mocking pop culture to creating original characters.
Back in 2013, it was the most-subscribed YouTube channel. And nothing has changed since then as they keep bringing fresh and funny perspectives, attracting millions of viewers. Yes, they have up to 10 billion views to date.
One unique thing about Smosh is that it was bought by popular YouTubers known as Rhett & Link, but then they sold Smosh back to its original founders, Ian and Anthony.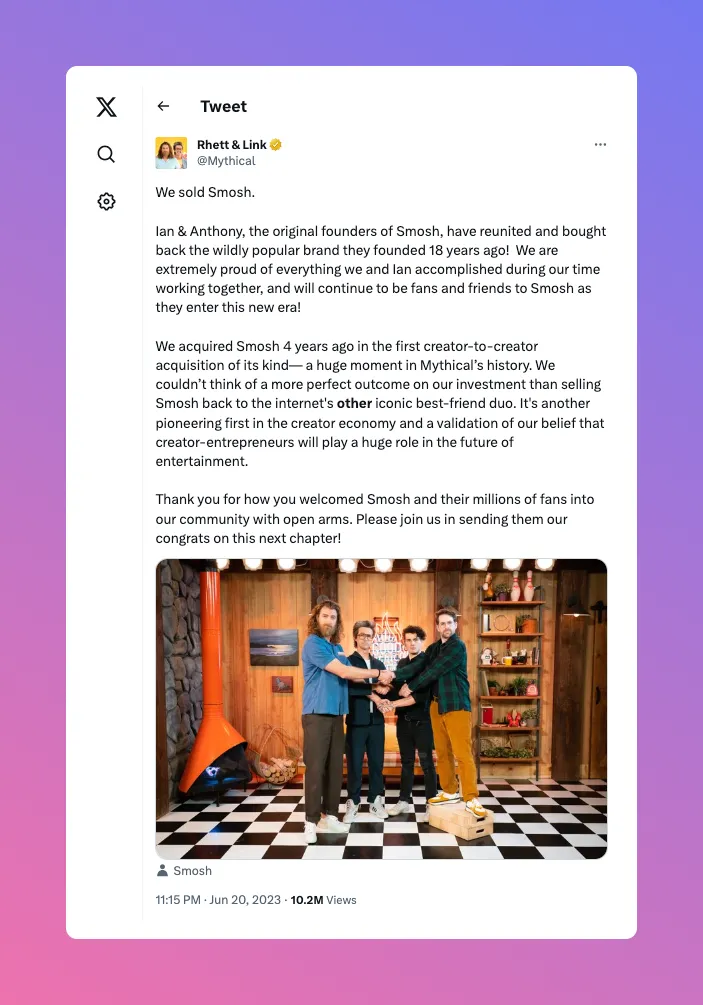 18. Mark Rober
Subscribers: 24.6M
Total Views: 3,657,290,353 views
Most Watched Video: SKIN A WATERMELON party trick – 134M views
Niche: Experiments, educational content
Our list has mostly kids' entertainment top YouTubers providing educational content. But for a broader audience, Mark Rober stands out as a top YouTuber who takes educational content to the next level. His videos are a perfect mix of science, curiosity, and entertainment.
But who is this famous YouTuber with 24.6 million subscribers? It turns out that he's a NASA engineer. With that background, his content creation approach is both methodical and captivating.
We recommend you check out his videos like "Beating 5 Scam Arcade Games with Science" or "BEAT ANY ESCAPE ROOM." Who wouldn't be curious about those? His detailed explanations of tricky scientific ideas, along with how they apply in real life, have not only taught but also captivated millions of viewers.
19. Blippi
Subscribers: 18.2M
Total Views: 14,949,721,278
Most Watched Video: Blippi Learns about Jungle Animals for Kids (918M views)
Niche: Kid-friendly educational content
Parents who want an educational YouTube channel for their kids will be happy to find Blippi. Blippi is one of the famous YouTubers for kids because he is a fun and engaging teacher.
Stevin John is the creative mind behind the iconic blue and orange attire. He wants to make learning fun and interactive. We believe that families around the world love how he strikes a perfect balance between education and entertainment.
You'll be amazed that his video "Blippi Learns about Jungle Animals for Kids" has reached 918 million views, making it one of the most educational videos ever watched online.
20. The Game Theorists
Subscribers: 17.6M
Total Views: 3,768,410,584
Most Watched Video: Can Gamers SURVIVE the Real Mirror's Edge? (98M views)
Niche: Gaming
As you might have guessed, this YouTube channel is not focused on gameplay recording videos. Instead, it delves deep into the layers of video game stories. The famous YouTuber behind it is Matthew Patrick, commonly known as MatPat.
He started the channel in 2009. But in 2010, he shifted to focus on gaming-related content, leaving behind his identity as a theater performer. That's right. And some of his early gaming videos include "Game Theory: Is Chrono Trigger's Time Travel Accurate?" and "Game Theory: Super Mario, Pipe Dreams."
MatPat understood that to become one of the famous YouTubers, he had to be unique. Instead of just showing gameplay, his channel analyzes and interprets complex game stories and crafting stories that blend fiction with possible reality.
21. Liza Koshy
Subscribers: 17.1M
Total Views: 2,174,032,000
Most Watched Video: Doing This Again (81M views)
Niche: Comedy
If you're searching for top YouTubers in the comedy niche, look no further than Liza Koshy. She's a brilliant content creator who proves that comedy is not just about laughter but can also feature social commentary derived from keen observations.
That sounds creative. But, indeed, her strong point as a popular YouTuber is blending relatability with humor, adding a comedic twist to everyday situations. Who wouldn't love this approach?
22. The Slow Mo Guys
Subscribers: 14.7M
Total Views: 2,471,705,842
Most Watched Video: Giant 6ft Water Balloon – The Slow Mo Guys (198M views)
Niche: Slow-motion content
If you're a content creator looking for content ideas to gain subscribers, think about the slow-motion video niche. The Slow Mo Guys has gained over 14 million subscribers from this type of content.
Gavin Free and Daniel Gruchy lead the way. They invite viewers to see the world from a whole new perspective by slowing things down. You won't believe how each video can blend physics and beauty in ways you never imagined.
Their top video, "Giant 6ft Water Balloon," has captivated almost 200 million people. With impressive technical skills and top-notch equipment, they create fantastic visuals.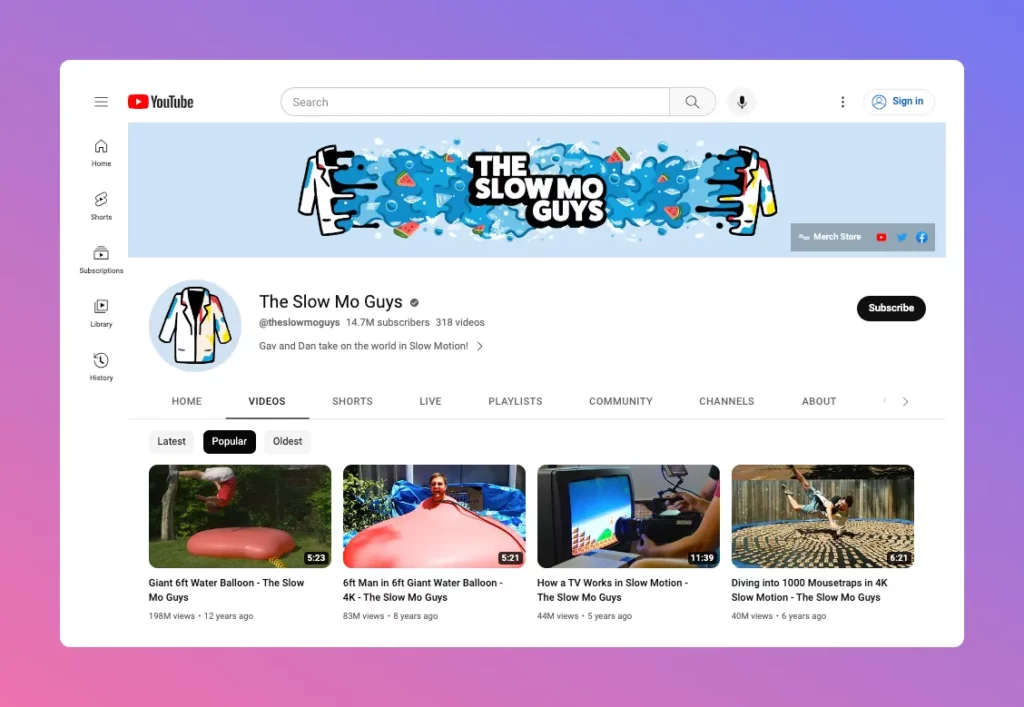 23. SkyDoesEverything
Subscribers: 11M
Total Views: 3,830,171,916
Most Watched Video: "New World" – A Minecraft Parody of Coldplay's Paradise (Music Video) – 89M views
Niche: Minecraft gaming
SkyDoesMinecraft is all about the blocky adventures and challenges in Minecraft. Adam Dahlberg is the creative mind behind the channel. He has a unique voice and amazing comedic timing. This turns regular gameplay into epic stories, making the pixelated world come alive.
At one point, Adam considered deleting the channel and even made all the Minecraft videos private. But then, he changed his mind and came back with a new name: SkyDoesEverything. From then on, he started posting a more diverse range of content.
It's been a while since his last upload. But with over two thousand videos, Adam's dedication to the Minecraft community has made him one of the famous YouTubers.
Top YouTubers: Honorable Mentions
Many other famous YouTubers have attracted millions of viewers worldwide, including popular artists and media companies, namely:
| | | |
| --- | --- | --- |
| No | Channel Name | Subscribers |
| 24 | T-Series | 246M |
| 25 | YouTube Movies | 171M |
| 26 | SET India | 159M |
| 27 | Music | 119M |
| 28 | Zee Music Company | 97.2M |
| 29 | WWE | 96.3M |
| 30 | Gaming | 93.6M |
| 31 | BLACKPINK | 90.2M |
| 32 | Goldmines | 87.3M |
| 33 | Sony SAB | 83.6M |
| 34 | BANGTANTV | 75.8M |
| 35 | Sports | 75M |
| 36 | HYBE LABELS | 71.9M |
| 37 | Justin Bieber | 71.7M |
| 38 | Zee TV | 70.9M |
| 39 | Pinkfong Baby Shark – Kids' Songs | 68.5M |
| 40 | Canal KondZilla | 66.5M |
| 41 | ChuChu TV Nursery Rhymes & Kids So | 66M |
| 42 | Shemaroo Filmi Gaane | 65.8M |
| 43 | Colors TV | 65.1M |
| 44 | Movieclips | 59.5M |
| 45 | Tips Official | 59.7M |
| 46 | Wave Music | 58.2M |
| 47 | Sony Music India | 57.3M |
| 48 | EminemMusic | 57M |
| 49 | Marshmello | 56.5M |
| 50 | Bright Side | 44.5M |
Who's the Most Popular YouTuber?
We've just answered your question: "Who is the most popular YouTuber in 2023?" Right now, it's none other than MrBeast, who is dominating the platform.
But you know that the rankings aren't set in stone. There are always talented content creators popping up and attracting viewers from all over the world.
If you dream of becoming the next big YouTuber, take inspiration from the above-mentioned creators. Find what you're passionate about or show off your unique skills. Then, jump into the platform with enthusiasm and fresh ideas. Good luck!