Are you a gamer, musician, or vTuber on a hunt for the best streaming platforms to showcase your talents to the world? You've come to the right place. Here, we'll cover 25 live-streaming platforms that will make you engage more with your audience in real-time.
We've compared various live stream platforms, looking at the most impactful features and audience-fit aspects, to ensure you can elevate your live streams, making them binge-worthy shows.
By reading this article, you don't need to spend hours navigating through each of those live-streaming sites only to find the perfect match for your stream.
Excited? Now, let's dive deep into the rest of the blog post, and don't let the perfect platform slip through your fingers!
What is a Live Streaming Platform
A live streaming platform is a platform that offers services to allow you to broadcast yourself online in real-time to an audience over the internet.
Streaming platforms can be in the form of websites, social media apps, or streaming software. These platforms come with many features designed to make your live streaming a breeze.
In general, you'll find a user-friendly interface to help you set up and start live video streaming in no time. Depending on your streaming platform, you may find more advanced features for beginners, like analytics or third-party integrations.
Bear in mind, despite its name, some best live streaming platforms let you broadcast non-live streaming videos, too. You can even upload a pre-recorded video and make it as if it is a live stream.
You heard that right; many live streaming sites and apps come with video hosting services to store your video content on their servers. Some will allow you to use it for free, while others ask you to pay for the service.
Why is having such a feature great? If you've ever been on Twitch, you know that live streams are what draw you in. But catching a glimpse of the recorded videos of those highest-paid Twitch streamers can be awesome, too.
Things to Consider when Comparing Live Streaming Platforms
When it comes to live streaming platforms, there are many things to consider before choosing the perfect one for your live stream. Here are some of them:
Audience-Fit. Always start with your audience in mind and think about what's best for them. This way, you'll know if your audience is using the platform or willing to join the streaming platforms where you stream online. For example, Twitch is perfect for gamers.
Easy to Use. It will be great if you choose a live-streaming platform that offers ease of use. It can be in terms of simple navigation or straightforward streaming setup. This should apply to both you as a streamer and your viewers. 
Awesome Video Quality. Don't make your audience disappointed because of the poor video quality of your live stream. Ideally, the streaming platform should support 720p. And it will be great if that streaming video platform supports up to 1080p or even 4K.
Reliable with Minimum Downtime. The last thing you want to experience during your live video streaming is the platform being down, leaving your audience disappointed. That's why it's important to check the platform's track record for uptime.
Compatible with Many Devices. The easier the audience can access your live streams from any devices they own, the more audience you can have. So, make sure that the streaming platforms you're about to use are compatible with many devices and operating systems.
Fewer Limitations. Choosing a live streaming platform with fewer limitations is recommended, especially in terms of livestream duration and total viewers. Imagine how disappointing it is when many people want to join your live stream but cannot do so.
Worth Investing. Some streaming platforms require you to pay for premium features and remove limitations. In that case, learn their pricing structures to single out the one that is worth your investment. Don't forget to always take advantage of their free trial offers.
Perfect for Monetization. Unless you're doing it just for fun, you'd better choose streaming platforms that allow for monetization. This way, you can make money streaming, whether from viewers' donations, subscriptions, ads revenue, or brand partnerships. There are also live streaming platforms that support monetization for your viewers too.
Secure. You should only go for streaming platforms that commit to protecting their users' security and data privacy. Also, make sure those platforms for live streaming can safeguard your content, preventing them from piracy and illegal use.
Offering Video-On-Demand Features. Video-on-demand feature is great to make your content available for viewers to watch at any time. It will also benefit you from getting more revenue, whether from ads or offering premium content.
Great Customer Support. What if something happens to your account, or you have an issue running the live stream smoothly? You'll need customer support to deal with that. For example, when your account is compromised or your stream experiences hiccups.
Third-party Integrations. It will be a special bonus if you can have streaming platforms with third-party integrations features. The feature will help you enhance the platforms' functionality using other content creation tools to reach wider audiences or have more monetization options.
Best Live Streaming Platforms in 2023
Here are the best platforms for anyone who wants to broadcast themselves in front of a live audience:
1. YouTube Live
Type: Video-sharing platform
Best For: Any streamers who want to take advantage of YouTube's huge audience
Pricing: Free for eligible users
YouTube Live is not a standalone live-streaming platform. It's actually a feature of YouTube as a video-sharing platform that allows users to live stream in front of their audience.
YouTube Live is at the top of our list because it's an exceptional live-streaming platform for reaching a massive audience. With over 2.1 billion users worldwide and 122 million active users daily, its potential for success is beyond doubt.
What's great about YouTube Live is you don't need to spend a single dime to live stream your content. When you meet the requirements of minimum subscribers, you can start doing it.
As a live video streaming feature, YouTube Live provides you with options to receive donations and display ads, making it easy for you to make money online from YouTube.
Key Features:
Universal. You can start a live stream on YouTube, regardless of your niche.
Mobile Streaming. If you are eligible to enjoy the live stream feature, you can start streaming on the go.
360-degree video. Create a more immersive live stream experience with 360-degree video content.
Super Stickers. Enjoy a better engagement with animated stickers from your audience during live chat.
Live Automated Captions. The auto-generated caption will make your lifestream accessible to your viewers.
What We Think about This Streaming Platform:
YouTube Live is a perfect streaming platform for any streamers who want to tap into YouTube's massive audience. But, bear in mind the competition is fierce among creators on the platform with billions of users.
2. Twitch
Type: Live streaming platform
Best For: Gamers or any streamers who want to target a younger audience
Pricing: Free
We are sure you heard about Twitch before, an awesome streaming platform which is popular for its gaming content. With up to 31 million daily active users, Twitch is one of the streaming platforms for those who want to start streaming games and connect with their fellow gamers.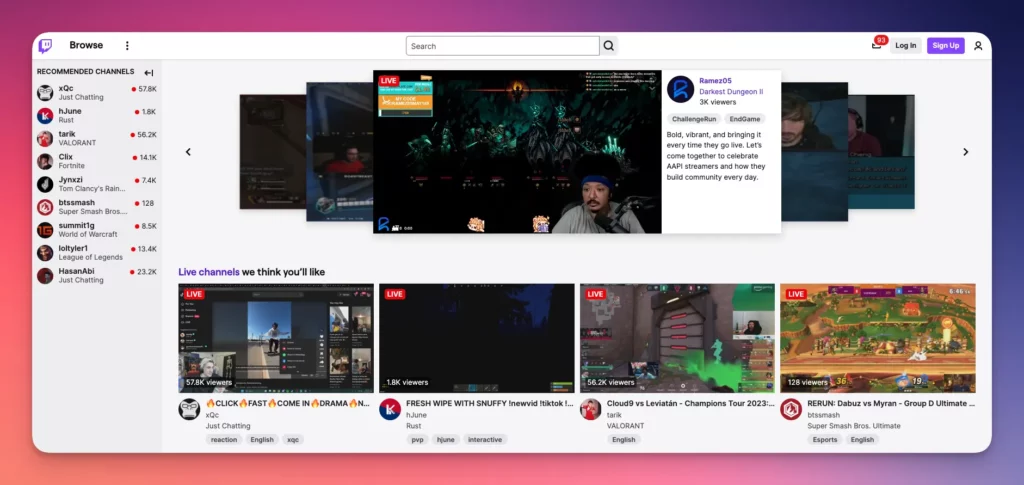 Great streamers like PewDiePie, Pokimane, and Ninja are on this platform. However, Twitch is not exclusively for games, though. Any niche like creative arts, music, sports, or even chat shows gains a massive audience, too. 
The intuitive interface is one of the things that both streamers and viewers love. But, it is widely believed that the potential to monetize content is what attracts streamers from all over the world.
Key Features:
Subscriptions. Allow viewers to support your channel on a monthly basis, using different tiers in which you can offer exclusive emotes, badges, and more.
Raids. A unique feature to send your viewers to another channel when your live stream ends to help other streamers grow their audience.
Emote. Similar to YouTube, Stickers express emotions and reactions to the chat.
Bits. A virtual good that Twitch users can buy to show support for the streamers or get their attention during live streams.
Extensions. A feature to add extra functionality, like adding overlays and showing a box under the video.
What We Think about This Streaming Platform:
One of the must-try live-streaming platforms, especially if your niche is gaming. Twitch offers great potential for content monetization by joining Twitch Affiliate.
3. Facebook Live
Type: Social streaming platform
Best For: Any streamers who have a Facebook account
Pricing: Free
Facebook Live is a feature of the social media platform Facebook to let users broadcast themselves online in real-time. Anyone can enjoy your live stream without having to create a Facebook account.
This feature is a great improvement that will make Facebook an alternative to other live-streaming platforms. In fact, the trend has changed that 82% of people prefer a live video rather than reading social posts. 
On top of that, the popularity of Facebook Live has been skyrocketing, reaching up to a 50% increase in 2021. So, if you want to start streaming and reach a huge audience, it's time to jump on board.
Key Features:
Live Poll. Get instant feedback from your viewers during your live stream. It's a fantastic feature to find out what they want and make your stream more engaging!
Live Comment Moderation. It's nice to have control over comments during your broadcast. Keep the comments section safe and spam-free.
Donations. Let your audience contribute through donations as a way to show support and make an impact together.
Live with Shopping. Selling products during a live broadcast can be easier. A feature that most live stream platforms should have to support streamers.
Front Row. Make your most engaged supporters as VIPs. They can see your broadcast in full screen and interact with you directly.
Integrations with Streaming Software. Create more professional-looking broadcasts using your DSLR camera for streaming with ease. Just integrate your favorite streaming software.
What We Think about This Streaming Platform:
Facebook Live is recommended for any streamers, from starters to professionals, who want to take advantage of the power of this social media platform which offers great features of a live streaming platform.
4. Instagram Live
Type: Social streaming platform
Best For: Any streamers, from starters to influencers and businesses.
Pricing: Free
As its name suggests, Instagram Live is a cool feature of Instagram that lets you connect with your followers in real-time. Released in 2016, Instagram Live competes with YouTube Live and even the discontinued Periscope, Twitter's live streaming platform.
What makes Instagram gain huge popularity today? It's all about that sense of urgency and the many great features it has to offer.
Let's say you start streaming live, and your followers will get a notification for that. If they don't catch it at the right time, they will miss it because your live video will instantly disappear when your live stream ends. While you can save the video, it won't be the same excitement.
Key Features:
Schedule. Gain more viewers by letting them know when you will be going live and encourage them to tune in.
Live Room. Invite up to three accounts to join a live stream. You can host discussions and interviews and even create collaborative content.
Q&A. Engage more with your audience by enabling a Q&A feature during your live broadcast to let them ask anything to you.
Who's Watching. Allows you to see who's watching your live broadcast from the handy "Viewers" button.
What We Think about This Streaming Platform:
Instagram Live is amazing for any streamers, influencers, and brands who want to broadcast themselves, reaching a large audience on a platform with over 1 billion monthly active users.
5. LinkedIn Live
Type: Social streaming platform
Best For: Professional streamers who are targeting a professional audience
Pricing: Free for eligible users
If you're looking for streaming platforms that are great for a professional audience, you should check out LinkedIn Live. LinkedIn is a social media platform where professionals connect with each other.
Their live stream feature allows you to go live from your own profile or company page. This can be a huge opportunity to engage better with your connections. The best part is you can use it for free if you have more than 150 followers/connections.
While Instagram Live is great for boosting brand visibility, LinkedIn Live is where it's at for professional vibes. Do you want to introduce your brand, promote new products, or share your awesome office spaces? LinkedIn Live is the way to go!
Key Features:
Schedule. Easily schedule and promote your live stream on LinkedIn or other platforms.
Auto-Generated Caption. Make the Livestream more accessible to a broader audience with auto-generated captions enabled.
LinkedIn Analytics. Detailed analytics about your live video, including the number of views, likes, comments, and shares, will help you make improvements for the next event.
Comment Moderation. Mute specific comments to prevent unwanted comments from reaching your audience. Mute certain people to react on your live stream.
Editing Video. Ability to trim unwanted parts of the video after the live stream is awesome
What We Think about This Streaming Platform:
One of the best live streaming platforms for professional streamers who want to engage with a professional audience better using a trusted platform.
6. TikTok Live
Type: Social streaming platform
Best For: Any streamers, especially those who are much more focused on the Gen Z audience
Pricing: Free
TikTok needs no introduction, especially for the Gen-Z audience. With one billion users, making it the sixth most popular platform in the world, TikTok is a phenomenal social media platform.
If you're on the hunt for the best live streaming platform to stream content related to Gen-Z viewers, look no further than TikTok Live. You can broadcast your activity live to your audience, whether as a content creator, musician, dancer, or many more. 
What's great about TikTok Live is you can go live whenever you feel like it. There are no time limits that will hold you back. However, TikTok will recommend 30 minutes as the best duration for that.
Key Features:
Q&A. Let the viewers ask you questions during the live stream. 
Live Together. You can add hosts to your live broadcast or invite guests to make it more exciting.
Live Topics. Define the topics to ensure that you'll have high-quality viewers that are interested in what you're doing or talking about.
Live Countdown Stickers. Let your audience know when you're about to live stream.
Live Donations. The donation button allows you to collect support from your audience for specific organizations
Weekly Ranking. Allows you to gain more exposure to be the top live streamers of the week, based on your viewers, likes, and shares.
What We Think about This Streaming Platform:
TikTok Live is a fantastic streaming video platform for any niche focusing on engagement. It's a perfect platform for those who want to host live events, interviews, and even product reviews.
7. DLive
Type: Live streaming platform
Best For: Any streamers, mostly gamers
Pricing: Free
DLive is a unique streaming platform which is built on blockchain technology. The platform was founded in 2017 and was designed to help content creators earn more money from their live stream.
Focusing on the donation system, the streaming platform takes only a small cut compared to traditional streaming platforms. The streamers will get the rewards in the form of a token called Lemon or Lino Points.
This reward system has attracted many streamers, including PewDiePie, who signed an exclusive deal in 2019 with up to 800,000 followers. That was right before his exclusive deal with YouTube in May 2020.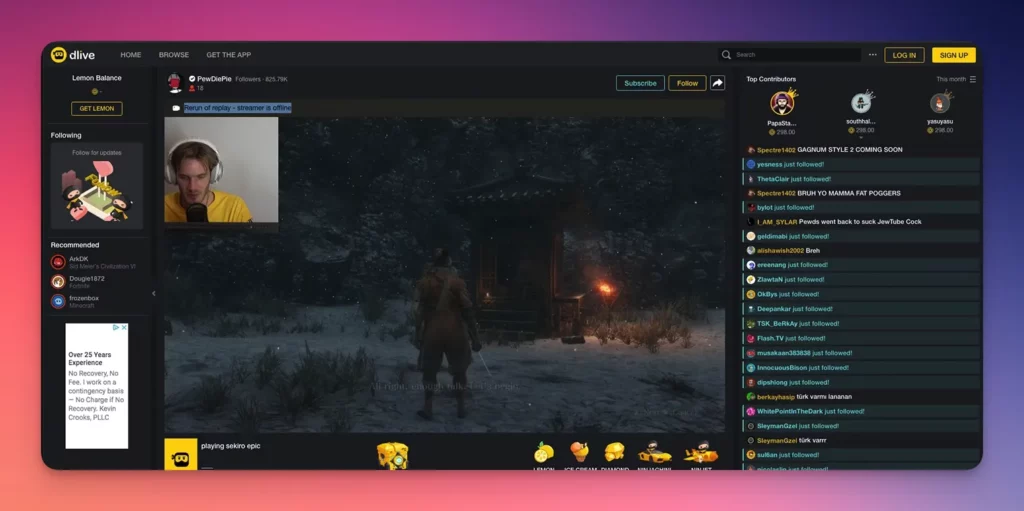 Key Features:
Blockchain-Based. A decentralized platform guarantees a better system to safeguard content.
Token Rewards. Streamers and viewers can earn rewards in the form of Lino points.
Small Cuts. Streamers will get 90.1% of the total revenue from their streams.
Incentivized Views. Allows viewers to earn money watching other live streams.
Twitch-Like. The same appearance as Twitch, making it easy for streamers or viewers who want to switch to the platform.
What We Think about This Streaming Platform:
One of the streaming platforms that can be an alternative for streamers who dislike huge revenue cuts taken by some platforms. Being decentralized, it offers a unique feature where streamers and viewers can both earn rewards.
8. Trovo
Type: Live streaming platform
Best For: Any streamers, mostly gamers
Pricing: Free
Similar to Twitch and DLive, Trovo is one of the streaming platforms that focuses on gaming streams. You'll be familiar with this platform when visiting their website.
Launched by Tencent, a technology company that owns Riot Games and Supercell, Trovo can be the next best live streaming platform offering an excellent monetization feature for streamers.
What's more, live streaming platforms should be about it. And, Trovo is one of the best platforms when it comes to awesome and unique interactive features.
Key Features:
Customized Emotes. Easily upload custom emotes to share with other viewers.
Spell Combo. Viewers can interact with multiple special animations to interact with streamers and other viewers.
Video Uploads. Allows you to upload videos to create distinctive content, preventing your audience from getting bored while on your channel.
Partner Program. Will give you incentives under Trovo 500 by completing watch hours targets.
What We Think about This Streaming Platform:
Trovo is one of the platforms for live streaming recommended for streamers eager to create a fun, engaging experience with viewers. It has great interactive features.
9. Dacast
Type: Video streaming platform
Best For: Professional streamers
Pricing: Free Trial for 14 Days, USD39 per month (Starter)
Are you looking for a streaming platform that is built for business with a white-label feature? Or do you want the platform to have professional features like 1080p broadcasting and country restriction? Then, Dacast should be your pick.
This streaming platform has been around for years with clients from all over the world, including Cathay Pacific, The Weather Channel, and Playsight. Known for its awesome HTML5 video player, which works well on any device, various monetization options, and excellent security, this streaming platform is worth trying.
Key Features:
Video on Demand. Allow you to make your live stream as video-on-demand content.
DRM. Make sure your digital content is protected from authorized access and distribution.
AES. Encryption will make your digital data more secure.
CDN. Make your live stream easily accessible by using a network of servers around the world.
Mobile streaming. You are free to start streaming from either a browser or mobile devices.
What We Think about This Streaming Platform:
Dacast is one of the streaming platforms that offer unique features such as CDN and DRM and is which is important for professional streaming.
10. Brightcove
Type: Video streaming platform
Best For: Enterprises, businesses that deliver high-quality content
Pricing: Contact Brightcove for pricing information
Another live streaming platform that will give you an all-in-one video publishing solution, from hosting to streaming. Brightcove is built with enterprise users in mind, offering them an easy way to build followers, boost brand recognition, and drive more revenue.
Trusted by big names like Yahoo! Japan, Harvard Business School, and Roku, Brightcove is a reliable streaming platform to ensure the best live stream for their events.
Key Features:
Schedule Event. Make sure your viewers are aware of when your live stream starts in advance.
Auto-Generated Captions. Display captions to help your audience with hearing issues or noisy environments.
Live DRM. Protect your live stream content with DRM, making only subscribers can access it.
Live Analytics. Allows you to understand the performance of live stream in terms of views and interactions.
Playback Restriction. Allow you to specifically restrict playback for certain profiles or groups of users.
Monetization Options. Allows users to choose options for monetizing the content, from pay-per-view to subscriptions and ads.
What We Think about This Streaming Platform:
One of the best live streaming platforms for enterprises which offers low-latency live streaming and awesome interactive features as well as monetization options.
11. Kaltura
Type: Video streaming platform
Best For: Media companies, educational institutions, enterprises
Pricing: Contact Kaltura for pricing information
Kaltura is not a mere streaming video platform. It is a complete video cloud platform offering various video-based services for businesses, educational institutions, and organizations. With this platform, you can hold webinars, virtual classrooms, and events.
As for streaming, Kaltura is a great option if you want enterprise-grade high-quality streams with lots of features. You will have an intuitive platform to manage all your playlists, user permissions, and more. Also, it has a great player that supports more than 8000 devices.
Key Features:
User and Device Management. Easily control who can access your live stream by creating user profiles and permissions based on subscription packages.
Multistream Revenue. Generate revenue from your videos through subscriptions, ad insertion, or pay-per-view.
Analytics. Need detailed insights on how your videos are performed? Kaltura has got you covered, from view counts to watch time and engagement.
White Labels. You can use your own branding for more professional live streams.
High-Performance Player. Awesome player to make your live stream smooth, with no buffers and lags.
What We Think about This Streaming Platform:
Kaltura is one of the great streaming platforms that offer professional-grade quality with white-label features. It is an alternative to Livestream by Vimeo.
12. Castr
Type: Video streaming platform
Best For: Any streamers, from gaming niche to church services.
Pricing: Free Trial, USD 19.99 (Starter)
Trusted by more than 200,000 streamers around the world, Castr is a streaming platform offering great features for individuals and businesses.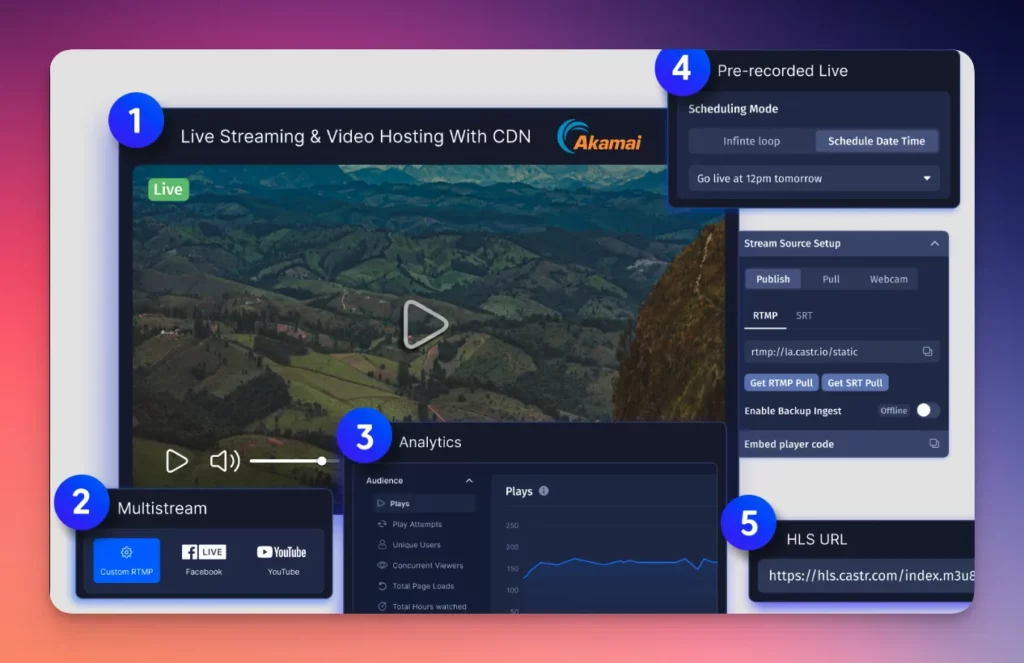 What makes Castr stand out is its wide range of video streaming features. With their intuitive dashboard, you have the ability to multistream to platforms like Facebook and YouTube. Also, the option to transform your pre-recorded videos into live streams is handy, too.
Unlike social streaming platforms, Castr requires an encoder for live streaming. But no worries, you can easily use a free software streaming tool like OBS (Open Broadcaster Software) with this streaming platform.
Key Features:
ChatBox. Just enable the checkbook on the video to your settings to make a lifestream more interactive.
Dynamic player. Allows you to switch the content in the player without making any changes to the embed code.
Health Charts. You can understand how well your live stream is in terms of the delays, bitrate, and frame rate to ensure the quality is excellent.
Analytics. You will get insights about your live stream's performance. You can even enable Google Analytics to get more in-depth analysis.
Live to VOD. The recording ability allows you to save and convert your lifestream into video-on-demand content.
Adaptive Bitrate Streaming. Allows you to have a more smooth live stream experience because of the automatically adjusted bitrate.
What We Think about This Streaming Platform:
One of the streaming platforms that have powerful features with multistream capability and great analytics.
13. Livestream by Vimeo
Type: Video streaming platform
Best For: Any professional streamers demanding great high-quality video stream
Pricing: Free Trial, USD65 per month
As a part of Vimeo, a well-known video sharing platform, Livestream offers a live streaming capability focused on high-quality live streams with professional branding.
With their great technology, you can get high-quality live streams with top-notch security features. This makes Vimeo one of the live-streaming sites trusted by big brands like Samsung, Mailchimp, and Wix.
While the video-sharing service is free, you have to pay US 65 per month to use their live-stream service.
Key Features:
Simulcasting. Allow you to broadcast your live stream to multiple platforms simultaneously.
White Label. Make a more professional stream with your own branding, ads-free.
Great Support. 24/7 support to help you with any issues during live streams.
Streaming from Any Device. Allow you to stream on any device, either mobile or desktop.
What We Think about This Streaming Platform:
Vimeo Livestream is a go-to option for streamers who need a streaming platform that provides high-quality streaming, professional branding, and robust security features.
14. Restream
Type: Video streaming platform
Best For: Any streamers
Pricing: Free for 2 multistream channels
Suppose you feel that focusing on one social streaming platform, such as YouTube Live, is too limited. In that case, utilizing a versatile live stream platform like Restream can make a significant difference.
With Restream, you can broadcast yourself to as many as 30 streaming sites, all from a single platform. It's not just restricted to popular platforms like Facebook or LinkedIn; you can even stream to platforms like Mixcloud, Steam, Dlive, and more.
What's more interesting is you can start streaming for free, up to 2 channels at once. If you want to stream to 8 channels simultaneously and be able to invite up to 9 guests, simply upgrade to their professional plan.
Key Features:
Multistream. Allows you to stream up to 8 channels simultaneously
Custom Channels. You can stream to a platform that is not listed yet on the supported services.
Custom Graphics. Upload the logo, background, and overlays with your brandings.
Storage. Store up to 10 videos with 2 GB per video for scheduled pre-recorded streams.
Engagement Analytics. Learn more about your live stream performance with great Analytics.
What We Think about This Streaming Platform:
Restream can be one of the platforms for live streaming as an alternative to the common social streaming platform like Twitch or Facebook. It comes with an awesome custom channels feature.
15. IBM Cloud Video
Type: Video streaming platform
Best For: Professional streamers, enterprises
Pricing: Free Trial for 30 Days, USD129 per month (Silver)
If you are looking for streaming platforms with great scalability and support content distribution, IBM Cloud video can be a great option.
Equipped with many features from AI-powered caption to Enterprise level security, this stream platform offers unique features that have attracted both individuals and businesses. Big brands like Airbnb, Sony, and Roland entrust their live video streaming to IBM Cloud video.
Whether you're hosting virtual events or conducting corporate communications, IBM Cloud Video provides awesome features to meet your needs.
Key Features:
AI closed caption. With the help of AI, you can generate closed captions for your live stream automatically.
AI Analytics. Allow you to understand your live stream performance.
CDN. Reaching audiences around the world is easier with the support of their CDN infrastructure.
Enterprise-level security. Multiple layers of protection and strong encryption will protect your company life events from eavesdroppers
Scalability. Don't worry if you want to scale up your live stream needs based on your audience.
Integration. Easily integrate your live stream or video content into your learning platform or Content Management Systems
What We Think about This Streaming Platform:
For those who are looking for an all-in-one solution both for live stream and video content management, IBM Cloud video is worth trying, especially for those who focus on security and scalability.
16. StreamShark
Type: Video streaming platform
Best For: Individuals or Organizations who are looking for a professional-grade platform
Pricing: Free Trial, USD199 per month (Standard)
StreamShark is a live streaming platform made for individuals and businesses, ranging from universities, and hospitals to government institutions.
Supported by enterprise-level features like the support of CDN networks, white label, and privacy control, this live stream platform is a go-to-option for those who want to give a professional look to their live stream.
As a premium platform, StreamShark offers monthly plans starting at USD 199. By subscribing, you gain access to amazing features such as up to 9,000 GB data transfer, 13,500 viewer hours, simultaneous streaming on 12 channels, and much more. Not sure if it's the right fit for you? You can try it out for free with their 30-day trial.
Key Features:
Multi-Stream. Boost your streaming visibility by broadcasting it to multiple platforms at the same time.
Real-time Stats. Real-time data during your live stream will give you instant insights to make it more engaging.
Embeddable Chat. A chat window on your website will ease you to interact with your viewers to get their feedback.
Live Rewind. A great feature to help viewers to catch up on the part of the live stream they missed.
Password Protection. Add additional protection for your stream and video content.
What We Think about This Streaming Platform:
StreamShark is a great alternative for those who are looking for streaming platforms. Offering unique features like real time statistics and live rewind, your livestream will be more insightful and engaging.
17. JW Player
Type: Video streaming platform
Best For: Any streamers, content creators, and video-driven businesses
Pricing: Free trial for 30 days, with 75GB streaming, non-commercial license
JW Player is an incredible streaming platform that empowers content creators to engage in live event-based streaming and deliver on-demand video content.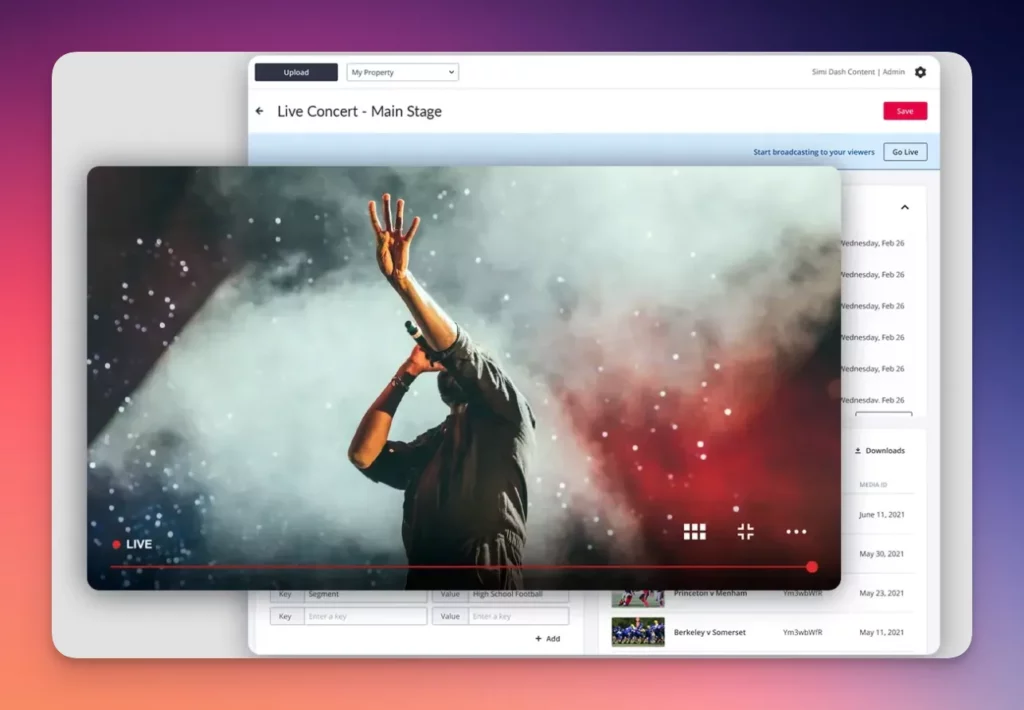 With JW Player, you can ensure high-quality video streaming, even up to 4K resolution. That way, you can captivate your audience around the world, regardless of the devices they use due to the HTML5 player's great compatibility.
On top of that, JW Player offers excellent monetization features, allowing streamers to maximize their revenue from live streams. It's a fantastic option for those looking to enhance their streaming experience and boost their earnings.
Key Features:
Asset Management. Easily manage your video content in one platform with a powerful search function.
OTT Apps. Allow your audience to watch your live stream or video content from any device, from mobile phone to TV.
Realtime Analytics. Never miss any insight in real-time that can improve your live stream right away.
Article Matching. Allow you to create a playlist to insert contextual videos into your article.
Outstream Ads. A monetization feature to display ads without interrupting your viewers' live stream experience.
Player Bidding. You can sell ad slots in your video player to help you maximize your abs Revenue.
What We Think about This Streaming Platform:
JWPlayer is one of the best streaming platforms for any streamers or content creators who boost their video content visibility as well as maximize their revenue from many monetization options.
18. Resi
Type: Video streaming platform
Best For: Any streamers who need high quality live streaming platform
Pricing: Contact Resi for pricing
Do you want to hold monthly webinars for subscribers on your membership website? Or, do you want to live reports on Sunday sports matches? If so, Resi can be a great streaming platform for your needs.
This platform comes equipped with essential features like multistreaming and automation, making it effortless to schedule recurring events. With these capabilities, you can save valuable time by avoiding manual setup for each live stream. This allows you to focus more on creating engaging content.
Key Features:
Automation. Allow you to schedule recurring events automatically.
Multistream. You can stream on multiple platforms simultaneously.
Adaptive Bitrate. Prevent buffers or lags with the adaptive bitrate to ensure smooth live stream experiences.
RSP. A proprietary technology to ensure reliable live streams, even when there are network hiccups.
What We Think about This Streaming Platform:
Resi is one of the streaming platforms which focuses on reliability and quality. It's a great option for any streamers who want to maximize the RSP technology for the best audio and video quality during their live streaming.
Wrap Up on Best Live Streaming Platforms
Finding the perfect streaming platform can be a real challenge, especially if you're just starting out. The thing is, there's no one-size-fits-all solution here. It all comes down to who you are, what you need, and what your goals are.
In this article, we've covered 18 streaming platforms to check out. They are all categorized by social streaming platform, live streaming platform and video streaming platform. Some of those live stream platforms are:
Twitch
Instagram Live
DLive
Brigthcove
Castr
Restream
JWPlayer
It would be great if this article makes your decision-making process a breeze. That way, you can optimize all those awesome features and make your streams amazing.
So, are you ready to rock the streaming world?