Whether you are a budding content creator or a new business owner, coming up with a unique username for an Instagram account can be difficult. Especially considering that many good Instagram names are already taken.
Due to that reason, we would like to help you by providing a bunch of IG names as an inspiration. The examples that you will find in this article consist of username ideas for different niches, from artists to pets.
Not only that, this article will also give you tips on how to choose the most suitable name for your Instagram account. So, make sure you read until the end!
But first, let's make sure that you understand what a username is on Instagram.
What Are Instagram Names?
Instagram name is the name that is used to identify an account on the social media platform. It is also called a username or handle.
Your instagram name is the one that people use to tag you. For example, Gank's username is @ganknow.
The username also shows up on your profile's URL, such as instagram.com/ganknow. So, if someone wants to access your profile from a web browser, they can just add your username after Instagram's web address.
Instagram names are unique, meaning that no accounts can have the same username. They also cannot include unusual characters and emojis since they are used in your Instagram URL.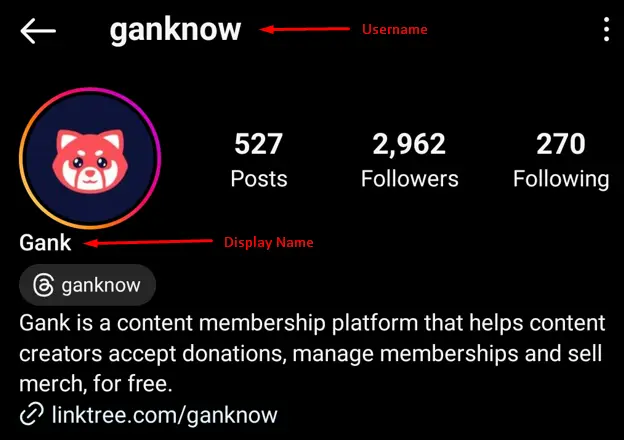 Furthermore, your Instagram name should not be confused with your display name. The latter is the name that is displayed below your profile picture. It is not unique and can be fitted with unusual characters or emojis for creative purposes.
Now that you understand what Instagram names refer to, let's talk about their importance.
Why IG Names Are Important
Whether you want to create a personal or professional account, your handle matters because it should represent your content or the image you want to portray.
For example, a culinary content creator may choose a name related to food or cooking, such as @johnskitchen, @cookingwithsylvia, or @roger_bakes. These examples are not only relevant to the kind of content you offer but can also make you stand out.
Another reason to take usernames seriously is for your profile's searchability. As of this writing, Instagram recognizes keywords in Instagram names.
So, when someone looks up for "kitchen" on Instagram, having a handle like @johnskitchen increases the likelihood of showing up in the search result. Assuming that the person searching with the keyword "kitchen" is interested in anything cooking-related, they are likely to look at @johnskitchen in that search result.
Read: Instagram Bio Ideas
Basic Rules when Choosing IG Names
Before we go to the list of username ideas, you need to be aware of the following limitations :
Instagram names can be up to 30 characters.
They can only include letters, numbers, periods, and underscores.
They are not case sensitive. For instance, @GANK, @gank, @GanK are considered the same name.
Now that you know the specifications, keep them in your mind while designing usernames based on the ideas below. Good luck!
Best Instagram Name Ideas
Here are some options that you can consider when choosing an Instagram handle:
Instagram Name Ideas with Your Name
When thinking of a username for a personal account, one of the first ideas that you probably have is your real name. However, Instagram names that only contain a person's name are usually taken already.
If that happens to you, do not get disheartened. You can still get an Instagram handle that has your name in it by using the following formats:
@diary.of.yourname
@everyday_yourName
@hello_yourName
@just_yourName
@florist_yourname (Add a word that describes your account, such as "florist in this example)
@yourname_florist (Like the example above, insert something that describes your account)
@theofficial_yourName
@yourname_
@_yourname_
@your_name
@yourName_blog
@yourname_official
@yourname_day
@yourname_life
@yourname_wholesomelife
Read: Best Time to Post on Instagram
Instagram Username Ideas for Boys
Do you want cool Instagram names that sound masculine? Incorporating certain words can give that quality. For example, you can use "boss" as in @Andy_theboss.
Here are some terms that can give your handle a touch of manliness:
Achieve
Boost
Boom
Buzz
Boss
Bold
Fire
Fast
Focus
Grow
Good
Higher
Power
Results
Red
Reality
Strength
Strong
Trust
Wild
Read: Instagram Stories Ideas
Instagram Username Ideas for Girls
In contrast to the previous list of words, a number of terms can make your Instagram handle give a girly impression. "Pretty" in @prettysusie is one of the examples.
Below are more words that can make creative Instagram names that sound effeminate:
Beauty
Endless
Club
Feeling
Honey
Life
Living
Lush
Mood
Open
Open heart
Pretty
Real
Shining
The real
Read: Instagram Post Size
Instagram Username Ideas for Businesses
Choosing a username for your business is just like creating a personal Instagram handle. Here are some formats that you can use:
@your_businessName
@my_businessName
@its_businessName
@the.BusinessName
@official_businessName
@theofficial_businessName
@theonly_businessName
@businessName_official
@original_BusinessName
@theBusinessName
@businessName.team
In addition to the name ideas above, you should consider adding a keyword that represents the business or its product. For example, you can use Instagram names formats below for a brand that sells handicrafts:
@businessName_crafts
@businessName.crafts
@crafts_with_businessName
Instagram Username Ideas for Artists
Instagram is an ideal social media platform for artists since it focuses on visual content. So, whether you make paintings, typographies, or digital arts, use the following ideas to create an attractive username:
@behindthepencil
@behindthepaintbrush
@betweenbrushes
@brushandpaint
@createwith_yourName
@colorful_yourName
@yourName_art
@yourName_artist
@yourName_draws
@yourName_sketch
@yourName_paints
@yourName_creates
@yourName_painter
@yourName_onpaper
Read: Food Hashtags for Instagram
Instagram Username Ideas for Foodies
Do you create an Instagram account to share your love of cooking, sharing food pictures, or reviewing eateries? Using the Instagram names formats below can help the audience to find your profile:
@bakewith_yourName
@cheesy_yourName
@bonappetit_yourName
@dine_with_yourName
@deliciously_yourName
@eat_with_yourName
@easy_recipe_yourName
@foodbyyourName
@foodie_yourName
@foodbyyourName
@homemade_yourName
@marinated_yourName
@salty_yourName
@yourName_thefoodie
@yourName_theBaker
@yourName_foodblogger
@yourName_recipes
@yourName_kitchen
@yourName_cookbook
@yourCity_foodie
@yourName_veganfoodie
@yummy_yourName
Need more culinary-themed name inspiration? You can take a look at the following examples:
@allthesweetstuff
@burrirosarecool
@cupcakequeen
@coffeeconnoisseur
@dontforgetthewine
@eatmoretacos
@eathappybehappy
@foodsurfin
@foodking
@latenighteats
@levelspicey
@littlecinnamonroll
@misscookiemonster
@mr_chowdown
@nevergohungry
@ooey_and_gooey
@pigginoutparents
@staycheesy
@sandwishesornothing
@sugartrip
@tastetheworld
@thefryguy
@teafortwo
@yummyinmytummy
Instagram Username Ideas for Fashionistas
Fashion is a big niche in visual platforms like Instagram. If you use your account to share OOTD-style content, clothing reviews, or modeling photos, the Instagram names ideas below will make your username more discoverable:
@all.about.fashion
@allaboutfashion
@call.me.fashion
@fashionsatisfaction
@fashiondistraction
@fashion.in.action
@fashion.oclock
@miss_fashion
@mr_fashion
@my.fashion.life
@my.fashion.passion
@thefashionnation
@thetrendy_yourName
@what_yourName_wears
@yourname_wears
@yourName_ootd
@yourName_outfits
@yourName_style
@yourName_design
Read: Hashtags for Instagram Reels
Instagram Username Ideas for Travel Creators
Not many people have the time or money to visit foreign lands. That is why travel content never stops gaining viewers' interest.
Should you be someone who routinely share travel photography, tips, or journal, make sure to use any of the following good Instagram names ideas to stand out:
@discover.with.yourName
@itchy.yourName.feet
@travel.with.yourName
@travel.with.yourName
@where.yourName.goes
@yourName_travels
@yourName.travels
@yourName.traveler
@yourName.world
@yourName.earth
@yourName.boards
@yourName.vanlife
@yourName.roadtrip
@yourName.bucketlist
@yourName.discovery
@yourName.explores
@yourName.wanderlust
The examples below can also serve as great inspirations for your travel account:
@cuteadventure
@comeflywithme
@countryhopper
@flywithme
@girlmeetsworld
@itsagooddaytotravel
@letsjettingnewyorker
@missbucketlist
@marchingaroundtheworld
@misteradventure
@nextstopis_home
@nohomechris
@ohtheplacesyouwillgo
@offtheradar
@peace_love_and_travel
@planestrainandtravel
@sunsetsandtravel
@traveling_misfit
@travisthetravelbuddy
@travelingprincess
Read: Instagram Post Ideas
Instagram Names Ideas for Book Lovers
While Instagram emphasizes on photos and videos, the platform also has a substantial number of literary enthusiasts. So, if you like to write book reviews and recommendations on a blog or a website, an Instagram account can become a portal to reach more visitors.
To make your book-themed Instagram account easy to find, consider using any of the formats below:
@bookish_yourName
@booklover.yourName
@pages.of.yourName
@yourName_books
@yourName.books
@yourName.reader
@yourName_reads
@yourName.reads
@yourName.pages
@yourName.stories
@yourName.nook
@yourName.bookstack
@yourName.bookshelf
@yourName.bookclub
@yourName.library
@yourName.bookie
@yourName.bookworm
Want the best Instagram names for literary-related accounts without your name on it? You can try any of the following examples or modify them:
@allbookedup
@bookwormlife
@bookloverslife
@bookbiscuit
@bookqueen
@beautybooks
@bookangel
@favoritebooks
@fantasybound
@inkandpaper
@justonemorepage
@latenightreader
@literaryoverflow
@itslit
@landofbooks
@mr.book
@mister.book
@miss.booklover
@missbookish
@readthisbook
@sweetchapters
@travel_by_pages
@the_cafeinated_readers
@unwindandread
Read: How to Get Followers on Instagram
Instagram Username Ideas for Musicians or Music-Themed Accounts
Are you an independent singer or musician who is looking towards making an Instagram account? These music-related username examples can be your inspiration when designing potential Instagram names:
@alwayssinging
@bighairandbigsongs
@couplewhosings
@dreamybeats
@feelthebeat
@girlwithaguitar
@insingingcolor
@mrguitarguy
@marchingtomyownbeat
@mr.highnotes
@musicismyeverything
@mrsingingmachine
@musicmakesmelosecontrol
@musicandcomedy
@ontune
@snuggleandsing
@silentnotes
@songbird
@singingstorm
@thepianoman
@thenextdolly
@wishfulsinger
@youcantstopthebeat
Read: Best Hashtags for Music on Instagram
Instagram Username for Photographers or Photo Enthusiasts
Whether you are a budding photo professional or hobbyist, having a catchy handle is a must. It will make a lasting impact on Instagram's photography community as your popularity grows. Here are some examples you can take inspiration from:
@camerabag
@candidclicks
@clicksforpets
@CaptureTheEarth
@glamourshots
@happylens
@lensationstudio
@lovelypixels
@magicphotography
@mycityscapesnaps
@nightlywidlife
@natureswing
@picturesque
@pinupphotography
@photographicaliens
@photographynub
@photosafari
@photosofthestreet
@polaroidsessions
@snapshotsoflife
@shutterbug
@shutterup
@theartsylens
@wildimageshots
Instagram Names Ideas for Couples
Couple accounts on Instagram are a common sight. These creators keep inspiring partners all around the internet with their cute and wholesome posts.
If you and your loved one are interested in building this type of online presence on Instagram, it is important to have a username that embodies the two of you.
Typically, couple accounts use the creators' name as their handle, like @johnandsophie. But there are more ways to stylize you and your partner's username if you want to explore.
Below are some variations of Instagram names for a couple account. Change the name provided in these examples with you and your loved one.
@johnandsophie
@john_and_sophie
@john.and.sophie
@johnandsophie.blog
@johnandsophie.life
@johnandsophie.day
@johnandsophie.love
@johnlovesophie
You can also just incorporate the initials of your and your partner's names, such as:
@j.and.s
@j.with.s
@love.with.js
@jscreate
Read: Short Captions for Instagram
Funny Instagram Names
Portraying a sense of humor is an effective way to capture people's attention to a username. Usually, it can be done with a play on words to create an absurd term or phrase, such as @anonymouse, which is supposed to be a pun for "anonymous".
Apart from that, you can also make funny handles by combining words, like @awkwardcookie. There are no exact rules to follow. Try to come up with different username ideas and read them to your friends. If they find them funny, many others will most likely will too.
Below are some more arguably hilarious Instagram names to inspire you:
@notyouradveragebear
@hanging_with_my_gnomies
@traffic_creatures
@crazycatlady
@morgan_not_freeman
@handsomebanana
@spongebobspineapple
@not_your_class_clown
@magicpie
@queenkong
@prettypotato
@catman_and_robin
@dumbledorky
@hairypotter
@unfinishedsentenc
@chinchillin
@mistakemaker
@pointlesspencil
@labracadabrador
@spongebobsweatpants
@reigningcatsanddogs
@budlightyear
Cute Instagram Username Ideas
Do you want to come across as being cute with your Instagram handle? Make sure you combine one of the following words with something else to create a charming vibe:
always
bloom
blossom
bubbly
blush
cute
cutie
darling
everything
forever
flower
good
happy
inspire
inspired
infinite
love
lovely
little
moon
pretty
raw
rise
rose
sun
sunshine
soul
shine
sparkle
star
sincerely
true
vanilla
Read: Instagram Link In Bio
Sassy Instagram Names Ideas
If you are looking for a way to portray a bold persona on Instagram, having a sassy username is a good idea. Here are some formats that can help to achieve that result:
@angel_yourName
@busy_yourName
@callme_yourName
@donttouch_yourName
@dontwatch_yourName
@dontlook_yourName
@dontfollow_yourName
@notyour_yourName
@queen_yourName
@secret_yourName
@thesassy_yourName
@wild_yourName
@yourName_inyourdreams
@yourName_babe
Instagram Username for Pets Account
Instagram pets successfully make people adore them over the years. Zero the corgi, Ringo the cat, and Peter the Netherland dwarf are just a few of the famous ones.
If you are inspired to turn your furry friend into internet personalities like them, prepare catchy Instagram names ideas that will help them stand out. Below are some words and phrases that you can use to create a pet-themed handle:
barkwith_petName
playwith_petName
cheeky
clean
fluffy
fluffiest
grumpy
king
no one prettier than
rich
snuggle
soft
softest
sneaky
silly
the good girl/boy
the prettiest
the stunner
Apart from using those words and phrases, you can also just combine the pet name and its breed. Some of the examples are @dougthepug, @agoldennamedkevin, and @marniethedog.
Ways to Get Creative with Instagram Username
You found a few handle ideas that click with your preference in this article. But sadly, those Instagram names are already taken. In that case, what should you do?
Do not worry! You can tweak the stylization using punctuations like:
Periods, such as @your.name or @painting.with.yourname
Underscores, such as @your_name or @painting_with_yourname
Numbers, such as @yourname01
Alternatively, you can add neutral words like:
The, such as @the.gentle.voice
My, such as @my_home_recipes
Your, such as @your.funny.classmate
What Makes A Good Instagram Name?
Designing the best Instagram handle does not have to be overwhelming. Use the tips below so that you do not overthink when creating potential Instagram names:
1. Pick Words Related to Your Niche or Content
Imagine yourself in your target audience's position. What words will they use when looking for Instagram accounts that they are interested in?
Let's say that you are looking for audiences who want food recipes. In that case, they will probably search using terms like "recipe" or anything related to it.
Once they type "recipe" in Instagram's search bar, the result will show accounts with a username that includes that word like the example below: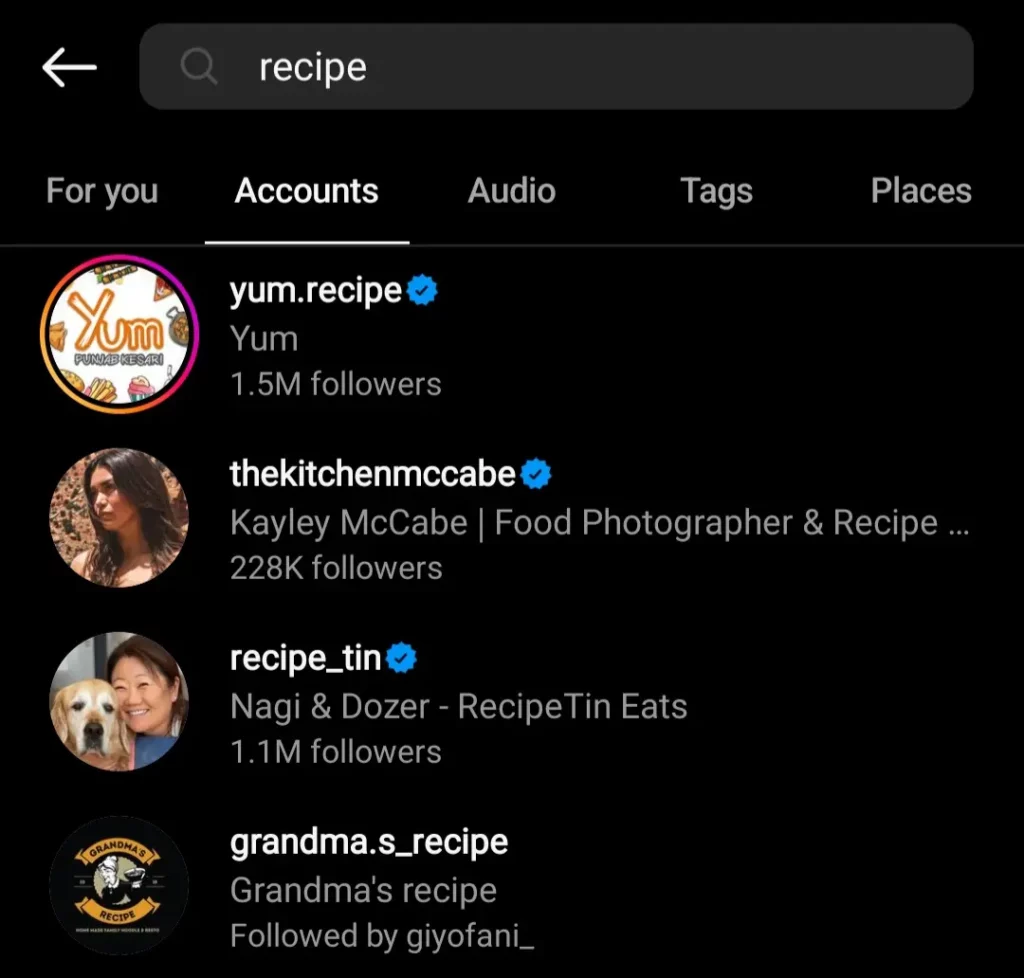 But the platform will not only look for the search terms in Instagram names. Instagram will also show accounts with a display name that contains the word "recipe", such as @thekitchenmccabe in the above example.
With that in mind, it is imperative that you choose a username that has a word that is related to your niche or content. Alternatively, add the keyword to your display name if you cannot force it into the handle.
2. Make It Easy to Pronounce
Have you ever wanted to look for a favorite creator in your following list but ended up forgetting how to spell their username? This is what you should avoid when creating good Instagram names.
Your Instagram handle should be easy to pronounce even if it is long like @sir_chris_of_coloumbus. Apart from separating words with punctuation marks like that, you can also capitalize the first letter of each word, such as @LifeInBlackAndWhite.
Also, make sure that you use letters to spell words. Replacing letters with similar-looking numbers like in @unic0rns4ever is not recommended since people can easily mistake the spelling.
3. Avoid Consecutive Numbers and Punctuation Marks
We suggested that you add numbers or punctuation marks if your desired Instagram names are not available. However, it is better to be considerate when doing so.
Using consecutive symbols will confuse people who search for your account. In @zen___mood, for example, people will have to guess how many underscores there are.
Similarly, using multiple numbers like @zen09547mood is not recommended. Not only does it not look neat, the username is difficult to remember because of the numbers.
4. Keep It Consistent with Other Social Media Accounts
Do you also share content on other social media platforms or plan to do so? Then you need to ensure that your Instagram names align with the one you use on other platforms.
Having the same handle across various networks helps existing followers to find you. Imagine if your Instagram username is @theGuitarGuru and your TikTok name is @he.plays.guitar. Your fans will probably not recognize the latter.
On top of that, having a consistent username makes you look professional. Brands that want to collaborate with you will trust that you are the person behind all of these social media accounts.
Read: How to Collab Post on Instagram
Ready to Choose The Best Instagram Names?
Now you know that creating good IG names can be easy. You only need to choose the words that resonate with your content or niche.
Do not worry if the options you want are already taken. Rather than looking for other username ideas, you can create variations of the name you already have in mind. For example, you can add punctuations like in @diary.of.sophie instead of @diaryofsophie.
So, what are you waiting for? Grab a notepad and start brainstorming your best ideas of Instagram names!