Struggling to come up with a new set of food hashtags for Instagram? You are not alone. It is a problem that happens to not only users who casually post food photos and videos but also culinary content creators.
To help you save time, we compiled more than 500 of the best hashtags for food posts and reels in this article. We also categorized them based on different types of cuisine and context so that you can find relevant options easier.
So, if you are still thinking about what hashtags to use on Instagram for food, get your notepad ready and read on!
General Food Hashtags for Instagram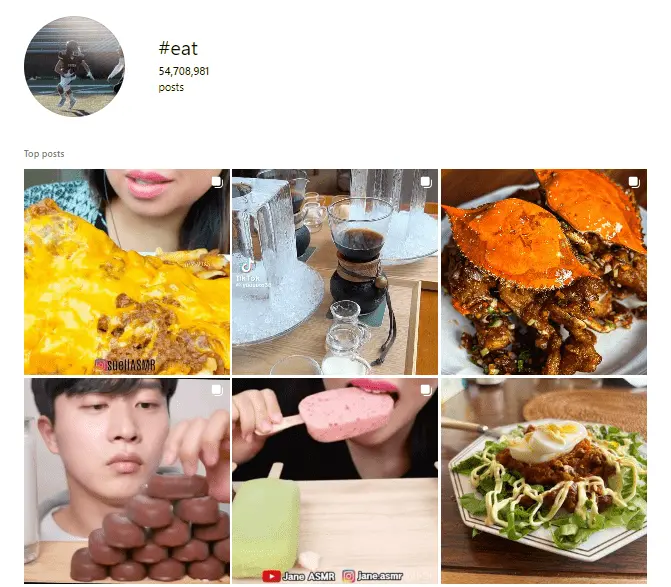 Wondering which foodie hashtags to use for your next post? General-purpose hashtags are a good start as they fit most occasions.
Not only are they versatile, these hashtags are very popular. It means that people use and search for them a lot.
However, since more than a million posts use them, general food hashtags come with tight competition. It is better to only choose one or two of these and combine them with niche hashtags to get better post visibility.
The following are some of the top trending food hashtags for Instagram that you can pick:
#CookingPassion
#DineOut
#delicious
#DeliciousDishes
#DeliciousEats
#Eat
#EatingForTheInsta
#EatingWell
#Food
#Foodie
#Foodporn
#foodlover
#Foodstagram
#foodaddict
#foodislife
#FoodDiary
#FoodPics
#Foodiefeature
#FoodInspo
#FoodOfTheDay
#FoodBlogger
#foodphotographer
#FoodPhotography
#foodexplorer
#foodshare
#FoodBeast
#FoodBlogFeed
#FoodStories
#FoodAdventures
#FoodJunkie
#GourmetFood
#Hungry
#Nomnom
#Tastethisnext
#TastyTreats
#Yummy
Breakfast Hashtags for Food in Instagram
A good day starts with having a wholesome breakfast. But first, you want to share it with your followers on Instagram.
To boost your breakfast posts or reels, add some of the foodie hashtags below:
#Breakfast
#Breakfastideas
#Breakfasttime
#Breakfastlover
#Breakfastrecipes
#Breakfastgoals
#Breakfastfoods
#BreakfastOfChampions
#BreakfastInspo
#breakfastburrito
#DeliciousBreakfast
#EatBreakfast
#Greasyspoon
#HealthyStart
#healthybreakfast
#Morning
#MorningFuel
#MorningEats
#wakeywakeggsandbakey
#YummyBreakfast
Brunch Food Hashtags for Instagram
Not all of us are early birds. Nonetheless, that does not mean you should skip the first meal of the day.
Before you munch on your yummy brunch, post some pictures of it using a few of the following hashtags for food:
#AvocadoToast
#BrunchTime
#Brunch
#Brunching
#Brunchlife
#BrunchBrunch
#BrunchParty
#Brunching
#BrunchClub
#Brunchgamestrong
#Brunchdate
#BrunchIdeas
#BrunchGoals
#BrunchBuffet
#BrunchLover
#BrunchFood
#BrunchLife
#BrunchVibes
#BrunchSoHard
#BrunchMunch
#BrunchFriends
#BrunchAndCake
#BottomlessBrunch
#BirthdayBrunch
#EggsAndBacon
#EggsBenedict
#Frenchtoast
#GoForBrunch
#HealthyBrunch
#ilovebrunch
#instabrunch
#LoveToBrunch
#Ladieswhobrunch
#MorningBrunch
#Pancakes
#SaturdayBrunch
#Sundaybrunch
Read: Hashtags for Instagram Reels
Lunch Food Hashtags for Instagram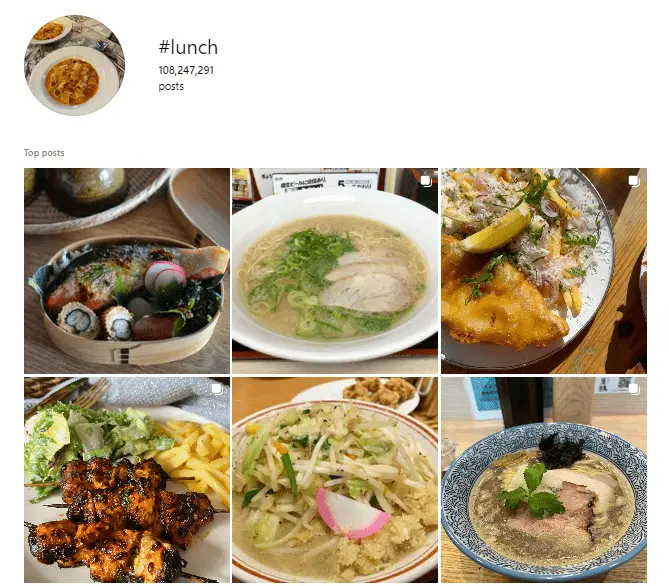 Whether you are enjoying a lunch break at work or preparing your children's lunchbox, there are hashtags for anything related to midday meals.
Below are some of the top lunch hashtags to use for your posts and reels on Instagram:
#FlavorfulLunch
#GourmetLunch
#healthylunch
#Instalunch
#Kidslunchboxideas
#ketolunch
#Lunch
#Lunchtime
#Lunchbreak
#Lunchbox
#Lunchdate
#Lunchideas
#Lunchboxideas
#Lunchboxideasforkids
#Lunchboxlove
#loveandlunch
#lunchy
#lunchtoday
#lunchgoals
#lunchwithaview
#LunchtimeCravings
#MiddayMunchies
#SaturdayLunch
#Sundaylunch
#SeafoodLunch
#veganlunch
Read: Best Hashtags for Music on Instagram
Dinner Food Hashtags for Instagram
Dinner is one of the most popular genres of food content on Instagram. That is because people are typically done with their activities and more likely to open social media.
Whether you are getting a takeout or going for a romantic dinner in a five-star restaurant, make sure to post pictures of it using some of the following foodie hashtags:
#Breakfastfordinner
#Birthdaydinner
#DinnerGoals
#Dinnerideas
#Dinnertime
#Dinnerfortwo
#Dinnerdate
#Dinnerisserved
#Dinnerparty
#Familydinner
#Healthydinner
#InstaDinner
#Itswhatsfordinner
#Romanticdinner
#Simpledinner
#Vegandinner
#Winnerwinnerchickendinner
#whatsfordinner
Read: Short Captions for Instagram
Food Hashtags for Instagram Based on The Day
Looking for a more specific kind of hashtags for food content? Combining the name of the day and what you are having is a good idea. You can create your own or use some of the options below:
#MeatlessMonday
#mondayfood
#TuesdayTasting
#TacoTuesday
#TastyTuesday
#TuesdayTreat
#turkeytuesday
#tuesdaytreats
#WineWednesday
#Winesday
#veganwednesdays
#ThirstyThursday
#thursdaydelight
#foodiethursday
#thursdaydinner
#FoodieFriday
#FridayNightDinner
#fridayfeast
#fridayfries
#foodiefridays
#foodfriday
#fridaydelights
#FridayFood
#saturdayfood
#saturdaytreat
#saturdaynightdinner
#saturdaydelights
#savorysaturday
#SaturdayLunch
#SaturdaySweets
#SundayDinner
#SundayRoast
#SundaySweets
#savorysunday
#sundayfood
#sundaysnack
#sundayfoodprep
#sundaylunch
#bbqsunday
Read: Instagram Bio Ideas
Healthy Food Hashtags for Instagram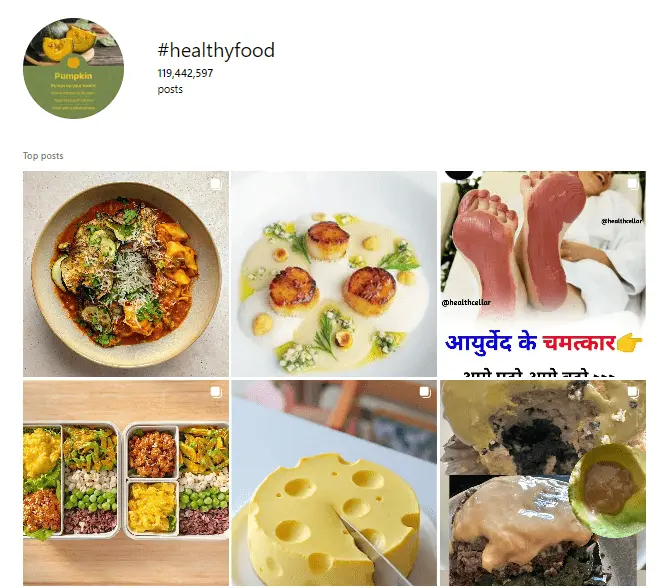 People say that you are what you eat. Thus, it is important to maintain your physical wellbeing by consuming healthy food.
Whether you are promoting a healthy lifestyle or simply sharing your love of healthy recipes, the following hashtags will make sure that your posts get the exposure that they need:
#CleanEating
#foodforhealth
#FoodHealthy
#HealthyFoodEating
#HealthyFoodRecipes
#HealthyFoodDelivery
#HealthyFood
#HealthyFoodInspo
#HealthyFoodTips
#HealthyFoodForLife
#HealthyFoodGuide
#HealthyFoodWithMe
#HealthyFoodSharing
#HealthyFoodChoices
#HealthyFoodBlogger
#HealthyFoodLove
#HealthyFoodies
#HealthyFoodLover
#HealthyFoodPost
#HealthyFoodIdeas
#healthyeating
#healthybreakfast
#healthyliving
#healthyrecipes
#healthyfoodshare
#healthycomfortfood
#healthydinnerideas
#HealthyFoodPrep
#HealthyFoodie
#HealthyFoodRecipe
#JustEatRealFood
#thenewhealthy
Read: Best Time to Post on Instagram
Vegan and Vegetarian Food Hashtags for Instagram
Vegan and vegetarian are among the popular diets that people talk on Instagram about when it comes to healthy eating. If you want to share your recipes or sustainable food procurement ideas, below are the best hashtags to use for it:
#bestofvegan
#crueltyfree
#cleaneating
#dairyfree
#EatGreen
#glutenfreevegan
#govegan
#healthyfood
#HealthyVegan
#MeatFreeMonday
#organic
#plantbased
#PlantPowered
#paleo
#raw
#rawfood
#rawvegan
#vegan
#veganfoodshare
#veganism
#veganlifestyle
#veganlife
#VegetarianLife
#vegansofinstagram
#vegetarian
#veganfood
#veganfoodporn
#vegansofig
#VeganEats
#VeganFoodie
#VeganCommunity
#veganrecipes
#vegancuisine
#veganbrunch
#vegantreats
#veganbreakfast
#vegancomfortfood
#veganinspiration
#veganlover
#VeggieDelight
#wholefoods
#whatveganseat
Read: Instagram Post Size
Low Carb/Keto Food Hashtags for Instagram
Similar to veganism and vegetarian lifestyle, keto is a healthy diet that gets a lot of attention on Instagram. That is why you can find a bunch of hashtags related to this niche. Here are some popular options you can add to your posts and reels:
#cleaneatingrecipes
#caloriecounting
#keto
#ketodiet
#ketosis
#ketogenic
#ketogenicdiet
#ketolife
#ketofam
#ketolifestyle
#KetoRecipes
#KetoFriendly
#KetoKitchen
#KetoMealPrep
#KetoComfortFood
#KetoResults
#KetoTransformation
#KetoSuccess
#ketofood
#ketogenicdiet
#ketoweightloss
#ketodinner
#ketomeals
#ketobreakfast
#lowcarb
#lchf
#lowcarbhighfat
#lowcarbdiet
#LowCarbLife
#LowCarbEats
#LowCarbSnacks
#LowCarbBaking
#NoSugarKeto
Read: How Long Can Instagram Reels Be
Fast Food Hashtags for Instagram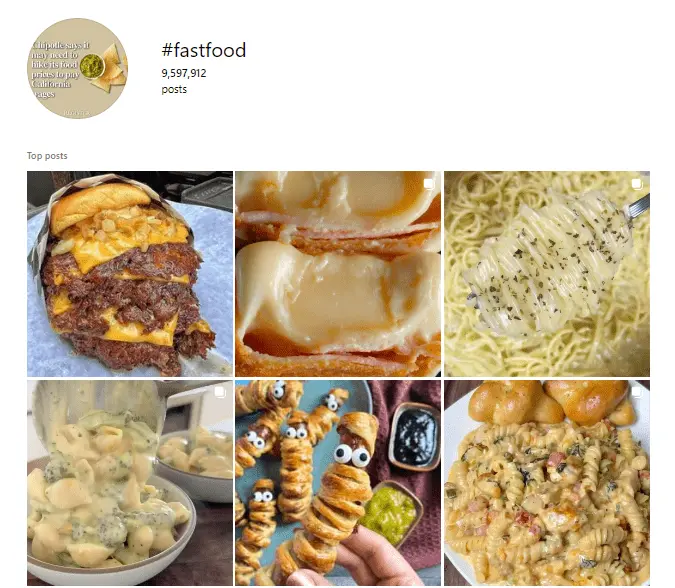 While people are getting more conscious about healthy eating, fast food remains one of the most talked about culinary topics on Instagram. So, do not feel bad to show what you have on days where you do not care about calories!
The good thing is, top fast food hashtags vary from food names like #cheeseburger to taglines like #fastfoodlover. So, you can get creative by adding slogans that suit how you feel about your favorite junk food. Check the fast food hashtags for Instagram down below:
#bacon
#burgerlover
#burgerday
#burgermania
#burgersandfries
#burgertime
#Bringmejunkfood
#ComfortFood
#chickenburger
#cheese
#cheesy
#cheesygoodness
#cheesyfries
#cheesyfood
#cheeseburger
#Cheatday
#Eatingjunkfoodagain
#Favoritejunkfood
#fastfood
#fastfoodjunkie
#frenchfries
#fastfoodfriday
#fastfoodlove
#fries
#friedchicken
#fastfoodrestaurant
#fastfoodlover
#fastfoodlife
#fastfoodnation
#fastfoodbinge
#fastfoodketo
#hotdog
#hamburgers
#instaburger
#inbetweenbuns
#Junkfood
#Junkfoods
#pizza
#sausage
#UnhealthyDelights
Best Instagram Seafood Hashtags
Whether you frequent that seafood place down the road or like to cook your catch at home, sharing about it with the folks on Instagram is a great idea. Just do not forget to include relevant hashtags, such as the main ingredient or the type of cuisine that you have.
Here are the top seafood hashtags for Instagram you should use:
#clams
#crab
#FreshCatch
#FishDish
#freshseafood
#FishFriday
#instaseafood
#Iloveseafood
#lobsterdinner
#lobsterlover
#Mussels
#OceanToTable
#Oysters
#octopus
#Paella
#rawseafood
#Seafood
#SeafoodLover
#SushiLover
#Shellfish
#SeafoodFeast
#SeafoodDelight
#Seafoodlover
#Seafoodie
#sushi
#shrimp
#shellfish
#seafoodgalore
#seafoodsalad
#seafoodrestaurant
#seafoodbasket
#seafoodplatter
#SeafoodDinner
#SeafoodIndulgence
#SeafoodCravings
#SeafoodLunch
#SeafoodDining
#SeafoodSupper
#SeafoodExperience
Grill and BBQ Hashtags for Instagram
Barbecue time with family and friends is always a fun activity. Not only because BBQ meals are tasty, but also because grilling makes for a great bonding moment.
Should that be what you like to do during the weekend or holiday, it is better to share your precious barbecue moments with the best food hashtags for Instagram below:
#BBQ
#BBQLife
#BBQGoals
#BBQParty
#BBQBrisket
#BBQFest
#bbqlovers
#bbqfamily
#BBQSauce
#blackstonegrill
#backyardgrilling
#FlameKissed
#firecooking
#grill
#grilled
#GrillMaster
#GrillingSeason
#GrillTime
#GrilledPerfection
#GrillandChill
#GrillNation
#grillingandchilling
#grillinglife
#grillmasters
#grilltips
#grillingweather
#MeatLover
#Pitmaster
#summergrilling
#steak
#SmokeAndFire
#SmokedMeat
#WoodSmoked
Read: Followers vs Following on Instagram
Wine Hashtags for Instagram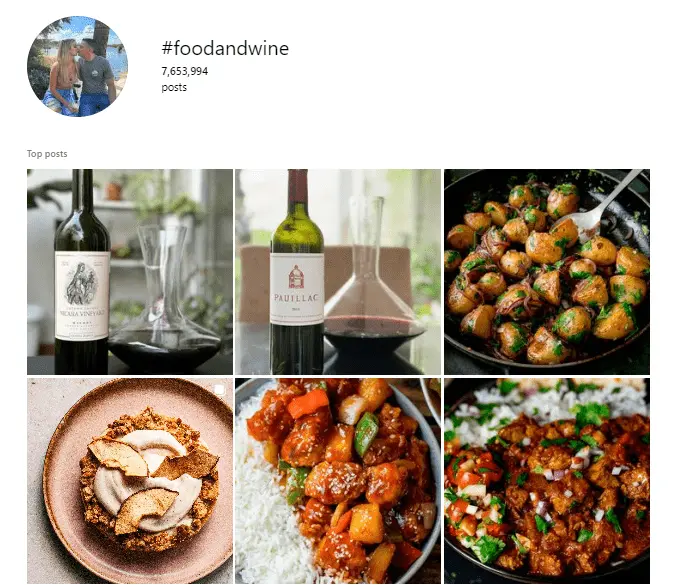 It is hard to argue that there is nothing better to end a hearty meal than wine. That is why people take pride in sharing their fine drink with Instagram followers. So, if you are a wine connoisseur, do not forget to post any glass of drink with the following food hashtags for Instagram:
#cocktailpairing
#FoodandWine
#FoodWineLove
#FoodieWine
#foodandwinepairing
#foodandwinetour
#GourmetPairing
#ItalianFoodAndWine
#SommelierSelection
#VinoCulinary
#WineandDine
#WinePairing
#WineLovers
#WineTasting
#WineOclock
#WineEnthusiast
#WineCulture
#WineAdventures
#WinePairing101
#WineandDineInStyle
#wineandcheese
#wineandfood
#winewithdinner
Read: What Are Impressions on Instagram
Dessert Hashtags for Food Lovers in Instagram
Who cannot wait for desserts after every meal? Do not worry, we understand if you do. Most of us find it difficult to resist sweets.
If you want to connect with other desserts fans by sharing cookies recipes or show the kinds of treats you find in various eateries, make sure to add the following sweet food hashtags for Instagram:
#Dessert
#dessertheaven
#dessertforbreakfast
#dessertstory
#dessertideas
#dessertblogger
#dessertmaison
#dessertbuffet
#dessertcups
#desserttable
#desserttime
#dessertsofinstagram
#dessertoftheday
#dessertgram
#dessertbox
#dessertmasters
#dessertideas
#dessertpic
#dessertblogger
#dessertmaison
#dessertbuffet
#dessertcups
#dessertlover
#DessertPorn
#DessertBar
#healthydessert
#InstaDesserts
#nobakedessert
#omgchocolatedesserts
#sweettreats
#sweettoothforever
#sweetdessert
#vegandessert
#vegantreats
Snack Hashtags for Food Lovers in Instagram
Making your own savory treats at home? Or exploring street snacks in foreign countries? Regardless, you can make others on Instagram crave for your snacks by sharing them with the foodie hashtags below:
#CravingSnacks
#DeliciousSnacks
#HealthySnacking
#LateNightSnack
#LowCarbSnacks
#Munchies
#SnackTime
#SnackAttack
#SnackGoals
#SnackIdeas
#SnackTimeFun
#SnackLover
#Snackin
#SnackHeaven
#SavorySnacks
#sundaysnack
#TastyTreats
Read: TikTok vs Instagram
Baking Food Hashtags for Instagram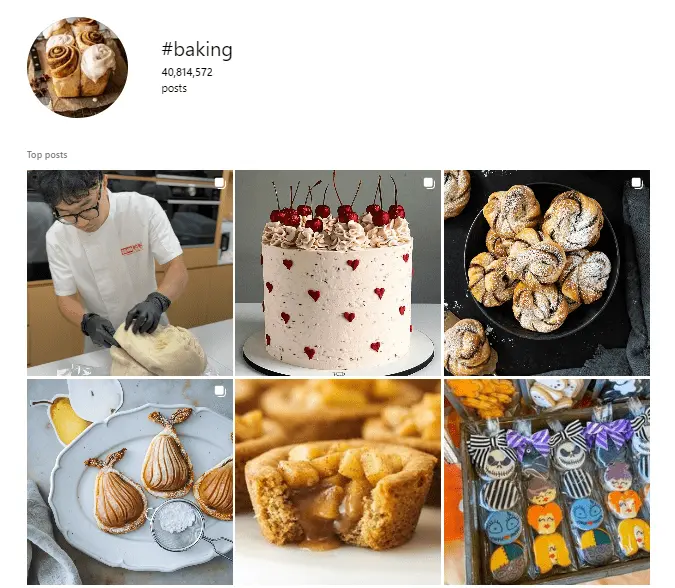 Learning how to bake during the weekend is one of the best ways to take a break from your routine. What is more, you can show your progress to the world by sharing a post or reel of what you bake on Instagram. To ensure a good visibility, include a handful of hashtags from the list below:
#Baking
#BakingDay
#BakingMakesMeHappy
#BakingGoals
#BakingSchool
#bakery
#bakersgonnabake
#bakersofinstagram
#bakebakebake
#bakedwithlove
#BakingIsFun
#BakingFromScratch
#BakingTools
#BakingPorn
#BakingAddiction
#BakingFun
#BakingSeason
#BakingACake
#BakingVideo
#BakingBread
#BakingTime
#bakeandshare
#bakedcheesecake
#bakefromscratch
#bakeyourworldhappy
#BakingTips
#BakingHobby
#BakingPost
#BakingIsMyTherapy
#BakingLove
#BakingCooking
#HealthyBaking
#KetoBaking
Read: Reels vs TikTok
Homemade Food Hashtags for Instagram
Cooking your own meal is a form of dedication. Not only is it more economic than getting a takeout, preparing food takes skills. Celebrate it by sharing your work of art accompanied by the best homemade foodies hashtags:
#cookathome
#foodinstagram
#frommykitchen
#homemadefoodmadebyme
#homemadefood
#homefood
#homemadefoodporn
#homemadefoodie
#homemadefoods
#homemadefoodies
#homecooking
#homechef
#homechefmeals
#homemadechocolates
#Homemadedinner
#homemaderecipes
#homecookedrecipes
#homemadefoodisbest
#homemadecooking
#homecook
#homecooked
#lovecooking
#myfood
#TastyHomemade
#TasteTheHomemade
Food Hashtags Based on The Region
You have picked some hashtag options mentioned in this article. However, you are still looking for more specific hashtag ideas. In that case, mentioning the origin country in the food hashtags for Instagram is a plausible idea.
For example, you may use #vitenamesefood or #italianfood and their variations. You can also specify the name of your cuisine as an addition.
There are many other location-specific hashtag ideas to explore. For your inspiration, we have options for Asian, Italian, and Mexican food below. Let's start with some of the most recommended Asian foodies hashtags:
#AsianFood
#Asiancuisine
#AsianFlavors
#AsianFusion
#Chinesefood
#ChineseFeast
#DimSumDelight
#Dumplings
#IndianSpices
#IndianFood
#JapaneseEats
#KoreanFlavors
#KoreanFood
#Khmerfood
#Noodlelift
#Noodles
#Pho
#Ramen
#Rice
#Thaifood
#Thairestaurant
#Thaicuisine
Here are some of the best Italian food hashtags for Instagram:
#Arrancini
#Bestitalianfood
#Buonappetito
#cucina
#cucinandoarte
#Ciboitaliano
#Cannoli
#Diarioalimentare
#Gelato
#Giallozafferano
#HomemadeItalian
#ItalianCuisine
#Italianfood
#Italyfood
#Italianstyle
#Italiancucina
#Italianfoodies
#Italianfoodtraditions
#italianfoodbloggers
#italyfoodporn
#italianfoodisthebest
#Mozzarella
#Pasta
#Pizza
#PastaLover
#PizzaTime
#Pranzoitaliano
#Risotto
#realitalianfood
#Spaghetti
#Yummyitalianfood
#Trattoria
#Tiramisu
The followings are some recommended Mexican food hashtags to use for your posts and reels:
#AuthenticMexicanFood
#allthemexicanfoodplease
#BestMexicanFood
#BurritoLove
#ChilesRellenos
#Enchiladas
#fajitas
#guacamole
#ilovemexicanfood
#mexicanfood
#mexicanfoodpics
#mexicanfoodie
#mexicanfoodlover
#mexicanfoodislife
#mexicanfoodstagram
#mexicanfoodmyway
#mexicanfoodporn
#mexicanfoodisthebest
#MexicanFoodRecipes
#MexicanFoodTour
#MexicanStreetFood
#MexicanFoodPhotography
#nachos
#QuesadillaLife
#SalsaSauce
#TexMex
#Tostadas
#TacoTuesday
#tequila
#veganmexicanfood
Read: Instagram Post Ideas
Artsy Food Hashtags for Instagram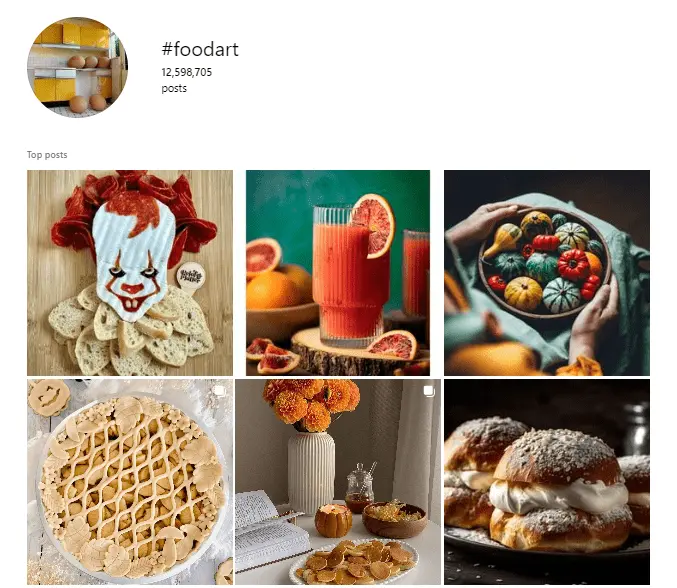 Being able to cook different kinds of cuisines is one thing. But using one's creativity to present food in the most artistic way takes a different skill.
If you happen to be someone who likes to create food art, Instagram is the right place to share your works. Make sure to use any of the following hashtags for food to attract your desired audience:
#ArtOnAPlate
#ArtfulCooking
#beautifulcuisines
#CreativeCuisine
#CulinaryArt
#EdibleArt
#FoodArt
#FoodPresentation
#FoodGarnish
#FoodCanvas
#FoodDesign
#FoodSculpture
#FoodCrafting
#FoodAesthetics
#foodism
#foodphotography
#finedininglovers
#GourmetArtistry
#PlatedBeauty
#PlatingPerfection
#PlateArt
Read: How to Get Followers on Instagram
Tips for Using Food Hashtags for Instagram
Any hashtags in this article are good for your culinary posts and reels. But to get the best result out of them, you need to know how to properly choose hashtags. Here are some tips that you can try:
Pick ones that are relevant
With so many options to choose from, you may be tempted to use a wide variety of hashtags. But we suggest you to only add relevant hashtags to get the kind of audience you want. If your post shows a stir fried seafood, do not include unrelated food hashtags for Instagram like #fastfood or #SnackTime.
Do not use too many hashtags
Instagram allows for up to 30 hashtags per post. However, it is better to limit the number to around 10. Not only does that make your captions area look neat, it will keep you from choosing unnecessary hashtags. Remember, only use ones that describe your content.
Check the popularity of your hashtags
Before adding a hashtag, do not forget to check its popularity. Type it down in Instagram's search bar and see how many posts are using the hashtag. It is best to pick food hashtags for Instagram with less than 1,000 posts as they will not give you much discoverability.
Mix general and niche hashtags
Using hashtags with different ranges of popularity can improve reach. Niche or specific hashtags like #seafoodlunch may not be very popular, but allows you to target people who look for that type of content. Meanwhile, general hashtags like #eat is not specific yet allows you to reach a wider audience.
Keep your eyes on new trends
While this article gives you a long list of top foodie hashtags, it is better if you can find and use trending food hashtags for Instagram too. Jumping on a trend will give you an extra boost in discoverability. Observe your competitors' hashtags to find new trends to follow.
Explore related hashtags
Once again, even though we mention a bunch of hashtags in this article, it is not an exhaustive list. You can find more options by looking at related hashtags. To do that, type a hashtag in Instagram's search bar and look at the relevant suggestions that come out.
Use hashtag generators
Another way to find hashtag ideas is using hashtag generators that you can easily find on Google. Just do not forget to pick food hashtags for Instagram that are relevant and have enough popularity.
Choose The Food Hashtags You Need!
There are various hashtags for food posts and reels to choose from. You may pick general hashtags like #DeliciousEats, #foodlover, and #hungry to get a greater reach. Nonetheless, it is necessary to also add more specific options, such as #BestMexicanFood and #healthydinnerideas, to get more targeted audiences.
We hope this article helps you to make better content on Instagram. If you want more tips and insights about content creation, be sure to subscribe to our blog.