On Instagram, hashtags are like keywords on Google. They help you find content you're looking for, no matter what the niche is. Now, if you want to post anything about music and hope that more people can find your content easily, what should you do? Make sure you use the best hashtags for music on Instagram.
But how do you find the best hashtags for music on that platform? And what makes a hashtag great? Let's find out.
In this article, we'll show you the top Instagram hashtags for music. You can expect more people to find your posts and avoid common mistakes that make your posts less visible.
Are you getting more curious? Keep reading to learn about the best hashtags we've found for you.
What Makes Good Instagram Music Hashtags?
Hashtags are like labels that people use on Instagram to sort their posts. They are words or phrases that have a hash sign (#) in front of them. When an Instagram user puts a hashtag on a post, it helps their audience find other posts about the same topic.
For content creators, hashtags are powerful. In our previous post, Top 100 Trending Hashtags, we talked about why they're so great:
Discoverability — helps people find your posts.
Wider Reach — more people can see your content, not just your followers.
Better Engagement — you may get more likes, comments, and shares.
Trending Topics — makes your content relevant to the current trends.
Targeting Audience — attracts certain people as your target audience.
Brand Awareness — boosts your brand as a content creator.
Read More: How to get More Followers
With that in mind, these are what makes best hashtags for music on Instagram:
1. Relevant for Your Niche
Hashtags that match your niche, topic, or message can be really helpful. For example, if you're sharing a video of yourself singing a cover song, use hashtags like #coversong, #songcover or something similar.
If your song relates to cosplay niche, one of the best hashtags for music on Instagram to try is #cosplaymusic.
2. Specific for Better Targeting
What else makes great Instagram music hashtags? They are specific. So, it's a good idea to use hashtags that mention songs, albums, or projects. For instance, if you sing a song called "Haruka Kanata," use hashtags like #harukakanata to promote your content about this Naruto song.
Also, make sure your hashtags are specific to reach the right audience. So, instead of using a general hashtag like #music, try #indierock, #jrock or #electronicmusic.
3. Popular for Greater Reach
Can you reach more people without using trending hashtags? You can, but that would be hard. So, the key is to use top Instagram hashtags for music but make sure the content doesn't get lost in the crowd.
For example, using a generic hashtag like #music may not be effective as it has over 450 million posts now. If you're a music content creator, using #musicians as your hashtags makes more sense to reach audiences as the competition would be lower.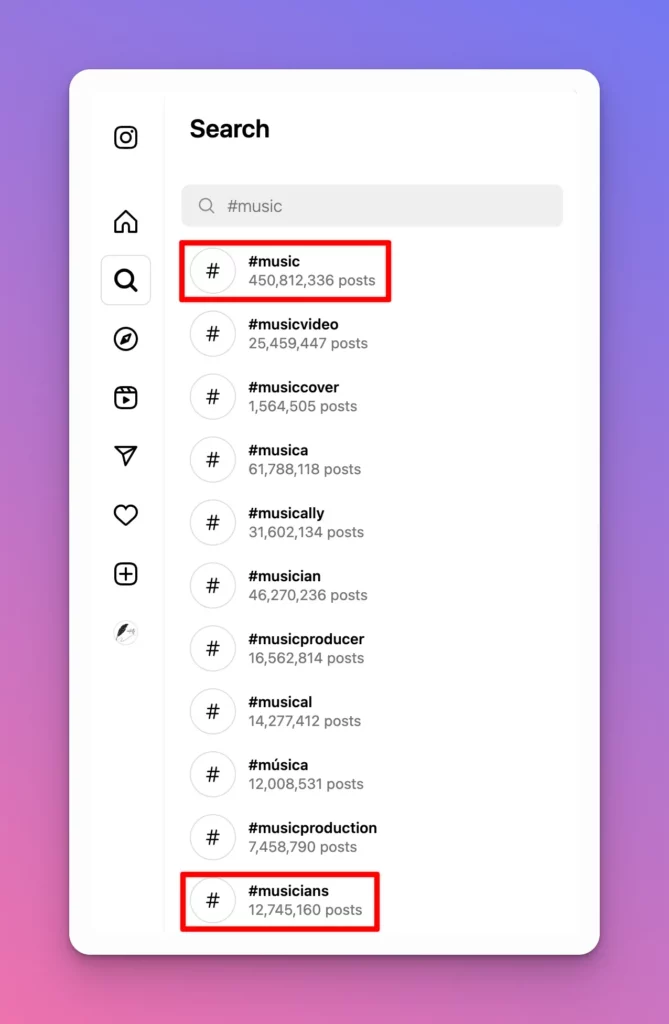 4. Engaging to Spark Conversation
Just because you need a hashtag to be relevant with your niche, it doesn't mean it has to be boring. It turns out that you can make your hashtags to be interesting enough to make people like, comment, and share your posts.
Read More: What are Impressions on Instagram
Instead of general music hashtags, you can use catchy hashtags like #musicthatmovesyou or inspiring hashtags like #musicismypassion. That's how to twist them a bit to make the best hashtags for Instagram music.
5. Creative with Personal Touch Added
The sky is the limit for creating hashtags on Instagram. And you can come up with creative and catchy hashtags to get noticed. Make them fun and memorable with wordplay, puns, or anything related to music.
For example, you can use #autotunerequired to show your sense of humor and #whatwouldsimoncowellsay to try with something thought-provoking.
List of the Best Hashtags for Music on Instagram
There are many music hashtags on Instagram. To simplify your search, we have categorized them as follows:
General Music Hashtags
Using general music hashtags is a safe bet. These hashtags are versatile and can be applied to any music content. So, they remain one of the top Instagram hashtags for music.
General music hashtags are so popular with hundreds of millions posts using them. So, that they can help you make more people see your posts. But as many people also use them, your posts might not easily stand out.
Some popular general music hashtags include:
#song
#nowplaying
#music
#musica
#musician
#singer
#musically
#instamusic
#newmusic
#musicvideo
#goodmusic
#concert
#beats
#musicislife
#musiciansofinstagram
#musiclover
#soundtrack
#lyrics
#playlist
#songoftheday
#songquotes
#favoritesong
#originalsong
#melody
#harmony
#rhythm
#tune
#musicblog
#musicfans
#musicaddict
#musictime
#musictherapy
#musicmonday
#musiclove
#musicpassion
#musicality
#musicalmoments
#musicalmood
#musicalvibes
#musiclovers
#musicislife
#musicunites
#musicbringspeopletogether
#musicismyeverything
#musicalworld
#musicaltalent
#musicalinspiration
#musicallygifted
Genre-Focused Hashtags
As its name suggests, these hashtags are more specific for different types of music. So, you might find that they aren't used as much as general music hashtags, but they help reach people who like a specific type of music.
You can use these hashtags for posts about different music genres, whether they're popular or new. Here are some of the best hashtags for music on Instagram based on music genres:
#pop
#rock
#country
#hiphop
#jazz
#classical
#housemusic
#popmusic
#poppunk
#poprock
#popmuzik
#rap
#dance
#electronicmusic
#edm
#techno
#trance
#dubstep
#drumandbass
#hardcore
#blackmetal
#deathmetal
#thrashmetal
#grindcore
#powermetal
#djent
#gothicrock
#industrialrock
#indiepop
#c86
#indie
#folk
#blues
#reggae
#punk
#metal
#opera
#ambient
#newage
#classical
#rnb
#latin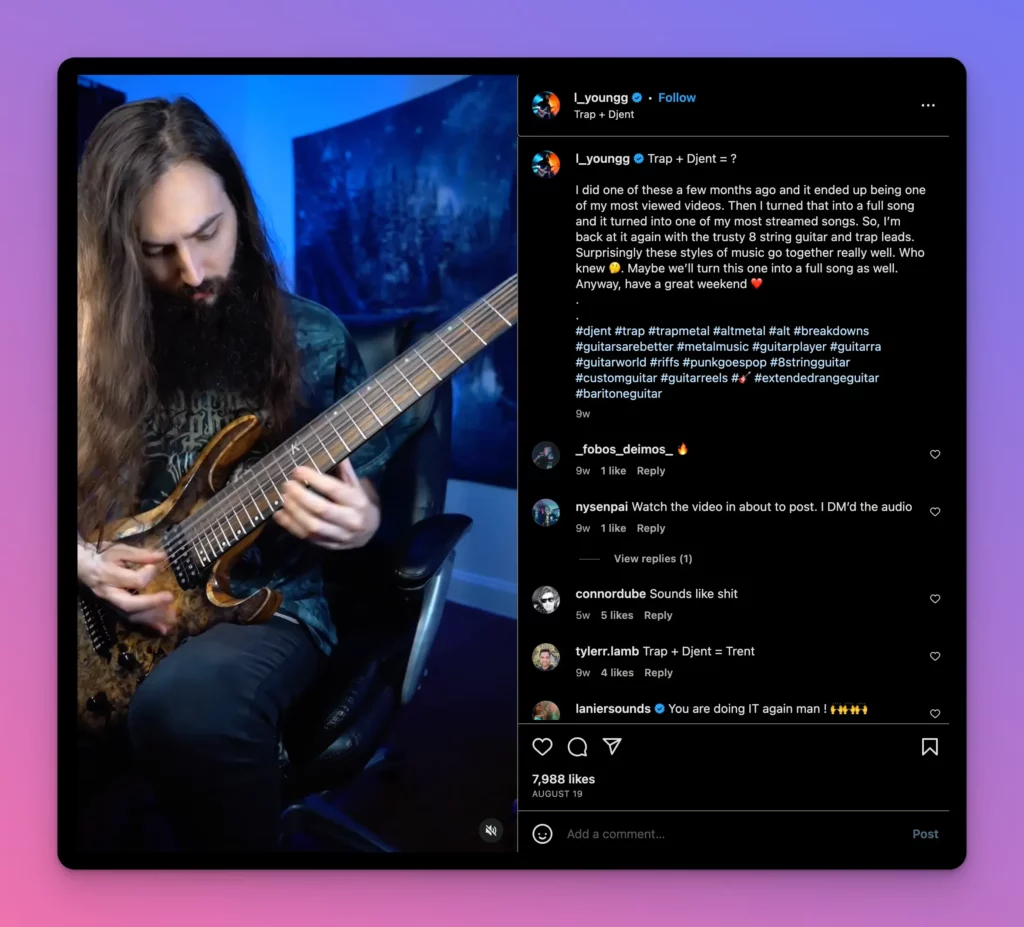 Activity-Based Instagram Music Hashtags
You can come up with relevant hashtags based music-related activities. For example, if you are a musician, you can use hashtags like #musicproduction. On the other hand, #musicfestivals can be suitable for both creators and audience.
So, here are the hashtags for music on Instagram based on the activities:
#livemusic
#musicfestival
#concert
#liveconcert
#musicproduction
#party
#live
#singing
#songedit
#musicedit
#playingmusic
#musiclessons
#musicindustry
#soundcheck
#rehearsal
#recording
#mixing
#mastering
#jamming
#soundengineering
#livestream
#podcast
#interview
#review
#tutorial
#tipsandtricks
#advice
#challenge
#collab
#cover
#musictheory
#musichistory
#musicperformance
#musiccompetition
#musicworkshop
#musiccamp
Instruments-Related Hashtags
These hashtags are for musical instruments. Whether you're a musician sharing about your gear or a fan sharing about your favorite artist's instruments, you can use these hashtags.
You can even use the brand name to make the hashtags even more specific like the legendary #fenderstratocoaster. Here are some hashtags revolve around musical instruments:
#guitar
#guitarcover
#guitarist
#guitarlife
#piano
#pianosolo
#pianopractice
#drums
#drumset
#drumsdrumsdrums
#drumsticks
#drumsolo
#violin
#violincover
#fenderguitar
#bass
#bassplayer
#bassguitar
#drummer
#guitarplayer
#saxophone
#trumpet
#trombone
#ukulele
#cello
#flute
#oboe
#bassoon
#fender
#fendertelecaster
#fenderjazzbass
#cymbals
#gibsonlespaul
#ibanezrg
#gretschguitars
#wahpedal
#mxrpedals
#marshall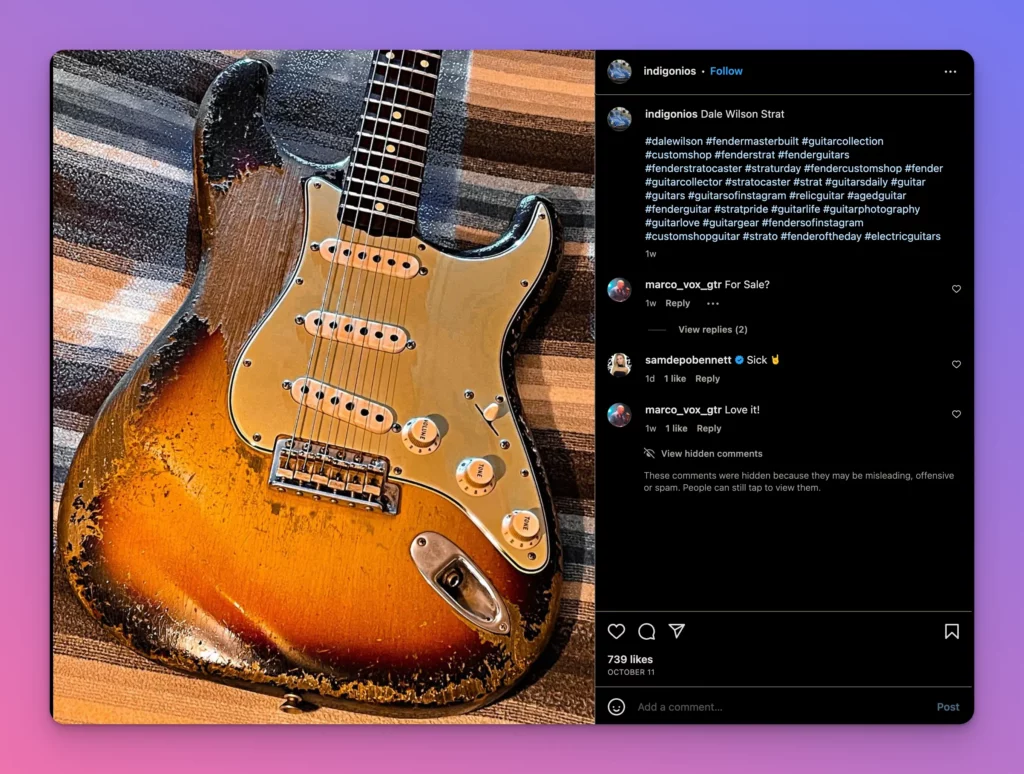 Artist/Brands Music Hashtags on Instagram
These hashtags are quite popular among music fans and don't need much explanation. They're used if Instagram users want to mention specific artists or bands relates to their posts.
It can be the types of artists or the names of them. The more famous the artists, bands, or brands are, the more popular the hashtags become. And guess what? Some aspiring content creators use them as a strategy to get more viewers.
Here are some hashtags you can find on Instagram:
#singer
#dj
#producer
#spotify
#soundcloud
#youtube
#youtubemusic
#soundcloud
#spotifyplaylist
#youtuber
#soundcloudartist
#spotifyartist
#applemusic
#songwriter
#spotifyartist
#soundcloudartist
#musicartists
#musicians
#singers
#rappers
#instrumentalists
#bands
#soloartists
#indieartists
#musiclegends
#grammywinners
#rockbands
#popbands
#indiebands
#alternativebands
#punkbands
#boybands
#girlbands
#duo
#trio
#taylorswift
#thebeatles
#muse
#beyonce
#edsheeran
#adele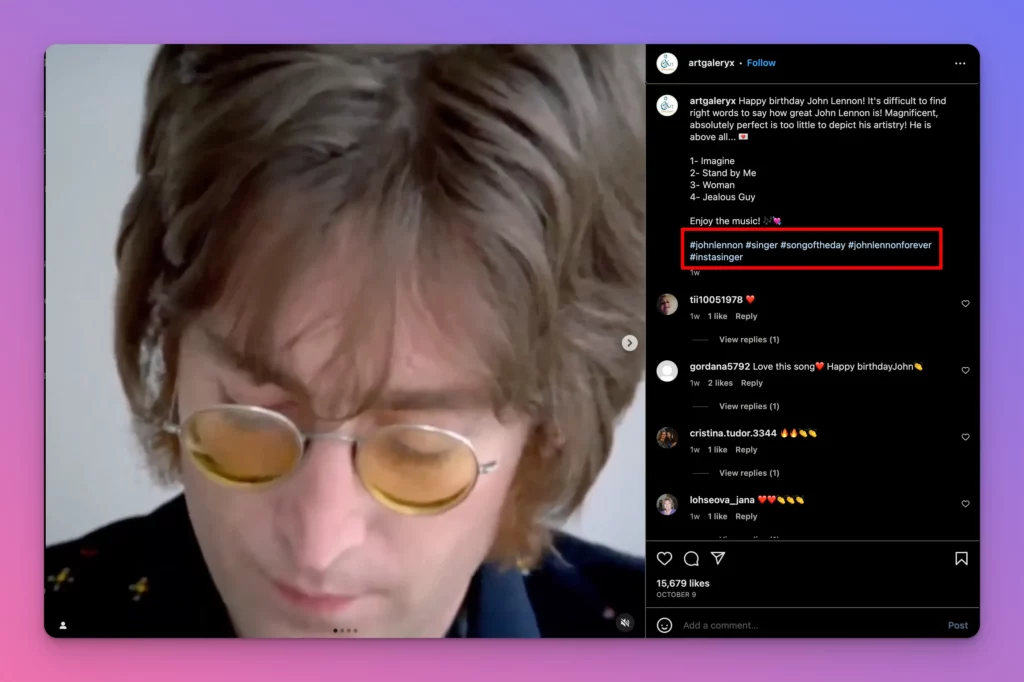 Mood-Related Instagram Music Hashtags
These hashtags are not about music genres. But it's about different types of music based on the mood. If you want to find the best hashtags for music on Instagram to connect with people emotionally, make sure to include some of these hashtags:
#lovemusic
#lifemusic
#dreammusic
#travelmusic
#naturemusic
#partymusic
#sleepmusic
#meditationmusic
#happymusic
#sadmusic
#relaxingmusic
#motivationalmusic
#romanticmusic
#funnymusic
#inspirationalmusic
#chillmusic
#energeticmusic
#happymusic
#sadsongs
#lovesongs
#workoutmusic
#relaxingmusic
#partymusic
#chillmusic
#studymusic
#rainydaymusic
#vibes
#mood
#chill
#relax
#goodvibes
#partyvibes
#chillvibes
Events or Festivals Hashtags
When you go to festivals or music events, you can add a hashtag to your post. This tells your followers more about the event you attend or pictures you're sharing to them.
But wait, there's more. Hashtags can also show what version of a song you're playing in your cover. Bands like Red Hot Chili Peppers often give a unique twist to a song when performing at specific festivals.
Here are some famous events that can be the best hashtags for music on Instagram:
#woodstock
#coachella
#rockamring
#glastonbury
#lollapalooza
#burningman
#tomorrowland
#edc
#bonnaroo
#aclfest
#warpedtour
#electricforest
#primaverasound
#pinkpop
#rockinrio
#exitfestival
#sziget
#wacken
#neworleansjazzfest
#austincityimits
#fujirockfestival
#iheartradio
#javajazz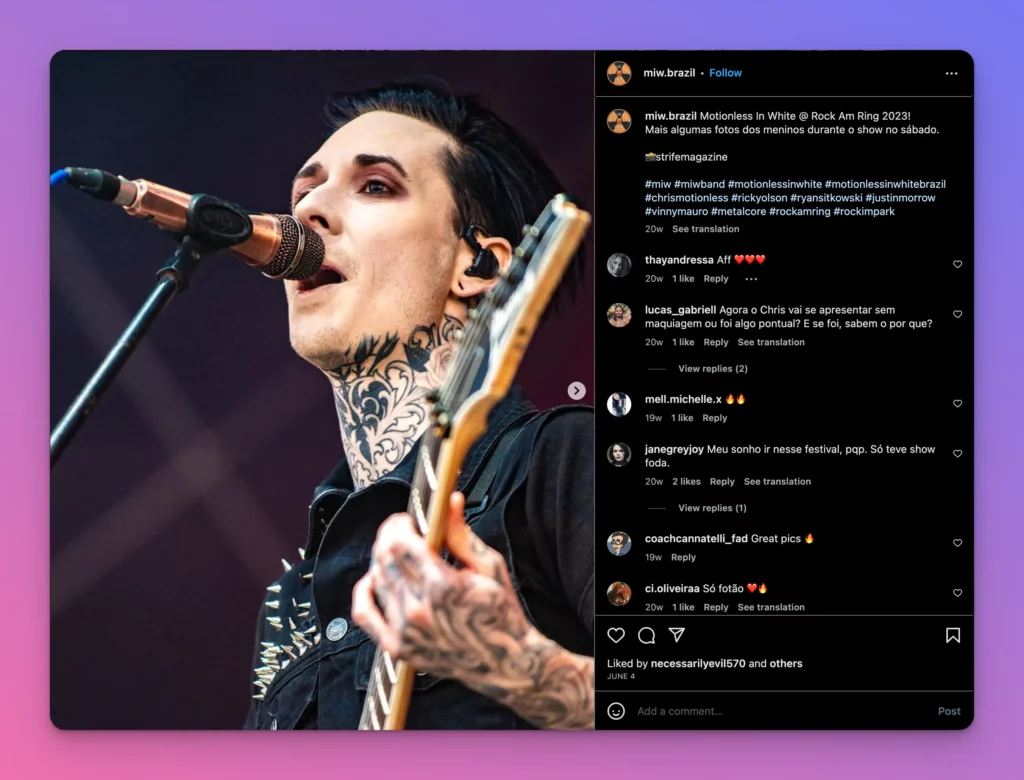 Tips about Instagram Music Hashtags
We've given you the best hashtags for music on Instagram. So you can try whichever you like without having to research on your own. Now, we'll have some tips to make sure you use the right hashtags.
Start with Instagram's search bar. To find popular hashtags for music, search on Instagram and look at what other users are using. Guess what? It's free and always works.
Stay updated. Our list might become old because trends and features on Instagram might change. So, keep searching for the best music hashtags on Instagram before you post anything at best time to post on Instagram.
Use a mix of different hashtags. Promote your content on Instagram better using either general or specific hashtags. General ones like #music can reach many people, while specific ones like #indiefolk can attract listeners interested in that genre.
Use hashtags everywhere. We mean it. It's important to include hashtags in your captions, comments, and bio. This helps people find your posts about music when they search for hashtags. Just remember not to use too many hashtags unnecessarily.
Ask your followers to use your hashtags. If you're not using popular Instagram music hashtags, it's a good idea to encourage others to share using your unique hashtags.
Use event-based hashtags. Do you want to post awesome pictures from an event like EDC Japan or Fuji Rock Festival? Simply add that to help you reach and engage with people in certain areas. Let's say something like #edcjapan, #fujirock, or #zookoutsg.
Make branded hashtags. If you are a content creator, you can make your own hashtags that are all about your music or brand. It'll get people talking around your brand.
Use emojis. Emojis can add some personality and emotion to your hashtags, but they might be a bit harder to search. For example, use the 🎶 emoji for music, or 🎸 for guitar.
Use hashtag generators. When you don't know where to start, these tools can help you. There are even free generators, like the one from Hootsuite, to find relevant hashtags.
Read More: Top 15 Content Creator Apps to Boost Content Production
Best Hashtags for Music on Instagram: A Wrap-up
Using the right hashtags can really make a difference. If your niche is music, using the best hashtags for music on Instagram can help you reach more people. Plus, it lets you follow the latest trends, and build your personal brand.
Some of top Instagram hashtags for music are:
#song
#nowplaying
#music
#rock
#popmusic
#poppunk
#livemusic
#concert
#pianosolo
#drumsdrumsdrums
#fenderjazzbass
#fujirockfestival
In this article, you've learned the top hashtags to use that go well with the music hashtags for your brand and messages. You've also got the information on how to stand out from others. This will help you choose the right hashtags for your upcoming posts or stories.
Are you ready to make your content better? Try using the best music hashtags for Instagram for your own posts. And don't hesitate to share your feedback in the comments below.