Shakespeare once asked, "What's in a name?" Well, in today's digital world, a name means everything, especially if you want to be a content creator on YouTube. Coming up with good YouTube channel name ideas can help you pave your way to success.
YouTube channel names are more than just labels. With around 50,000 new YouTube channels created every day, it would be tough to get noticed. But a strong channel name can help you shine and make a lasting impression.
If you're looking for inspiration for a YouTube channel name, this article is for you. Here, we'll explore unique YouTube channel names and share tips on how to create a name that stands out. Now, let's get started!
What is a YouTube Channel Name?
A YouTube channel name is the name that people see when they visit a YouTube channel homepage. It's the channel's official name, whether it's made by an individual content creator like you, a media outlet, or a business.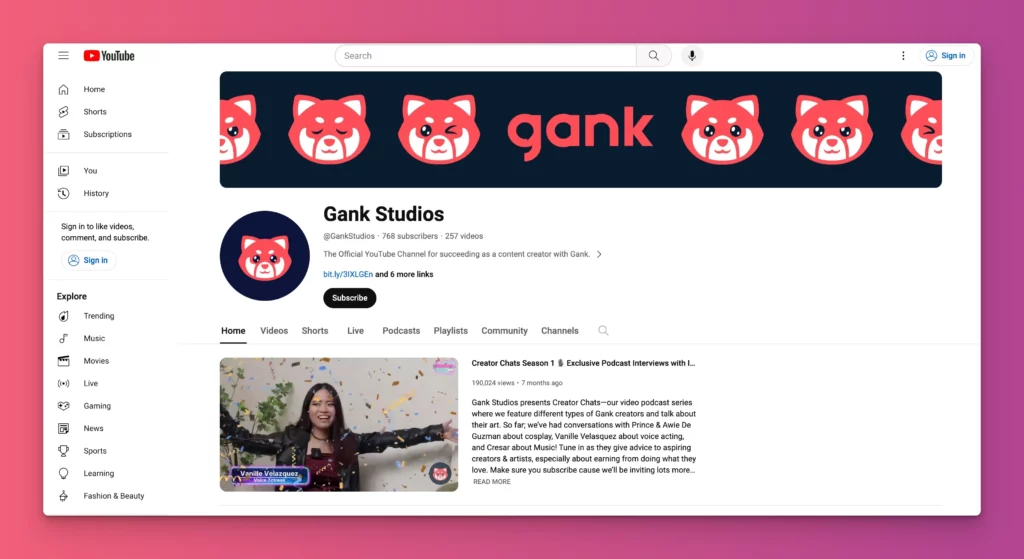 Your YouTube channel name shows up in all your videos, helping viewers know who made them. It also appears in search results, so people can find your channel when they're looking for it on the platform.
When people share your videos on Facebook or Instagram, your YouTube channel name is displayed too. So, choosing a cool YouTube channel name is important if you want to have a strong online presence for a long time.
Read More: YouTube Channel Ideas for Beginners
Why Do Good YouTube Channel Names Matter?
These are some of the reason why cool YouTube channel names can make a difference to your success:
1. It's All About Your Brand
Your YouTube channel name is like your personal brand, it tells audience who you are. That's why it's important to come up with unique YouTube channel name ideas when you create a new one.
While it may sound cliché, you can think of your YouTube channel name like a book cover. It shows viewers what kind of videos they can expect. It sets their expectations from the start.
Read More: How Build a Strong Brand as a Creator
2. It Marks Your Unique Spot
A catchy YouTube channel name is preferable as it helps you stand out and shows that you're unique compared to others. You can base it on your content, video style, or anything that sets you apart.
Having a unique name makes it easy for people to remember you among other creators. For example, if your channel is called "ClutterBuster" and you share clever tips for organizing homes, it clearly indicates what your content is about.
3. It Helps People Find You
The last thing you want is you've made great videos but nobody sees them because they can't find your channel. So it's important to choose a name for your channel that matches your videos or what people like. This will help more people find you.
Bear in mind that YouTube is a huge video content platform and the second-largest search engine in the world. If you use the right words in your channel name, people can easily find your videos when they search online.
4. It Makes Your Brand Look Consistent
Using a unique name for your YouTube channel doesn't mean you should use a completely different name. It should be the same as your brand name on other platforms like Facebook, X, Twitch, and more.
Think about it. If you use different names, it will be hard for people to know it's you making videos. Plus, if they like what you do on Instagram or Facebook, they might want to find your YouTube channel, too.
5. It Makes People Think Your Content are Great
When you're starting your YouTube channel, you should think about what people will think about you. A cool YouTube channel name can tell people that your videos are awesome. Again, it's like a book cover that makes you want to read it.
If your name sounds cool, people might think your videos are really great too. That might be why Jimmy Donaldson picked the name MrBeast for his YouTube channel. It indicates that he is powerful, mysterious, and ready to go above and beyond with his creative challenge videos.
6. It Paves the Way to Future Success
When it comes to YouTube channel name ideas, choosing the right name from the start is important. As your channel gets bigger, you might want to grow your brand and make more money as a content creator.
You can sell awesome products like T-shirts and mugs with your channel's name on them. If your YouTube channel name is catchy and all your viewers love it, it can become a strong brand all on its own.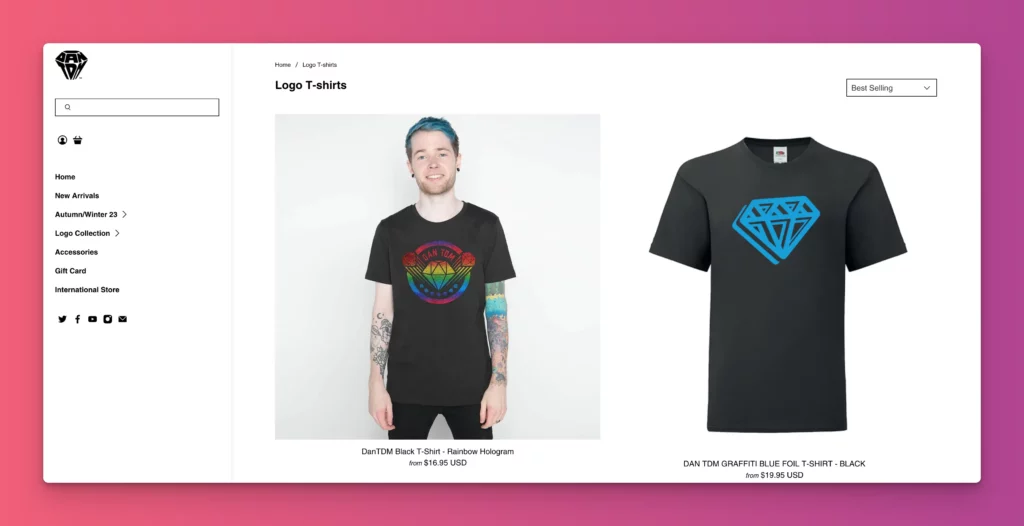 Read More: How Much Do YouTubers Make?
118 YouTube Channel Name Ideas
Check out this YouTube channel name ideas list to get you inspired as a content creator:
YouTube Channel Names Ideas using Personal Name
Using your name is common for personal branding. Some popular channels following this approach are:
Like Nastya
Ryan's World
Brandon Shepherd
Here are some YouTube channel name ideas using personal names:
David Bike Adventures — a YouTube channel name for people who love bikes and enjoy exploring different places.
Alex Drone Zone — great for drone enthusiast who want to have fun and experiment with drones.
Sam Education Hub — an informative YouTube channel for students to learn about various topics.
Danny Fitness — a motivational YouTube channel for fitness enthusiasts who share workouts and tips.
Diana Gardening Expert — recommended for gardeners who share tips on growing and taking care of plants and flowers.
Sheila Interior — a YouTube channel name for interior designers displaying her projects.
Adam Lego Master — for any Lego fans who build and display their creations and collections.
Pure Nature Nerd — for your who want to build a channel who observe wildlife and scenery.
Kim Origami Expert — a creative and delicate YouTube channel for origami lovers who fold and teach various paper crafts.
Luke Puzzle Pro — for puzzle enthusiasts who solve and share various types of puzzles and games
Creative YouTube Channel Names
Some creative YouTube channels that have attracted millions of people are:
PewDiePie
Smosh
Good Mythical Morning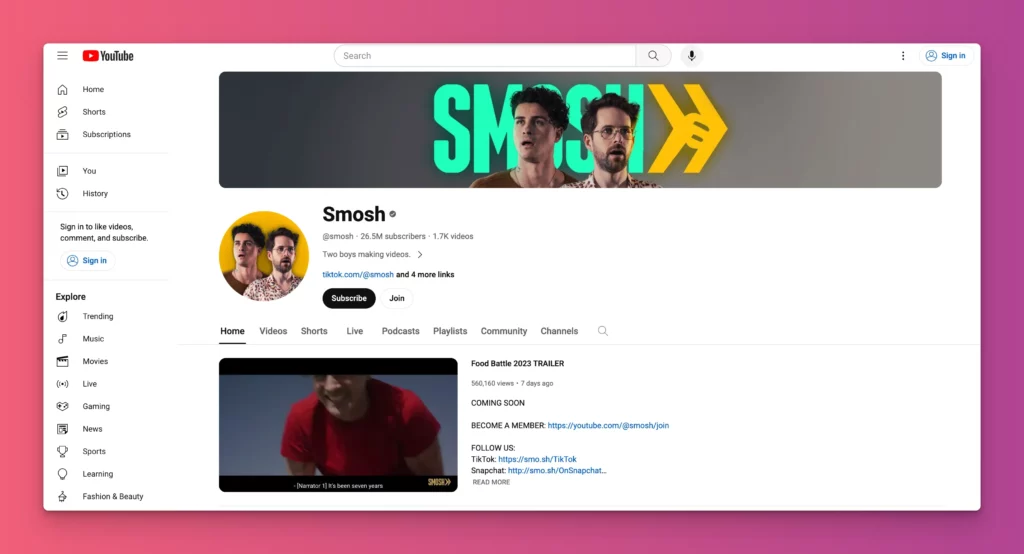 Here are another creative YouTube channel name to inspire you:
Circuity — good for a tech or electronics channel, showing smart ideas about gadgets and tech trends.
Tasty Odyssey — a cooking or food discovery channel that takes viewers on a tasty and excellent journey.
Quantum Curiosity — a channel on science or physics that sparks interest in the quantum world.
Historic Trails — a channel for history enthusiasts who explore through travel or storytelling.
Melodic World — a music travel channel that explores the origins of different music genres.
Sketchbook Diaries — great for your YouTube channel name if you're an artist shares your journey through drawings.
Ssshh — good for showcasing calming environments to help people relax and find peace.
Urbanized — worth trying for a channel exploring cities and urban lifestyles.
Fiber and Thread — all about sewing and fabric arts, where viewers learn to create and design textiles.
SeriousAstro — great for astronomy enthusiasts to explore space mysteries.
Unique YouTube Name Ideas
There are many channels that have successfully chosen unique names like:
Unbox Therapy
The Try Guys
Vsauce
Now, if you want more unique YouTube channel name ideas, these can be your source of inspiration:
Urban Oasis — perfect for a lifestyle channel that brings a touch of calm and tranquility to the fast-paced urban life.
Canvas Chronicles — for an art channel documenting the creative process or exploring art history.
Peak Performers — for a personal growth channel, all about how to face and overcome difficult things.
Rusty Lantern — a channel that tells stories about the past and how those stories affect the world today.
DiveEvenDeeper — ideal for a channel about marine life, sea travel, and the calming aspects of ocean sounds and visuals.
Twilight Summit — for evening relaxation techniques, night-time adventures, and unwinding discussions as the day ends.
Eternal Smiles — a channel about staying healthy and growing. It's all about feeling better, taking care of yourself, and getting better each day.
Grit & Grace — a great name for a channel about entrepreneurship and women's empowerment, combining hard work and elegance
Plainsong Notes — for simple songwriting channel made by authentic musician
NowArcadia — if you look for a channel name for gaming.
Cool YouTube Channel Names
It's best to find a balance of being exciting, popular, and easy to remember like:
Dude Perfect
Ninja
Rooster Teeth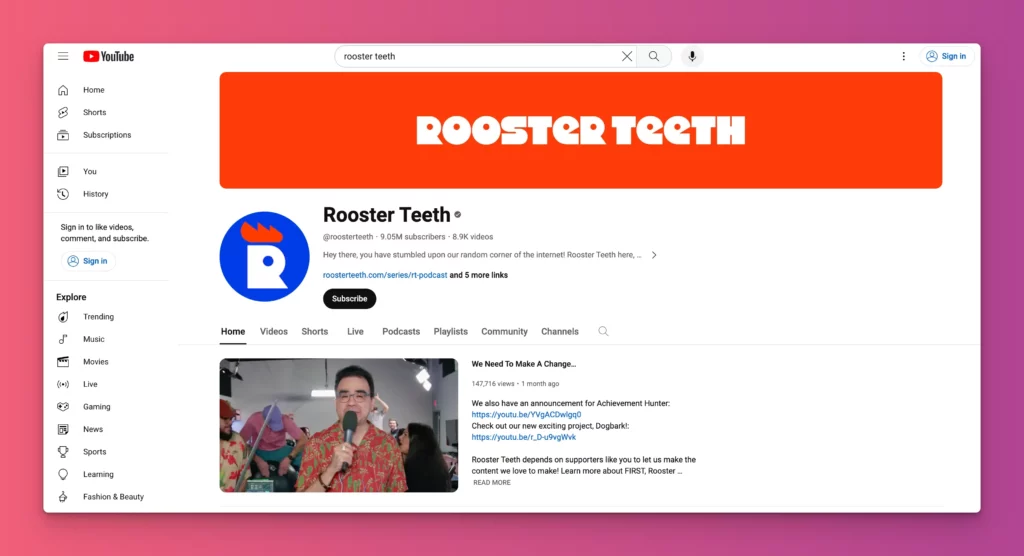 With these examples, here are some cool YouTube channel names you can use for your channel to make it sound awesome:
Theoretically — suitable for an educational or thought-leadership channel.
Urban Voyager — if you want to build a city-focused travel channel.
Gastronomy — a channel all about food and technology like how cooking works or new fancy cooking methods.
Surfer Dilemma — all about surfers and ocean-themed channel.
Yin Yang Nomad — a channel about the good and bad parts of traveling as a nomad.
Nexus Cubicle— cool YouTube channel name for space, astronomy, or sci-fi content
Detective of Origins — recommended for a channel about the origins of subjects
The Lost Compass — for your channel on spirituality, new age topics, or guided travels.
Sketchboard from Scratch — a channel that is about drawing, design, or making animations.
Gamers Dorm— a cool YouTube channel name for a team of gamers
Catchy YouTube Names
You can learn from these catchy YouTube names like:
CinemaSins
Epic Meal Time
Fine Brothers Entertainment
Here are some other catchy YouTube channel name ideas for you
Morning Coffee Thoughts — for a channel about types of coffee, ways to make it, and the culture of coffee drinkers
Trekking Atlas — a catchy YouTube channel name for a travel
Cute Gadget — a channel about gadget review and new gadgets.
Epic Eats — a catchy name for a channel about food, showing you try out fancy restaurants.
Splash Pulse — a good name for a channel about marine life or saving the ocean.
The Palette — a channel that explores different types of art or different cuisines from around the world.
Professor Vintage — can be a good name for the history channel, covering old things like fashion, antiques, or classic cars.
Cosplay Closet Chronicle — a YouTube channel for you to share stories, tips, and tutorials about creating and wearing costumes for different characters.
Tech Saga — great for a channel all about technology or startups
Funny YouTube Channel Names
Using humor in your YouTube channel name is a great way to make people laugh and enjoy your content. Some great channels to inspire you are:
Bad Lip Reading
Simply Nailogical
You Suck At Cooking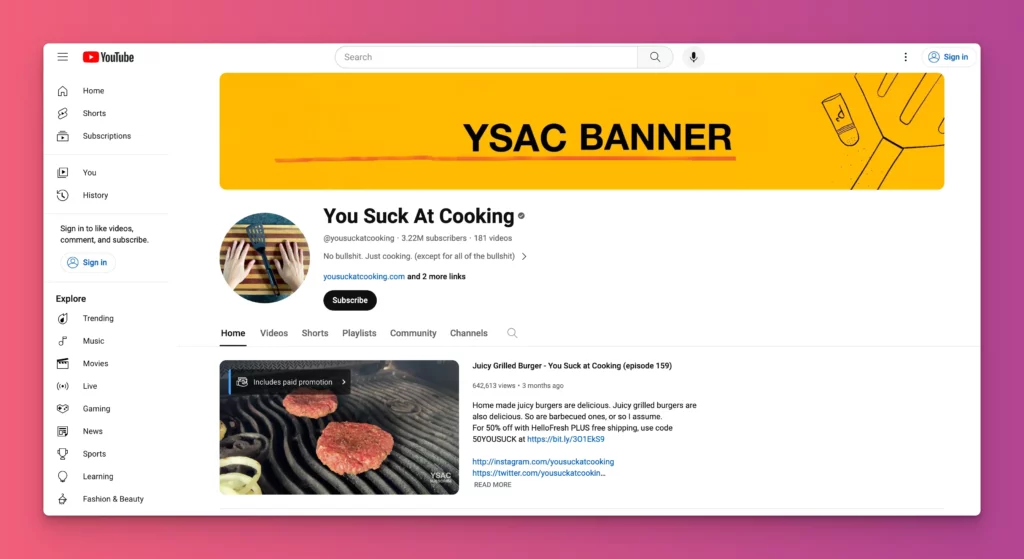 Now, here are some funny YouTube channel name ideas if you want to use one of them:
Clumsy Genius — a channel that teaches things in a funny way, with some mistakes along the way.
Noodle Nod Head — great for you who make a channel about cooking pasta
GiggleBox Express — a channel where the hosts make you laugh and share wise thoughts.
Everyday Satire — a satire channel that views the world through a comical "lens".
Sofa Spudz — a channel about gaming, movie reviews, or comedy.
Pink Pun — a channel that loves making jokes and playing with words.
Focused Fail — a channel focusing on humorous fail compilations.
QuirkWork — a great channel name for funny and weird things happening at work content.
Tickle Trunk TV — another funny YouTube channel name idea for a comedy series
Roaring Reports — funny YouTube channel name for news stories and jokes about current events.
YouTube Channel Name Ideas for Vloggers
If you're a vlogger, you'll see some of these YouTube channel names are cool:
CaseyNeistat
Zoella
FunForLouis
Now, we come up with these ideas you can choose from:
Grace Talks About Everything — when you want to share your adventures, stories, and coverage of interesting topics.
Valentina Channel — a simple channel for creativity, lifestyle, and exploration.
On Cloud Cindy — a fun channel that takes viewers on a digital journey from Cindy.
Native Cyber Solar — a channel that connects nature and technology in a harmonious blend.
Michael Success Talks — for your channel that unlocks success secrets as a digital content creator.
Julia Style Persona — a personal channel for Julia's personal style, fashion tips, and lifestyle insights.
Lola Uncut — a channel about Lola's unscripted life
Did You Know! — Fun facts, trivia, and surprising discoveries shared by curious vloggers.
Hashtag Hits All Things Sports — great for sports enthusiasts to make content under trending hashtags.
The Virtual Coach Game Hub — if you think about a new channel that is all about coaching and gaming.
YouTube Channel Name Ideas for Gamers
We've unveiled some of the YouTube channel names for gaming when talking about famous YouTubers. Some of them are:
Markiplier
Jacksepticeye
The Game Theorists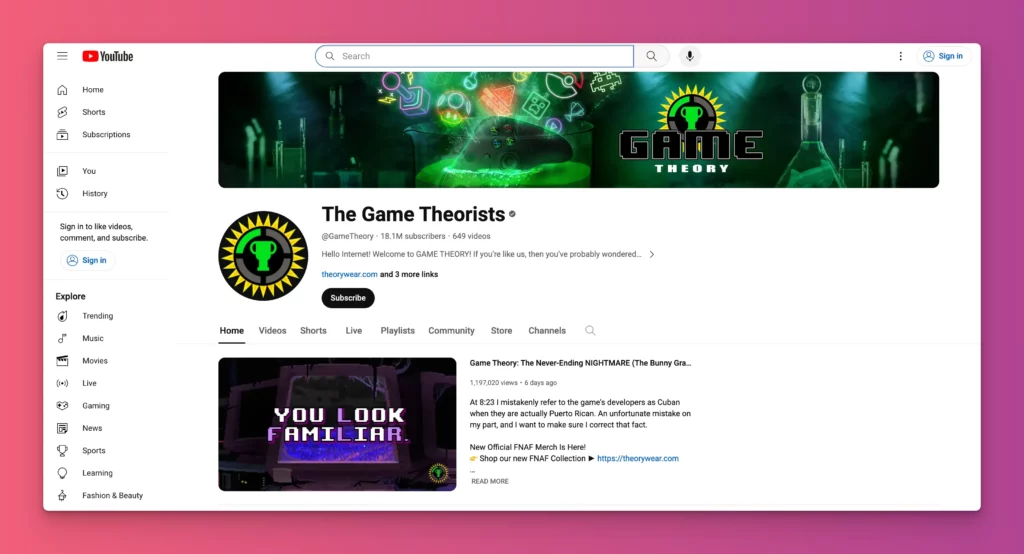 Here are some cool YouTube channel name ideas tailored for gamers:
Platypus Gamer —a cool YouTube channel name to show your gaming skills.
Gamer Life — a simple name for a channel that celebrates your gaming lifestyle.
Gaming Treasure Trove — a cute name for a YouTube gaming channel that shares hidden treasures in the gaming world.
Addicted to Gaming — a channel to show your love for gaming
The Gaming Consultant — one of the YouTube channel name ideas worth trying for gamers who want to share advice and insights.
King of Mobile Games — a strong and confident YouTube channel name for sharing mobile gaming skills.
100% Fortnite Lover — straightforward YouTube channel name for gamers who love Fortnite
Arcade Buffering — good for a channel that deals with classic arcade games.
YouTube Channel Name Ideas for Cosplayers
There are many YouTube channels made by cosplayers. Some examples are
KamuiCosplay
MangoSirene
Alodia Gosiengfiao
Get inspired by these YouTube channel name ideas for cosplaying content:
Costume Quests — a channel for exciting adventures wearing different costumes and pretending to be characters.
Cosplay Craftsmanship — good for showing your skill and hard work that goes into making amazing cosplay outfits.
Alter Ego Attire — another YouTube channel name idea for showing off the different characters and personalities that cosplayers become.
Fantasy Fabrications — a cool YouTube channel name for making fantasy worlds come alive through awesome costumes.
Enchanted Stitches — you can add a touch of magic to every cosplay costume with sewing skills.
Cosplay Curiosities — a channel to explore lesser-known characters through cosplay.
Costume Alchemy — a unique YouTube channel name that focuses on changing cloth and foam into amazing cosplay outfits.
Mystic Characters — if you want to make content about cosplaying, from patterns to props.
Sew Geeky — good for a channel focused on sewing tips and tricks for cosplayers.
Cosplay Compass — a channel name if your focus is conventions, tutorials, and the community.
YouTube Channel Name Ideas for Musicians
If you're a musician ready to share your talent on YouTube, the channels can be your inspirations:
Piano Guys
Rob Landes
Lindsey Stirling
But as they're taken out, you can try these catchy YouTube channel names:
Coffeehouse Vibes — a channel with cozy music that makes people feel like they're drinking coffee in a warm place.
Andrew's Fingerstyle — a channel for people who like guitar music, especially finger style.
Listen to This Rapper — good for a compilation of the best rap songs.
Rock Against the Machine — if you aspire to be Zach de La Rocha and make a channel that celebrates rock music.
What This Lyrics Means — a channel that explores the meaning behind song lyrics.
Tune Trailblazers — good for a channel about discovering new and different types of music.
Melody Master — a channel that is all about playing different musical instruments and getting better at playing.
Lyric Lab — a channel that helps you learn how to write and compose your songs.
Square Beat Box — a YouTube music channel that features amazing beatboxing performances and tutorials.
MashedUp — creates and shares new, mixed-up versions of popular songs.
Monday Music Quiz — good for a music channel that tests the knowledge of music with fun quizzes.
Educational YouTube Channel Name Ideas
For educational content, you can use your names as an educator. But, you can also use your business name or brands like:
CrashCourse
Vsauce
TED-Ed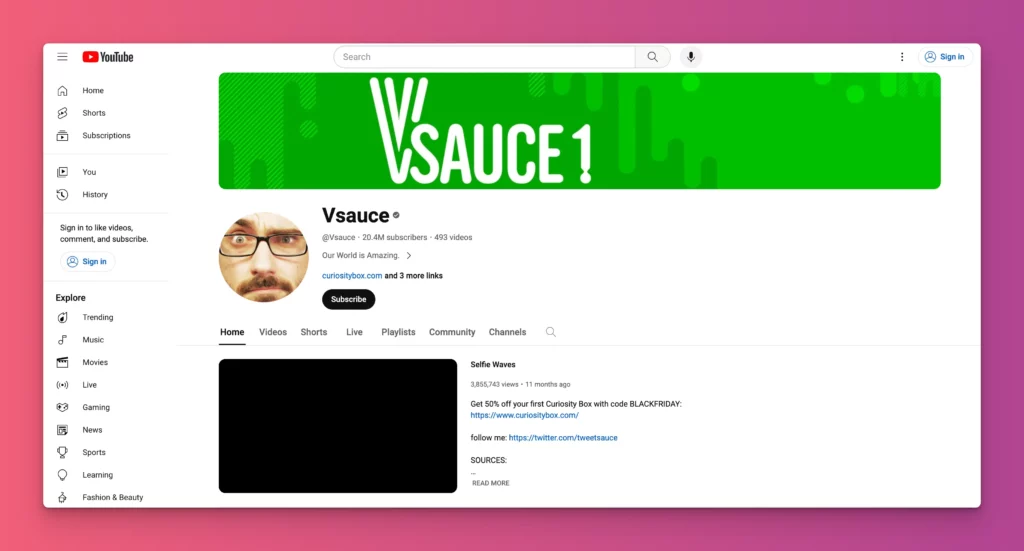 Here are some educational YouTube channel name ideas for your new channel:
Brainiacs — a channel that makes learning about science and technology exciting.
History Buffs — a YouTube channel name for interesting stories and events from the past.
Language Lab — a cool YouTube channel name if you want to teach how to learn and speak different languages.
Books in 5 Minutes — all about reviews and recommends books from different genres.
Money Matters — a channel for managing finances, budget, money, and investment.
Travel Tales — a channel for showcasing the culture and attractions of different countries.
Space Explorers — all about the wonders of the universe, including planets, stars, and galaxies.
Magic School — a cute YouTube channel name for amazing magic tricks and illusions.
Pet Pals — cute animals channel focusing on content about dogs, cats, and more.
What You Don't Know — a channel about trivia on various topics like movies, sports, and music.
14. Food YouTube Channel Name Ideas
Are you looking for creative YouTube channel names for the culinary niche? Some of the most well-known right now are:
Rosanna Pansino
Binging with Babish
Maangchi
Now, it's time for you to choose one of these creative YouTube channel name ideas for a food channel:
Bake It Till You Make It — a food channel for learning how to bake yummy cakes and cookies.
The Veggie Patch — a unique channel covering healthy recipes for vegetarians.
The Hungry Traveler — great for a channel about delicious food from around the world.
The Sweet Spot — for desserts and candies video content.
The Lazy Chef — a cool YouTube channel name idea for easy and tasty meals with simple ingredients.
The Foodie Family — a channel that shares a family's recipes and food traditions.
The Healthy Bite — a good name for a channel about nutritious dishes to stay fit and healthy.
The Fresh Fork — a channel about fresh, seasonal ingredients from the farmers market.
The Hot Pot — good for a channel about the hot and steamy Asian cooking method of hot pot.
The Cheesy Bite — one of the cute YouTube channel name ideas for cheesy recipes.
Already Get Inspired with Our YouTube Channel Name Ideas List?
Let's wrap it up. Choosing the right YouTube channel name is important because it helps people find you online as thousands of new channels created every day. With so many content creators out there, a good name can make you stand out and be remembered.
We've provided you with many different YouTube channel name ideas, including unique names and names specifically for vloggers. Now it's your turn to pick the name that best suits your channel.
Remember, your channel name is the first step towards showing the world what you're all about. So have fun coming up with the perfect name, and who knows, maybe your channel will become really popular. Good luck!
FAQ about YouTube Channel Name Ideas
What should I name my YouTube channel?
Choose a name that is unique, relevant to your content, and easy to remember. It should also be something you're comfortable with and that represents your brand well.
How do I name my YouTube channel in 2023 and beyond?
Keep your channel name short, and simple, and use words that people search for. This will help people find your videos easily. Make sure your channel name matches your name on other social media sites and your website.
Should you put your name on YouTube?
It depends on what you want. If you want to build your personal brand, then using your name is a good idea. But if you want to focus on a specific topic, you may want to choose a name that shows that.
Should my YouTube channel name be the same as my other social media accounts?
It's easier for people to find and follow you if you have the same name on all your social media. But if you have a different name, you can still put a link to your YouTube channel on your other accounts.
Can I change my YouTube channel name after creating it?
You can change your channel name, but only once every 90 days.
What are some mistakes to avoid when naming my YouTube channel?
Avoid using long or hard-to-remember names. Also, don't use a name that doesn't match your content, or is already taken, trademarked, or offensive.
Do the keywords in my YouTube channel name impact how easily viewers can find my content
Yes, using keywords related to your content can help people find your videos when they search for those words. For example, if you make cooking videos, include words like "cooking" and "recipes" in your channel name.