Having a verified TikTok account is not just a sign of status. Those who pass TikTok's verification can earn trust from followers and sponsors easier. With that benefit in mind, you probably ask, "How to get verified on TikTok?"
Thankfully, applying for verification on TikTok is easy. But before you do so, you must fulfill all of the requirements. In this article, you are going to learn about these prerequisites and how to accomplish them.
What Does It Mean to Get Verified on TikTok?
It is important to review the meaning of verification itself before you get to know how to get verified on TikTok
Like other social media platforms, TikTok offers verification to confirm the authenticity of an account. If you get verified, which is signified by a blue tick badge on your profile, it means that TikTok acknowledges that your account does not belong to an impersonator.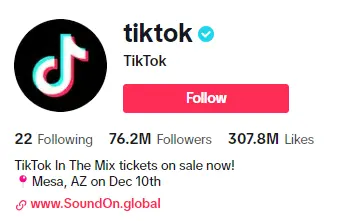 Verification is important since fake accounts are easy to make. Most of the time, fake accounts are used in scams and defamation. That is why celebrities and businesses go for TikTok verification.
That being said, content creators and small brands can get verified too. You just need to know how to get verified on TikTok using the steps that we will explain later.
Why Should You Get Verified on TikTok?
Having a verified account on TikTok gives you multiple advantages. Below are some of them:
Trustworthiness
Scammers love to take advantage of big brands' fame. But they also do not hesitate to target up and coming content creators and businesses. You have probably heard a lot about people getting extorted by individuals who claim to be a certain internet personality.
With a verified account, you can assure your audience that you only have one account. Therefore, it is easier to prevent fraud and loss of reputation. That is why knowing how to get verified on TikTok is essential.
Authority
Getting verified on TikTok takes effort. As we will explain later, you do not just apply and get accepted. Because of that, having that blue tick badge gives you a sign of authority. It shows that you care about quality and trust.
When it comes to business, having a verified TikTok account also gives you a competitive edge. Customers are more likely to deal with verified brands than those that are not.
Visibility
Another reason to learn how to get verified on TikTok is the increased content visibility. Although yet to be confirmed, TikTok's algorithm is said to prefer videos from verified accounts when featuring content in the For You Page.
Nevertheless, TikTok favoring verified accounts over the others can also be caused by other factors, such as engagement rate and virality. Both happen to be the components of a successful TikTok verification, which we will talk about more later.
What Are The Criteria to Get Verified on TikTok?
The first step in learning how to get verified on TikTok is to know the requirements. Many people asked "how many followers do you need to get verified on TikTok?" However, TikTok does not consider the number of your followers for verification. Instead, the platform demands that your account is:
Active – You should have logged in and uploaded content regularly within the past six months.
Authentic – Creators need to prove that they are the owner of their account by providing personal identity. On the other hand, business accounts have to be registered with the email address that represents the brand, such as [email protected].
Complete – As a part of how to get verified on TikTok, your profile information, including profile photo, username, and bio, has to be filled.
Notable – You or your brand has to be mentioned in multiple news sources. This is to confirm that you have a real-world presence.
Secure – You need to set up a 2-step authentication for your account. This is to ensure that hackers cannot take control of your TikTok easily.
Up to TikTok's community guidelines and terms of service – Your content has to adhere to TikTok's policies to keep the platform a positive place, even after you get verified. Otherwise, TikTok can revoke your blue tick badge.
How to Get Verified on TikTok?
Applying for account verification on TikTok is simple. You only need to open the TikTok app and follow the instructions below:
Visit your profile.
Tap the hamburger menu on the top-right corner.
Tap Settings and Privacy.
Tap Account > Verification.
Follow the steps that the app provides.
Once you do that, your application is sent and is going to be reviewed. TikTok does not state how long you have to wait. But if your account does not get verified within 30 days, you can send another application.
That is how to get verified on TikTok. Nonetheless, it is important to note that TikTok has not rolled out the verification feature to everyone yet as of this writing. If you cannot find the option in your account settings, TikTok allows you to submit the application via their online form instead.
Tips to Improve Your Chance on Getting Verified by TikTok
At this point, you know that how to get TikTok verified does not just involve submitting your identity. To get the blue tick badge, you need to fill all of the criteria. Below are some methods that help on how to get verified on TikTok successfully:
1. Choose Your Niche
TikTok requires you to be active on the platform for the last six months when you apply for verification. But that does not mean you should post random content and hope that anything catches viewers' interest.
While you are aiming for that TikTok blue tick, it is equally important to build an authority within a niche that you choose. Account verification is just an added sign of quality. That should be the reason you want to know how to get verified on TikTok.
To do that, you need to stick to your niche. Take Red Bull as an example. The energy drink brand keeps its content consistent about sports since it targets mainly young people who love power and adrenaline.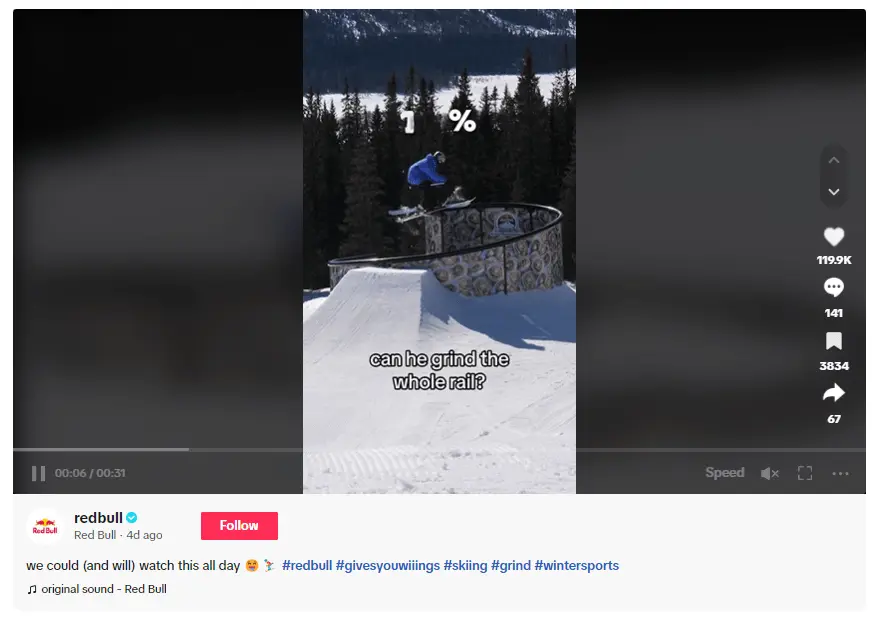 Content creators should follow the same principle. Decide on a niche that you can satisfy and make content for its community. For example, if you are a musician, you can make cover videos, post original songs, or share tips on playing the instrument you are familiar with.That is the first tip on how to get verified on TikTok.
On top of that, do not forget to choose a niche that you enjoy serving. Otherwise, you will burn out easily and make chasing after TikTok's verification not worth it.
Read: How to Get More Followers on TikTok
2. Make High-Quality Content
Being consistent about your niche is not enough to help you pass the account verification. While doing so, you should ensure that your videos are always of high quality.
That does not mean you need to invest in high-end video gears, though. When it comes to how to get verified on TikTok, you are free to use any digital camera.
The key to making good quality video is to keep it relevant to your target audience's interests. If you make content about baked goods and their recipes, it is best to keep your videos about that. Serving a clip about grilling is still under the scope of culinary, but it is probably not what your audience is looking for.
Furthermore, good TikTok content must be valuable. With a catalog of entertaining or educational videos, you will be able to stand out among other accounts that make random content.
Learning how to get verified on TikTok also involves creating engaging content. You can do that by ending your videos with an open question, such as "Which one do you prefer?" and "What tips/options do we miss?", which will drive a discussion in the comments.
3. Engage with Your Audience
Once you successfully start a conversation with viewers, do not just leave their comments unattended. Spare some time everyday to go through comments and reply to the thought-provoking ones. Before you know it, the comment section will turn into a discussion room.
Interacting with your viewers is a crucial part of how to get verified on TikTok. It signals TikTok to feature your videos in the For You Page. Not only that, your willingness to engage with the audience shows the human side of your account. In other words, engagement is proof that you are authentic.
4. Become Viral
Being able to get viral can help you get the blue tick badge because it shows TikTok that people across communities love your content. But how does a video become an internet sensation that generates thousands to millions of views?
While there are no specific recipes, the following methods can increase your chance of getting viral, which helps on how to get verified on TikTok:
Jump on a trending challenge
TikTok's content is driven by trends, whether it is a dance challenge or a video format. So, you need to keep up with the current popular tropes on the platform. Once you spot a trend you can do, it is best to execute the idea right away since TikTok trends usually last for a few days only.
Use trending hashtags and music
Choosing the right hashtags and music is crucial for bringing viewers to your attempt on trending videos. However, you need to keep the choice relevant to the context of your videos. That is how to get verified on TikTok by leveraging virality.
Post at the right time
Your content will have more chance of getting recognized if you post during viewers' prime time. According to some research, the best time to post on TikTok are Tuesdays, Wednesdays, and Thursdays. 
Grab attention with a hook
Your content has to start with an intro that piques interest. To do that, you may experiment with different visuals, texts, or dialogs that other viral videos have.
Those are only some tricks that you can try to boost your video popularity, which helps on how to get verified on TikTok. Check our article on how to go viral on TikTok for more ideas.
5. Become Featured in Multiple News Coverage
Being mentioned on the news is one of TikTok's requirements for account verification. So, how do you get featured in media coverage?
Similar to going viral, there is no exact way to make news outlets want to feature you. But if you consistently create high-quality content that attracts a lot of viewers and engagement, there will be online news outlets that want to cover your TikTok endeavor eventually. That is a tip on how to get verified on TikTok.
Elyse Myers, a content creator known for her comedy skits on the platform, is an example. She got to be featured in a People Magazine article after one of her videos went viral.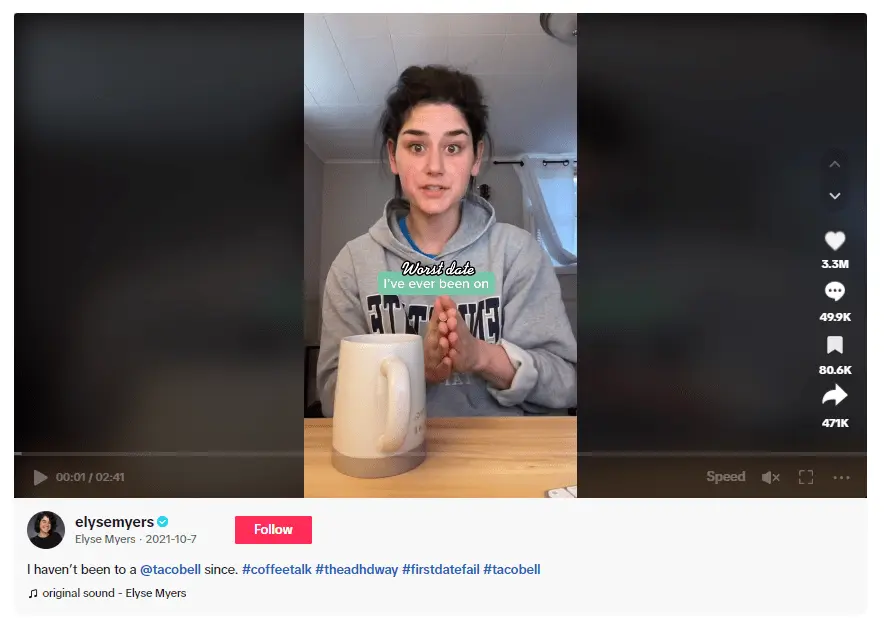 So, just keep making videos for TikTok and be patient. A news outlet will contact you one day.
6. Get Verified on Another Social Media Platform
Other social media platforms, including Twitter, Facebook, and Instagram, use similar criteria as TikTok to verify accounts. Basically, all of them need you to show that you are authentic and influential in your niche.
Due to that reason, it will make how to get verified on TikTok easier if you have a verified account on one or multiple other platforms.
Read: TikTok vs Instagram
7. Follow The Community Guidelines
Last but not least, how to get TikTok verified involves abiding the platform's rules. This means that you should not post content that is offensive towards people of any background. While TikTok's policies about explicit content differ between countries, it is also important to keep your videos family-friendly.
TikTok's community guidelines still apply after you get verified. Any violations can prompt the platform to revoke your blue tick badge and even take your account down.
Now You Know How to Get Verified on TikTok
Having a verified TikTok account is a prestigious milestone for content creators and brands. That is because the verification badge boosts your trustworthiness, authority in your niche, and visibility.
Applying for the verification itself is simple because you can do it within TikTok's account settings or online form. Fulfilling the prerequisites, however, will take process. In a nutshell, you have to prove your authenticity and influence in a certain niche.
But you can learn how to get verified on TikTok easier by doing the tips covered in this article, which include:
Sticking to one niche
Making high-quality content
Engaging your audience
Becoming viral
Getting featured in a media coverage
Having a verified account in other platforms
Follow the community guidelines
We hope this article inspires you to get verified on TikTok. If you want more tips about content creation, make sure to subscribe to our blog.
FAQs
How many followers do you need to get verified on TikTok?
TikTok does not require you to have a certain number of followers. How to get verified on TikTok focuses more on your notability within a niche.
How many views do you need to get verified on TikTok?
It is not mentioned how many views you need to have. Nonetheless, being able to make your video viral is one of TikTok verification's requirements.
How much does it cost to get verified?
TikTok does not charge you for account verification.
Do you get paid if you are verified on TikTok?
TikTok does not pay verified accounts, but getting verified increases your chance to get sponsorship from brands.