Many content creators prefer Instagram to go pro. Even though there are other platforms like TikTok, Instagram is still the top choice. But how to make money on Instagram? And is it possible to do that without any followers?
Professional content creators always choose a platform based on its user-friendliness and ability to generate revenue. And Instagram is known to be awesome in all these areas, especially when it comes to making money. So, if you're also thinking about using Instagram, you're on the right track.
But can you make money on Instagram? We'll find out. Here, we'll talk about how to earn money on Instagram. Getting more excited about turning your Instagram account into a money-making machine? Keep reading!
Can You Make Money on Instagram?
The short answer is yes, you can do that. When Mark Zuckerberg said that Meta would take less than 30% of the money you make on the platform, you know that the opportunity to earn more is bigger.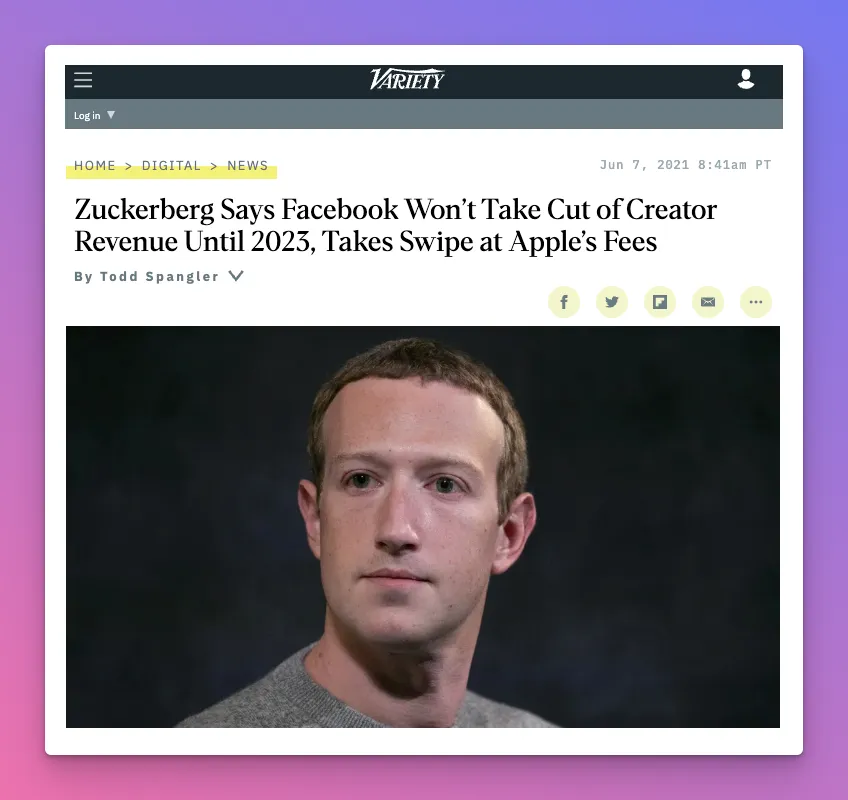 In fact, many people earn a lot of money by posting on Instagram, including:
Cristiano Ronaldo – $3,234,000 per post
Lionel Messi – $2,597,000 per post
Selena Gomez – $2,558,000 per post
You may argue that those top earners are mostly famous athletes and celebrities. Yes, they are. But, it also shows that Instagram is a serious platform to make money from content.
That said, if you thought Instagram was only for making friends on social media, think again. Now, you can use the platform to grow as a professional content creator. Adding to that, some regular Instagram users who make great content can become influencers and work with brands to make money:
Khaby Lame – $352,000 per post
Charli D'Amelio – $192,000 per post
Addison Rae – $ 154,000 per post
Cameron Dallas – $108,000 per post
Zach King – $107,000 per post
So now you know that there's a chance waiting for you on Instagram. But again, how to make money on Instagram, especially if you're new to the platform?
Read More:
14 Actionable Ways to Make Money on Instagram
Here are 14 ways to make money on Instagram that still work in 2023:
1. Post Sponsored Posts
How to make money on Instagram? One way is to post sponsored posts. A sponsored post is when a brand pays you to post something on your Instagram that promotes its products or services to your audience.
Making money from Instagram this way can be easy if you have a large and engaged following. You can also choose the brands and products that fit your niche and audience. This way, you can keep your content consistent and show your personal brand.
As a content creator, the amount of money you make from sponsored posts depends on how well-known and accomplished you are. Svetlana Quindt, a cosplayer with more than 1 million followers, is a great example. She frequently posts sponsored content that is relevant to her niche
How can you make money on Instagram by posting sponsored posts?
Get more followers.
Look for brands that want to work with you.
Pitch yourself to the brands.
Negotiate on a deal.
Make great sponsored content.
2. Get Money from Live Badges
Instagram has a feature for creators to earn money called Live Badges. The feature was introduced in 2021 and can be bought during a live video to show support for you as the creator. Every purchase gives you some of the money.
How to make money on Instagram using Live Badges? When your followers buy badges, their comments will stand out. Badges can cost between $0.99 and $4.99, and each viewer can buy up to three badges for your live video. The more badges they buy, the more money you can make.
To benefit from this, work on getting more followers and keeping them interested in what you share.
Charlee Atkins is an example of a content creator who does this well. She's a fitness creator and has made extra money by giving special perks to badge holders, like early access to workouts and discounts on her merchandise.
How to make money on Instagram with Live badges?
Have a professional account with at least 10K followers.
Enable live badges and start a live video on Instagram.
Promote your live videos.
Be active and interact with your audience during your live videos.
3. Earn Money from Reels Bonuses
Can you make money on Instagram using Instagram Reels? Yes. Reels is a feature that lets you make and share short videos with music, filters, and other fun tools. Instagram sometimes gives money to creators who use this feature. That's called Reels Bonuses.
To earn money from Reels Bonuses, you need to make great Reel videos that many people watch. The more people who watch and like your Reels, the better chance you have of earning money from Instagram.
Not everyone can get Reels Bonuses, though. You have to be invited to the program. Bear in mind that you need to be in the U.S., and be at least 18 years old. You also have to activate the bonus in the app before it goes away.
How much money you get can vary based on your number of followers, how well-liked your Reel is, and how good your video is.
How to make money from Instagram from Reels Bonuses?
Make sure you are eligible and use a professional account.
Get invited by Instagram to join the program.
Post Reels.
Get money based on how many views your Reels get on Instagram or Facebook.
Take out your earnings when you reach at least $100.
4. Sell Merchandise
How to make money on Instagram besides creating content? You can sell your own merchandise, just like popular Instagram influencers like PewDiePie do. Basically, it involves creating and selling your own products, like clothes, accessories, artwork, or anything that represents your brand.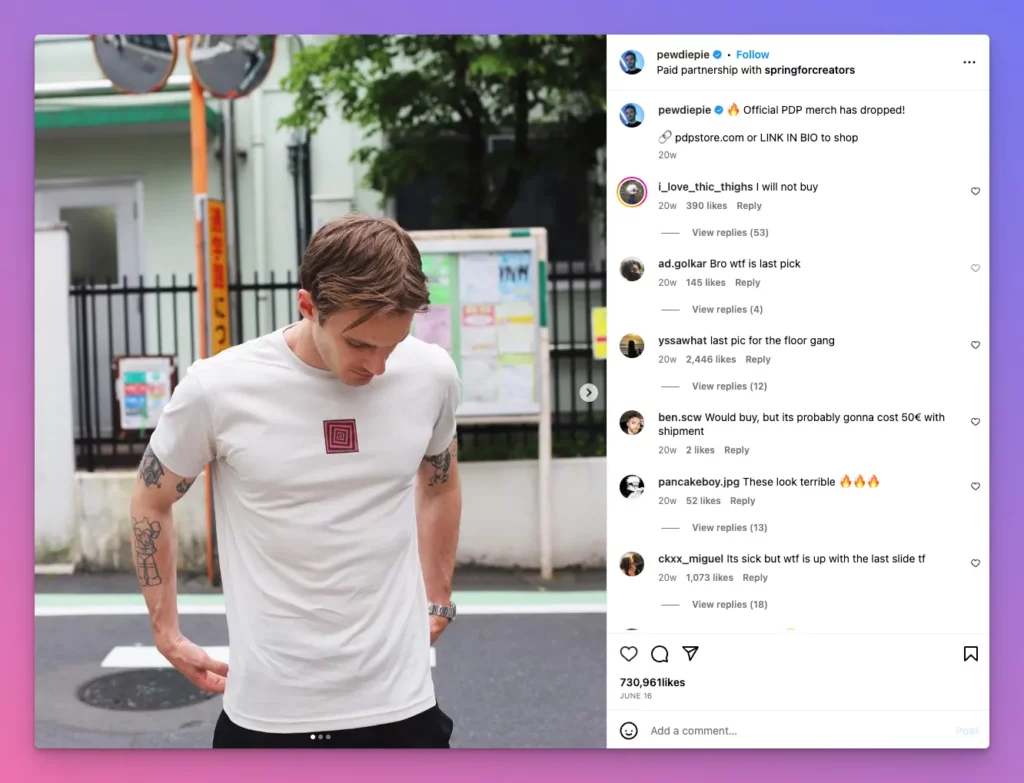 To sell your merchandise, you need to build your credibility as a content creator and produce high-quality products. Also, make sure your products fit your brand and are helpful to your followers.
Now, how to start making money on Instagram by selling your own merchandise? Create your products and set up an online store.
Or you can create an Instagram Shop and link your account to an approved online store. After setting up the shop, businesses can add products to their catalog and tag them in their posts and stories.
5. Sell Digital Products
If selling physical products is not for you, then you can sell digital products as another way to earn money on Instagram. Digital products can be anything from e-books, digital art, music, online courses, templates, and many more.
What's great about selling digital products is you only have to make them once, and resell them many times without having to spend any extra money on production costs.
But bear in mind, make sure your digital products match your brand and matter to your followers. That way, you can stay trusted as a great content creator and digital products business owner. Plus, it's even better if you're an expert in that niche.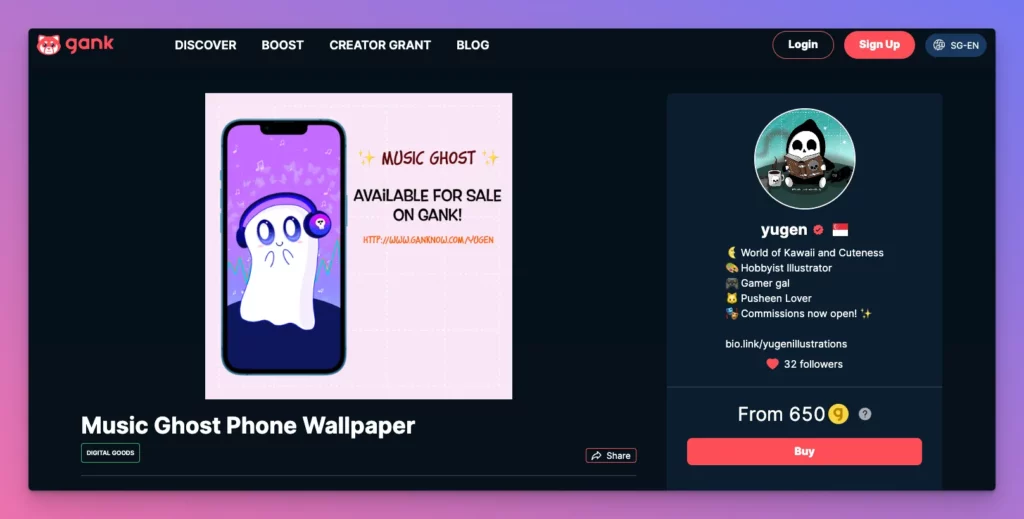 You can use Instagram as the main platform to promote and sell your products. But for the long term, having a dedicated online store for that is recommended. Not to mention if you want to make sure you can handle many buyers all at once.
How to make money on Instagram by selling digital products?
Show your expertise in your niche
Create awesome digital products for your fans
Promote your products on Instagram
Offer excellent special products once in a while
6. Offer Exclusive Content to Your Fans
Can you earn money on Instagram with your special content? Yes, if you have unique and great content, you can offer exclusive content only to your followers who pay for it.
Not sure what exclusive content to create? You can share behind-the-scenes videos, personalized shout-outs, or any other engaging content that you haven't shared anywhere else.
The key to this method is understanding what your audience wants and delivering it in a way that makes them feel special. You could offer this exclusive content through features like close friends, or through a subscription service like Substack or Medium for written content and Gank for content from Cosplayers or VTubers.
How to earn money from Instagram by offering exclusive content?
Create engaging content and make sure they are special.
Promote the exclusive content on your posts or stories.
Use Instagram subscriptions for an easy in-app subscription.
Join third-party platforms like Gank as an alternative.
7. Offer Paid Subscriptions
Did you know that you can earn money on Instagram by offering paid subscriptions?
In general, a paid subscription is a pricing model when you ask your followers to pay you every month to see special content that is not available to your regular followers. Basically, this is like giving them a special offer for a certain time, like a month or a year.
What makes it different is you can have loyal customers, regular income, and more revenue compared to selling individual digital products or exclusive content.
Can you make money on Instagram using a paid subscription feature? If you're eligible, you can do that, just make sure the feature is enabled. Your followers can then subscribe to enjoy special content like subscriber stories, subscriber reels, subscriber broadcasts, and more.
How to earn money on Instagram by offering paid subscriptions?
Enable the subscription feature on your professional account.
Set your monthly subscription price.
Promote your paid subscription to your followers.
Deliver high-quality exclusive content to your paid subscribers.
8. Become a Brand Ambassador
When you share a sponsored post for a brand, it could be only one post and that's all. But, when you become a brand ambassador, you will represent the brand and its values to your followers. You act as a promoter for the brand and this should show in your Instagram content.
Simply put, becoming a brand ambassador is how to make money on Instagram where you work with certain brands for a longer time.
Many content creators showcase products of certain brands in their posts. For example, Zach King promotes Samsung by making videos that show off their features. One of the famous gamers, Ninja, works with brands like Red Bull and Uber Eats.
How to make money on Instagram by becoming a brand ambassador?
Find a brand that aligns with your niche and values.
Reach out to the brand or wait for them to contact you.
Agree on a contract that specifies your roles and responsibilities.
Create authentic and engaging content that features the brand and its products or services.
Interact with your followers and the brand's followers.
9. Write Captions for Others
How to make money on Instagram if you're into quotes and any writing niche? Writing captions for other people can be a good way to make money on that platform. Guess what, even with many short captions ideas available, some people find it difficult to come up with good ones.
On a platform like Instagram, good captions are important for getting attention. It's not just for businesses, but even individuals need to make interesting captions to engage their followers. To do that, they should create short, interesting, and related descriptions with their photos or videos.
As a writer, your job is to create captivating captions that match your clients' goals. If you become an expert at this, you can earn up to $6,000 a day just by writing captions. You heard that right. Laura Belgray earned up to $950 an hour working with big clients like Coca-Cola and Nike.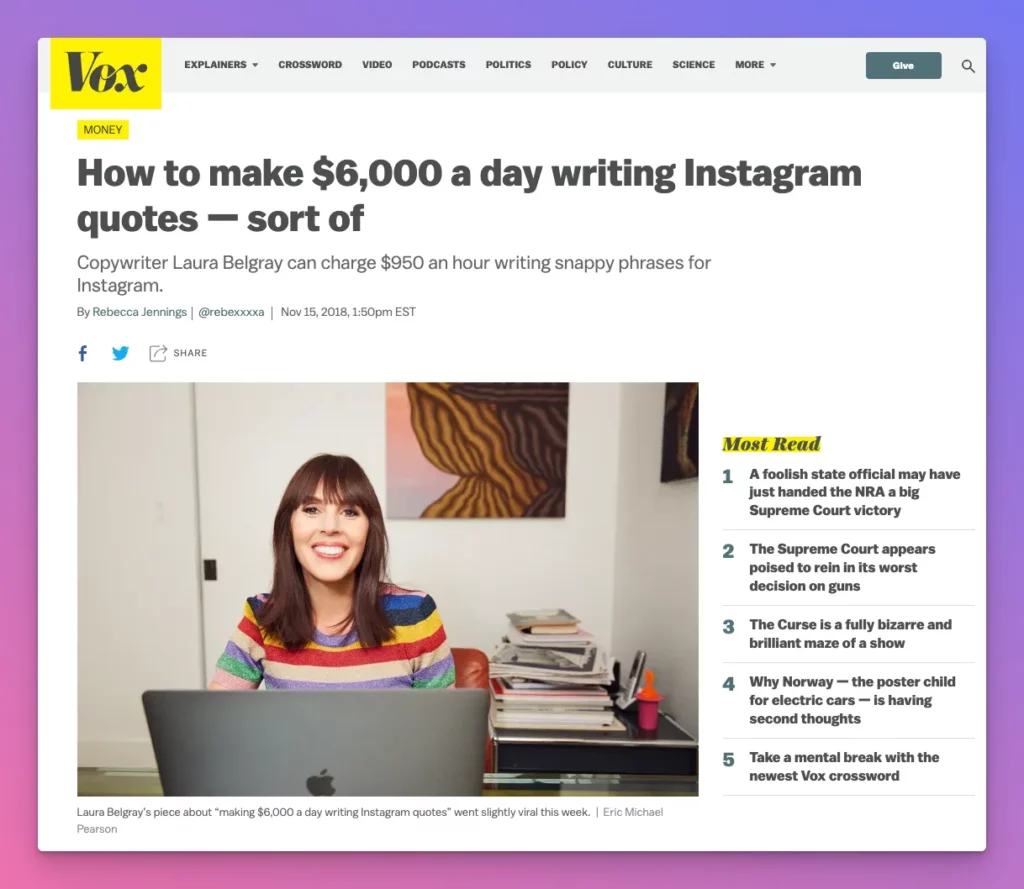 How to make money from Instagram by writing captions?
Showcase how great your writing is on Instagram
Build credibility and gain more followers on Instagram, using hashtags can be a good strategy
Pitch your writing skills to businesses and influencers
Write the captions based on the brief
10. Become Social Media Manager
If you know Instagram well, you can make money as a social media manager. This job is about helping businesses or people grow their Instagram accounts. You role is to create and post content and check what works best for the audience.
It's a good job opportunity because the need for advertising and promotions managers will increase by 10% from 2020 to 2030. This is because 87% of global businesses believe social media is important to grow their business faster.
Making money from Instagram can be challenging but rewarding. To do it well, you need social media skills and experience. But don't worry, you don't have to do everything yourself. There are tools that can help you manage your social media accounts.
To get inspired, you can visit @SocialMediaMama and see how she posts on Instagram to show her social media management skills and make money from it.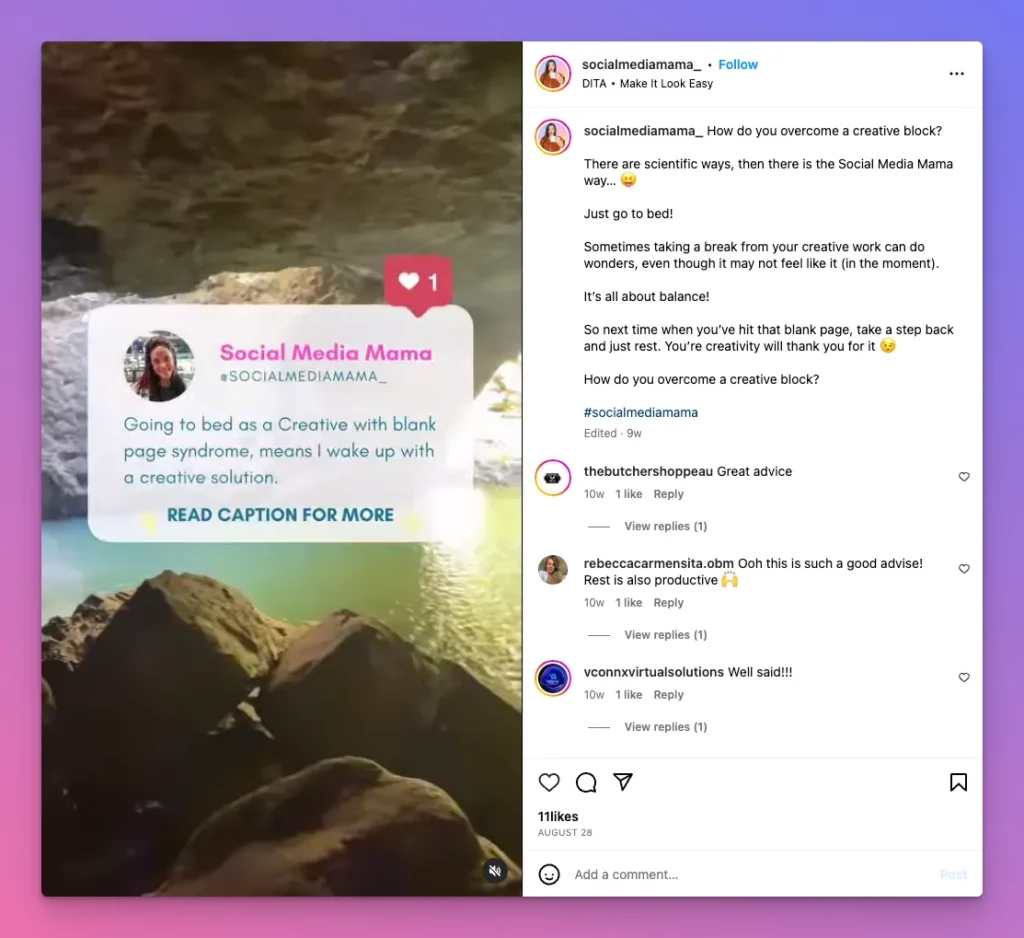 How can you make money on Instagram by becoming a social media manager?
Develop your skills and knowledge in social media marketing.
Create a professional Instagram account.
Find clients who need help with Instagram.
Send them a proposal with your rates and services.
Deliver high quality and timely work.
11. Use Instagram to Drive Traffic to Your Blogger
Besides using SEO for more visitors from Google, you can also use Instagram to bring more people to your blog or website. This is how to make money from Instagram indirectly.
As a content creator, you'll write about a specific topic on a website or blog. You can make money from ads or memberships. Not to mention that once the visitors are there, you can encourage them to buy products available on your website.
Chiara Ferragni, a famous fashion blogger and influencer, has over 24 million followers on Instagram. She began her journey with her blog, The Blonde Salad, in 2009 and is now one of the most popular influencers on the platform. This means that it is a proven strategy to make money on Instagram.
How can you make money on Instagram by becoming a blogger?
Write unique posts that catch the attention of your readers.
Use hashtags, captions, and stories to promote your blog posts.
Earn money from your blog by displaying ads, or selling your own products.
12. Host Paid Online Workshops
If you're interested in making money on Instagram through live streaming, hosting a workshop for your followers can be a great option. This is especially promising for streamers who want to monetize their expertise.
Recent changes on Instagram now allow for continuous 24-hour live-streaming sessions, which is a significant improvement from the previous one-hour limitation. This opens up new opportunities for you to make money using this method.
But it doesn't end there. You can also conduct online workshops on another platform and use Instagram to promote them. This can be a smart strategy. Or, if you find live streaming challenging, you can try the alternative of providing video-on-demand content.
A good example of this is Mark Rober, a former NASA engineer who uses Instagram to showcase his expertise in engineering.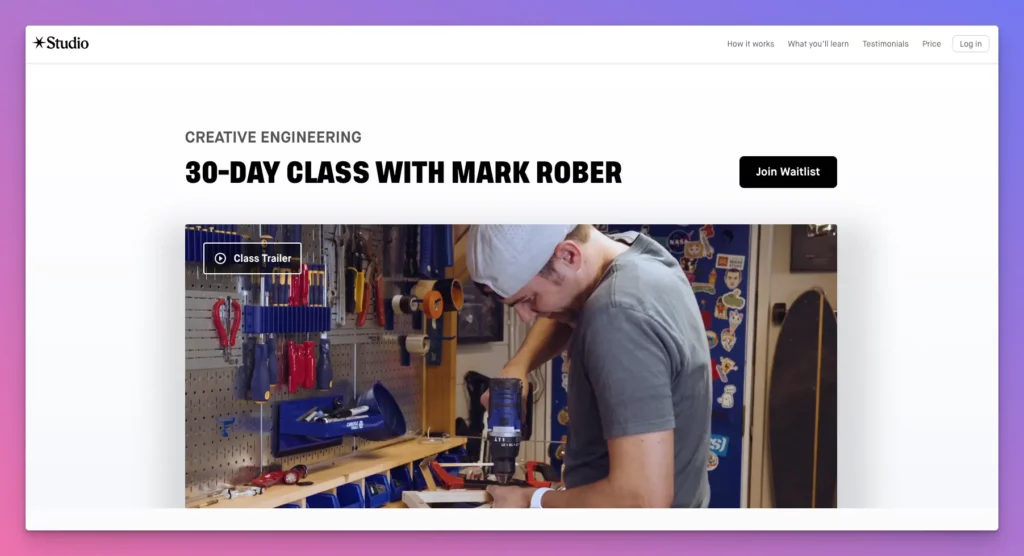 How can you make money on Instagram by hosting paid live workshops?
Focus on a niche that showcases your expertise
Plan and prepare your workshop content and materials.
Promote your workshop on your Instagram.
Host your workshop on Instagram Live.
Share short recorded live workshops to get your audience excited for your next live session.
13. Become Affiliates
If you want to learn how to make money on Instagram, it's good to begin with data. And guess what, the data shows that one of the best ways to make money on this platform is through affiliate marketing.
That's right, 81% of companies use affiliate marketing, which contributes to 16% of all online orders in the United States.
An affiliate is someone who promotes and sells products or services from other brands or companies. As an affiliate, you can earn a commission for each sale you make. This is possible because of a unique code or link that tracks if the sales were due to your recommendation.
Pat Flynn, an online entrepreneur, can be your inspiration if you want to start to become an affiliate. He knows how to earn money on Instagram by sharing his affiliate links for any online tools and courses that he uses and recommends.
How can you make money on Instagram by becoming an affiliate?
Find a brand with a program that fits your audience.
Sign up and get your unique links.
Post content with the products and your links.
14. Become a Dropshipper
Can you make money on Instagram without spending any money at first? You can. And trying out dropshipping is a great idea for beginners who want to jump into business.
Dropshipping is when you sell products online to others. So, you don't have to keep or send the items yourself. Instead, you just order them from the vendors that will then handle the shipping for you. Your job is to promote the products and make it seem like you're the real seller.
How can you make more money on Instagram using dropshipping? Sell things your followers like, and only sell high-quality products. Make engaging posts to make your audience want to buy from you. Write good captions and an effective call to action to get more people to buy from you.
How much money can you make from dropshipping? It depends on how many things you sell and how much money you make from each thing.
How can you make money on Instagram as a dropshipper?
Find a good supplier that offers dropshipping.
Make an online store to showcase the products you're selling.
Share content on Instagram that highlights the products.
Use hashtags, stories, and reels to reach more people.
How to Make Money on Instagram as a Content Creator?
Instagram is used by 2 billion people every month, which makes it the fourth most popular social media site. You can use Instagram to share things you like and even make money.
Luckily, there are many ways to make money from Instagram. In this article, we've talked about how to make money on Instagram as a content creator. You can do this by using the app or by the help of other platforms like Gank.
As a recap, these are the ways to start making money on Instagram:
post a sponsored post
get money from live badges
earn money from reels
sell merchandise
sell digital products
offer exclusive content
offer paid subscriptions
become a brand ambassador
write captions for others
become a social media manager
drive traffic to your blog
host paid online workshops
become affiliates
become dropshipper
Now that you understand how to make money from Instagram, it's time to start earning money from what you love. It doesn't matter if you have many or few followers. You just need to be creative and committed.
Choose the way that works for you and start now. Keep in mind that the more you give to your followers, the more money you can earn on Instagram. Good luck!