How to delete Instagram posts? There are two ways to delete Instagram posts. The simple one is to delete a post that you currently open by clicking the tree dots, this is the usual way that most people know. But, if you want to clean up your profile, there is a new feature called "Your Activity" that allow you to delete many or all of your post by selecting any posts you want to delete.
Without further ado, here's the way how to delete Instagram posts one by one or in bulk.
How to Delete Instagram Posts
Instagram is a popular photo and video-sharing app. You may choose to erase outdated postings to clean up your account or remove items that no longer match you. The good news is that Instagram allows you to delete posts individually or in bulk.
How to Delete Instagram Posts One by One
This method is what most people know, since this is the only way to delete the Instagram post in the past. If you only have a one or few posts that need to be deleted, this method is the most straightforward. This procedure is explained in the following steps:
Step 1: Navigate to Your Profile
Tap on your profile picture or username at the bottom right of the screen to access your profile page.
Step 2: Access Your Posts
Once on your profile page, locate and tap on the "Posts" option. This will display a grid of all your photos and videos.
Step 3: Select the Post to Delete
Browse through your posts and tap on the specific post you want to delete. This action will open the post in full view.
Step 4: Confirm the Deletion
While viewing the post, look for the three dots (more options) located usually at the top-right corner.
Tap on these dots, and a menu will appear.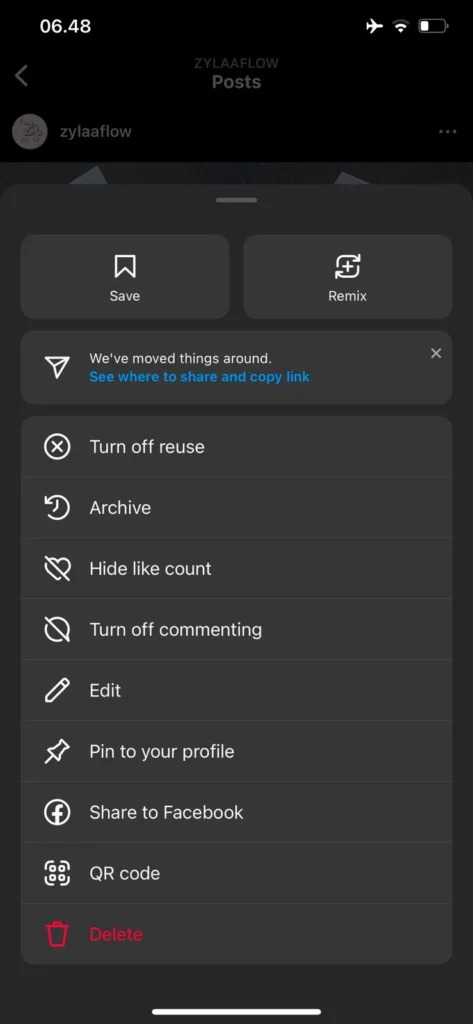 From the menu, select "Delete."
A confirmation prompt will appear; tap "Delete" once again to confirm your decision.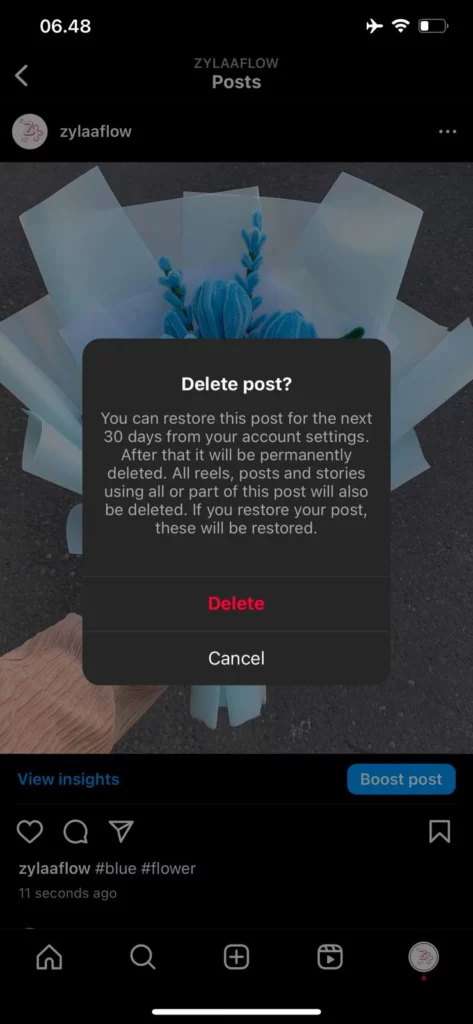 The post will be permanently removed from your profile.
Advantages:
Precision and Control: Deleting posts individually allows you to carefully curate your Instagram profile. You can decide which posts are no longer relevant and need to be removed, ensuring that your profile reflects your current interests and identity.
Thoughtful Decision-Making: This method allows you to make well-thought-out decisions for each post, which can be particularly important when dealing with sentimental or meaningful content.
Disadvantages:
Time-Consuming: Deleting posts one by one can be a time-consuming process, especially if you have a large number of posts to manage. It's not the most efficient method if you're looking to clean up your profile quickly.
Advice!
Plan Ahead: Before you start deleting, have a clear plan in mind about which posts you want to remove. This will help you avoid impulsive decisions.
Consider Archiving: If you're not entirely sure about deleting a post, consider using Instagram's archive feature. Archiving allows you to hide the post from your profile, and you can always restore it later if you change your mind.
Take Breaks: If you have many posts to go through, take breaks to avoid decision fatigue. Deleting posts can be emotionally taxing, especially if you have sentimental content to remove.
Double-Check: Before confirming the deletion, double-check to ensure you're removing the correct post. Once a post is deleted, it cannot be recovered.
Maintain a Backup: Consider creating a backup of your posts before you start deleting. This way, you'll have a copy of your content if you ever want to revisit it in the future.
How to Delete Instagram Posts in Bulk
If you have a large number of posts to delete, deleting them one by one can be time consuming. Fortunately, Instagram have a new feature called "Your Activity," which allows users to remove posts, comments, and other platform activity in bulk. Here are the actions to take:
Go to your Instagram profile.
Tap the menu button in the top right corner.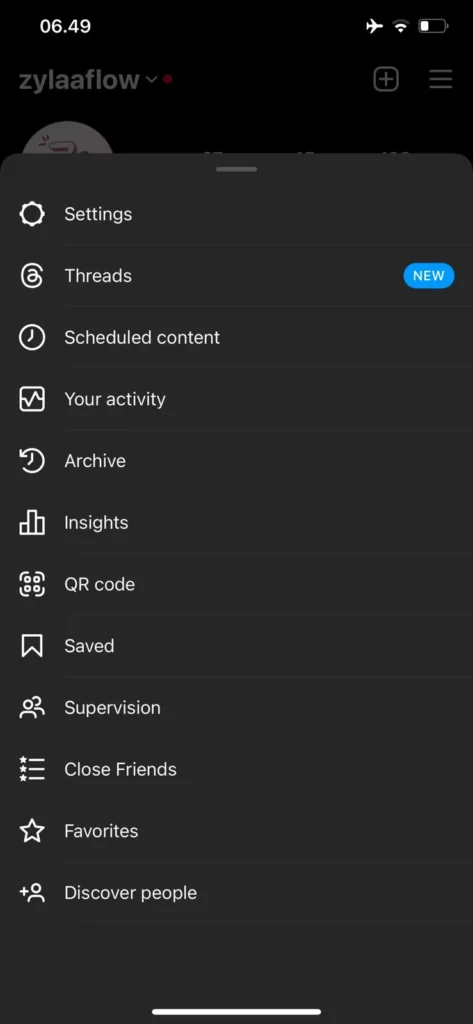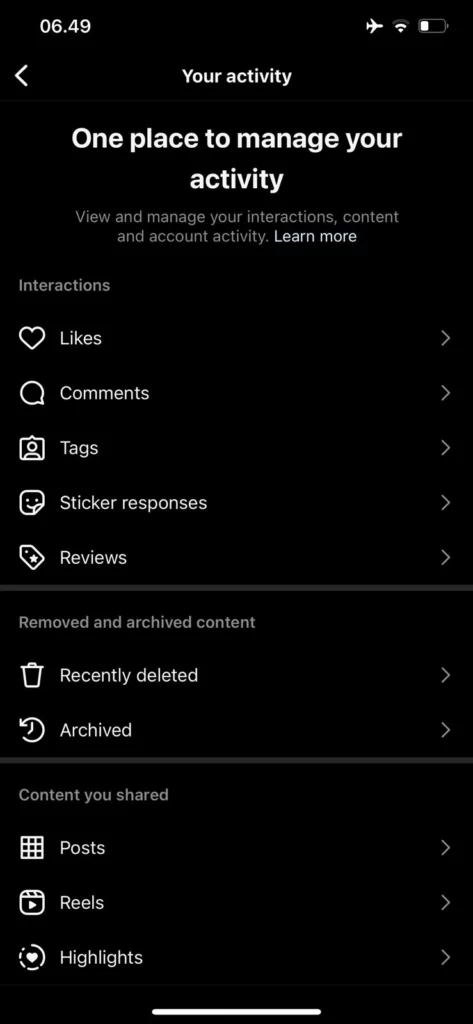 Tap "Photos and videos."
Tap "Posts."
Select all the posts you want to delete.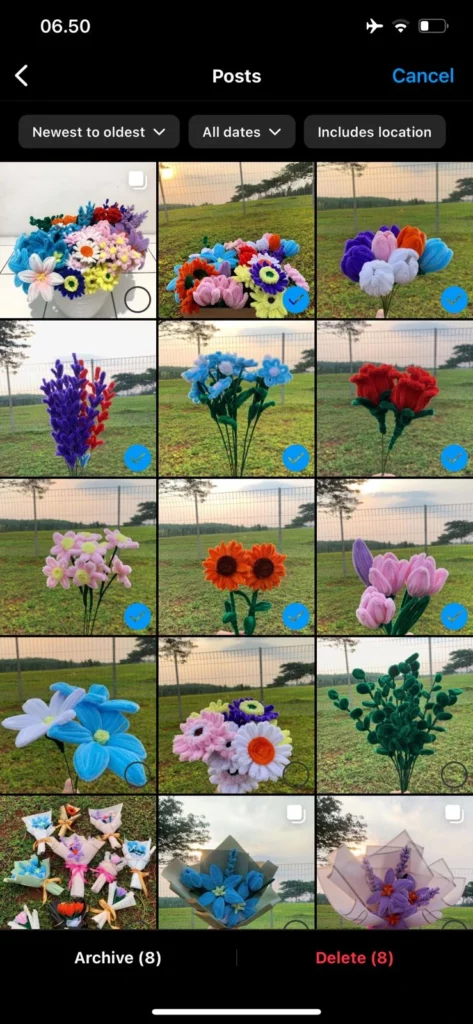 When you're done, just tap "Delete."
When you see the "Delete Posts?" popup, tap "Delete."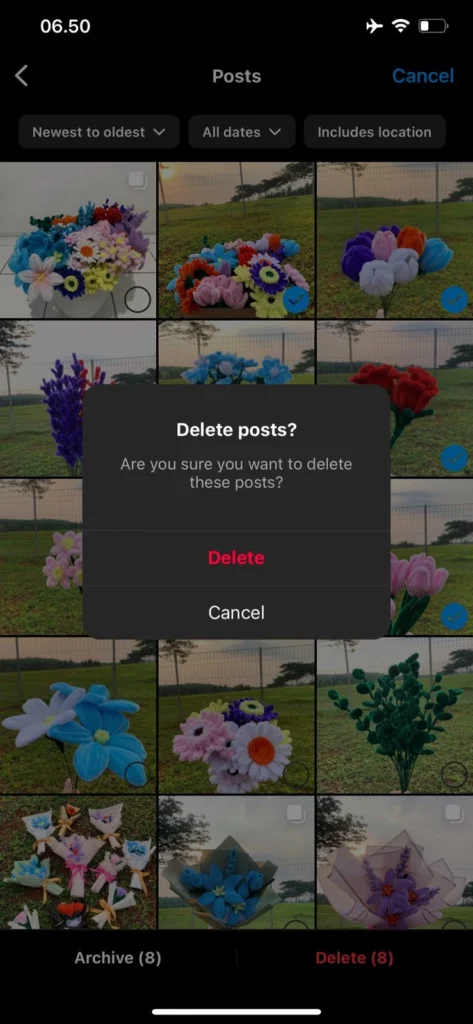 Advantages:
Time-Saving: Deleting posts in bulk is a much more time-efficient method, especially if you have numerous posts to manage. It allows you to clean up your profile quickly.
Streamlined Process: This method simplifies the deletion process, reducing the number of steps required compared to deleting posts one by one.
Additional Features: Aside from post deletion, the "Your Activity" tool has further features. Users can arrange their content and interactions by date, allowing them to look back at previous post, reels, comments, likes, and narrative responses. This tab also serves as a doorway for locating recently archived or deleted information, revealing your search history, scrutinizing visited links, and revealing your platform time spent. Furthermore, you can download your personal data, ushering in a more thorough and upgraded Instagram user experience.
Disadvantages:
Deleting Instagram posts in bulk can be a helpful feature for cleaning up your profile, but it also comes with some risks. Before removing Instagram posts in bulk, consider the following risks:
Accidentally Losing Important Posts: When you delete a bunch of posts together, you might end up accidentally picking the ones you didn't mean to remove. This can lead to losing important content that you can't get back.
Drop in Engagement: Deleting a bunch of posts in one go can also lead to a drop in your engagement. Your followers might notice and wonder why you're getting rid of so much stuff. This could make them engage with your content less and might even lead to some people unfollowing you.
Flagging Your Account: Deleting lots of old posts, especially ones with hashtags, can look like suspicious activity to Instagram. They might temporarily ban your account, which can affect how many people see your new content and make it harder for new followers to find you.
Changing Your Brand Image: If you're a business or influencer, removing old posts can change how people see your brand. It can make it confusing for others to understand what your brand is all about and what you stand for.
Limited Options for Mass Deletion: Instagram doesn't have a built-in tool to delete lots of posts all at once. So, you'll need to rely on third-party apps or scripts, which might not be safe or reliable.
Advice!
Back Up Your Content: Before you start deleting posts in bulk, consider creating a backup of your Instagram content. This is essential in case you change your mind or want to access deleted posts later.
Double-Check Selection: Carefully review the posts you've selected for deletion. Once you confirm, they will be permanently removed.
Use Bulk Deletion Sparingly: While bulk deletion is efficient, use it judiciously to avoid unintentional loss of valuable content.
Plan Ahead: Determine in advance which posts you want to delete to make the process smoother and less time-consuming.
Take Breaks: If you have a substantial number of posts to delete, consider taking short breaks to maintain your focus and decision-making clarity.
How to Recover Deleted Instagram Posts
"What if I accidentally delete my precious post?" Don't worry! Instagram keeps deleted content in the Recently Deleted folder for 30 days. However, after that period, it will be permanently removed. To get back deleted Instagram posts, you can try the following methods:
Open the Instagram app on your device and log in.
Tap the three horizontal lines in the top right corner to open the menu.
Select "Your Activity" and then go to "Recently Deleted" to find your deleted posts.
Lastly, you need to confirm to restore your post by sending security code to your phone number.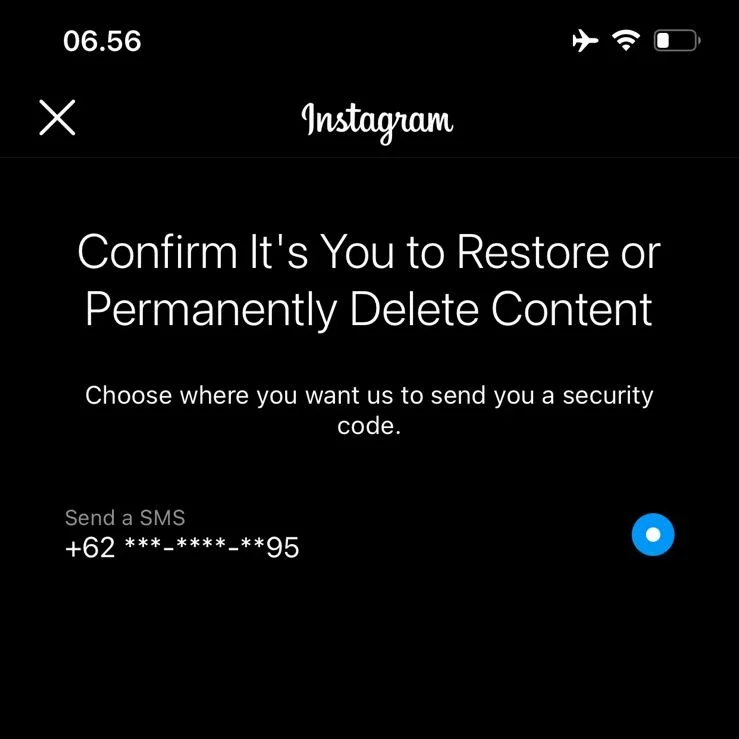 Contact Instagram Support:
If the above methods don't work, reach out to Instagram's official support through the app or their website. Explain your situation and the need to recover deleted posts, providing as much detail as possible.
Check Deleted File:
Alternatively, you can check the deleted file on your phone's gallery. Open the "My Files" (for Android device) or "Gallery" (for iPhone). Look for an Instagram album in your files, but it will only be there if you've enabled the option to save posts to your device.
If you can't find the content you want to restore in the Recently Deleted folder, it might be older than 30 days, which can make recovery more challenging.
Last Words
So, these are the simple two methods to delete Instagram posts. If you want to permanently delete the post, just follow the methods above then after 30 days, it will permanently deleted. Above all, back up your treasured memories before deleting them, since once they're gone, they're gone forever. Make every stroke on your Instagram trip count.
Is there a limit to the number of posts I can delete at once?
Instagram doesn't have a set limit, but be cautious when deleting a large number of posts to avoid accidental deletions.
What's the difference between archiving and deleting a post on Instagram?
Archiving hides a post from your profile, while deleting removes it permanently.
Is there a way to schedule the deletion of Instagram posts in advance?
Unfortunately, Instagram doesn't provide a feature for scheduling post deletions. You'll need to do it manually.
Can I delete someone else's posts on my profile?
No, you can only delete your own posts on Instagram.