VTuber streaming has turned into a promising career in recent years, with top VTubers earning up to millions of Dollars per month, according to Playboard statistics. Because of that, many have asked how to become a VTuber.
If that sounds like you, then you have come to the right place. In this article, you will learn how to start VTubing through a few easy steps. These steps include choosing the right VTuber streaming setup, creating an avatar, and how to stream as a VTuber.
Without further ado, let's start!
How to Become a VTuber
VTuber streaming is easier than you think. Here are five steps on how to start VTubing:
Set up your studio equipment
Create a VTuber persona
Design your avatar
Choose a motion-tracking software
Decide your streaming software
Let's learn more about each step down below!
1. Set Up Your Studio Equipment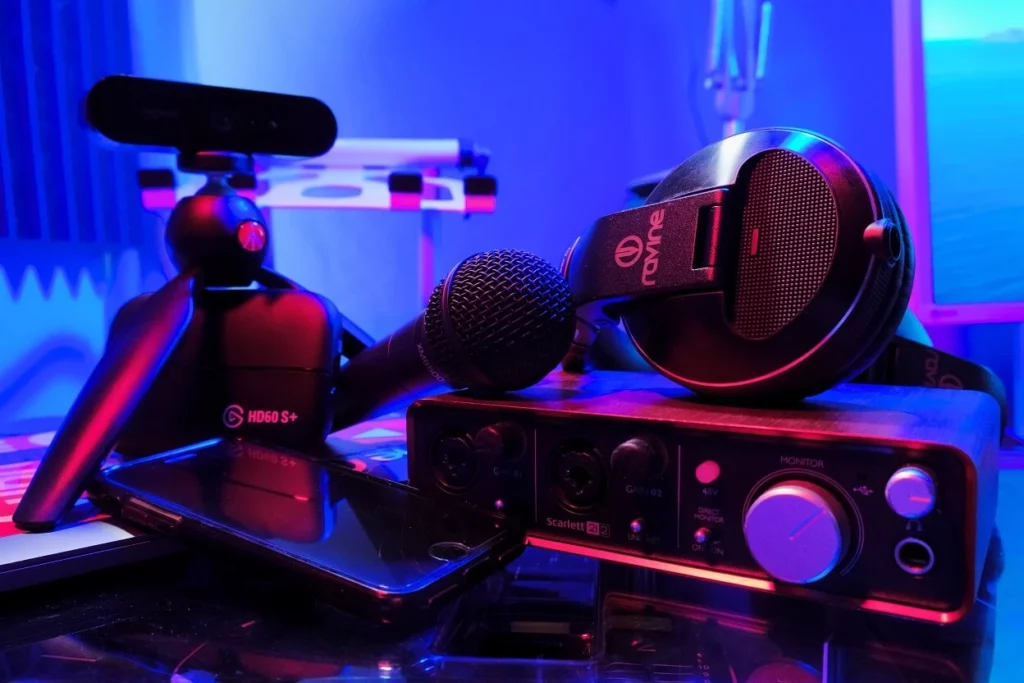 The first step in how to become a VTuber is getting the right equipment for your studio. A VTuber stream setup should include the following:
A Computer
A Motion Tracking Camera
A Microphone
A Lighting Setup
Now that you know the necessary tools, let's understand what you must look for when preparing your VTuber streaming setup.
A VTubing computer needs the capability to handle recording, avatar (your virtual character) rendering, and broadcasting. If not, you will run into technical problems during live sessions.
To avoid such issues, you need a PC or laptop that has these minimum requirements:
Intel or AMD processor running at 2.5 GHz
Nvidia or AMD graphics card with at least 4GB of dedicated VRAM and with at least DirectX 11
8GB RAM
Windows 7 64-bit operating system
When it comes to VTubing cameras, any webcam that supports motion tracking is enough to do the job. As your streaming revenue increases, you can upgrade to high-quality motion tracking cameras, such as Logitech Brio 4K and NexiGo N60.
Next, you need an external microphone that comes with a pop filter. This filter ensures that your voice is clear at all times, which is an important quality of a VTuber. (Read : Best Microphone for Streaming)
As there are many affordable microphones with a pop filter, you can start without spending a lot. Later on, you can always upgrade to better options, such as Blue Yeti, which is popular among live streamers.
Last but not least, the VTuber streaming setup also includes lighting equipment. A decent light source is important since it helps your motion-tracking camera to capture your facial and body expressions perfectly.
Many VTubers use LED panels for their lighting, but you can start with more affordable options. For example, desk lamps provide enough brightness for your camera to work well.
Read : Streaming Setup Recommendations
2. Create a VTuber Persona
After getting a VTuber stream setup, the next step in how to become a VTuber is creating an online persona. This persona affects your image in the VTubing community, so you must make it unique to stand out from other streamers.
You can start creating a VTuber persona by figuring out your strengths. It can be your traits or the activities you are good at, which can also help you to think of VTuber content ideas.
For example, if you are someone with a good sense of humor and play Roleplaying Games well, you can be a VTuber that focuses on streaming RPG Let's Plays and provides color commentary through their jokes.
After listing down strengths, you must create interesting lore for your persona. Doing so will not only improve your persona but also help in designing your avatar, which is the next step in how to become a VTuber.
You can create a VTuber persona lore by describing some aspects, including:
Feel free when specifying those aspects. As an example, you may choose to be a young adult elf who does blacksmithing for a living.
With that description, you can elaborate on your persona. Doing so will also help you to design your avatar's appearance and props later on.
Read : Smart Tips to Generate Content Creation Ideas
3. Design Your Avatar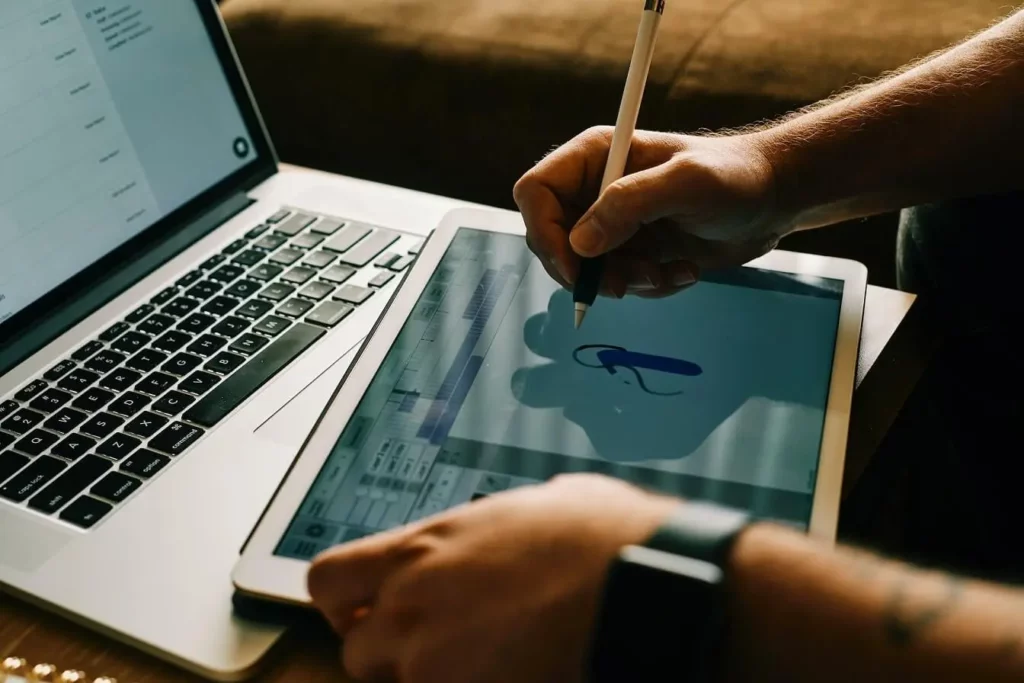 What differentiates VTubers from other kinds of live streamers (read : what do streamers do) is the use of virtual characters or avatars. Because of that, the third step in how to become a VTuber is to have your own avatar.
To get an avatar, you can either:
Buy a premade avatar;
Hire an illustrator to create your avatar;
Or design the avatar yourself.
Purchasing a premade avatar is the easiest way to start VTubing. You only need to choose a character from 3D design marketplaces, such as Sketchfab.
However, it may take time to find an avatar design that suits your VTuber persona. Apart from that, premade avatar prices can go up to hundreds of Dollars.
You can hire a 3D model designer from job listings like Fiverr for the same amount of cash. By doing so, you will get a custom-made avatar that stands out.
Alternatively, you can design an avatar by yourself. This is a good option if you don't have sufficient budget for a commissioned avatar but want a unique one.
So, how to make a VTuber avatar? To begin, you need to install a 3D model design software like MMD and VTuber Maker (which are free) and learn to use them.
Although creating a VTuber avatar from scratch may be overwhelming, the result will most likely be up to your expectations. Besides, all it costs is time and dedication.
Read also :
4. Choose a Motion Tracking Software
Your avatar will not come to life without being rigged. You must track your facial expression and body movement in order to animate the avatar.
Actors wear special suits with tracking points in animated movie productions to record their movements. Animators then assign the movement to 3D character models used in the movie.
However, you do not need to be that sophisticated when starting as a VTuber. With the help of motion-tracking software, you can set tracking points digitally to rig your avatar easily.
You can choose from some popular motion tracking software, including free ones like Wakaru. They are an excellent choice if you want to begin VTuber streaming.
As your streaming career grows, you can upgrade to paid motion-tracking software like Animaze. It has more features to advance your streaming experience, such as multiple avatars, props, and background import.
Read : 9 Best VTuber Software in 2023
5. Decide Your Streaming Software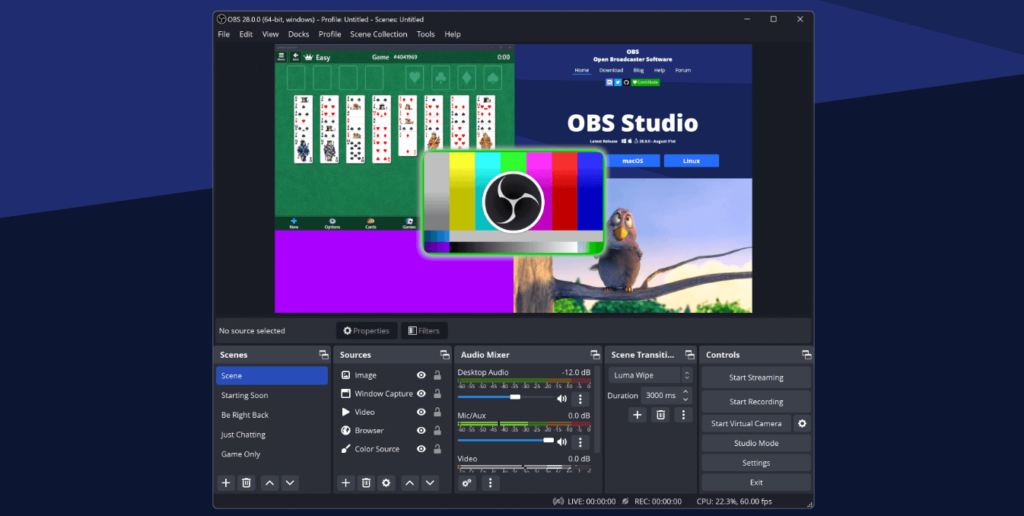 If you have followed the previous steps on how to become a VTuber, then you are all set. Now you need to choose software to start VTuber streaming.
You must decide whether to use a camera or import your avatar to choose the correct software.
OBS Studio is a program worth trying if you want to stream using your motion-tracking camera. It is completely free to use yet provides all the necessary features for VTuber streaming. (Read : Streamlab vs OBS Studio)
If you want to stream by importing your avatar, LiveCaster and Animaze can be good choices. The latter is beneficial if you have already used it to design your avatar.
Read : 16 Live Streaming Software for Broadcasting
Final Thoughts on How to Become a Vtuber
Starting as a VTuber may sound overwhelming, but it can be simplified by following the steps you learned in this article.
First, you must get the necessary gear for your VTuber stream setup. Ideally, it includes a computer, lighting, microphone, and motion-tracking camera.
Secondly, you should figure out a VTuber persona. Doing so will make it easier for you to design an avatar, whether you do it yourself or with the help of an artist.
Thirdly, you rig the avatar with motion tracking software and are ready to start streaming with broadcasting software.
Since you already know how to become a VTuber, let's begin your VTubing journey and start earning as a VTuber!