There is some ambiguity regarding the maximum duration of Instagram Reels, some sources say they're capped at 60 seconds, while others say you can go as short as 15 seconds or a bit longer at 30 seconds. So, you might be wondering, how long can Instagram Reels be in 2023? Here is the complete explanation.
How Long Can Instagram Reels Be?
In 2023, Instagram Reels support durations of up to 90 seconds. The ambiguity regarding the maximum duration of Instagram Reels mentioned above is because Instagram has made several changes over time. Here's a timeline of the changing lengths of Instagram Reels:
In August 2020, Instagram introduced Reels with a maximum length of 15 seconds.
By September 2020, Instagram doubled the length of Reels to 30 seconds.
In April 2022, Instagram extended the length of Reels to 60 seconds.
In June 2022, Instagram pushed the limits even further, allowing Reels to be as long as 90 seconds.
These updates have granted users the ability to create longer and more engaging content on the platform. As of 2023, Instagram Reels maximum length has remained at 90 seconds, offering a wider canvas for creative expression and storytelling.
Latest Instagram Reels Update
As mentioned above, there is an Instagram Reels update at June 2nd, 2022. Here are the three point mentioned by Instagram:
Instagram's latest update introduces interactive stickers, such as polls, quizzes, and emoji sliders, to Reels. These stickers offer users enhanced opportunities for engagement with their community.
1. Interactive Stickers (Polls, Quizzes, Emoji Sliders)
Instagram has brought the beloved interactive stickers from Stories to Reels. Now, users can add polls, quizzes, and emoji sliders to their Reels, making their content more engaging and interactive.
Users can gather valuable feedback and insights from their audience by using these stickers. Polls and quizzes allow them to ask questions or conduct surveys, while emoji sliders gauge sentiment.
This feature opens up exciting possibilities for engagement, as users can understand their audience's preferences and tailor their content accordingly. It also fosters a sense of community and connection between creators and their followers.
What can you do?
Ordinary Users: Ordinary users can use these interactive stickers to add fun elements to their Reels. They can ask questions about daily life, seek opinions on food choices, or create entertaining quizzes. This can turn everyday moments into engaging content, fostering connections with mutual friends and followers.
Marketers: Marketers can leverage these stickers for market research. Running polls or quizzes related to their products or services can help gauge customer preferences and gather valuable insights for product development or marketing strategies.
Public Figures/Influencers: Public figures and influencers can use these interactive stickers to boost audience engagement. They can ask their followers for input on content choices, gather feedback on their work, and create a sense of collaboration and interaction with their fan base.
2. Reels Templates with Customization
Instagram has upgraded its Reels templates, enabling users to create Reels by reusing elements from other Reels they admire. Users can insert their videos and photos into these templates, saving time and giving them a head start in content creation.
These templates are fully customizable, allowing users to adjust the timing, add or remove clips, and edit preloaded elements. This flexibility ensures that the content remains unique and in line with their creative vision.
For users, this feature simplifies the content creation process, making it easier to get started and maintain consistency in their content while adding their own personal touch.
What can you do?
Ordinary Users: Everyday users can take advantage of templates to enhance their storytelling. Whether it's sharing a travel vlog or a cooking tutorial, they can customize pre-existing templates to make their content stand out without needing advanced editing skills.
Marketers: Marketers can use templates to maintain brand consistency. By using consistent visual elements, they can reinforce their brand identity and make their content instantly recognizable to their audience.
Public Figures/Influencers: Public figures and influencers can quickly produce content while ensuring a consistent style. This is particularly useful when creating series, challenges, or tutorials that maintain a uniform look and feel.
3. Extended Reels Duration to 90 Seconds
Instagram has increased the maximum length of Reels to 90 seconds, providing users with more time to express themselves and share their stories. This update enables users to go beyond the quick, snappy format and dive into more in-depth content.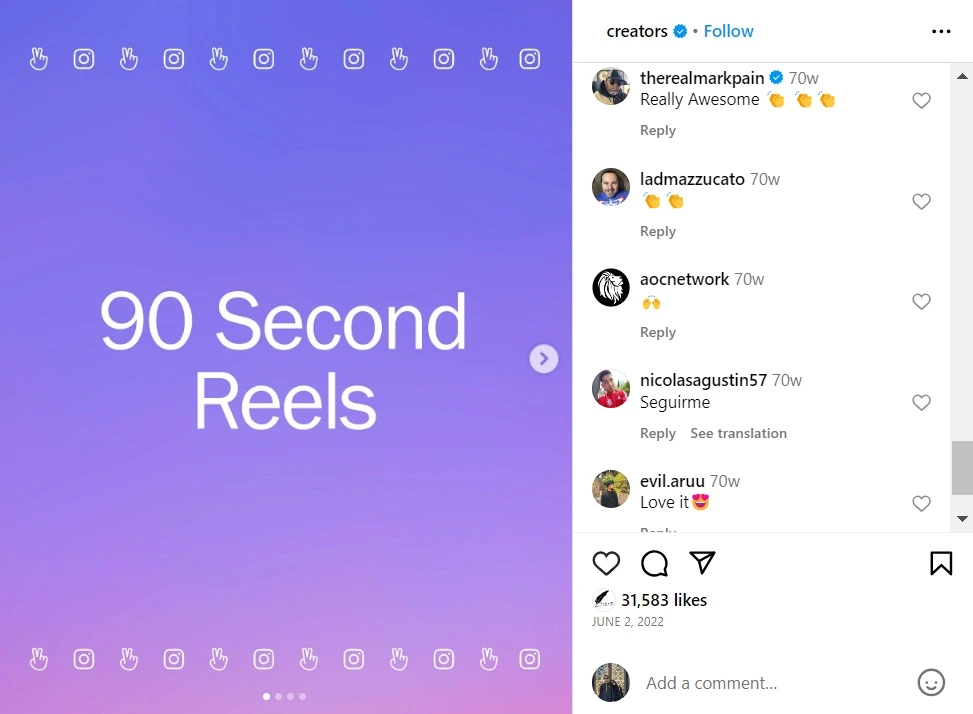 For brands and businesses, the extended duration allows them to explain their history, showcase products, or provide behind-the-scenes insights. It's an opportunity to convey more information and connect with the audience on a deeper level.
This feature grants users the ability to create richer, more comprehensive Reels that engage viewers for a longer period and convey a more detailed message.
What can you do?
Ordinary Users: Ordinary users can take advantage of the extended duration to share longer stories, travel experiences, or in-depth tutorials. This feature allows them to express themselves more comprehensively, making their content more relatable and personal.
Marketers: Marketers can now provide detailed product demonstrations, share customer testimonials, or tell brand stories in greater depth. This opens up more possibilities for storytelling and building brand loyalty.
Public Figures/Influencers: Public figures and influencers can create content that dives deeper into their niche. They can share extended insights, conduct interviews, or provide more in-depth guidance to their followers. This is especially beneficial for sharing expertise and building authority in their respective fields.
Ideas for 90 Second Instagram Reels
With the extended duration to 90 second, you can do a lot more creative content. Here are some brilliant ideas for 90 second Instagram Reels:
Educational Content: Share interesting facts, tips, or educational content related to your niche. This could include quick history lessons, science explanations, or industry insights.
Music and Dance Performances: If you're a musician or dancer, take advantage of the extended time limit to showcase your talent. You can perform a full song or a choreographed routine.
Q&A Sessions: Engage with your audience by answering their questions in a 90-second Q&A format. This can be a fun and interactive way to connect with your followers and provide valuable information.
Before and After Transformations: Show the transformation process, whether it's a home renovation, a fitness journey, or a makeover. This type of content is engaging and inspiring for viewers.
Collaborations: Partner with other creators or businesses to create joint 90-second Reels. This can help you reach new audiences and provide fresh and exciting content for your followers.
Tutorials and How-To's: With the extended time limit, you can create more in-depth tutorials and step-by-step guides for various topics, such as cooking, makeup, or DIY projects.
Storytelling: Tell a compelling story in 90 seconds, whether it's a personal anecdote, a fictional narrative, or a mini-documentary. Use visuals, captions, and audio to captivate your audience.
Behind-the-Scenes: Take your audience behind the scenes of your work or daily life. This could include showing your creative process, a day in the life of your business, or a behind-the-scenes look at an event or photoshoot.
Product Demos and Reviews: Use the extra time to showcase a product in detail, demonstrating its features and benefits. You can also provide honest reviews and recommendations for products or services.
Travel Guides: Create short travel guides for different destinations, highlighting the must-see attractions, local cuisine, and unique experiences. Use captions and audio to provide helpful information.
Funny and Entertaining Content: Create short skits, comedy sketches, or funny videos to entertain your audience. This type of content is highly shareable and can help you reach new followers.
To get more impression and reach, you can use Instagram reels hashtag and edit the video to look like a Pro as explained by Primal Video:
Conclusion
The expanded length in Instagram Reels offers creators a dynamic platform for content innovation. With a 90-second maximum duration, there's ample room for engaging storytelling, informative tutorials, and captivating performances.
Whether you're sharing your passion, showcasing your talents, or connecting with your audience, these extended Reels empower you to make a lasting impact in just a minute and a half. So, seize the opportunity, get creative, and keep your followers coming back for more with Instagram Reels enhanced time frame.