In the ever-evolving digital landscape, content creation stands out as a powerful medium for self-expression, community building, and even financial success. Gank provides unique opportunities for creators across various genres, offering a platform to showcase their talents and put themselves out there.
Beyond a mere overview, our webinars provide a rich and comprehensive experience for participants. Creators can navigate through the intricate features of Gank's dynamic platform, helping them stand out in the competitive digital space.
Gank's appeal lies in its inclusivity, welcoming both newcomers and seasoned creators. Whether you're a beginner eager to embark on your creative journey or a seasoned user seeking fresh perspectives, our webinars are crafted to cater to your familiarity with the platform. Beginners find a supportive environment to kickstart their creative endeavours, while advanced users discover strategies to elevate their content and engagement using our monetization features.
Success on Gank transcends mere content creation; it's about mastering the platform's intricacies and acquiring essential skills. From effective content planning to community engagement strategies, this webinar covers a spectrum of topics crucial for standing out in the ever-evolving digital landscape.
It's a chance to equip yourself with the knowledge and skills necessary to not only navigate but thrive on our platform. Don't miss out on the opportunity to unleash your creativity, build a vibrant community, and turn your passion into a rewarding experience on Gank. Secure your spot today and embark on a transformative journey towards content creation excellence!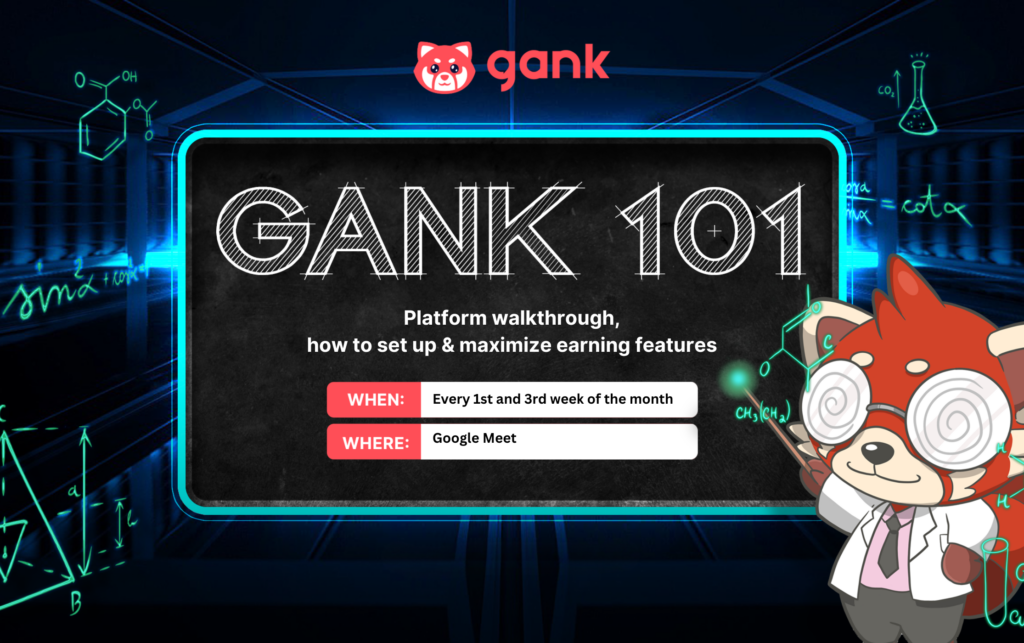 Our Gank 101 Webinar will be held twice monthly, during the 1st and 3rd weeks of the month. The schedule announcement will be posted on Gank's social media pages. If you're interested in this webinar, kindly click here to sign up. The Google Meet link will be sent via email to those who sign up on the day of the webinar.