Picking the right social media platform can make all the difference. If you choose the wrong one, it can be hard to get noticed and attract followers, let alone earning money from it. So, when it comes to TikTok vs Instagram, which one should you go for?
Both platforms are popular and powerful. They share similar features but they are different in many ways. These differences change how you make and share content, and how well you do.
So, before you start using TikTok or Instagram, you should learn the ins and outs about them, right?
That's what this article tries to help. We'll cover everything from their content formats and algorithms to monetization opportunities and more. So, let's get started!
Instagram and TikTok: An Overview
Instagram needs no introduction. It is a photo and video sharing application owned by Meta, previously Facebook.
This social media platform used to be all about awesome pictures. But now, it also has features for short-form videos called Reels. And you can even livestream in front of your audience.
Instagram has over 1.628 billion active users, making it one of the fourth largest social media platforms worldwide by 2023.
It stands out because it's the place where content creators showcase their creativity and lifestyle. It also has a strong influence on culture, fashion, and trends.
It's no surprise that lots of social media influencers have Instagram accounts. Brands and businesses also use it to boost their online presence.
TikTok is a short-video application owned by ByteDance. It lets users create and share videos ranging from 15 seconds to 3 minutes long.
People really like TikTok because it helps them show how creative they are, connect with others, and find new trends easily. That's why it has over 1.092 billion users around the world right now.
TikTok stands out with its unique algorithm. It suggests videos that match what each person likes and interacts with. And those videos will show up on the main feed called the "For You Page."
Also, TikTok is considered great for new creators because many of them become successful on this app quicker than on other apps. But is it?
TikTok vs Instagram: What are the Differences?
Here are the 12 differences of TikTok vs Instagram that content creators should know:
1. Demographics and User Metrics
If we compare TikTok vs. Instagram without talking about who uses them, we're missing an important difference between the two platforms.
In fact, both Instagram and TikTok have something in common. They are both popular among younger people who are under 35 years old. So, if you want to reach that age group with your content, it doesn't matter whether you choose TikTok or Instagram.
But, let's jump into the differences between TikTok and Instagram now. More than 41.3% of people aged 16 to 24 use TikTok, while only 30.8% use Instagram. That's a big difference when you look at all the users in the world.
What's more, TikTok has more female users with 63%, while Instagram users has an even number of male and female users: 51.8% male and 48.2% female.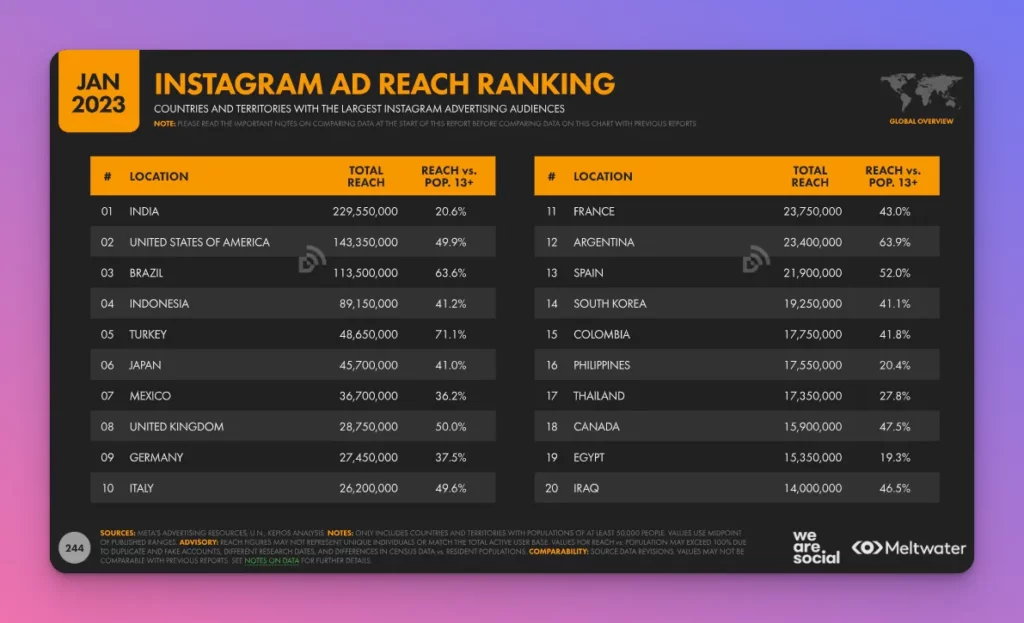 Let's move on to the total number of users on each platform. Instagram boasts over 1 billion monthly active users, with the largest user bases in countries like:
India — 229.55 million
The US — 143.35 million
Brazil — 113.5 million
On the other hand, TikTok with 1.092 billion users, has major user bases in:
The US — 122 million
Indonesia — 99.8 million
India — 88.6 million
TikTok vs Instagram: Users
Instagram is a good platform if you want to reach both Millennials and Gen Z, both male and female. While TikTok is the favorite social media platform for Gen Z, mostly female.
2. Content Format
Content format is the type of content you upload and share with your audiences. The content format can affect how your audience interacts with your content.
As you might guess, different platforms will have different content formats that align with their visions and missions, and users' preferences and behaviors. Now, what makes TikTok vs Instagram different?
TikTok is mainly for short videos, but Instagram has more choices like pictures, slideshows, and videos. On Instagram, you can create content using features like Reels, Carousel, IGTV, Stories, and Live.
Reels are similar to TikTok videos while IGTV allows for long-form videos up to 60 minutes. Stories are videos that disappear after 24 hours and Live lets you stream videos with other people in real-time.
On the other hand, TikTok focuses on short videos but also offers features like Duet, Live, and Stitch.
With Duet, you can make a split-screen video with another user's video. With Stitch, you can clip and combine scenes from another user's video into your own. Use Live to livestream to your followers.
TikTok vs Instagram: Content Format
TikTok is great for short video content with a target audience of younger people. Instagram is better for well-presented content that highlights a personal or business brand and more options.
3. Content Presentation
Content presentation is how the platforms display and arrange content for your audience. It builds the overall design and style of your content. So, how does TikTok's content presentation compare to Instagram's?
TikTok uses a vertical and full-screen approach. Whenever you open the app, you'll see videos in the FYP. Yes, this approach works well for any short videos.
On the flip side, Instagram is more all-rounders. It offers horizontal, vertical, or square layouts depending on your content and the features you use.
TikTok prefers a vertical approach interface because they're more engaging to present content on mobile devices. Meanwhile, Instagram is great for targeting desktop and mobile users at once.
What's more, content presentation determines how users interact with the content. TikTok uses a swipe to move from one piece of content to another, while on Instagram, you scroll through posts.
TikTok vs Instagram: Content Presentation
If you want to make short videos for mobile users, TikTok is your choice. Instagram is a versatile platform for different types of content, on both mobile and desktop.
4. Content Discovery
The last thing you want is you have great content on social media but no one can find it.
TikTok vs Instagram have different ways of helping users find content. The algorithms determine what content will be shown. And as a content creator, you need to learn at least the basics of these algorithms.
TikTok's algorithm shows users content they're likely to be interested in, even if they don't follow the creators. It's based on personalized preferences, keeping users engaged.
On the other hand, Instagram's algorithm focuses on showing you content from the people you follow. It wants to help you stay connected with your friends and find content from people and brands you like.
Because of how TikTok's algorithm works, users can find new and unique content all the time. This is a good chance for new creators to be on the FYP.
On Instagram, the content people see is more predicted. It will only show content from people users already follow. This explains why it takes a bit more time to reach a wider audience on Instagram.
TikTok vs Instagram: Content Discovery
If you're new, go for TikTok. They have a better content discovery algorithm for newcomers. Instagram is ideal for branding content to create awareness and connect with followers.
5. Trending Topics
Trending topics are an integral part of the algorithms. We talk about them on their own to see if we can join in to get more impressions for our content.
As TikTok's algorithm is more focused on the content, anyone can go viral on TikTok. In contrast, Instagram's algorithm places greater emphasis on the social network and the creator's credibility.
What's more, trending topics on TikTok are often about challenges, songs, memes, or viral videos. These topics can change fast and unexpectedly. Being late in joining in might not help, unless you have a unique or creative idea that stands out.
On Instagram, things that are popular usually have to do with events or lifestyle themes. As you might guess, they often stay around for a while. But bear in mind, on Instagram, there are also trends that are influenced by Reels and Stories which can be different based on the topic and the profile.
Read More: Trending Hashtags for Instagram Reels
TikTok vs Instagram: Trending Topics
If you enjoy making content that follows what's popular right now, TikTok is for you. But if you want to create content that stays popular for a specific trend, Instagram is a good choice.
6. Video Length
How long should your video be? Is it better to make it shorter or a bit longer? And what if your platform only allows short videos? This is where the TikTok vs Instagram battle heats up.
On TikTok, the videos are usually between 15 to 60 seconds long. Short videos are good because they are easy to watch, share, and make viral trends. But, they might not be good if you want to explain something complex or give lots of details.
But, in March 2022, a new feature was released. TikTok lets you make videos that are 10 minutes long. It's useful if your niche is beauty, tech, ASMR, and more. You can make tutorials for makeup, reviews for gadgets, or calming ASMR videos, etc
Instagram is a platform that offers more variety and flexibility in video length. Here are the breakdown:
Feed video: 60 minutes
Stories video: 60 seconds (or multiple 60-second videos stitched together)
Reels video: 90 seconds
Live video: 4 hours

With all of these options, it can be good and bad. It's good because you can make different videos for different audiences. But it can be challenging to come up with ideas and figure out what kind of videos to share on Instagram.
Also, be prepared that Instagram might have a new update on Reels that lets you upload longer videos, up to 10 minutes. This update will make Instagram more similar to TikTok.
TikTok vs Instagram: Video Length
Choose Instagram for more options in video content, especially for tutorials. If you're targeting a younger audience and prefer snackable content, TikTok is a great option.
7. Music Library
Now, let's continue with the differences between TikTok vs Instagram when it comes to music.
TikTok bought Musically in 2017. It's a lip-sync video app with millions of teenage users. After merging it to its platform, TikTok's popularity soared, making it one of the largest social media platforms worldwide where music plays the biggest part.
Lil Nas X and Doja Cat are some musicians who became popular because of TikTok. Lil Nas X's song "Old Town Road" became a big hit due to #yeehaw challenge. And Doja Cat's song "Say So" started a dance trend on TikTok.
What about Instagram? Well, music makes Instagram content more exciting. It engages users and helps creators be more creative. But not as much as TikTok, of course.
The Music library feature was added in 2018. Instagram lets you add music to your stories and reels. You can choose songs from the music library or use your own music and play it in the background.
Adding to that, TikTok and Instagram are different when it comes to music.
TikTok is more flexible with music licensing. So you don't have to worry about copyright issues. They have agreements with big music labels that let you use their music. Instagram has some limitations with music licensing and offers fewer songs to choose from in their music library.
What's more, TikTok also has easy-to-use tools for editing videos with music. But on Instagram, using unlicensed music can cause problems like content removals
TikTok vs Instagram: Music
If music is the heart of your content, then TikTok is the clear winner over Instagram. But, if you only want to use music to spice up your content, Instagram has a good music library, too.
8. Authenticity
To be a digital creator, it's vital to be unique to stand out from the crowd. If a platform doesn't help you get better at what you're good at, it'll make it harder for you to make really good content.
When it comes to authenticity, there are two ways to think about it. First, the platforms allow you to show the real you as a content creator. Second, you don't need to overcomplicate things with advanced editing.
What is the stance of TikTok vs Instagram on this matter?
TikTok is a newer platform that values being real and creating your own content. It's a great place for creators to connect with their audience on a personal level.
On TikTok, you don't need great editing or perfect looks to show who you truly are. This means you'll find lots of different and unique content there. That said, if you're a new content creator, it offers a good opportunity to reach a wide audience easily.
What about Instagram? As we said before, Instagram is a place where different people share stunning pictures and videos.
Instagram users often share short vlogs about travel, fashion, beauty, or fitness. Unlike challenges videos on TikTok, they will try to make their posts look good. Sometimes, it's like everything they post has to be perfect.
Look at how ChrisBurkard shares lots of amazing pictures and videos of beautiful nature. He also writes really good Instagram captions that make the content even have better contexts, making them even more engaging.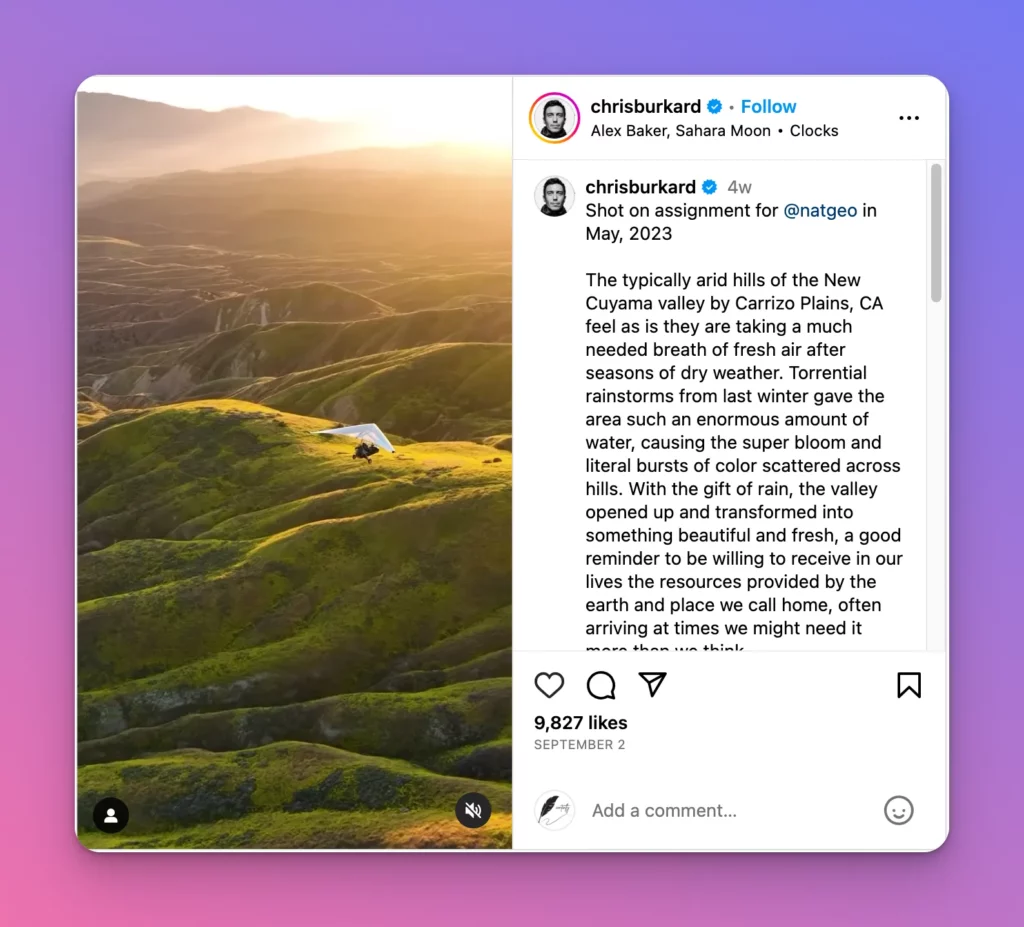 TikTok vs Instagram: Authenticity
TikTok is a good platform if you want to be different and don't want to do lots of editing. Instagram is for people who want to show off their skills in making high quality content.
9.Collaboration
It might be a bit cliche, but social media platforms are indeed about engagement and collaboration. So which one is better for collaborating, TikTok or Instagram?
TikTok has features like Duets where two creators can put their videos side-by-side. This is good for reacting to videos or working on a project together. Then, you can use Stitches to take a clip from someone else's video and add it to your own, like making mashups or reactions.
Also, the green screen feature lets creators be in another video, great for making sketches or music videos.
Collab post on Instagram is not as straightforward as TikTok's. It's because Instagram seems to focus more on visual storytelling and narratives. 
But, that doesn't mean you can't collaborate on Instagram. You can use tags or mentions in your posts or stories. You can also co-author a post or Reels with someone else.
TikTok vs Instagram: Collaboration
If your content is mostly about collaborating creatively, then TikTok is the best choice. But if you collaborate once in a while in a different way, Instagram is also a good option.
10. Audience Reach
Now, let's talk more about TikTok vs Instagram when it comes to audience reach. 
The number of people who can see your content is called audience reach. It depends on things like who your audience is, their locations and what kind of content you make.
If you live in the United States or want to reach people there, it's okay to use either TikTok or Instagram for your posts. But if you want to reach people in Indonesia, it's better to start with TikTok and then maybe use Instagram later on.
Adding to that, TikTok has a higher organic reach than Instagram, which means more people can see your content without ads or promotions. But remember, Instagram has more features like Stories and Reels so you create different content and connect with your audience.
TikTok encourages authenticity, content that gives honest reviews with minimum editing. This gives more opportunities compared to those from Instagram.
TikTok vs Instagram: Audience Reach
To figure out which platform is right for you, it's best to look at the most recent data and statistics about the users and how they behave on TikTok and Instagram in your area.
11. Monetization
If you just want to share ideas and opinions on TikTok or Instagram, that's okay. But if you want to make money from these platforms, it's important to know which one offers better ways to earn money.
There are four ways to make money from social media: ads, in-app purchases, Creator rewards, and influencer marketing. You can choose any of these options, but it's important to consider your target audience and what your niche is.
For example, if you want to make money from in-app purchases, it's better to focus on a broader topic to get more potential customers. Or, if you want to be an influencer, you can focus on being a micro influencer for a specific age group and target audience.
Read More: Content Creator vs Influencer
Once you understand the platforms, it's important to learn about their features. Here are some of them:
On TikTok:
TikTok Pulse — earn a share of the ad revenue from their videos.
Virtual Gifts — get virtual gifts from followers that can be exchanged for money.
Creator Fund — TikTok pays creators who make high-quality content. To be eligible, creators need at least 10,000 followers and 100,000 views in the past month.
On Instagram:
Shopping Tags — tag products in their posts and stories, so followers can directly shop from the app.
Creator Marketplace — connect and work together on sponsored content.
Live Badges — sell badges to viewers by offering special perks like exclusive content.
TikTok vs Instagram: Audience Reach
With the Creator Fund, TikTokoffers a unique way for new content creators to make money. Instagram is also great at providing different ways to make money like using Live Badges
Read More: Gank Creator Grant
12. Ecommerce Integration
In the past, social media was not used for selling products or services. But now, both Instagram and TikTok have integrated ecommerce features. Yes, you can use TikTok or Instagram not only to connect with others but also to make money.
Adding to that, the data may surprise you that 61% of TikTok users worldwide are involved in e-commerce behavior, indicating their familiarity with TikTok's e-commerce features. Also, 48% of these users express interest in buying products from the platform.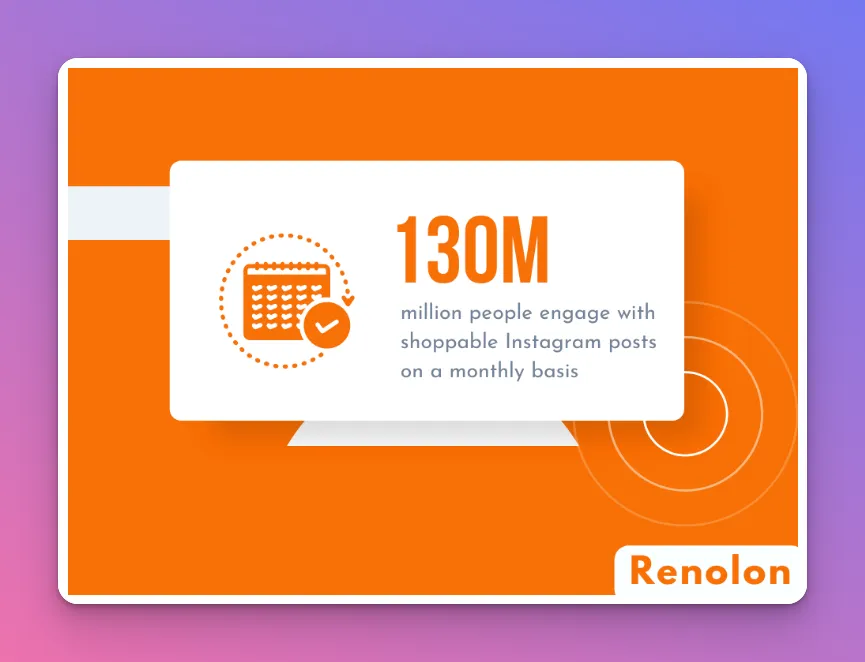 Now, imagine you are a cosplayer or VTuber who has unique merchandise that you want to sell to your audience. TikTok can serve as an excellent platform for both engaging with your audience as a content creator and selling your products as a seller.
The data reveals that 130 million people engage with shoppable Instagram posts every month and spend around $65. Adding to that, 11% of all social media users in the U.S. shop on Instagram. 
This means the potential for social media shopping on both TikTok and Instagram is promising. Now, what ecommerce features of TikTok vs Instagram you should try?
TikTok:
TikTok Shop —Create a shoppable profile to showcase products and link to an online store.
TikTok Product Links —Share product links and earn commission on sales.
TikTok Catalogs — Upload product catalogs and display them on your profile or in ads.
TikTok Channel — Make your TikTok profile shoppable and promote products organically.
Instagram:
Instagram Shop — Browse and buy products from favorite brands and creators within the app.
Instagram Checkout — Buy products directly on Instagram without leaving the app.
Instagram Shopping Tags — Tag products in posts and stories for users to view more details or purchase.
TikTok vs Instagram: Ecommerce Integration
Both TikTok and Instagram are great for selling products and merchandise.
Tiktok or Instagram: Decide What's Right for You!
Now, let's get back to your question: "Tiktok vs Instagram: what should I choose?"
TikTok is all about making short videos with music, filters, and effects. It has viral algorithms to make a huge audience see your videos, even if you're just starting out. All you need is to be creative and be yourself.
On the flip side, Instagram offers more variety in content formats, like photos, videos, stories, reels, IGTV, and live. With so many options, you'll never run out of ideas. So, if you want to show off your skills and talents, Instagram is a good choice.
No matter which one you pick, just remember to have fun and be yourself. And don't forget to make money using these platforms. You can sell merchandise, get donations, and more.
Or you can use platforms like Gank. We support both of these monetization strategies and also offer the possibility to earn from memberships with a 0% platform fee.
So, good luck and see you in the next article.