You can repost on TikTok just like you can retweet on X. But what does repost mean on TikTok?
The TikTok repost feature lets you instantly share videos from others with your followers. No need to download or reupload. You can also add a comment to make it more engaging.
If you are a content creator, the TikTok repost button is a good way to share content without making it your own. Yes, it saves time, but it could also violate others' copyrights and then hurt your credibility if you don't do it right.
So, why should you do a TikTok repost?
Let's find out! This article covers everything you need to know about reposting on TikTok and how to do it right. Read on!
What Does it Mean to Repost on TikTok?
Repost on TikTok means you tap the handy repost button to share video content on the platform. It's an easy way to share content that you think your followers will like.
Let's say you are scrolling through TikTok's FYP and find a funny video by Khaby Lame. You really like it and want to share it with your friends. With a simple step, you can spread the video around.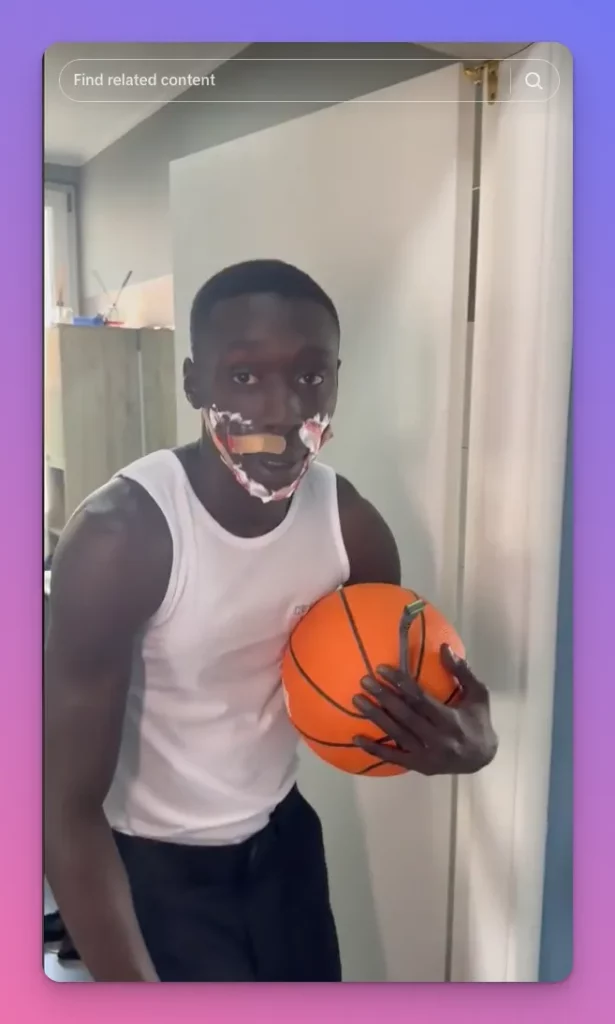 You know that social media platforms are made with sharing content in mind. That's why you'll find such features on X, Facebook, Instagram, and even YouTube.
The TikTok repost feature is no different, but it takes things to a whole new level. It's designed to be user-friendly, so you can do it in only two steps: tap on share and repost. Plus, you can add a comment once it is reposted if you want.
You heard that right. Reposting on TikTok is so easy that many creators do it once in a while. Some of them even create accounts just for reposting other people's content on TikTok. And you know what? Some of their followers think that they made the content themselves.
Remember, it's not right to repost content without giving credit to the original creator. Doing so not only infringes on their rights, but it also prevents you from building relationships with other content creators.
Also, note that in this article, we're talking about complete reposts on TikTok with added comments. We're not referring to the Duet and Stitch features, which involve partially reposting content.
What's more, TikTok's repost feature is about sharing content within the TikTok app, not on other platforms like WhatsApp or Facebook.
Why Should You Repost on TikTok?
TikTok repost has these benefits for you as a content creator:
1. It Saves You Time and Effort
Making new TikTok videos takes time and effort. When you repost on TikTok, you can just share awesome videos without creating them.
But that can't be your only content strategy, though. What makes you a great content creator is being authentic. So, try to strike a balance between reposting and creating your own content.
2. It Helps You Stay on Trend
TikTok is all about challenges and viral videos. To stay ahead, you need to keep riding the new trend. That's when reposting content can be helpful.
What is a repost on TikTok worth? When you repost on TikTok, you can respond to the trend quicker using others' content. Plus, you can still keep your audience engaged by adding your own twist with authentic comments.
3. It Can Grow Your Audience
If you use TikTok reposts, more people can see your videos. This can happen when you repost trending videos or when you repost different videos from what you usually make.
People don't like boring or monotonous content. By sharing fresh content made by others through reposting, it might catch the attention of your current or new followers.
Read More: How to Get More Followers on TikTok
4. You Can Build Relationships with Others
You can repost on TikTok to show support for other creators, especially those you admire. Let's say you can share content from famous gamers if your niche is gaming.
Don't forget to give credit and leave a nice comment about their work. This will help you build good relationships with other creators. Not to mention, it can also open the door to opportunities in the future, like collaborating on content as a social influencer.
5. You Can Use It for Testing
Reposting on TikTok can be a good way to test what kind of content your audience likes. Why? Because you can try out different types of content from others without putting in much effort.
When you repost on TikTok, you can learn what works well, meaning what gets a lot of interaction. Then, you can apply it to your own content creation and see how it goes.
6. It Strengthens Your Personal Brand
If you repost on TikTok and that content is valuable for your followers, they'll thank you for that. They'll think you know a lot about it and see you as an expert.
Simply put, reposting on TikTok can make your online brand stronger. For example, if you like cosplaying and your TikTok reposts are all about cosplaying exhibitions around the world, people will always stay tuned to your content to find such information.
How to Repost on TikTok Easily
Here's how to repost on TikTok:
Find the video you want to repost and tap the share icon (a right-arrow).
Look for the yellow repost icon in the second row of the Share To menu.
Tap that icon to repost TikTok videos automatically.
If you want, tap on the You reposted info to add a comment.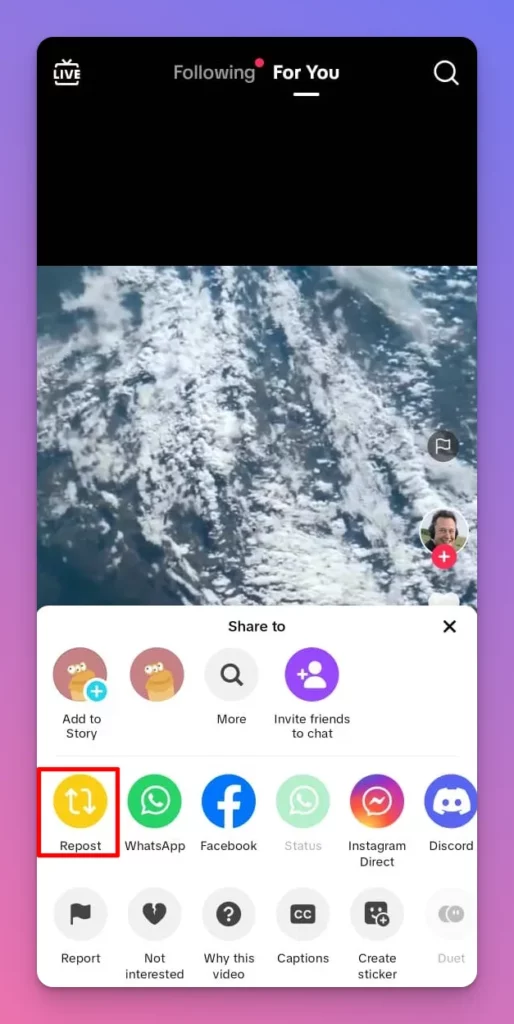 How to Unrepost on TikTok
If you change your mind and want to unrepost TikTok videos, follow these steps:
Go to the video you reposted and tap the share icon again.
In the second row of the Share To menu, you'll see the icon change to "Remove Repost"
Simply tap on that icon to retract your TikTok repost.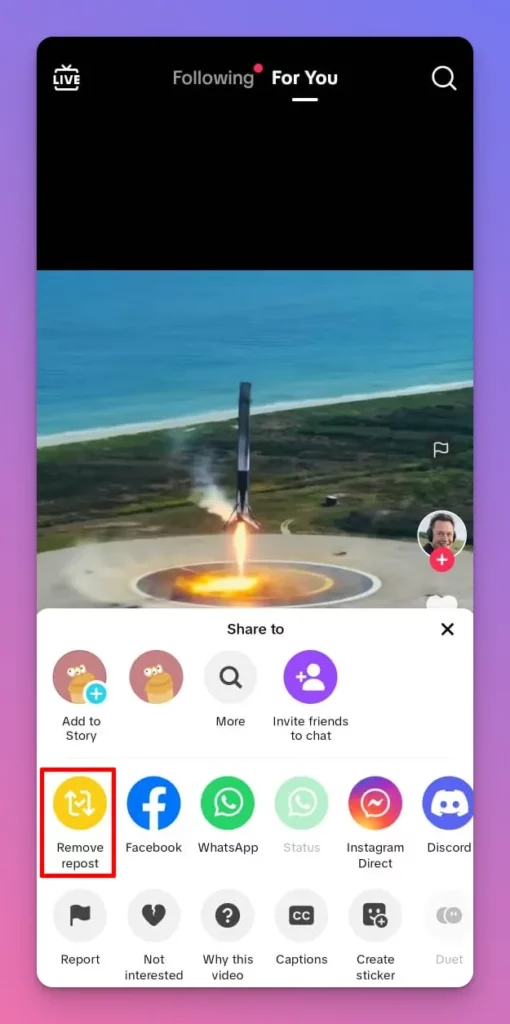 Tips for Reposting on TikTok
If you want to repost on TikTok and make the most of its benefits, here are some tips:
Ask for permission — Make sure to get permission from the person who made the video before reposting it on TikTok. This is important to follow the Community guidelines and respect their intellectual property rights.
Give credit to the creator — Remember that the content you repost on TikTok is not yours. So, when reposting TikTok videos, be sure to give credit by mentioning their username.
Make it relevant to your niche — Only repost TikTok videos that are related to your niche. This will help strengthen your personal brand and showcase your expertise in that niche.
Repost only high-quality videos — Share only awesome videos as TikTok users are more likely to watch and engage with them.
Post at the right time — Find the best time to repost on TikTok to get more views and engagement.
Add your own twist — Make the repost unique by adding unique comments to it.
Use relevant hashtags — Use hashtags that are related to the reposted content so that people can find it easily.
Interact with your audience — Even though it's not your original content, engage with your audience by replying to comments on that reposted content.
What Does Repost Mean on TikTok: A Wrap-Up
Can you repost on TikTok? Yes, you can. It's been over a year since the feature was released now. And many TikTok users use this sharing feature a lot.
What is a repost on TikTok? It's when you share content you like with your followers, but you didn't make the content yourself. Reposting on TikTok not only helps you grow your audience and boost your engagement but also shows support for content creators you admire.
With this feature, reposting TikTok videos has never been easier. You've learned how to repost on TikTok using only two simple steps, right?
Please note that there are always pros and cons to using a certain feature. For TikTok reposting, make sure you ask for permission from the original content creator or give them proper credits. Otherwise, you might violate TikTok's community guidelines.
If you can do it right, you can use this feature to stand out as a content creator by reposting valuable content for your followers. Ready to use this feature as your content strategy?