We're calling all Fishies! Your resident mermaid is having an event!
Ahoy! We're kickstarting the year with a special event with Meizhayako. In collaboration with Gank, our favorite Sussy Mermaid will be having a donation marathon from January 16 to January 30, 2023 which will be hosted through Twitch!
Expect fun games, rewards, and special deals as Hayako has prepared a long list of activities for the community to enjoy. Here's a preview of the rewards you can unlock: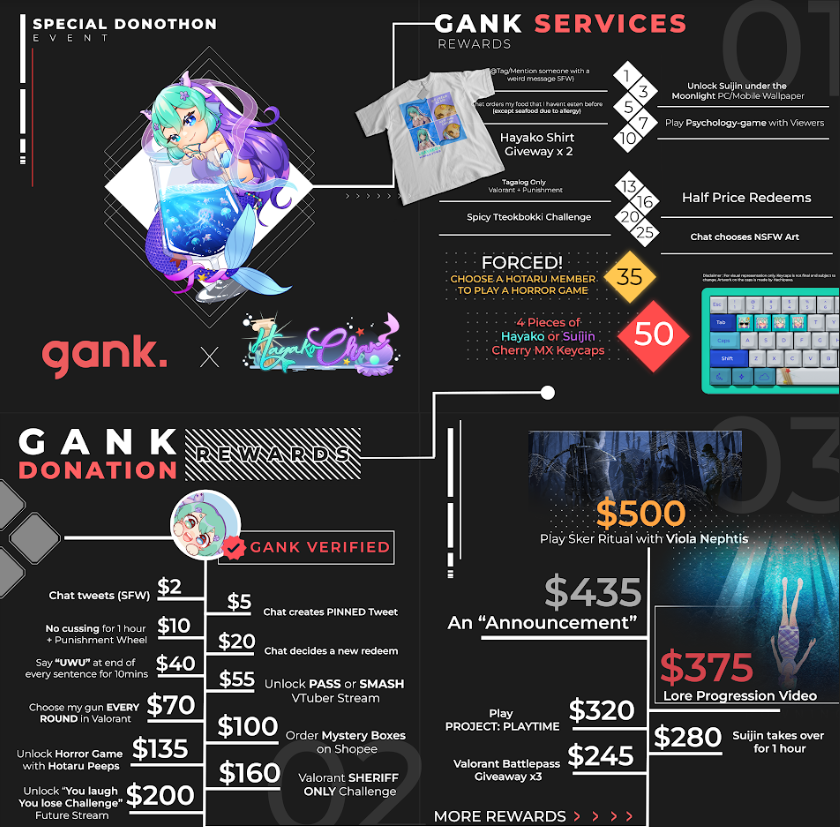 Don't miss out and be sure to follow her on Twitch so you'll be notified when she goes live. Prepare all your mermaid snacks and golden coins. ✨
For more details and donathon updates, keep in touch with Hayako on her official socials Gank, Twitter, and Facebook.
TERMS & CONDITIONS
1) Conditions only apply during the period of the campaign from 16th January to 30th January 2023.
2) Gank reserves the right at its sole discretion to disqualify individuals who do not comply with the terms and conditions set, or any individual who Gank reasonably believes is interfering with the fair running of the event.
3) Gank, to the maximum extent permitted by applicable law, assume no responsibility and are not liable for (i) the accuracy or otherwise of the prize description, (ii) any warranty, condition or guarantee in respect of the prize, and (iii) the loss, late or non-receipt, damage or illegible of a prize notification or other communication sent with regards to this campaign.
4) Apple is not a sponsor and is not involved in any way with this lucky draw or contest.
ACKNOWLEDGEMENT
By participating in the event means you have read, acknowledged and agreed to the Terms & Conditions set out by Gank.
CHANGES TO TERMS & CONDITIONS
Gank reserves the right at its sole discretion to amend the terms and conditions when there is any change in applicable legislation, regulation, or gaming law or our interpretation thereof, or if directed to do so by any competent authority.
As such, these changes will be made known to all individuals through Gank's Discord Channel and Social Media Channels such as Facebook, Instagram, and Twitter.