Thank you for an awesome 2022!
It has been a tremendous 2022 for Gank as we continue to hit record-breaking numbers every month. This 2022, we've actually managed to hit 100,000 users on the platform with over 20,000 content creators! None of this would be possible without your support. As a thank you, we're launching our 20K Celebration Top-up Campaign!
That's right, from 1:00 pm of 20th January 2023 until 1:00 pm of 9th February 2023 (GMT+8), you'll get 20% BONUS Gank Gold for every top-up of 100 GG or higher*!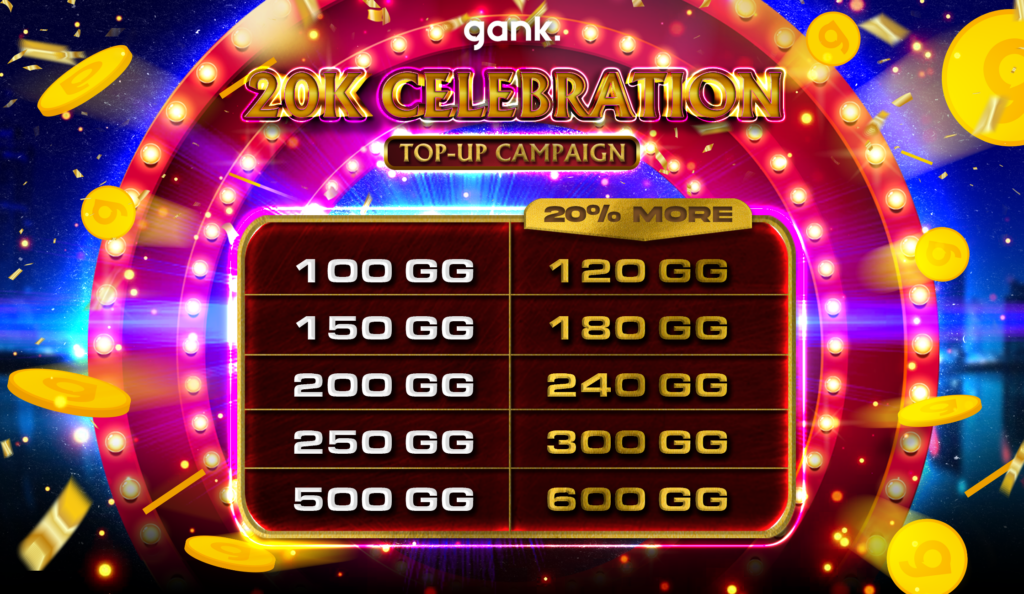 Again, we thank you for your continued support and look forward to seeing you all on the platform! We have a ton of things planned out for 2023, and we're excited to share this awesome journey with all of you! Here's to a more prosperous 2023 for all of us! 🍻
Update: At the time of writing, Gank is nearing 30,000 creators! What an awesome CNY gift! 🧧
What are you waiting for? Top-up today and show your favorite creators some love!
*Terms and Conditions Apply
TERMS & CONDITIONS
1) Conditions only apply during the top-up campaign period from 20th January to 9th February 2023.
2) Gank reserves the right at its sole discretion to disqualify individuals who do not comply with the terms and conditions set or any individual who Gank reasonably believes is interfering with the fair running of the event.
3) Gank, to the maximum extent permitted by applicable law, assumes no responsibility and is not liable for (i) the accuracy or otherwise of the prize description, (ii) any warranty, condition, or guarantee in respect of the prize, and (iii) the loss, late or non-receipt, damage or illegibility of prize notification or other communication sent with regards to this campaign.
4) Apple is not a sponsor and is not involved in any way with this lucky draw or contest.
ACKNOWLEDGEMENT
By participating in the event means you have read, acknowledged, and agreed to the Terms & Conditions set out by Gank.
CHANGES TO TERMS & CONDITIONS
Gank reserves the right at its sole discretion to amend the terms and conditions when there is any change in applicable legislation, regulation, or gaming law or our interpretation thereof or if directed to do so by any competent authority.
As such, these changes will be made known to all individuals through Gank's Discord Channel and Social Media Channels such as Facebook, Instagram, and Twitter.