Do you want to know how to get verified on Facebook? You're not alone. Facebook's blue check mark means everything for some users. That's why many content creators who want to pave their way try hard to get this badge.
Why is it important? You need to get verified on Facebook to show credibility. There are fake profiles on Facebook, so it's important to make sure your fans know it's you. Think about it, you don't want your fans to talk to someone pretending to be you and do something bad, right?
It might not be easy to verify a Facebook page or account. And that's the reason why we're here to guide you through the process step by step. We'll provide all the information you need to know to get your Facebook verified. So, stay with us until the end, and let's begin.
What Does Facebook Verification Mean?
Facebook verification is when Facebook confirms that your online presence is authentic. They will give you a blue check mark that shows up next to your page or profile.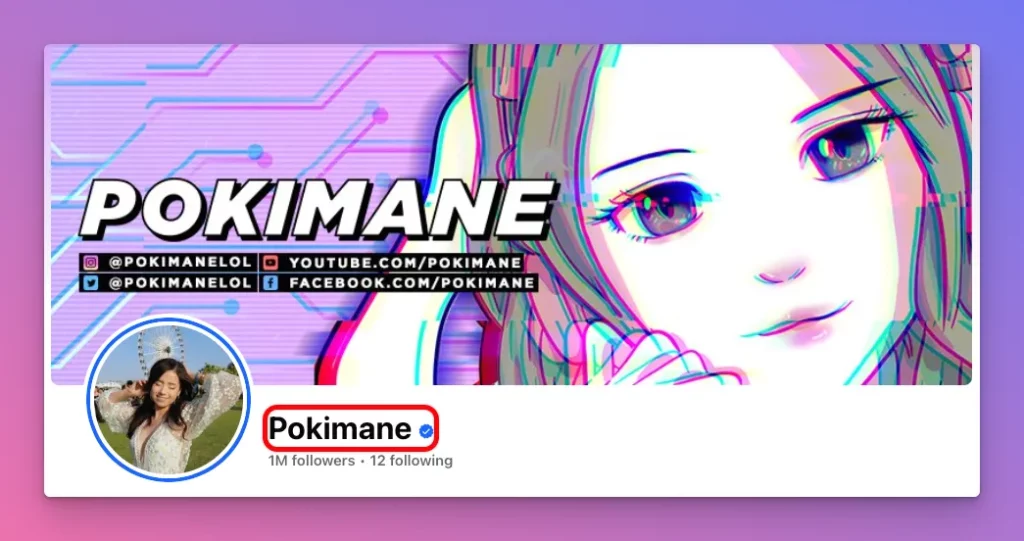 Facebook verification began in 2013 with a verified badge for public figures and notable organizations. Then on February 19th, 2023, Facebook introduced Meta Verified, a paid subscription that offers additional benefits for eligible profiles.
What does the Facebook blue check mark mean?
Your Facebook account badge proves that you are a real person. It shows that your account has been verified. This helps users feel more confident about what they see on your page. It also helps them avoid accounts that pretend to be you.
Simply put, getting that Facebook blue check mark is important. Not only for famous people and big brands, but also for small businesses and content creators.
Bear in mind that getting verified on Facebook isn't just about fame. Again, it's about proving the real person behind an account.
And guess what? Getting verified on Facebook can have a big impact if you want to be a social influencer. Why? Facebook is the second most popular social media platform for influencer marketing.
Read More:
Why You Need To Get Your Facebook Account Verified
We'll dive deep on this. These are the reasons why it is necessary to get verified on Facebook:
1. People Will Trust You More
Many people are curious about how to get verified on Facebook because they know it comes with good things. One of them is that a verified Facebook account can instantly make people trust a brand, whether you're a business or a content creator.
Seeing the Facebook blue checkmark next to your favorite artist gives you confidence that the account is real, right? Wel, it's the same feeling people have when they see you have that verified badge.
In other words, being verified on Facebook helps improve how people see your brand, making you seem more trustworthy and professional. As a result, people pay more attention to what you post and believe what you say.
2. More People Know About You
You need to get verified on Facebook if you want to boost your visibility on that platform. What does it mean?
Being verified on Facebook can help more people find you when they search for something. The platform recommends the most relevant and trusted profiles and pages first. Even though Facebook clearly states that "We don't use the verified badge to endorse or recognise individuals," regular accounts that might be fake are placed lower in the results.
So, if you have a verified status on Facebook, you have a better chance of being found by others. It means more people will know about you with that Facebook Blue Check mark next to your profile.
3. Protect You From Fake Accounts and Scams
Fake accounts are any accounts created to pretend to be someone they're not. Some do it for fun, but most use them for bad things like spamming and scamming.
The data shows that just in the last quarter of 2022, Facebook discovered and deleted 1.3 billion fake accounts to make the platform safer for everyone.
But don't get it wrong. Getting the verification badge on Facebook doesn't shield you from scams and spam. Instead, it shows your real identity to your followers and potential partners to helps them from falling for fake ones.
4. Improve Engagement with Audience
Social media is all about engagement. So, it's best to focus on boosting your engagement with the audience. One way to do that is to get verified on Facebook, the largest social media platform in the world with 3 billion monthly active users
People usually feel more comfortable interacting with verified profiles because they are genuine. Just like when you engage with a verified page, it feels like you're interacting with a real person which adds to your trust to the profile.
5. Better Chance for Collaboration with Brands or Other Creators
Did you know that Facebook only grants verified badges to accounts that are popular and frequently searched on the platform? Not all celebrities will have this badge. We don't have it yet.
This means that if you have a verified badge, it indicates that you are a serious content creator. That will not only boost your perception but also establish trust and credibility. As a result, you become more attractive to potential brand partnerships and content collaborations.
Here are two important things to know about why being a content creator or influencer matters. First, 81% of marketers think it's important for influencers to be trustworthy. Second, 72% of people are more likely to trust a brand if an influencer they trust recommends it.
So now you know why it's important, it's time to learn how to get verified on Facebook
How To Get Verified On Facebook
Here are the steps you should follow if you want to learn how to get verified on Facebook.
1. Understand the Types of Facebook Verification
The first thing to do is to make sure that you understand that there are two types of Facebook verification.
The first type is the verified badge that comes from Facebook after reviewing your account.
This badge confirms that your account is the authentic presence for a notable person, brand or entity. You can apply for this badge by filling out a form and providing some evidence of your notability and authenticity
The second type is the Meta Verified subscription.
This is a paid service from Meta that allows eligible profiles to get verified and access other benefits, such as exclusive features, proactive account protection and direct account support. You can subscribe to this service by providing your full name, a form of identification and some supporting links.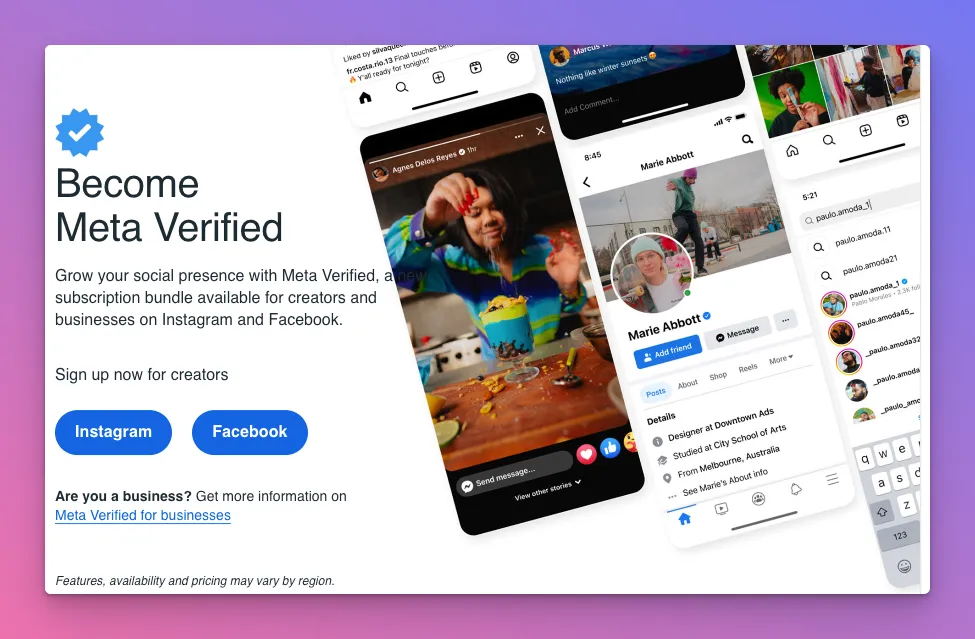 2. Make Sure You Meet the Criteria
To get your Facebook account verified, you need to meet certain requirements. Here are the key things you need:
Authentic — You have to be a real person or a registered business.
Unique — There shouldn't be another profile or page pretending to be you, except for language-specific ones.
Complete — Your profile or page needs to have an about section, a profile picture, and recent activity, like at least one post.
Notable — You should be someone or a brand that many people search for. If news sources have talked about you, that's a good advantage
If you meet all these requirements, you're on your way to getting your account verified on Facebook.
The Meta Verified Subscription has very similar requirements compared to regular Facebook verification.
Even though it is a paid subscription, it still needs to go through a verification process to ensure eligibility. Here are the requirements you need to meet:
You have to be at least 18 years old.
Your profile should have some activity, like previous posts.
Your profile needs to have your full name, a clear picture of your face, and follow the naming rules.
You need a real ID with a photo that looks like you and matches your profile name.
Two-step verification must be enabled for your profile.
You have to follow the rules in the Terms of Service and Community Standards.
If you meet all these requirements, you can subscribe to the service. The subscription costs around US$11.99 if you're subscribed on the web and US$14.99 if you subscribe within the Facebook app.
If you just want the normal verification from Facebook, you can move on to the next step.
3. Request Verification
Now, what's the next step on how to get verified on Facebook? You have to request Facebook for verification manually. Open your browser and you can go to the verification page to fill out a form. This helps Facebook look at your information in more detail and review it.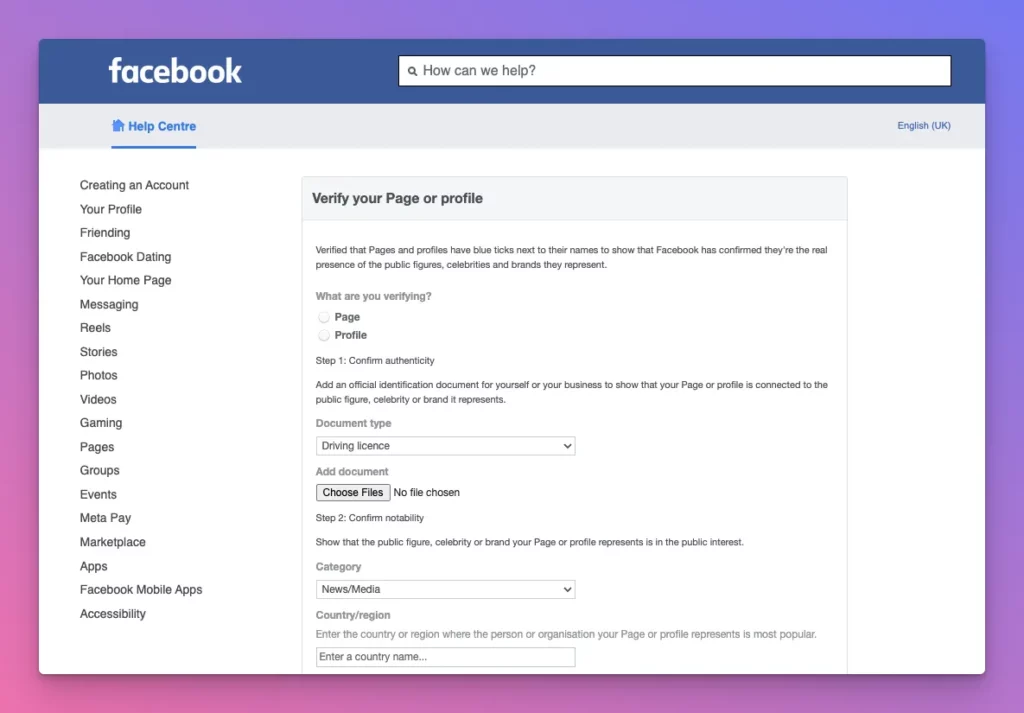 4. Is it for Profile or a Page?
You need to choose if you want to verify a profile or a page. Many content creators usually verify their profiles. So, if you pick a profile, enter the link or the URL of your Facebook profile. And double-check that it's the correct link
5. Confirm Your Authenticity
The next step to get verified on facebook is confirming your authenticity. Remember, Facebook verification is about making sure an account belongs to a genuine person. That's why Facebook asks for an official document to confirm your identity.
You can choose from different types of documents like:
driving license
passport
national identification card,
tax filing,
recent utility bill
articles of incorporation
After that, you can just pick your file of the document and upload it.
6. Confirm Notability
To proceed, you can confirm your notability. This step is important to prove that you are either a well-known individual or frequently searched. That will increase your chances of getting verified by Facebook.
All you have to do is pick the category that shows in what niche you're famous. Facebook gives you some choices:
News/Media
Sports
Government & Politics
Music
Fashion
Entertainment
Digital Creator/Blogger/Influencer
Gamer
Business/Brand/Organization
Other

7. Add Your Country
The next step is confirming where you are mainly active on Facebook. They look at your profile, where you say you live, and information about your device and internet connection.
For example, if you're from US but live in and use Facebook a lot in Singapore, they might say Singapore is your main country. It all depends on where you spend the most time on Facebook.
8. Add Your Audience And Also Known As
The next part is optional, but it can make it more likely for Facebook to say you are real. In the part called Audience, you tell about the people who follow you and what they like. If people know you by other names, you can put those in Also Known As.

9. Add Five Articles to Prove You're Famous
To prove your notability, it is important to provide evidence through at least five articles that show your fame. You don't have to do this, but it's a strong suggestion. These articles should talk about you and show that you're famous or important.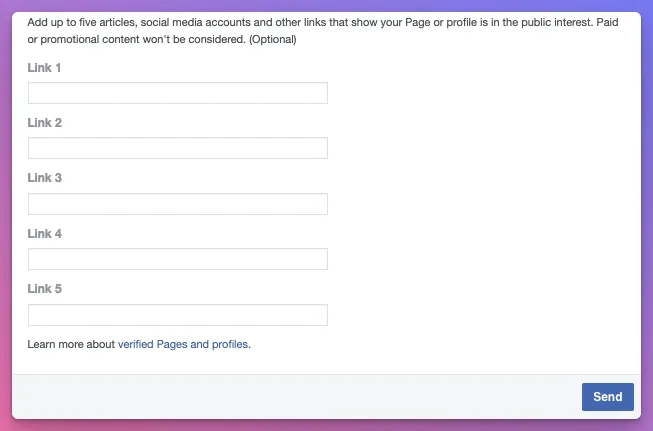 Now, you can look at the information you gave to make sure it's right and that will help you get verified on Facebook. When you're sure, you can just click the send button.
Tips For Getting Verified On Facebook
You already understand the step-by-step process of how to get verified on Facebook. Now, it's time to learn some tips to enhance your chance to get verified :
1. Be Consistent in Your Brand and Content
To get verified on Facebook, it's important to make sure your Facebook profile represents who you are. Use a clear profile picture and cover photo that people can easily recognize and that fits with your other online accounts.
Also, share content that is relevant and interesting to show off your personality or your brand's values. Be careful not to post anything that goes against Facebook's rules or guidelines. Facebook's Community Standards or Terms of Service
2. Link Your Facebook Profile to Your Official Websites
You can link your Facebook profile to your website, blog, or other online platforms. This shows Facebook that you own the account and that it accurately represents you or your business.
For example, if you're a musician, make sure to include a link to your Facebook Page on your official website, YouTube channel, Spotify profile, and so on.
3. Provide Accurate and Complete Information About Yourself
To make sure you get verified, complete the verification form. Put your full name and give a copy of your official ID with a photo, like a passport or driver's license (for personal accounts), or a document with an official stamp or mark, like a phone bill or tax document (for business accounts).
Also, write a few sentences explaining why you should be verified and share any web links that help show why. Make sure everything is correct and up-to-date.
4.Grow Your Following and Reach
Facebook doesn't say how many followers you need to get verified, but they want your profile or Page to be interesting to the public and have lots of people who follow you. So, try to get more fans by sharing good and helpful content.
Make sure you're also talking with your followers, and using all the meta features like live videos, stories, and more to reach wider audience. You can use something called Facebook Insights to see how well you're doing and make your strategy even better.
Read More: 14 Best Instagram Follower Trackers
5. Post Regularly and Engage With Your Audience
Why would someone get a verified badge on Facebook if they're not even using it, right? That's why Facebook wants verified profiles and Pages to regularly post. It's all to show that they're committed to their audience and bring value to them.
How often should you post? At least once a week, or even more if you can. Share different things like pictures, videos, links, and polls to keep your followers interested. And remember to reply quickly to comments, messages, and reviews from people.
It's also a good idea to post when your followers are most active on Facebook.
Read More:
6. Follow the Best Practices for Your Niche or Industry
To prove that you're an expert in a specific area, you can do certain things. For example, if you're a journalist, you can have your name on articles published by a reliable news publication. If you're a famous gamers, you can make sure you get mentioned in the news.
If you're a business, you can have a physical store, a clear mission statement, and a policy for how you help customers.
7. Be Authentic and Transparent
Misrepresenting yourself on Facebook can result in quick rejection during the verification process.
To avoid getting into trouble on Facebook, it is important to always be truthful about who you are. Don't use fake names or pictures. Also, don't say you're connected to Facebook if you're not.
8. Don't Give Up If You Get Rejected
If Facebook says no to your verification request, don't be sad. They will tell you why. Use their advice to make your profile or Page better. For example, if they say not enough people are interested, try getting more attention or talking to your community.
Wait for a little while, like 30-60 days, and then try again. While you wait, improve the things Facebook mentioned. Think of it as a chance to grow and make your online presence even better.
Wrap Up: How to Get Blue Check Mark on Facebook
You now know how to verify your Facebook account. Remember to follow the steps carefully and double-check that all the information you gave during the verification process is correct and up to date.
After that, you'll need to wait for Facebook to look at your information and confirm it. If you're fortunate and can show that you're a real person with great qualities, you might get a Facebook blue check mark on your profile. This shows that you are verified on Facebook.
If you think you didn't have luck and Facebook said no, you can read why you got rejected and remember our tips. This will help you make sure you meet the requirements and try again to get verified on Facebook in the future.
We hope this information helps. If you get verified, keep making great content and engage with your followers. And if you want to earn money from your content, you can join Gank. We're a membership platform for content creators with 0% platform fees.
FAQ about How To Verify Facebook Account
How many followers do you need to get verified on Facebook?
There is no specific number of followers required to get verified on Facebook. What really matters is that your account is well-known, frequently searched, and mentioned in various news sources. Having a large and active audience can increase your chances, but it doesn't guarantee verification.
How do I get verified on Facebook 2023?
There are two ways to get verified on Facebook. One way is to pay for a service called Meta Verified. It confirms your account is real and gives you special features.
The other way is to apply for a verified badge for free. This is for famous people or brands. You have to fill out a form and show proof of your identity or business. You also need to explain why you should be verified and share website links.
Can you pay Facebook to get verified?
Yes, you can pay Facebook to get verified. It's called Meta Verified and you have to subscribe to it. It costs USD $11.99 on the web or USD $14.99 on the app. But remember, Facebook doesn't accept any other payments or give guarantees for verification except through Meta Verified.
What happens when you get Facebook verified?
When you get verified on Facebook, you'll see a blue checkmark by your name. This means Facebook checked and found you are the real person or brand you claim to be.
Can you still get verified if you buy followers?
No, you cannot get verified if you buy followers. It goes against Facebook's rules and they might delete your account.
Also, buying followers doesn't guarantee verification. You still need to meet other requirements like being real, special, complete, and famous. It's better to grow your audience by making good content and engage with your audience.
Why is it so hard to get verified on Facebook?
Getting verified on Facebook is difficult because they want only important and influential accounts to have the special badge. Being verified means that Facebook has checked and confirmed that your account is really yours.
Facebook only has a few badges to give out, so they look at each request very carefully. They also change the rules sometimes to match what people want online.