Earning as a vtuber? How can you monetize this hobby?
Are you familiar with VTubing? Have you ever wondered how these passionate individuals make money? And, maybe you've thought about becoming a vtuber yourself but you just don't know where to start.
Table of Contents
How do I earn from streaming? Do VTubers make money?
VTubing is a current evolution of internet live streaming that provides a dynamic space for creators to engage with their audience. Rather than presenting on screen, VTubers adopt the form of a 2D or 3D humanoid with whom viewers can interact in virtual roleplaying. It's hardly a fresh idea, but it's become more prevalent in the past few years as VTubing has become increasingly available and frequent in streaming, such as Twitch and similar streaming platforms.
While each creator's personality, voice, and bodily appearance are unique, most are full of energy and very fun-loving cartoon characters. Many Vtubers are not self-sufficient and are managed by agencies such as Hololive, which operates an English division where Mori Calliope performs, among others such as Gawr Gura. These VTubers share a charming anime-like image, but their personalities and fictitious backstories differ. Mori Calliope, for example, is scared of love and raps regularly onstream. Nowadays, creators on all platforms can monetize their media through sponsorships and collaborations.
How to make money on through streaming or video content? How do VTubers get paid?
VTubers, like all YouTubers, produce a variety of content. Clearly, some enjoy computer games, exhibit apparel, discuss geopolitical issues, analyze movies, and even create personal videos.
Additionally, others also collaborate with companies to market their goods and services. They can also start their merch lines with various items such as clothes, accessories, phone cases, etc.
Although digital groups and entertainers such as Gorillaz paved the way for computerized figures to transcend into existence via projection, holograms, and intricate body tracking, it wasn't till the international COVID-19 pandemic that VTubers achieved globally recognized fame.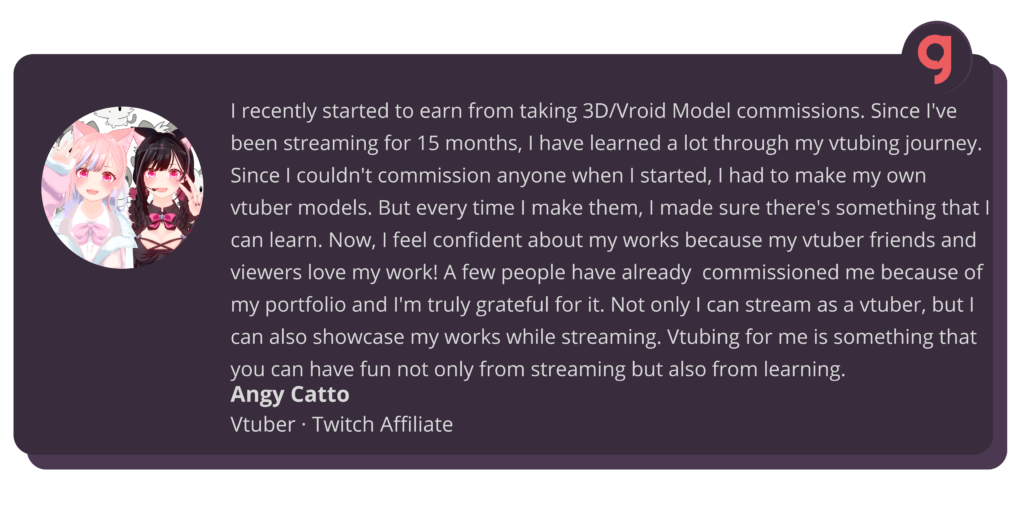 Selling art as a VTuber
Live2D art has experienced a huge rise throughout the pandemic. Today, it appears that there's a huge amount of artists that focus on vtuber's needs. In layperson's terms, Live2D is a one-of-a-kind asset. In addition, this novel idea enables Vtuber creators to purchase digitized fan art and graphical elements. Because of its ease of access, digital art has always been underappreciated. This possibility provides value to virtual artwork by assisting artists in creating, promoting, and Live2D, stream overlays, logos, electronic products, music, posters, and so on, as well as helping the artist to earn money.
There are endless ways to start earning as a vtuber!
Where to sell my merchandise?
One of the biggest questions out there is how VTubers earn. In addition, what is the source of VTuber income? Where to sell merch as a VTuber?
VTubers can sell their merchandise on websites such as Crunchyroll, Redbubble, and Etsy. Moreover, they can ensure that their inventory is stocked up and ready to go, with an estimated number of sales. They can also upload their stock on social media platforms such as Facebook, Instagram, and Gank for fans to purchase directly. If you want to be able to sell items and services in a SEA friendly platform, you can put up listing on Gank, Nizima or Booth!
What else is there to sell?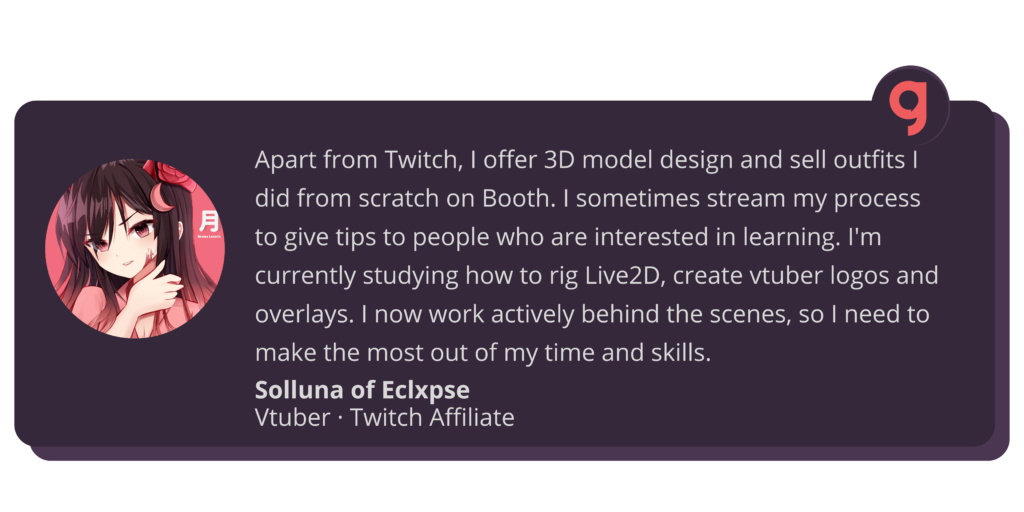 VTubers can sell online goods, services, and merchandise. They can also sell their art and promote the goods and services of other vtubers who commissioned them, including big companies like Hololive and Nijisanji. VTubers can sell anything they want on their platforms without the hassle and get paid good money. Along with this, stream overlays, logos, stream panels, background music, digital arts, Live2D rigging are just a few of the things you can offer to sell as a vtuber to vtubers, or other content creator! There's definitely something you can sell, you just need to find your audience.
Key Takeaway
That's how to get started VTubing. You have the necessary tools; the remainder is down to you! VTubing is an excellent type of video production for anybody who wishes to Livestream for a worldwide audience without having to reveal their true identity. Finally, make a strategy, stick to it, be yourself, and have fun. Your platform's success will come soon after.
FAQ:
How much does it cost to start VTubing?
It is virtually free to become a VTuber if you own a laptop or smartphone. You only need a pc or smartphone and avatar-building software. Furthermore, there are various free or freemium software solutions are available to assist you in getting started.
Otherwise, you can purchase a VTuber model online or get it commissioned through multiple platforms or freelancers.
How Much Does A VTuber Prototype Cost?
The pricing and functionality of VTuber versions might vary considerably. When buying one, these are a few things to consider. Are you planning to opt for a 2D or 3D model, or do you need it to be personalized or prefer a pre-made model? It could cost between a couple of bucks to several dollars, based on the model version you choose.
What Is The Price of 3D Model & How To Start Earning On Making Your Own Vtuber Model?
Without a doubt, a customized 3D model will be the highest pricey option available. We advise doing this if you currently possess a large audience. Such figures begin at $500 and may go up to nearly $3000 based on your artist.
When Can I Get a Customized 3D VTuber Model?
Fiverr is a great site to purchase VTuber models. Several freelancers on Fiverr will make a custom 3D model for you.
How do I start VTubing for free?
You can quickly start VTubing for free! If you're considering VTubing, you'll need a couple of items to get started. Have a glance at a few of the essential tools you'll require to get started:
Webcam: First thing you need to deploy the VTuber model, you'll need a camera and movement tracker software.
Microphone: You may buy a great mic that will assist you in communicating with your audience without spending a fortune. More importantly, here are some budget quality mics you can check: Maono, Reddragon and Fantech!
PC: You don't have to run out and get the most up-to-date machine PC. You'll be fine as your Laptop can simultaneously run movement tracker software, computer games, and similar apps.
Here are most of the applications you'll require to get started:
Excellent lighting setup: Proper lighting is critical in assisting your movement tracker software to produce the greatest possible digital avatar.