Instagram Reels vs TikTok: These two platforms have captured the interest of both users and content developers. These platforms for short videos have reshaped how we watch and create content by providing new features and opportunities.
This post will present a thorough comparison between Instagram Reels vs TikTok, allowing you to make an informed decision on which platform is best for you.
Brief Overview
Instagram Reels and TikTok are short-form video platforms that allow users to create, share, and discover 15 to 60-second videos. Instagram Reels, introduced in August 2020, is a feature within the Instagram app, while TikTok, launched in 2016, is a standalone app. Both platforms enable users to create short videos set to music, add effects, and engage with a global audience.
Instagram Reels and TikTok are both prominent players in the short-form video content arena. These platforms have revolutionized how users create, share, and engage with brief video clips, offering a plethora of creative opportunities.
Instagram Reels
Instagram Reels was introduced by Instagram in August 2020. It is seamlessly integrated into the Instagram app, making it easily accessible to the existing user base. Users can navigate to the Reels tab, located conveniently on the bottom menu of the Instagram interface.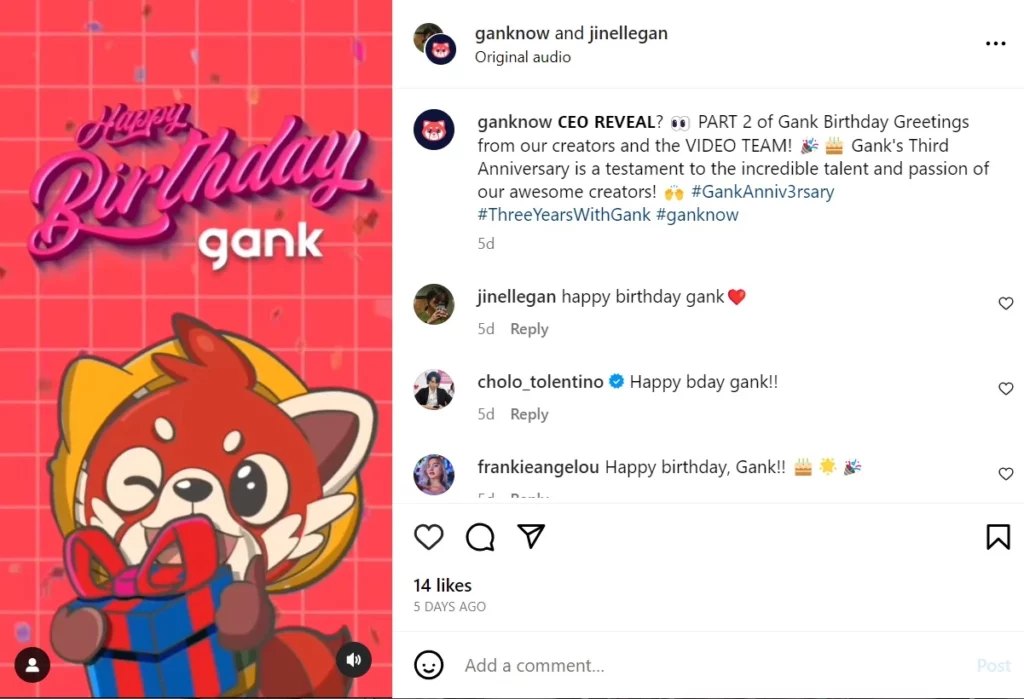 Reels provide a familiar and user-friendly experience for those already accustomed to Instagram. The platform offers a range of creative tools, including text overlays, music integration, and a timer, making content creation straightforward. While it offers a comprehensive set of features, Instagram Reels tends to emphasize a more curated experience, focusing on content from users you follow and interact with regularly.
TikTok
TikTok, on the other hand, has been making waves since its global launch in 2016. It offers a distinctive full-screen vertical video feed, providing users with an immersive content consumption experience. TikTok's unique algorithm, the 'For You Page' (FYP), curates content based on user interactions and preferences.
Navigating TikTok is intuitive, with swipe gestures allowing for seamless content browsing. This platform is known for its extensive library of creative effects, transitions, and interactive features, offering creators unparalleled opportunities for innovation and expression.
Instagram Reels vs TikTok
The aim of this comparison is to analyze the differences between Instagram Reels vs TikTok. We want to give you useful insights so you can choose the platform that best supports your objectives by examining factors like user interface, content production, interaction, marketing opportunities, algorithms, and case studies.
Here's a specific table comparing Instagram Reels vs TikTok:
| Aspect | Instagram Reels | TikTok |
| --- | --- | --- |
| Video Length | Up to 90 seconds | Up to 10 minutes |
| Audience Demographics | Broad user demographic | Popular among Gen Z and younger audiences |
| Features | Collab Duet, Stitch, and more | Emphasizes trends |
| Customization | Explore Page features diverse content | FYP customized to user interests |
| Algorithm | Pushes Reels to existing followers | Favors interesting content for viral potential |
| Advertising Opportunities | Option to boost Reels | In-feed ads, branded effects, sponsored hashtag challenges, and more |
This table provides a clear comparison of Instagram Reels vs TikTok across various aspects
Reels vs TikTok User Interface
Instagram Reels
Instagram Reels seamlessly integrates into the existing Instagram app, making it familiar for Instagram users. Its user-friendly interface offers easy navigation, with Reels accessible from the home screen.
TikTok
TikTok boasts a standalone app with a simple, intuitive interface designed for effortless content discovery. The "For You Page" (FYP) on TikTok ensures users are exposed to a diverse range of content from the moment they open the app.
Comparison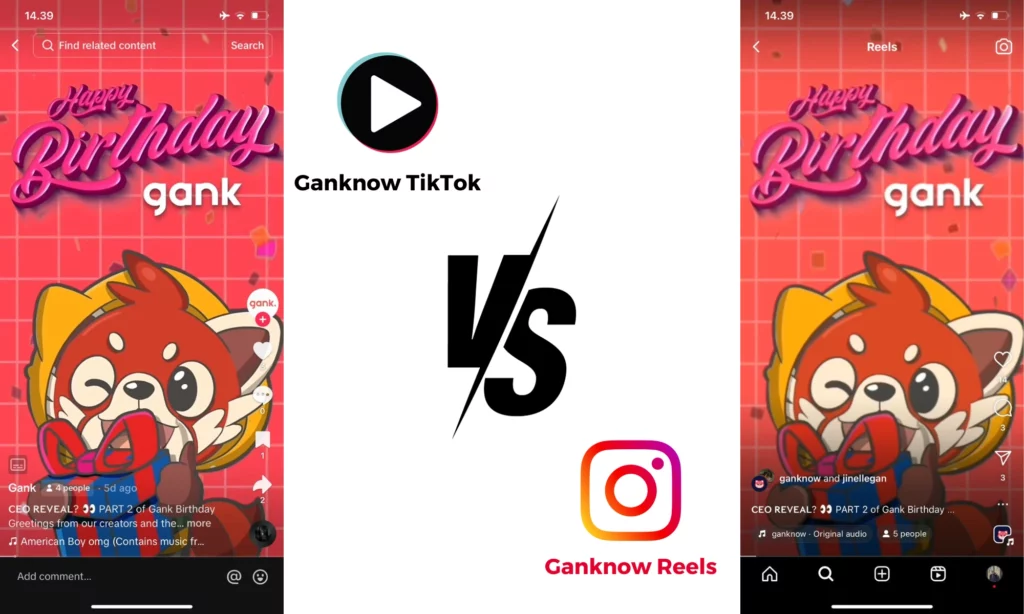 Instagram Reels relies on its parent app's navigation, while TikTok offers a dedicated home for content discovery. TikTok's streamlined interface may appeal to those seeking a platform solely for short videos.
Both platforms offer engaging experiences, but Instagram Reels may feel more connected to your existing Instagram network. TikTok, on the other hand, focuses solely on short videos, allowing for a deeper dive into creative content.
Reels vs TikTok Popularity
TikTok emerges as the leader in the short-form video market in terms of popularity. TikTok has a wider, more diversified user base, particularly among users in the Gen Z demographic. Its key focus and area of expertise is the creation of brief, catchy material, which forms the foundation of its identity.
Instagram Reels, on the other hand, fits nicely as a feature within the larger Instagram ecosystem. Beyond Reels, people use Instagram for a wide range of activities. Reels differentiates out despite this by providing a more comprehensive feature set, such as collaborative capabilities like Collab Duet and Stitch, which encourage a sense of community among users.
Instagram Reels vs TikTok Engagement
As described below, Instagram Reels and TikTok each have unique benefits and things to keep in mind when it comes to engagement:
TikTok:
TikTok boasts the highest engagement rate among the three platforms, with an impressive average engagement rate of 5.53%. This high rate is a testament to its ability to captivate and involve its user base.
With over one billion monthly active users worldwide, TikTok commands the largest market share in the short-form video realm. Its massive user base presents significant opportunities for content creators and marketers.
TikTok's algorithm leans towards prioritizing interesting and engaging content over top creators and influencers. This approach allows even users with modest follower counts to potentially go viral, amplifying their reach and impact.
Instagram Reels:
Instagram Reels excels in watch time, boasting the highest watch rate among the three platforms. This achievement underscores its effectiveness in retaining viewer attention and engagement.
Instagram Reels enjoys a broad user demographic, appealing to teenagers, young adults, and even older generations. This diversity in its user base provides a wide range of potential audiences for creators and businesses.
Instagram Reels' algorithm focuses more on pushing content to existing followers, aiming to maintain and enhance engagement within the existing network.
Instagram Reels vs TikTok Business
There are some important considerations to remember while choosing between TikTok and Instagram Reels for business efforts. The following are significant findings from the study:
TikTok for Business:
TikTok boasts remarkable features, including a vast music library, making it the preferred choice for content where sound plays a crucial role.
TikTok is highly effective at propelling content to viral status swiftly, generating leads, and rapidly increasing brand awareness.
The platform enjoys immense popularity among younger audiences, particularly Gen Z.
TikTok provides a diverse range of advertising options, encompassing in-feed ads, branded effects, and sponsored hashtag challenges.
Instagram Reels for Business:
Instagram Reels is characterized by its community-driven nature and extensive feature set, rendering it an ideal platform for brands with a substantial presence within the Instagram network.
The platform leans towards content that is polished, visually appealing, and emphasizes high-quality production, making it suitable for brands focused on creating refined content.
Instagram Reels excels in terms of generating higher impressions and enhancing brand visibility.
It offers the option to boost Reels, enabling businesses to promote their content to a wider audience effectively.
In essence, both TikTok and Instagram Reels present unique advantages for businesses. TikTok excels in virality and reaching younger audiences, while Instagram Reels is renowned for its community-driven approach and feature-rich environment, catering particularly well to brands with an established Instagram following. Ultimately, the choice between TikTok and Instagram Reels hinges on a brand's specific goals, target audience, and content strategy.
TikTok vs Instagram Users
Both TikTok and Instagram boast substantial user bases, but they differ significantly in terms of user demographics and engagement. Here's a breakdown of the key distinctions:
TikTok Users:
TikTok boasts an impressive user count of over 1 billion.
It is particularly favored among younger demographics, notably Gen Z, making it a vibrant hub for youthful content.
TikTok users dedicate an average of 52 minutes daily to the app, indicating high engagement.
The platform is rapidly gaining prominence in the social media landscape, primarily among younger users.
TikTok provides a diverse array of advertising options, including in-feed ads, branded effects, and sponsored hashtag challenges.
Instagram Users:
Instagram commands a staggering user base of over 1.3 billion.
Instagram appeals to a broad and diverse user demographic, ranging from teenagers to young adults and even older generations.
Users collectively spend 17.6 million hours daily watching Reels, underlining its significant engagement.
Instagram stands as a leader in influencer marketing, thanks to its longevity and proficiency in social commerce.
The platform offers the option to boost Reels, empowering businesses to amplify their Reels content to a wider audience.
Final Thoughts
The debate between Instagram Reels vs TikTok continues, with both platforms having their own advantages and disadvantages. While TikTok has the best interaction rate and the largest market share in the short-form video market, Instagram Reels has the highest average view time and a diverse user base. Both platforms have commonalities, but they also differ in key ways due to their target audiences, demographics, and editing tools.
The brand's objectives, target market, and content strategy ultimately choose which platform to use—Instagram Reels or TikTok. Consider aspects like content style, advertising options, and engagement rates when determining which platform's characteristics will be most beneficial for your brand.
Are there age differences in the user demographics of Instagram Reels and TikTok?
Yes, Instagram Reels may have a slightly older user base compared to TikTok, which is popular among a younger audience.
How can I increase the virality of my content on TikTok?
Creating engaging and trend-focused content, using popular hashtags, and understanding TikTok's algorithm are key to increasing virality.
What are some essential factors to consider when choosing between Instagram Reels and TikTok for content creation?
Consider your target audience, content type, marketing objectives, and available resources when making this decision.