When it comes to monetizing your content, flexibility is key! That's why Gank allows you to control your content distribution better through the features it develops. Our newest pay-per-view privacy feature will enable you to deliver your most exclusive and premium content on a per-post basis rather than connecting it to a membership tier.
Here are some tips to maximize this feature for you and your followers!
Engage your Community
Your community is the heart and soul of your content creation career. Your success will hinge on your ability to stay in touch with your fanbase and understand what they're looking for in your content. Catering to your target audience goes a long way to having a sustainable and enjoyable content creation experience.
So it is essential to keep your community engaged in crafting your pay-per-view content. Talk to your followers, value their opinions, and understand what kind of content they would prize the most. Let the community weigh in on your decisions, keep them engaged, and reward their support with content specifically catered to them.
Differentiate Your Subscriber-Only Content from your PPV Content
If you're currently doing subscriber-only content through our membership tiers, it is crucial to draw a distinction between the content you create for all your subscribers and the content that you will be making available via pay-per-view. You must ensure your subscribers will not feel cheated out of content typically accessible in their membership tier.
Your pay-per-view content should have a unique feel deserving of the air of exclusivity surrounding it. The different distribution methods of your content should complement each other rather than compete with one another. Establishing unique patterns for your free, subscriber-only, and pay-per-view content will allow everything you produce to shine in its own regard without hogging the limelight.
Create Content Worth Paying For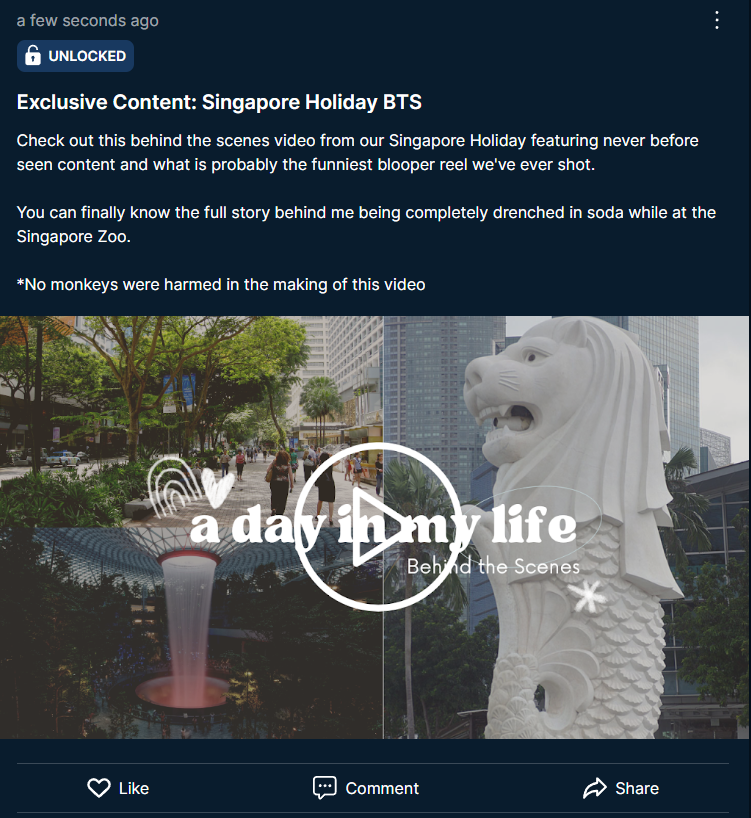 Things are only as valuable as what people are willing to pay. The success of your pay-per-view content depends on your ability to deliver content that your followers will pay extra for. As a general rule, reserve your PPV posts for the most exclusive content that is not and will not be available anywhere else.
It is important to make your supporters feel they are getting value for their money. This can typically come from the exclusivity of the content, better production value, demand from your audience, and the like.
Always put yourself in your followers' shoes and ask yourself: "What kind of content will I be willing to pay for?" The more wants and needs your PPV content delivers, the better it will perform.
Take Advantage of Individual Pricing
One of the greatest strengths of the pay-per-view feature is the flexibility it offers you in adjusting the price of your content on an individual level. This means that you can use the pay-per-view feature in different ways to fit the individual goals of your content. For example, you can use lower-priced PPVs to give non-subscribers a taste of your premium content while having more expensive PPVs for the crème de la crème of your content.
We're pretty sure you'll find even more innovative ways of using the pay-per-view feature. The power is now in your hands!
Provide High-Resolution Content with Boost+
Of course, you'd also want people to experience your most exclusive and premium content in the highest resolution possible. Your pay-per-view content will most likely be the crowning glory of your brand, and you'd want to showcase them in the best way possible. Subscribing to Boost+ allows you to upload photos and videos with higher resolution and larger file sizes, allowing you to deliver your content to your supporters in the best possible way.
Your content deserves the best; this is only one of the ways Boost+ can take your content creation journey to the next level.
Start using the Pay-per-view Feature Today
So what are you waiting for? Pay-Per-View Posts is now live as a FREE feature for all Gank Accounts! Enjoy the flexibility of tailoring your content distribution to your own needs and strategy. Just remember to be purposeful and always engage with your community for the best results.

We're looking forward to hearing about how you've utilized our Pay-Per-View feature! Share your experience in the comments below.
See you on Gank!