So, here's the thing: you're a creative content creator and considering using TikTok as your platform to make money. But then you pause for a moment and ask yourself, "How much does TikTok pay?"
Well, for a professional content creator, the total amount of money you get could make a huge difference, right?
Good news for you, TikTok supports its creators through the Creator Fund. And the great thing is they don't limit the number of creators who can join. That means even those who have just started can make money doing what they love on TikTok if they're eligible.
But how much do TikTok creators make so top creators like Khaby Lame can become millionaires? That's what we're about to discuss in this article. And you know what? The Creator Fund is only the tip of the iceberg.
You read it right. The possibility of earning money from TikTok is even more promising than that. Are you curious? Stay with us until the end!
How Much Does TikTok Pay?
Before we dive into the answer, let's start with an important question: "Does TikTok pay you?" This is something content creators like you often wonder when considering different platforms.
Well, the good news is that TikTok does pay. In their official post in 2021, they mentioned, "We're committing £231 million to the Creator Fund over the next three years."
And guess what? That's just the beginning. TikTok believes that as the platform grows, the Creator Fund, which started in 2020, will surpass $1 billion in the US by 2024.
The Creator Fund is a program where TikTok pays creators for their awesome content. It's part of TikTok Creator Next, a way for creators on TikTok to make money from their content.
When joining the Creator Fund, the money you can make depends on the number of views, followers, and engagement you get on your videos.
Now, let's get back to your question: "How much does TikTok pay per view?"
Well, on average, you can expect to earn $0.02 or more for every 1000 views. So, if you reach 1 million views, that's about $20-$40 in your pocket from only the Creator Fund.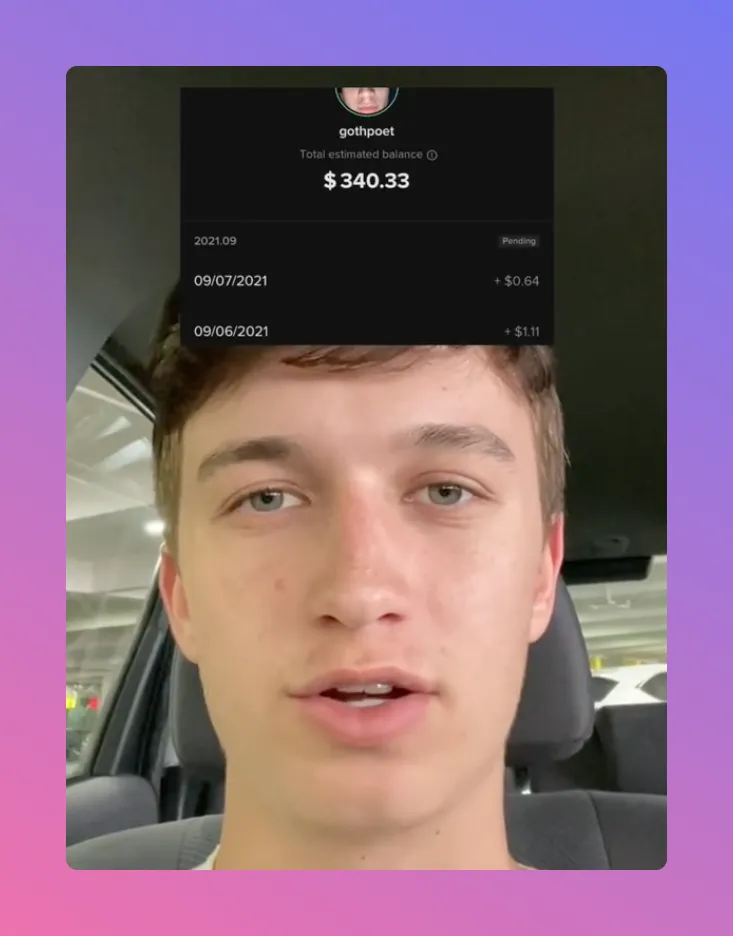 Bear in mind that you have to be eligible to join the Creator Fund first. So, make sure that you meet the following requirements:
Be based in the US, UK, France, Germany, Spain, or Italy
Be at least 18 years old
Have at least 10,000 followers
Have at least 100,000 video views in the last 30 days
Adhere to the Community Guidelines
Once eligible, you can apply to join the Creator Fund through your Creator account. To get to your Creator Fund Dashboard, here's what you need to do:
go to your profile and tap on the menu button to open your settings
look for Creator tools and click on it
find the TikTok Creator Fund option and tap on it
There you go. Now you're all set to start earning money from your content.
But what if you come from outside the US, UK, France, Germany, Spain, or Italy? Fret not, there are more ways to get paid from TikTok.
How to Get Paid on TikTok
To earn money on TikTok, you have several options. Here are some of them:
1. Receive Gift in Live Sessions
TikTok Live Gifts lets viewers show love to creators during live streams. These virtual items can be anything from flowers to cars, and they appear on the screen when viewers send them.
Whenever you receive a gift, you'll earn diamonds. You can think of it as virtual cash that can be converted into real money. But keep in mind that receiving a gift doesn't automatically mean you'll get the cash your viewers paid for it.
So, how much do you get paid for a TikTok live session? Well, it depends on how many virtual items you collect and exchange for cash. Each diamond is worth about $0.005. So if you have 1000 diamonds, you'll get $5.
Is this way to get money promising? Let's take a look at Lucy Davis. She is known for her ASMR content and makes a lot of money during TikTok live. She can earn up to $300 when she goes live.
To become eligible for Live Gifts on TikTok, you should activate the Live Gifts feature. To do that, simply go to your Profile, click on the Menu icon, then go to Settings. Once you find the Creator Tools menu, you can enable Live Gifts and start earning.
Remember that you need to meet the requirements:
live in a location where LIVE Gifts are available
be 18 years of age or older
be eligible to go LIVE
follow TikTok Community Guidelines
2. Get Revenue Sharing from TikTok Pulse
TikTok Pulse is a new feature designed to help businesses get more exposure by placing their ads next to the most engaging content on TikTok.
The good news is that this is an ad revenue-sharing program. It means you, as a content creator, will receive a share of the revenue generated from ads shown in your videos. To be eligible for TikTok Pulse, the creators need at least 100,000 followers.
But please note that the ads will only target the top 4% of all videos on TikTok. So, having high-quality content is vital to make more money from this feature.
How much does TikTok pay for the ads next to your content? You will receive a 50% split of the ad revenue. For specific payment details, you can check your Creator Marketplace Dashboard.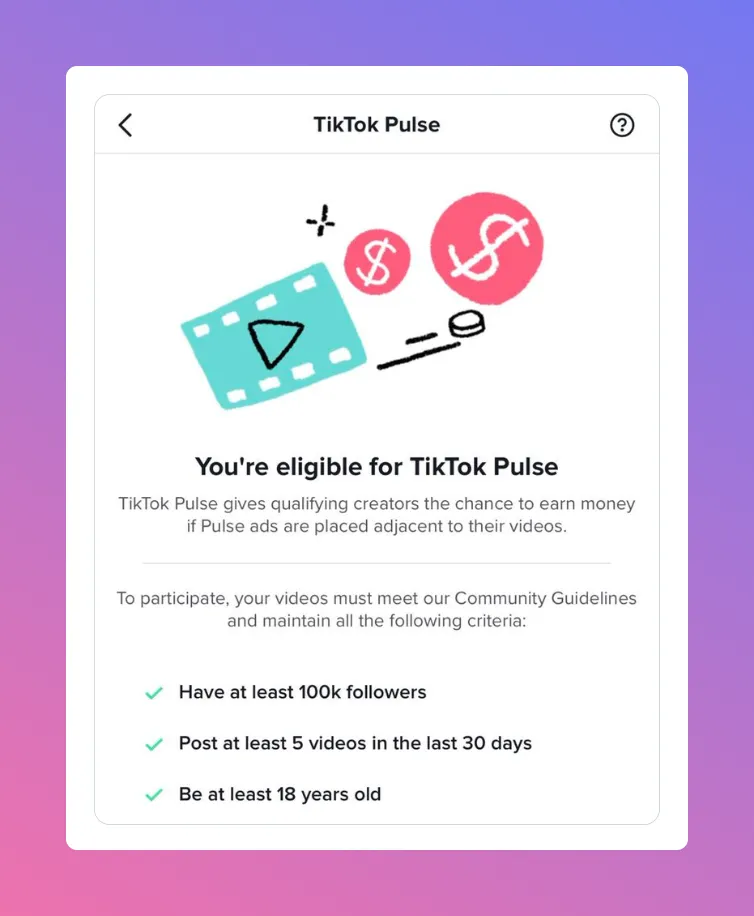 3. Post Sponsored Content
On TikTok, you can earn money in two ways: directly from the platform or by collaborating with businesses through sponsor videos.
Sponsored content is a powerful strategy used by many top earners on TikTok. To put it simply, you promote a brand's products or services in a TikTok video, and they pay you for it.
How much do TikTok creators make from their sponsored posts? Well, it varies based on the deal with the brand. Some offer a flat fee, while others propose a commission-based or combined model. Payments can range from $50 to several thousand dollars per sponsored post.
The best part is you don't need millions of followers to try this strategy. Many local businesses seek content creators like you to reach their target audience based on your content.
Sometimes, brands may experiment with promoting products that don't align with the content creator's usual message. For example, EOS collaborated with MerrickHanna to promote their beauty product, despite Merrick not being a beauty influencer.
4. Partner with Brands
Did you hear about Khaby Lame collaborating with Hugo Boss and making a great $450,000 for posting about Milan Fashion Week? That's a fantastic amount, right?
Brand partnerships are when creators collaborate with businesses. In this partnership, creators show off the brand's products or services in their videos and get paid for it. You might think it's similar to sponsorships, right? Yes, it's quite similar.
So, brands will approach creators with proposals to promote their products. But the agreement goes beyond just one or two posts, unlike typical sponsorships.
The promotions can be all sorts, from dedicated product showcases to subtle integrations within regular TikTok content. Now, if you see Khaby with a Hugo Boss bag on his content, you'll know it's part of their brand partnership.
5. Promote Products as Affiliates
There are various ways to promote products from businesses and get paid on TikTok. And being an affiliate is a common method, too.
So, what's the difference between a sponsored post and a brand partnership with affiliate marketing?
As an affiliate, you earn a commission for every sale made through your unique link. Some affiliates need to join specific affiliate programs to get their unique link and start earning money from promoting products and services.
TikTok creators who do sponsored content and brand partnerships usually don't do this.
The earnings for TikTok creators who become affiliates depend on the programs they join, with commissions ranging from 1% to 50% per sale.
Let's say you promote $100 sneakers with a 10% commission rate, and your TikTok video convinces 100 followers to buy, you'll earn $10 for each sale, totaling $1,000.
6. Get Royalty Selling Music Through SoundON TikTok
If you're a musician, you can earn money from your original work through SoundOn, a TikTok music distribution platform. It lets you upload your music directly to TikTok and earn royalties whenever your music is used.
The best part is SoundOn pays out 100% royalties to music creators in the first year and 90% after that. So, you basically keep most of your earnings.
TikTok also provides various promotional tools and support to help your work reach a global audience. Not only will your music stay on the platform, but they will also distribute it to major streaming services like Spotify, Apple Music, and Amazon Music.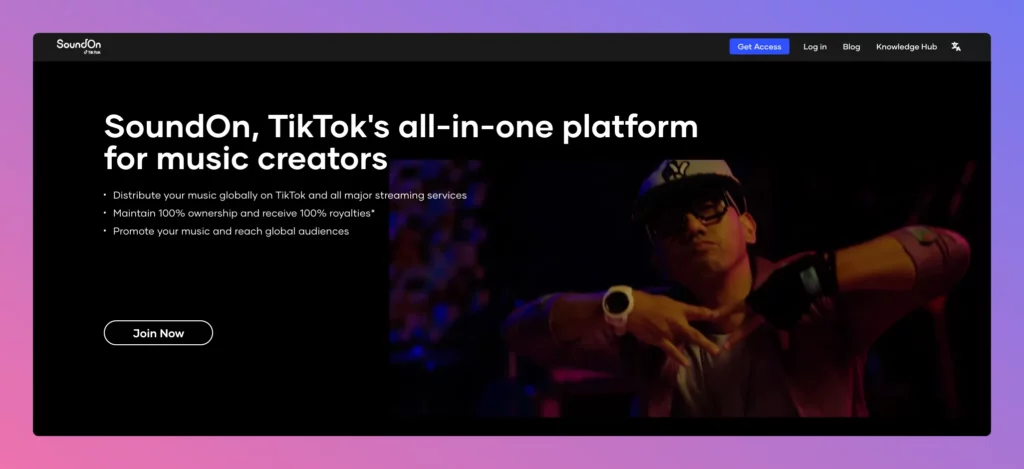 SoundOn is now fully launched in the US, UK, Brazil, and Indonesia, with plans to expand to other areas as the platform grows. Sounds promising, right?
To get inspired, check out some creators who have already joined SoundOn, like Abby Robert, with 16.7 million followers, or Muni Long, with 1.2 million followers.
7. Physical Product Collaborations
Did you know that lots of TikTok users earn money not only from their content but also by selling their own products? That's true, and you can do it, too.
So, instead of promoting other businesses' products, like in sponsored posts or affiliates, you can showcase and sell your own products through your TikTok videos.
For inspiration, look at Addison Rae, a famous TikTok superstar who's using this approach well. She started by collaborating with certain brands. Later on, she launched her own products under the brand Item Beauty, where she co-founded the brand.
That example comes from the beauty niche. But you can get creative and create your own products in different categories. It can be clothing lines, unique gadget accessories, and more.
No problem if you can't do it yourself at the moment, you can find partners to collaborate with a shared profit model.
Recommended Articles:
Tips on Making More Money on TikTok
After learning how to make money on TikTok, you need to maximalize the potential using these tips:
1. Stay Updated with the Latest Features on TikTok
TikTok is a unique social media platform. It supports content creators worldwide, but sometimes they release great features only for certain users in specific countries.
With that in mind, you must stay up-to-date with their feature releases and updates from their official blog, TikTok Newsroom. That way, you can maximize the possibility of using their features and getting paid from TikTok.
Let's talk about SoundOn again. This program is currently available only for US, UK, Brazil, and Indonesia users. So, no matter how awesome your music content is, you can't use that feature yet.
On the other hand, if you're curious about the Creator Fund program, you are eligible only if you are from the US, UK, France, Germany, Spain, or Italy.
2. Work with Brands that Share Your Values
When starting out, it's normal to feel tempted to accept any brand offer that comes your way. After all, it's all about answering the question of how much you make per view on TikTok.
Is it true that the more, the better when it comes to partnership? Honestly, that's not always the case.
Authenticity matters more than you might think in social media. Audiences are smart that they can sense insincerity. If you don't believe it, just look at the influencers you admire. Chances are, they're genuine in their promotions.
Again, you can take a look at Addison Rae, who is known for her fun and energetic dance content. She has multiple brand endorsements but always chooses collaborations that match her personal brand.
For instance, she endorses American Eagle, a brand that resonates with her young audience. This has made her an influencer in her niche, with the potential to earn more money from a partnership with a single brand.
3. Prioritize Quality Over Quantity
Sometimes, you believe it's all about consistency. So you keep posting frequently without considering the importance of quality that much.
Well, don't forget that thousands of videos are uploaded every minute on TikTok. To stand out, you need more than just frequent posts. Just put yourself in your viewers' shoes and think about which content they'd prefer: excellent or mediocre.
Let's say they scroll through TikTok and come across your repetitive content with minimal creativity. Then, they bump into a content creator who posts twice a week but has good visuals and fresh perspectives. We believe the audience will follow the latter.
We'll take Bella Poarch as a great example of this. She became famous for her "M to the B" TikTok video, which was simple and awesomely well-executed. Instead of posting many videos daily, she focuses on creating high-quality content connecting with her followers.
4. Make it Educational While Entertaining
At first, TikTok was mostly known for dances and challenges. But that's not the case anymore. These days, some of the most successful creators offer value by providing educational content or sharing positive opinions.
Not only that, you can go for certain issues with a better tone to make your audience can learn about them well. It can be in the form of productivity hacks, the best tools to help your audience, and many more.
Over time, when your educational content gains traction, you might be approached for workshops or courses, too. That can open doors to diverse revenue streams.
5. Engage Regularly with Your Audience
TikTok is more than just a platform for posting content. It's all about engagement to stand out. When you receive diamonds, for example, the algorithm might see you as a great content creator in your niche.
That's true. Engaging with followers can significantly boost your visibility and strengthens bonds with your audience. Comments and response videos can be excellent tools to build that engagement.
Let's say you post a video about a homemade face mask recipe, and someone asks about an alternative ingredient. What you can do is respond promptly through comments or create a short video to answer that questions.
People value timely and thoughtful responses, making them feel heard and more likely to engage further.
5. Diversify Your Content
While having a niche is great, experimenting within that niche can lead to surprising results. What does this relate to the question: "How much does TikTok pay?"
Well, it's as simple as this: the more viewers you attract to the platform, the more TikTok will appreciate you as a content creator. This increases the chances of your videos getting promoted to the FYP or finding the right audience to boost your content views.
Some users believe that the TikTok algorithm emphasizes on diversity, promoting varied content from creators. Adding to that, diversification also reduces content stagnation, ensuring your audience remains engaged.
To give you context, let's say you're into fitness. Rather than just posting workout routines, you can delve into nutrition tips or debunk common exercise myths. These kinds of content cater to different audience segments, expanding your base.
How Much Do TikTok Creators Make?
TikTok takes supporting creators seriously, like what they do through the Creator Fund. But the potential to make money from other methods is fascinating.
Take Khaby Lame, for example. With a massive following of 161.5 million and over 2.3 billion likes can earn a mind-blowing $750,000 per video. Here are top TikTok earners for your inspiration:
| TikTok Stars | Followers | Likes | Yearly Earnings | How They Get Money |
| --- | --- | --- | --- | --- |
| Charli D'Amelio | 151M | 11.4B | $17.5M | Sponsorship with Sony, Revlon; Brand deal with Dunkin, many more |
| Dixie D'Amelio | 57.1M | 3.3B | $15M | Sponsorship with Taco Bell, Crest; D' Amelio show on Hulu |
| Addison Rae | 88.5M | 5.8B | $18M | Brand deals with Pandora, Vital Protein; He's All That movie, Her own brand: Item Beauty |
| Bella Poarch | 92.6M | 2.3B | $5M | Brand deals with Hyper X, sponsorships with Google and Prada, music career |
| Josh Richards | 26M | 2B | $10M | Partnership with Amazon, CashApp, and some energy drinks, sponsored posts |
| Kris Collins | 49.4M | 2.2B | $5M | Sponsorships Hershey, Lionsgate and Pantene, music career |
| Avani Gregg | 43M | 3B | $6M | Brand deals with Marc Jacobs and Dolce and Gabbana, sponsored posts |
| Khaby Lame | 161.6M | 2.3B | $20M | Brand deals with Xbox, Netflix, Amazon, Hugo Boss, sponsored posts for Binance |
| Loren Gray | 54.2M | 3B | $8M | Brand deals with Burger King and Revlon, sponsorships, music career |
| Noah Beck | 33.9M | 2.4B | $6M | Brand sponsorships with Bumble and Matter, sponsored posts |
| Will Smith | 73.6M | 520.9M | $1M | Movie acting, Brand Ambassador Fitbit, Sponsorship Air Jordan |
| Kimberly Loaiza | 76.1M | 4.7B | $9M | Brand deals with Luisito Comunica, sponsored posts, music career |
| Zach King | 78.1M | 1.1B | $7M | Brand deals with Disney, Apple, Sony; Ads revenue |
| Spencer Polanco Knight | 55.1M | 1.3B | $2.5M | Ads revenue, Brand deals with HBO, Nickelodeon, Monster Energy, sponsored posts |
| Devon Rodriguez | 31.6M | 451.1M | $2M | Brand deals with Chipotle, Ford and Cheetos; painting sales |
Does TikTok Pay You as A Content Creator?
TikTok has a Creator Fund program that pays content creators for their videos. How much does TikTok pay you for 1 million views? Well, it's usually around $20-$40.
Bear in mind that the Creator Fund program is only available to users in the US, UK, France, Germany, Spain, or Italy. If you're not eligible, don't worry. There are other ways to earn money as a TikTok creator.
You can make money through sponsored posts, revenue sharing from ads (if you're eligible for TikTok Pulse), partnering with brands as a social influencer, or donations. That's right. Even TikTok star Josh Richards started earning money through donations when he began his career as a content creator.
You have options to receive donations — either using TikTok's donation feature or through third-party platforms like Gank, which doesn't charge any platform fees for content creators.
So, what are you waiting for? Tap into your creativity and start making excellent content on TikTok. There are ways to turn your passion into profit!