STREAM ALERTS
We've got some exciting news to share with you today! We understand that streamers want to connect better with their community. That's why we've worked tirelessly to develop this game-changing feature that will take your streaming experience to a whole new level. 💪🔥
So, what exactly does the Gank Stream Alert feature bring to the table? Let us break it down for you:
Real-Time Notifications: You'll now receive instant notifications whenever somebody donates to your Gank! No more endless scrolling or checking in constantly – we've got your back!
Personalized Preferences: Tailor your alerts to suit your interests! Gank Stream Alert feature will deliver alerts that matter to you. It's time to curate your streaming experience like never before! 🎮🎬
Ready to enable this game-changing feature? It's super easy!
Just follow these steps:
Head over to your Gank dashboard.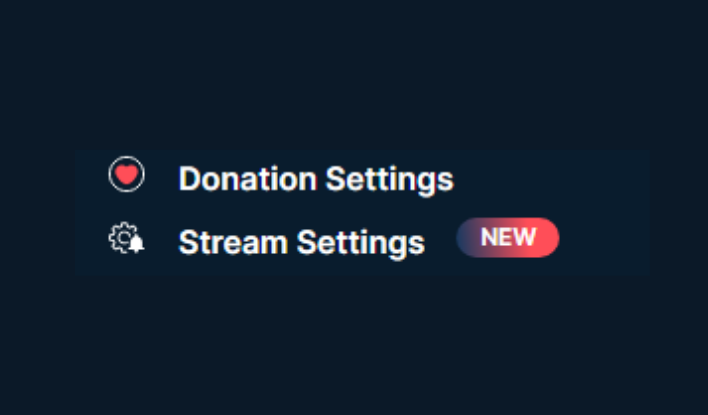 Locate the Stream Alert feature and toggle it on.
Customize your preferences to and copy the link to your OBS/Streamlabs.
Sit back, relax, and let the magic happen! We'll make sure you never miss a legendary moment.
DONATION OVERLAY
We understand the incredible value and impact that donations and tips have on content creators. They help fuel their passion, support their growth, and enable them to provide even better experiences for their viewers. With our new Twitch Tipping/Donation Stream Overlay, the process has become more seamless and engaging than ever before.

So, what makes our overlay a game-changer? Let's dive in:
🔸 Eye-Catching Visuals: Our sleek and customizable overlay design will make your stream shine. Choose from a variety of eye-catching colors to match your channel's branding and captivate your audience.
🔸 Real-Time Notifications: Watch the magic unfold as your viewers' tips and donations appear instantly on your stream overlay. It creates an electrifying atmosphere and allows everyone to share in the excitement of supporting your content.
🔸 Customizable Goals and Milestones: Set goals and milestones to keep your community engaged and motivated. Whether it's raising funds for charity, upgrading your equipment, or hitting a monthly target!
🔸 Viewer Recognition: Let your supporters shine! Your Gank profile can display the top contributors or latest donations, giving a special shout-out to those who go above and beyond to support you. It's a fantastic way to express your gratitude and foster a sense of community.
🔸 Seamless Integration: Setting up our Tipping/Donation Stream Overlay is hassle-free. Our user-friendly interface allows you to easily connect your preferred tipping platform, customize the overlay to your liking, and start accepting tips and donations in no time.
🔸 Viewer Empowerment: For viewers, this overlay creates a sense of participation and empowerment. They can see their contributions in real-time, making them feel directly involved in supporting their favorite streamers and fueling their success.
We're incredibly excited to see how this feature enhances the connection between content creators and their communities. Together, let's celebrate the passion, talent, and generosity that make Twitch such an incredible platform.
Don't forget to share this exciting news with your fellow streamers and viewers. Let's make the Twitch experience even more amazing, one tip and donation at a time!
We'll also let you in on a surprise, Gank TTS is coming soon!
Happy streaming and happy giving,
The Gank Team