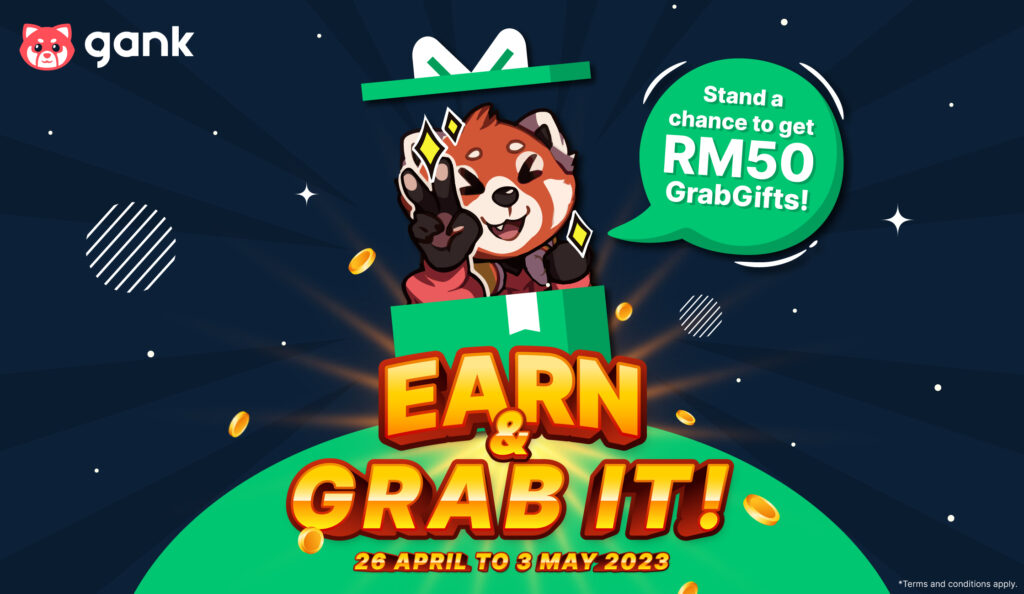 Stand a chance to win RM50 worth of Grab Vouchers when you earn more than $50 USD on Gank from 26 April (0000 GMT +8) to 3 May 2023 (2359 GMT +8).
Excited ? We are too. Here's how you can participate in this campaign:
1. Register via google form: bit.ly/earnandgrab
2. Get busy creating !
3. Earn more than $50 USD from 26 April (0000 GMT +8) to 3 May 2023 (2359 GMT +8)
Note: There will be 25 lucky creators drawn from this campaign. Winning creators will be announced on 5th May 2023 via Gank's social media accounts listed below:
Facebook : https://www.facebook.com/ganknow
Instagram : https://www.instagram.com/ganknow/
Twitter : https://twitter.com/ganknow
Campaign duration: 26 April to 3 May 2023
Any questions, please reach out to your friendly creator success team at [email protected]
TERMS & CONDITIONS
1) Conditions only apply during the period of the campaign which is from 26 April 2023 – 3 May 2023
2) Gank reserves the right at its sole discretion to disqualify individuals who do not comply with the terms and conditions set, or any individual who Gank reasonably believes is interfering with the fair running of the event.
3) Gank, to the maximum extent permitted by applicable law, assume no responsibility and are not liable for (i) the accuracy or otherwise of the prize description, (ii) any warranty, condition or guarantee in respect of the prize, and (iii) the loss, late or non-receipt, damage or illegible of a prize notification or other communication sent with regards to this campaign.
4) Apple is not a sponsor and is not involved in any way with this lucky draw or contest.
5) This campaign is only available to Malaysian Creators with Grab Malaysia's account.
ACKNOWLEDGEMENT
By participating in the event means you have read, acknowledged and agreed to the Terms & Conditions set out by Gank.
CHANGES TO TERMS & CONDITIONS
Gank reserves the right at its sole discretion to amend the terms and conditions when there is any change in applicable legislation, regulation, or gaming law or our interpretation thereof, or if directed to do so by any competent authority.
As such, these changes will be made known to all individuals through Gank's Discord Channel and Social Media Channels such as Facebook, Instagram, and Twitter.
—————————————————————————————————————————————
这是您领取Gank送出的RM50Grab代金卷的机会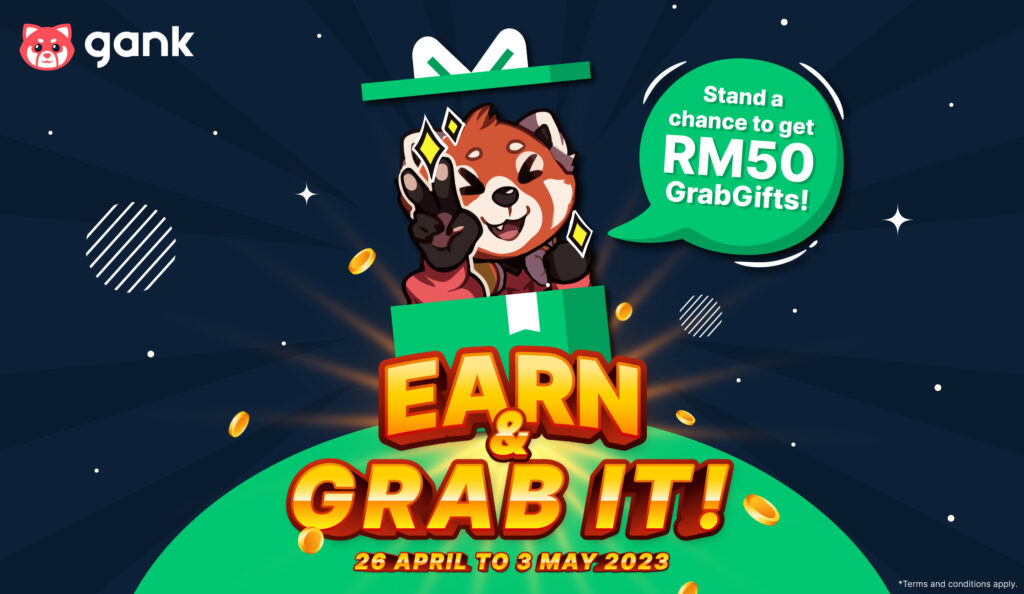 只要您在2023年4月26日 (0000 GMT+8) 至5月3日 (2359 GMT+8)之间在Gank上赚取超过50美元,就有机会赢取价值RM50 Grab代金券,
想要赢取代金券的创作者还不手刀抢卷吗?以下是您可以参加此活动的方法:
1.通过此表格进行注册:bit.ly/earnandgrab
2.马上找灵感创作!
3.在2023年4月26日 (0000 GMT+8) 至5月3日 (2359 GMT+8) 之间赚取超过50美元。
注意:此活动将从中抽取25名幸运的创作者。获奖者将在2023年5月5日通过Gank社交媒体账号公布:
Facebook:https://www.facebook.com/ganknow
Instagram:https://www.instagram.com/ganknow/
Twitter:https://twitter.com/ganknow
活动时间:2023年4月26日至5月3日
如有任何问题,请联系创作者成功团队:[email protected]
条件与规则
1)条件仅适用于2023年4月26日至5月3日的活动期间。
2)Gank将保留其唯一的决定权,可以取消那些不遵守设定条款和条件的参赛者,或任何Gank合理认为会干扰活动公正进行的个人资格。。
3)Gank在适用法律允许的最大范围内,不承担任何责任,对于(i)奖品说明的准确性或其他方面,(ii)任何奖品的保证、条件,以及(iii)有关此活动的奖品通知或丢失、延迟或未收到、损坏或难以辨认等情况,不负任何责任。
4)Apple不是赞助商,也与此幸运抽奖或比赛没有任何关系。
5)此活动仅适用于拥有Grab Malaysia账户的马来西亚创作者。
参与者声明
您理解并同意Gank制定的条款和条件
条款和条件的更改
根据适用的法律、法规或游戏法律,或者我们对其进行的解释,或者如果有任何主管机构要求这样做,Gank有权在其自行决定的情况下修改条款和条件。因此,这些更改将通过 Gank 的 Discord 频道和社交媒体频道(例如 Facebook、Instagram 和 Twitter)向所有人公布。